 Carex
Carex
is a
genus
Genus
In biology, a genus is a low-level taxonomic rank used in the biological classification of living and fossil organisms, which is an example of definition by genus and differentia...
of
plant
Plant
Plants are living organisms belonging to the kingdom Plantae. Precise definitions of the kingdom vary, but as the term is used here, plants include familiar organisms such as trees, flowers, herbs, bushes, grasses, vines, ferns, mosses, and green algae. The group is also called green plants or...
s in the
family
Family (biology)
In biological classification, family is* a taxonomic rank. Other well-known ranks are life, domain, kingdom, phylum, class, order, genus, and species, with family fitting between order and genus. As for the other well-known ranks, there is the option of an immediately lower rank, indicated by the...
Cyperaceae
Cyperaceae
Cyperaceae are a family of monocotyledonous graminoid flowering plants known as sedges, which superficially resemble grasses or rushes. The family is large, with some 5,500 species described in about 109 genera. These species are widely distributed, with the centers of diversity for the group...
, commonly known as
sedge
Cyperaceae
Cyperaceae are a family of monocotyledonous graminoid flowering plants known as sedges, which superficially resemble grasses or rushes. The family is large, with some 5,500 species described in about 109 genera. These species are widely distributed, with the centers of diversity for the group...
s. Other members of the Cyperaceae family are also called sedges, however those of genus
Carex
may be called "true" sedges, and it is the most species-rich genus in the family. The study of
Carex
is known as
caricology
.
Description
All species of
Carex
are
perennials
Perennial plant
A perennial plant or simply perennial is a plant that lives for more than two years. The term is often used to differentiate a plant from shorter lived annuals and biennials. The term is sometimes misused by commercial gardeners or horticulturalists to describe only herbaceous perennials...
. They typically have
rhizome
Rhizome
In botany and dendrology, a rhizome is a characteristically horizontal stem of a plant that is usually found underground, often sending out roots and shoots from its nodes...
s,
stolon
Stolon
In biology, stolons are horizontal connections between organisms. They may be part of the organism, or of its skeleton; typically, animal stolons are external skeletons.-In botany:...
s or short
rootstock
Rootstock
A rootstock is a plant, and sometimes just the stump, which already has an established, healthy root system, used for grafting a cutting or budding from another plant. The tree part being grafted onto the rootstock is usually called the scion...
s, but some species grow in tufts (caespitose). The culm – the flower-bearing stalk – is unbranched and usually erect. It is usually distinctly triangular in section.
The
leaves
Leaf
A leaf is an organ of a vascular plant, as defined in botanical terms, and in particular in plant morphology. Foliage is a mass noun that refers to leaves as a feature of plants....
of
Carex
comprise a blade, which extends away from the stalk, and a sheath, which encloses part of the stalk. The blade is normally long and flat, but may be folded, inrolled, channelled or absent. The leaves have parallel veins, and where the blade meets the culm, there is a structure called the
ligule
Ligule
A ligule — is a thin outgrowth at the junction of leaf and leafstalk of many grasses and sedges or a strap-shaped corolla, such as that of a ray floret in plants in the daisy family....
.
The flowers of
Carex
are small and are combined into spikes, which are themselves combined into a larger
inflorescence
Inflorescence
An inflorescence is a group or cluster of flowers arranged on a stem that is composed of a main branch or a complicated arrangement of branches. Strictly, it is the part of the shoot of seed plants where flowers are formed and which is accordingly modified...
. The spike typically contains many flowers, but can hold as few as one in some species. Almost all
Carex
species are monoecious; each flower is either male (staminate) or female (pistillate). A few species are dioecious. Sedges exhibit diverse arrangements of male and female flowers. Often, the lower spikes are entirely pistillate and upper spikes staminate, with one or more spikes in between having pistillate flowers near the base and staminate flowers near the tip. In other species, all spikes are similar. In that case, they may have male flowers above and female flowers below (androgynous) or female flowers above and male flowers below (gynecandrous). In relatively few species, the arrangement of flowers is irregular.
The defining structure of the genus
Carex
is the bottle-shaped bract that surrounds each female flower. This structure is called the perigynium or utricle, a modified prophyll. It is typically extended into a "rostrum" or beak, which is often divided at the tip (bifid) into two teeth. The shape, venation, and vestiture (hairs) of the perigynium are important structures for distinguishing
Carex
species.
The
fruit
Fruit
In broad terms, a fruit is a structure of a plant that contains its seeds.The term has different meanings dependent on context. In non-technical usage, such as food preparation, fruit normally means the fleshy seed-associated structures of certain plants that are sweet and edible in the raw state,...
of
Carex
is a dry, one-seeded indehiscent
achene
Achene
An achene is a type of simple dry fruit produced by many species of flowering plants. Achenes are monocarpellate and indehiscent...
or
nut
Nut (fruit)
A nut is a hard-shelled fruit of some plants having an indehiscent seed. While a wide variety of dried seeds and fruits are called nuts in English, only a certain number of them are considered by biologists to be true nuts...
which grows within the perigynium. Perigynium features aid in fruit dispersal.
Habitat
Most (but not all) sedges are found in
wetland
Wetland
A wetland is an area of land whose soil is saturated with water either permanently or seasonally. Wetlands are categorised by their characteristic vegetation, which is adapted to these unique soil conditions....
s – such as
marsh
Marsh
In geography, a marsh, or morass, is a type of wetland that is subject to frequent or continuous flood. Typically the water is shallow and features grasses, rushes, reeds, typhas, sedges, other herbaceous plants, and moss....
es,
calcareous fens
Fen
A fen is a type of wetland fed by mineral-rich surface water or groundwater. Fens are characterised by their water chemistry, which is neutral or alkaline, with relatively high dissolved mineral levels but few other plant nutrients...
,
bog
Bog
A bog, quagmire or mire is a wetland that accumulates acidic peat, a deposit of dead plant material—often mosses or, in Arctic climates, lichens....
s and other
peat
Peat
Peat is an accumulation of partially decayed vegetation matter or histosol. Peat forms in wetland bogs, moors, muskegs, pocosins, mires, and peat swamp forests. Peat is harvested as an important source of fuel in certain parts of the world...
lands,
pond and stream banks
Bank (geography)
A geographic bank has four definitions and applications:# Limnology: The shoreline of a pond, swamp, estuary, reservoir, or lake. The grade can vary from vertical to a shallow slope....
,
riparian zone
Riparian zone
A riparian zone or riparian area is the interface between land and a river or stream. Riparian is also the proper nomenclature for one of the fifteen terrestrial biomes of the earth. Plant habitats and communities along the river margins and banks are called riparian vegetation, characterized by...
s, and even ditches – where they are often the dominant
vegetation
Vegetation
Vegetation is a general term for the plant life of a region; it refers to the ground cover provided by plants. It is a general term, without specific reference to particular taxa, life forms, structure, spatial extent, or any other specific botanical or geographic characteristics. It is broader...
.
Horticulture
Carex
species and cultivars are well represented in the
horticulture
Horticulture
Horticulture is the industry and science of plant cultivation including the process of preparing soil for the planting of seeds, tubers, or cuttings. Horticulturists work and conduct research in the disciplines of plant propagation and cultivation, crop production, plant breeding and genetic...
industry,
landscape design
Landscape design
Landscape design is an independent profession and a design and art tradition, practised by landscape designers, combining nature and culture. In contemporary practice landscape design bridges between landscape architecture and garden design.-Design scope:...
projects, and private
garden
Garden
A garden is a planned space, usually outdoors, set aside for the display, cultivation, and enjoyment of plants and other forms of nature. The garden can incorporate both natural and man-made materials. The most common form today is known as a residential garden, but the term garden has...
s.
Native species
Native plant
Native plant is a term to describe plants endemic or naturalized to a given area in geologic time.This includes plants that have developed, occur naturally, or existed for many years in an area...
are used in
wildland
Natural environment
The natural environment encompasses all living and non-living things occurring naturally on Earth or some region thereof. It is an environment that encompasses the interaction of all living species....
habitat
Habitat
* Habitat , a place where a species lives and grows*Human habitat, a place where humans live, work or play** Space habitat, a space station intended as a permanent settlement...
restoration
Restoration ecology
-Definition:Restoration ecology is the scientific study and practice of renewing and restoring degraded, damaged, or destroyed ecosystems and habitats in the environment by active human intervention and action, within a short time frame...
projects,
Natural landscaping and gardens
Natural landscaping
.Natural landscaping, also called native gardening, is the use of native plants, including trees, shrubs, groundcover, and grasses which are indigenous to the geographic area of the garden.-Maintenance:...
, and in
sustainable landscaping
Sustainable landscaping
Sustainable landscaping encompasses a variety of practices that have developed in response to environmental issues. These practices are used in every phase of landscaping, including design, construction, implementation and management of residential and commercial landscapes. Issues of...
as
drought tolerant
Xeriscaping
Xeriscaping and xerogardening refers to landscaping and gardening in ways that reduce or eliminate the need for supplemental water from irrigation...
grass replacements for
lawn
Lawn
A lawn is an area of aesthetic and recreational land planted with grasses or other durable plants, which usually are maintained at a low and consistent height. Low ornamental meadows in natural landscaping styles are a contemporary option of a lawn...
s and garden
meadow
Meadow
A meadow is a field vegetated primarily by grass and other non-woody plants . The term is from Old English mædwe. In agriculture a meadow is grassland which is not grazed by domestic livestock but rather allowed to grow unchecked in order to make hay...
s. Both
ornamental
Ornamental plant
Ornamental plants are plants that are grown for decorative purposes in gardens and landscape design projects, as house plants, for cut flowers and specimen display...
cultivar
Cultivar
A cultivar'Cultivar has two meanings as explained under Formal definition. When used in reference to a taxon, the word does not apply to an individual plant but to all those plants sharing the unique characteristics that define the cultivar. is a plant or group of plants selected for desirable...
s (many from Japan) and
native species
Native plant
Native plant is a term to describe plants endemic or naturalized to a given area in geologic time.This includes plants that have developed, occur naturally, or existed for many years in an area...
selections are used as perennials in traditional gardens.
Taxonomy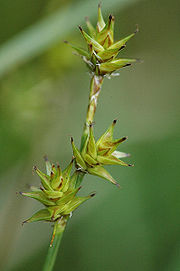 The genus
Carex
was established by Carl Linnaeus in his work
Species Plantarum
Species Plantarum
Species Plantarum was first published in 1753, as a two-volume work by Carl Linnaeus. Its prime importance is perhaps that it is the primary starting point of plant nomenclature as it exists today. This means that the first names to be considered validly published in botany are those that appear...
in 1753, and is one of the
largest genera of flowering plants
. Estimates of the number of species vary from about 1100 to almost 2000. Species include:
Carex abrupta

Carex abrupta

Carex abrupta is a species of sedge known by the common name abrupt-beaked sedge or abruptbeak sedge. It is native to the western United States from California to Idaho, where it grows in moist mountain habitat such as meadows.-Description:...


Mack.
Carex acuta

Carex acuta

Carex acuta or Acute Sedge, Slender Tufted-sedge, Slim Sedge can be found growing on the margins of rivers and lakes in the Palaearctic terrestrial ecoregions in beds of wet, alkaline or slightly acid depressions with mineral soil....


L.
Carex acutiformis

Carex acutiformis

Carex acutiformis, the lesser pond sedge, is a species of sedge.-Description:It grows up to tall, with leaves up to long and wide.-Ecology:...


Ehrh.
Carex albida

Carex albida

Carex albida is a very rare species of sedge known by the common name white sedge. It is endemic to Sonoma County, California, where it is known only from one occurrence at Pitkin Marsh, a wetland between Forestville and Sebastopol. There are fewer than 1000 plants remaining, and likely fewer than...


L. H. Bailey
Carex albonigra

Carex albonigra

Carex albonigra is a species of sedge known by the common name black and white sedge. It is native to western North America from Alaska and most of western Canada to California to New Mexico, where it grows in mainly dry, rocky high mountain habitat such as talus. This sedge forms a dense clump 10...


Mack.
Carex alma

Carex alma

Carex alma is a species of sedge known by the common name sturdy sedge. It is native to the southwestern United States and northern Mexico, where it grows in moist spots in a number of habitat types. This sedge forms a thick clump of thin stems up to 90 centimeters in length and long, thready...


L. H. Bailey
Carex amplifolia

Carex amplifolia

Carex amplifolia is a species of sedge known by the common name bigleaf sedge. It is native to western North America from British Columbia to Montana to California, where it grows in wet and seasonally wet areas in coniferous forests.-Description:...


Boott
Carex angustata

Carex angustata

Carex angustata is a species of sedge known by the common name widefruit sedge. It is native to the western United States from Washington and Idaho to California, where it grows in wet meadows and on streambanks.-Description:...


Boott
Carex appropinquata

Carex appropinquata

Carex appropinquata is a species of plants in the family Cyperaceae, commonly known as sedges.- Synonyms :* Carex paniculata var. paradoxa Fiori* Carex paradoxa Willd....


Schumach.
Carex aquatilis

Carex aquatilis

Carex aquatilis is a species of sedge known by the common names water sedge and leafy tussock sedge. It has a circumboreal distribution, occurring throughout the northern reaches of the Northern Hemisphere. It grows in many types of mountainous and Arctic habitat, including temperate coniferous...


Wahlenb.
Carex arcta

Carex arcta

Carex arcta is a species of sedge known by the common name northern cluster sedge. It is native to northern North America including most of Canada and northern parts of the United States. It grows in wet areas, especially in coniferous forests. This sedge produces dense clumps of erect stems up to...


Boott
Carex arenaria

Carex arenaria

Carex arenaria, or Sand sedge, is a species of perennial sedge of the genus Carex which is commonly growing in dunes and other sandy habitats, as the Latin species epithet suggests. It growths by long stolons under the soil surface....


L.
Carex atherodes

Carex atherodes

Carex atherodes is a species of sedge known by the common name wheat sedge. It is native to Eurasia and much of North America including most of Canada and the United States. It is a very common wetland plant across the American Midwest and areas west. It grows in moist and wet habitat, such as...


Spreng.
Carex athrostachya

Carex athrostachya

Carex athrostachya is a species of sedge known by the common name slenderbeak sedge. It is native to western North America, including Alaska to central Canada, the western contiguous United States, and just into Baja California.-Description:...


Olney
Carex aurea

Carex aurea

Carex aurea is a species of sedge known by the common name golden sedge. It is native to much of North America, including most of Canada and the western and central United States. It grows in wet habitat, often on soils of a basic pH.-Description:...


Nutt.
Carex azuayae

Carex azuayae

Carex azuayae is a species of plant in the Cyperaceae family. It is endemic to Ecuador. Its natural habitat is subtropical or tropical high-altitude grassland....


Steyerm.
Carex barbarae

Carex barbarae

Carex barbarae is a species of sedge known by the common name Santa Barbara sedge. It is native to California and Oregon, where it grows in wet and seasonally wet habitat, such as meadows and riverbanks. This sedge produces angled, hairless stems up to one meter tall or slightly taller, but not in...


Dewey
Carex binervis

Carex binervis

Carex binervis, the green-ribbed sedge, is a European species of sedge with an Atlantic distribution. It is found from Fennoscandia to the Iberian Peninsula, and occurs in heaths, moorland and other damp, acidic environments. It typically grows to a height of , and has inflorescences comprising one...


Sm.
Carex buxbaumii

Carex buxbaumii

Carex buxbaumii is a species of sedge known by the common name Buxbaum's sedge. It is native to much of the northern Northern Hemisphere, from Alaska to Greenland to Eurasia and including most of Canada and the United States. It grows in wet habitat, such as marshes and fens. This sedge grows in...


Wahlenb.
Carex canescens

Carex canescens

Carex canescens L. is a perennial species of plants in the family Cyperaceae with pluriregional distribution growing in damp forests and wetlands.-External links:*...


L.
Carex capitata

Carex capitata

Carex capitata is a species of sedge known by the common name capitate sedge. It has a circumboreal distribution, growing in wet places in boreal forests and mountain meadows in alpine climates.-Description:...


L.
Carex cespitosa

Carex cespitosa

Carex cespitosa is a species of perennial sedge of the genus Carex which can be found growing in bundles as the Latin specific epithet suggests. The species is able to hybridise with the common sedge to produce a tall plant, flowering from May to June...


L.
Carex chordorrhiza

Carex chordorrhiza

Carex chordorrhiza, commonly called creeping sedge or string sedge, is a species of perennial plant in the family Cyperaceae with Holarctic distribution growing in acidic bogs.-Growth form and classification:...


L. f.
Carex comosa

Carex comosa

Carex comosa is a species of sedge known by the common name longhair sedge. It is native to North America, where it grows in western and eastern regions of Canada and the United States, and parts of Mexico. It grows in wet places, including meadows and many types of wetlands. Tolerates deeper water...


Boott
Carex concinnoides

Carex concinnoides

Carex concinnoides is a species of sedge known by the common name northwestern sedge. It is native to western North America from British Columbia to California, where it can be found in moist or dry habitat, often in woodland and forested slopes, on silty and clay soils. This sedge produces loose...


Mack.
Carex cusickii

Carex cusickii

Carex cusickii is a species of sedge known by the common name Cusick's sedge. It is native to Northwestern North America from British Columbia to California, and in Utah, where it can be found in several types of wet habitat, such as marshes, mountain meadows, and ditches...


Mack. ex Piper & Beattie
Carex depauperata

Carex depauperata

Carex depauperata is a rare species of sedge native to parts of Europe. The plant has been virtually extinct in the United Kingdom since the 1940s....


Curtis ex With.
Carex diandra

Carex diandra

Carex diandra is a species of sedge known by the common name lesser panicled sedge.-Distribution:It is widely distributed in the Northern Hemisphere, where it can be found throughout North America, Europe, and Asia. It is also known from New Zealand...


Schrank
Carex disperma

Carex disperma

Carex disperma is a species of sedge known by the common name softleaf sedge. It is native to much of the northern Northern Hemisphere, from Alaska to Greenland, most of Canada and the contiguous United States, and across Eurasia.-Description:...


Dewey
Carex disticha

Carex disticha

Carex disticha is a species of sedge, whose common name is Two-ranked Sedge. It is native to parts of Northern and Western Europe, where it grows in moist spots in a number of habitat types, and it has been introduced to the Great Lakes region of southern Canada...


Huds.
Carex douglasii

Carex douglasii

Carex douglasii is a species of sedge known by the common name Douglas' sedge.-Distribution:It is native to much of western North America, including the western Canadian provinces, the western United States, and Baja California. It grows in dry, wet, and seasonally moist habitat, from prairie and...


Boott
Carex echinata

Carex echinata

Carex echinata is a species of sedge known by the common names star sedge and little prickly sedge.-Distribution:This plant is native to North and Central America and parts of Eurasia. Carex echinata is a plant of wet forests, marshes, and mountain meadows of moderate elevation...


Murray
Carex emoryi

Carex emoryi

Carex emoryi, the Riverbank tussock sedge or Emory's sedge, is a very attractive and functional native plant for stormwater applications. It thrives with alternating cycles of wet and dry, making it ideal for vegetated swales and infiltration basins.Native to much of the Mid-Atlantic and Midwest, C...


Dewey
Carex ericetorum

Carex ericetorum

Carex ericetorum is a perennial species of plants in the family Cyperaceae native to Eurasia and growing on sandy soils in pine forests....


Pollich
Carex festucacea

Carex festucacea

Carex festucacea or fescue sedge is a species of sedge that lives in eastern North America. It has been described as "a soft, gray green, wisp, to 2', with narrow leaves and somewhat taller stems, topped by an interrupted spike, with lower spikelets, shaped a bit like an overflowing ice cream cone...


Schkuhr ex Willd.
Carex filifolia

Carex filifolia

Carex filifolia is a species of sedge known by the common name threadleaf sedge.-Distribution:This sedge is native to much of western North America, from Alaska to California and Manitoba to New Mexico, where it grows in moist and dry habitat....


Nutt.
Carex flacca

Carex flacca

Carex flacca, with common names blue sedge, gray carex, glaucous sedge, or carnation-grass, , is a species of sedge native to parts of Europe and North Africa....


Schreb.
Carex fracta

Carex fracta

Carex fracta is a species of sedge known by the common name fragile sheath sedge. It is native to the western United States from Washington to California, where it grows in moist to dry areas in mountain forests and meadows. This sedge produces dense clumps of stems sometimes exceeding a meter tall...


Mack.
Carex geyeri

Carex geyeri

Carex geyeri is a species of sedge known by the common names Geyer's sedge and elk sedge. It is native to western North America from British Columbia to California to Colorado, where it grows in dry areas in mountain meadows, grasslands, and open forest. This sedge produces scattered tufts of stems...


Boott
Carex globularis

Carex globularis

Carex globularis is a perennial species of sedge in the family Cyperaceae native to damp forests and wetlands of Asia and Eastern Europe....


L.
Carex hassei

Carex hassei

Carex hassei is a species of sedge known by the common name salt sedge. It is native to western North America from British Columbia to Baja California to New Mexico, where it grows in moist places, such as meadows.-Description:...


L. H. Bailey
Carex haydeniana

Carex haydeniana

Carex haydeniana is a species of sedge known by the common name cloud sedge. It is native to western North America from British Columbia to California to New Mexico, where it grows in moist, rocky areas in subalpine and alpine climates. This sedge produces clumps of drooping to decumbent stems up...


Olney
Carex helleri

Carex helleri

Carex helleri is a species of sedge known by the common name Heller's sedge. It is native to eastern California and western Nevada, where it grows on rocky mountain slopes and in other habitats.-Description:...


Mack.
Carex heteroneura

Carex heteroneura

Carex heteroneura is a species of sedge known by the common name different-nerve sedge. It is native to western Canada and the western United States, where it grows in moist mountain habitat such as forests and meadows.-Description:...


W. Boott
Carex hirta

Carex hirta

Carex hirta, the hairy sedge, is a species of sedge found across Europe. It has characteristic hairy leaves and inflorescences, and is the type species of the genus Carex.-Description:...


L.
Carex hoodii

Carex hoodii

Carex hoodii is a species of sedge known by the common name Hood's sedge. It is native to western North America from Alaska to California to South Dakota, where it grows in dry to moist habitat in forests and on mountain slopes.-Description:...


Boott
Carex hystericina

Carex hystericina

Carex hystericina is a species of sedge known by the common names bottlebrush sedge and porcupine sedge. It is native to much of North America including most of southern Canada and most of the United States. It grows in wet habitat such as wetlands and riverbanks, especially on calcareous soils. In...


Muhl. ex Willd.
Carex illota

Carex illota

Carex illota is a species of sedge known by the common name sheep sedge. It is native to western North America, where it grows in wet places such as marshes and mountain meadows, from New Mexico and California north to Western Canada.-Description:...


L. H. Bailey
Carex interior

Carex interior

Carex interior is a species of sedge known by the common name inland sedge. It is native to much of North America from Alaska to northern Mexico to the mid-Atlantic United States. It grows in wet habitat, most often in calcareous soils. This sedge produces clumps of stems approaching a meter in...


L. H. Bailey
Carex intumescens

Carex intumescens

Carex intumescens, also known as bladder sedge, is a species of Carex...


Rudge
Carex jamesii

Carex jamesii

Carex jamesii is a sedge native to North America from Minnesota east to New York and south to Oklahoma and South Carolina. It occurs in mesic hardwood forests and flowers from early May to mid July. For its genus, it is a distinctive species when in flower. It has two to four perigynia that are...


Schwein.
Carex japonica

Carex japonica

Carex japonica is a species of perennial sedge of the genus Carex which can be used like an ornamental plant.-External links:...


Thunb.
Carex jonesii

Carex jonesii

Carex jonesii is a species of sedge known by the common name Jones' sedge.-Distribution:This sedge is native to the Western United States from California to Montana to Colorado, where it grows in moist areas, especially in subalpine mountain habitat.-Description:Carex jonesii produces clumps of...


L. H. Bailey
Carex klamathensis

Carex klamathensis

Carex klamathensis is a rare species of sedge known by the common name Klamath sedge. It is known from 15 or fewer occurrences in northern California and southern Oregon. It was described to science only in 2007. Its habitat includes fens and other moist and wet habitat, generally on serpentine...


B. L. Wilson & Janeway
Carex lasiocarpa

Carex lasiocarpa

Carex lasiocarpa is a species of sedge known by the common names slender sedge and woollyfruit sedge.-Distribution:This is an aquatic or shore plant of wet areas in mountainous areas of moderate elevation. It is found across much of North America and Eurasia...


Ehrh.
Carex lenticularis

Carex lenticularis

Carex lenticularis is a species of sedge known by the common name lakeshore sedge. It is native to much of northern North America, including most all of Canada and the western United States, where it grows in wet habitat.-Description:...


Michx.
Carex lepida

Carex lepida

Carex lepida is a species of plant in the Cyperaceae family. It is endemic to Ecuador. Its natural habitat is subtropical or tropical moist montanes....


Boott
Carex leporina L.
Carex leporinella

Carex leporinella

Carex leporinella is a species of sedge known by the common name Sierra hare sedge.-Distribution:This sedge is native to the western United States from California, such as the Sierra Nevada, to Wyoming, where it grows in moist mountain habitats, such as meadows.-Description:Carex leporinella...


Mack.
Carex leptalea

Carex leptalea

Carex leptalea is a species of sedge known by the common names bristly-stalked sedge and flaccid sedge. It is native to much of North America including most of Canada and the United States. It only grows in wetlands. This sedge produces dense clusters of thin stems up to 70 centimeters tall from a...


Wahlenb.
Carex limosa

Carex limosa

Carex limosa is a species of sedge known by the common names mud sedge and shore sedge.-Distribution:This sedge is an aquatic or shore plant which can most often be found in peat bogs in mountains. It is distributed across North America and Eurasia.-Description:Carex limosa has a large rhizome and...


L.
Carex lutea

Carex lutea

Carex lutea is a rare species of sedge known by the common names golden sedge and sulphur sedge. It is endemic to North Carolina, where it is known only from Pender and Onslow Counties in the Cape Fear River watershed. There are nine populations...


LeBlond
Carex luzulina

Carex luzulina

Carex luzulina is a species of sedge known by the common name woodrush sedge.-Distribution:This sedge is native to western North America from British Columbia to California to Wyoming, where it grows in wet habitat such as bogs and mountain meadows.-Description:Carex luzulina produces loose to...


Olney
Carex lyngbyei

Carex lyngbyei

Carex lyngbyei is a species of sedge known by the common name Lyngbye's sedge. It is native to the west coast of North America from Alaska to California, where it "is the common sedge of the Pacific coastal salt marshes." It is also known from Greenland and Iceland. It grows in habitat with...


Hornem.
Carex mariposana

Carex mariposana

Carex mariposana is a species of sedge known by the common name Mariposa sedge.-Distribution:This sedge is native to the Sierra Nevada of California and far western Nevada, where it grows in moist areas such as meadows.-Description:...


L. H. Bailey & Mack.
Carex mertensii

Carex mertensii

Carex mertensii is a species of sedge known by the common name Mertens' sedge. It is native to western North America from Alaska to California to Montana, where it grows in moist and wet habitat in mountain forests and meadows. This sedge produces clumps of stems reaching maximum heights between 80...


Prescott ex Bong.
Carex microptera

Carex microptera

Carex microptera is a species of sedge known by the common name smallwing sedge. It is native to western North America, including most all of western Canada and the western United States. It occurs in moist mountain habitat such as meadows and riverbanks. This sedge produces dense clumps of erect...


Mack.
Carex molesta

Carex molesta

Carex molesta is a species of sedge known by the common name troublesome sedge. It is native to eastern and central North America, where it grows in varied wet and dry habitats, performs equally well in full sun and partial shade, including disturbed areas such as roadsides. It is an introduced...


Mack. ex Bright
Carex multicaulis

Carex multicaulis

Carex multicaulis is a species of sedge known by the common name manystem sedge. It is native to California, western Nevada, and southern Oregon, where it grows in chaparral and open forest montane habitats.-Description:...


L. H. Bailey
Carex multicostata

Carex multicostata

Carex multicostata is a species of sedge known by the common name manyrib sedge.-Distribution:This sedge is native to the western United States from California to Montana, where it grows mainly in dry areas in mountain ranges, such as the Sierra Nevada and Transverse Ranges.-Description:Carex...


Mack.
Carex nebrascensis

Carex nebrascensis

Carex nebrascensis is a species of sedge known by the common name Nebraska sedge.-Distribution:This sedge is native to the central and Western United States and north into central Canada. It grows in wetlands at various elevations, including the Sierra Nevada and Mojave Desert sky islands...


Dewey
Carex nervina

Carex nervina

Carex nervina is a species of sedge known by the common name Sierra sedge.-Distribution:This sedge is native to California, including the Sierra Nevada and San Joaquin Valley, and adjacent parts of Oregon and Nevada, where it grows mainly in mountain meadows.-Description:Carex nervina forms thick...


L. H. Bailey
Carex neurophora

Carex neurophora

Carex neurophora is a species of sedge known by the common name alpine nerve sedge. It is native to the western United States, where it grows in wet mountain habitat such as meadows and streambanks. This sedge produces stems up to about 60 centimeters tall and inflorescences which are dense, oblong...


Mack. in Abrams
Carex nigra

Carex nigra

Carex nigra Reichard is a perennial species of plants in the family Cyperaceae native to wetlands of Europe, western Asia, NW Africa and E North America. The eastern limit of its range reaches central Siberia, Turkey and probably Caucasus....


(L.) Reichard
Carex nigricans

Carex nigricans

Carex nigricans is a species of sedge known by the common name black alpine sedge.-Distribution:This sedge is native to western North America from Alaska to the Sierra Nevada in California, to Colorado, where it grows in wet areas in mountain, taiga, and tundra habitat.-Description:Carex nigricans...


C. A. Mey.
Carex nudata

Carex nudata

Carex nudata is a species of true sedge known by several common names, including torrent sedge, California black-flowering sedge, Dudley's sedge, and naked sedge.-Distribution:...


S.Watson
Carex obnupta

Carex obnupta

Carex obnupta is a species of sedge known by the common name slough sedge. It is native to western North America from British Columbia to California where it grows abundantly in wet, often saline habitat such as wetlands. The plant produces upright, angled stems approaching 1.2 meters in maximum...


L. H. Bailey
Carex occidentalis

Carex occidentalis

Carex occidentalis is a species of sedge known by the common name western sedge. It is native to the southwestern United States and parts of the west as far north as Montana. It grows mainly in dry habitat such as woodland and grassland. The plant produces very narrow stems up to about 90...


L. H. Bailey
Carex pachystachya

Carex pachystachya

Carex pachystachya is a species of sedge known by the common name Chamisso sedge. It is native to western North America from Alaska to Saskatchewan to California, where it grows in dry to wet areas in many types of forest and grassland habitat. This sedge produces dense clumps of erect stems up to...


Cham. ex Steud.
Carex paleacea

Carex paleacea

Carex paleacea is one of the 579 species of Carex. The Wetland Indicator Status for the species is classified as "obligate wetland" , occurring 99% of the time in a typical salt marsh environment when conditions are favorable....


Schreb. ex Wahlenb.
Carex pansa

Carex pansa

Carex pansa is a species of sedge known by the common name sand dune sedge. It is native to coast of western North America from British Columbia to California, where it grows in dunes and other sandy habitat. This grasslike sedge produces sharply triangular stems up to about 40 centimeters tall...


L. H. Bailey
Carex pauciflora

Carex pauciflora

Carex pauciflora is a perennial species of sedge in the family Cyperaceae native to Holarctic wetlands....


Lightf.
Carex paupercula

Carex paupercula

Carex paupercula Michx. is a perennial species of plants in the family Cyperaceae native to Holarctic wetlands....


Michx.
Carex pellita

Carex pellita

Carex pellita is a species of sedge known by the common name woolly sedge.-Distribution:This sedge is native to much of North America, including southern Canada and the United States, except the Southeast.-Description:...


Muhl. ex Willd.
Carex pendula

Carex pendula

Carex pendula is a large sedge of the genus Carex. It occurs in woodland, scrubland, hedges and beside streams, preferring damp, heavy clay soils...


Huds.
Carex pensylvanica

Carex pensylvanica

Carex pensylvanica is a species of flowering plant in the sedge family commonly called Pennsylvania sedge.-Distribution:Based on a census of the literature, herbaria specimens, and confirmed sightings, C. pensylvanica is found in Manitoba Ontario and Quebec in Canada; and in the United States...


Lam.
Carex petasata

Carex petasata

Carex petasata is a species of sedge known by the common name Liddon sedge.-Distribution:This sedge is native to much of western North America, from Alaska and northwestern Canada to California and to New Mexico, where it grows in several habitat types, including dry and wet, and low to high...


Dewey
Carex phaeocephala

Carex phaeocephala

Carex phaeocephala is a species of sedge known by the common name dunhead sedge.-Distribution:This sedge is native to much of western North America, from Alaska to California to New Mexico, where it grows from foothills to high elevation habitats, including areas of alpine climate, generally in...


Piper
Carex pilulifera‎ L.
Carex praeceptorum

Carex praeceptorum

Carex praeceptorum is a species of sedge known by the common names early sedge and teacher's sedge. It is native to much of western North America, from British Columbia to California to Colorado, where it grows in wet, marshy habitat such as bogs and lakeshores...


Mack.
Carex praegracilis

Carex praegracilis

Carex praegracilis is a species of sedge known by the common names clustered field sedge, field sedge, and expressway sedge.-Distribution:...


W. Boott
Carex praticola

Carex praticola

Carex praticola is a species of sedge known by the common name meadow sedge. It is native to most of northern North America, including most of Canada and the northernmost United States. It grows in many habitat types from wet to dry, including moist mountain meadows and woodlands. This sedge...


Rydb.
Carex preussii

Carex preussii

Carex preussii is a species of plant in the Cyperaceae family. It is endemic to Cameroon. Its natural habitat is subtropical or tropical dry forests. It is threatened by habitat loss....


K. Schum.
Carex proposita

Carex proposita

Carex proposita is a species of sedge known by the common name Great Smoky Mountain sedge. It has a scattered distribution in parts of the western United States, including Washington, Idaho, and California. It was named for the Smoky Mountains of Idaho, not the Great Smoky Mountains, where it does...


Mack.
Carex raynoldsii

Carex raynoldsii

Carex raynoldsii is a species of sedge known by the common name Raynolds' sedge.-Distribution:This sedge is native to western North America from California to Colorado to Yukon, where it grows in mountain meadows in subalpine and alpine climates....


Dewey
Carex riparia

Carex riparia

Carex riparia, the greater pond sedge, is a species of sedge found across Europe and Asia. It grows in a variety of wet habitats, and can be a dominant species in some swamps. It is Britain's largest Carex, growing up to tall, with glaucous leaves up to long...


Curtis
Carex rossii

Carex rossii

Carex rossii, commonly known as Ross's sedge, is a hardy, monoecious species of sedge that is often a pioneer species in areas with little or no established vegetation, or in places where disturbance has occurred. It flowers in May and June....


Boott
Carex rostrata

Carex rostrata

Carex rostrata, bottle sedge, is a perennial species of sedge in the family Cyperaceae native to Holarctic fens....


Stokes
Carex scoparia

Carex scoparia

Carex scoparia is a species of sedge known by the common names broom sedge and pointed broom sedge. It should not be confused with the unrelated grass species known as "broom sedge," Andropogon virginicus.-Distribution:...


Schkuhr ex Willd.
Carex secta

Carex secta

Carex secta is a sedge that is endemic to New Zealand. It has a variety of common names including niggerhead and makuru....


Boott
Carex serotina

Carex serotina

Carex serotina is a species of sedge.- Synonyms :* Carex oederi auct. non Retz. * Carex oederi Retz. ssp. viridula Hultén * Carex oederi Retz. var. recterostrata Dorn...


Mérat
Carex sheldonii

Carex sheldonii

Carex sheldonii is a species of sedge known by the common name Sheldon's sedge.-Distribution:This sedge is native to the Western United States, where it grows in wet areas such as lakeshores and moist meadows.-Description:...


Mack.
Carex siderosticta

Carex siderosticta

Carex siderosticta is a species of sedge native to East Asia. It is the only species of Carex known to produce "pseudo-lateral" culms, which appear to be lateral, but derive from the apical meristem.-External links:* , GBIF* , Encyclopedia of Life...


Hance
Carex simulata

Carex simulata

Carex simulata is a species of sedge known by the common name analogue sedge.-Distribution:This sedge is native to the western United States and western Canada, where it grows in many types of wet habitat, from mountain meadows to ditches, often in alkaline conditions.-Description:Carex simulata...


Mack.
Carex sodiroi

Carex sodiroi

Carex sodiroi is a species of sedge known from a single collection made by Luis Sodiro at some time before 1886. It was found around from Nanegalito, and described as a new species by the sedge expert Georg Kükenthal in 1904...


Kük.
Carex sparganioides

Carex sparganioides

Bur-reed sedge is a perennial plant belonging to the sedge family . Its native range includes most of the Eastern and Central U.S., and it is typically found in hardwood or mixed forests...


Muhl. ex Willd.
Carex specifica

Carex specifica

Carex specifica is a species of sedge known by the common name narrowfruit sedge.-Distribution:This sedge is native to montane California, such as the Sierra Nevada and Klamath Mountains, and in far northwestern Nevada...


L. H. Bailey
Carex spectabilis

Carex spectabilis

Carex spectabilis is a species of sedge known by the common name showy sedge.-Distribution:This sedge is native to northwestern North America from Alaska to the Northwestern United States, and in California and Utah...


Dewey
Carex specuicola

Carex specuicola

Carex specuicola is a rare species of sedge known by the common name Navajo sedge. It is native to a small section of the Colorado Plateau in the United States, its distribution straddling the border between Utah and Arizona, and completely within the Navajo Nation. There are several populations...


J. T. Howell
Carex spissa

Carex spissa

Carex spissa is a species of sedge known by the common name San Diego sedge. It is native to the southwestern United States and far northern Mexico, where it grows in wet places, sometimes on serpentine soils. This sedge looks somewhat like a cattail...


L. H. Bailey
Carex straminiformis

Carex straminiformis

Carex straminiformis is a species of sedge known by the common name Shasta sedge.-Distribution:This sedge is native to the Western United States where it grows in a number of habitat types in rocky soils, such as in the Sierra Nevada and Mount Shasta regions.-Description:Carex straminiformis...


L. H. Bailey
Carex stricta

Carex stricta

Carex stricta is a species of sedge known by the common name Tussock Sedge.-External links:*...


Lam.
Carex subnigricans

Carex subnigricans

Carex subnigricans is a species of sedge known by the common name nearlyblack sedge.-Distribution:This sedge is native to the western United States from California to Wyoming, where it grows in moist and dry mountain habitat above in elevation in sub-alpine and alpine flora zones, such as in the...


Stacey
Carex tessellata

Carex tessellata

Carex tessellata is a species of plant in the Cyperaceae family. It is known from a single herbarium specimen collected by Richard Spruce from an uncertain location in Ecuador in the nineteenth century....


Spruce ex C. B. Clarke
Carex thouarsii

Carex thouarsii

Carex thouarsii is a species of sedge found in the Tristan da Cunha archipelago. It lives chiefly in heaths dominated by Blechnum palmiforme, and Phylica arborea woodland. It is widespread and common on Tristan da Cunha and Inaccessible Island, but scarce on Nightingale Island, possibly due to a...


Carmich.
Carex tiogana

Carex tiogana

Carex tiogana is a rare species of sedge known by the common name Tioga sedge. It is endemic to California, where it is known only from the Sierra Nevada in Mono County. There are four small occurrences....


D.W. Taylor & J.D. Mastrog.
Carex toreadora

Carex toreadora

Carex toreadora is a little-known species of sedge from Ecuador. It was described in 1964 by the prolific plant collector Julian A. Steyermark, having been collected in 1943 at an altitude of in Azuay Province. There it grew in "moist mossy boggy places bordering [an] alpine lake"...


Steyerm.
Carex tumulicola

Carex tumulicola

Carex tumulicola, the splitawn sedge foothill sedge, or previously Berkeley sedge, is a Sedge member of the Cyperaceae family.-Description:...


Mack.
Carex umbrosa

Carex umbrosa

Carex umbrosa is a species of sedge native to Europe and Asia as far east as Japan....


Host.
Carex utriculata

Carex utriculata

Carex utriculata is a species of sedge known by the common name Northwest Territory sedge.-Distribution:This sedge is native to the northern half of North America, including most all of Canada and the northern United States, and down to montane California. It is also found in parts of Eurasia...


Boott
Carex vallicola

Carex vallicola

Carex vallicola is a species of sedge known by the common name valley sedge. It is native to western North America from British Columbia to New Mexico, where it grows in many types of moist and dry habitat, including forest and grassland. This sedge produces clumps of stems up to about 60...


Dewey
Carex vernacula

Carex vernacula

Carex vernacula is a species of sedge known by the common name native sedge.-Distribution:This sedge is native to the western United States, where it grows in moist mountain habitat in alpine climates and higher subalpine elevations...


L. H. Bailey
Carex vesicaria

Carex vesicaria

Carex vesicaria is an essentially Holarctic species of sedge known by the common name Blister Sedge. The dried fibers, sometimes used as thermal insulation in polar regions, are known as sennegrass, saennegrass or similar, from the plant's Bokmål name Sennegras.-Distribution:This sedge is native to...


L.
Carex vulpinoidea

Carex vulpinoidea

Carex vulpinoidea is a species of sedge known by the common name fox sedge. It is native to North America, including most of Canada and the United States and part of Mexico, and it is known in Europe and New Zealand as an introduced species. The sedge lives in wet and seasonally wet habitat, and...


Michx.
Carex williamsii

Carex williamsii

Carex williamsii is a species of sedge found in Siberia and northern North America, from Alaska to Greenland.-External links:*, PLANTS Profile*, Flora of North America...


Britton
External links