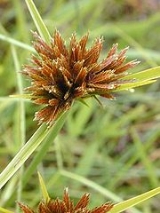 Cyperaceae
Cyperaceae
are a
family
Family (biology)
In biological classification, family is* a taxonomic rank. Other well-known ranks are life, domain, kingdom, phylum, class, order, genus, and species, with family fitting between order and genus. As for the other well-known ranks, there is the option of an immediately lower rank, indicated by the...
of
monocotyledon
Monocotyledon
Monocotyledons, also known as monocots, are one of two major groups of flowering plants that are traditionally recognized, the other being dicotyledons, or dicots. Monocot seedlings typically have one cotyledon , in contrast to the two cotyledons typical of dicots...
ous
graminoid
Grass
Grasses, or more technically graminoids, are monocotyledonous, usually herbaceous plants with narrow leaves growing from the base. They include the "true grasses", of the Poaceae family, as well as the sedges and the rushes . The true grasses include cereals, bamboo and the grasses of lawns ...
flowering plant
Flowering plant
The flowering plants , also known as Angiospermae or Magnoliophyta, are the most diverse group of land plants. Angiosperms are seed-producing plants like the gymnosperms and can be distinguished from the gymnosperms by a series of synapomorphies...
s known as
sedges
, which superficially resemble
grasses
Poaceae
The Poaceae is a large and nearly ubiquitous family of flowering plants. Members of this family are commonly called grasses, although the term "grass" is also applied to plants that are not in the Poaceae lineage, including the rushes and sedges...
or
rushes
Juncaceae
Juncaceae, the rush family, are a monocotyledonous family of flowering plants. There are eight genera and about 400 species. Members of the Juncaceae are slow-growing, rhizomatous, herbaceous plants, and they may superficially resemble grasses. They often grow on infertile soils in a wide range...
. The family is large, with some 5,500 species described in about 109
genera
Genus
In biology, a genus is a low-level taxonomic rank used in the biological classification of living and fossil organisms, which is an example of definition by genus and differentia...
. These species are widely distributed, with the centers of diversity for the group occurring in tropical Asia and tropical
South America
South America
South America is a continent situated in the Western Hemisphere, mostly in the Southern Hemisphere, with a relatively small portion in the Northern Hemisphere. The continent is also considered a subcontinent of the Americas. It is bordered on the west by the Pacific Ocean and on the north and east...
. While sedges may be found growing in all kinds of situations, many are associated with wetlands, or with poor soils.
Ecological communities
Community (ecology)
In ecology, a community is an assemblage of two or more populations of different species occupying the same geographical area. The term community has a variety of uses...
dominated by sedges are known as sedgelands.
Features distinguishing members of the sedge family from grasses or rushes are that members of the sedge family have stems with triangular cross-sections (with occasional exceptions), and their leaves are spirally arranged in three ranks (grasses have alternate leaves forming two ranks).
Some well-known sedges include the water chestnut (
Eleocharis dulcis
Eleocharis dulcis
The Chinese water chestnut , more often called simply the water chestnut, is a grass-like sedge grown for its edible corms. The water chestnut is actually not a nut at all, but an aquatic vegetable that grows in marshes, underwater in the mud...
) and the
papyrus
Papyrus
Papyrus is a thick paper-like material produced from the pith of the papyrus plant, Cyperus papyrus, a wetland sedge that was once abundant in the Nile Delta of Egypt....
sedge (
Cyperus papyrus
Cyperus papyrus
Cyperus papyrus is a monocot belonging to the sedge family Cyperaceae. It is a herbaceous perennial native to Africa, and forms tall stands of reed-like swamp vegetation in shallow water....
), from which the
Ancient Egypt
Ancient Egypt
Ancient Egypt was an ancient civilization of Northeastern Africa, concentrated along the lower reaches of the Nile River in what is now the modern country of Egypt. Egyptian civilization coalesced around 3150 BC with the political unification of Upper and Lower Egypt under the first pharaoh...
ian
writing material
Writing material
Writing material refers to the materials that provide the surfaces on which humans use writing instruments to inscribe writings. The same materials can also be used for symbolic or representational drawings. Building material on which writings or drawings are produced are not included...
was made. This family also includes cotton-grass (
Eriophorum
), spike-rush (
Eleocharis
Eleocharis
Eleocharis is a genus of 250 or more species of flowering plants in the sedge family, Cyperaceae. They are known commonly as spikerushes, although spikesedges is a more technically appropriate name and most scientists who study them in earnest refer to them as such...
), sawgrass (
Cladium
Cladium
Cladium is a genus of large sedges, with a worldwide distribution in tropical and temperate regions...
), nutsedge or nutgrass (
Cyperus rotundus
Cyperus rotundus
Cyperus rotundus is a species of sedge native to Africa, southern and central Europe , and southern Asia. The word cyperus derives from the Greek "κύπερος" and rotundus is from Latin, meaning "round"...
, a common lawn weed), the large genus of
Carex
Carex
Carex is a genus of plants in the family Cyperaceae, commonly known as sedges. Other members of the Cyperaceae family are also called sedges, however those of genus Carex may be called "true" sedges, and it is the most species-rich genus in the family. The study of Carex is known as...
, and white star sedge (
Rhynchospora colorata
Rhynchospora colorata
White Star Sedge , also known as White-topped Sedge and Starrush Whitetop, is a perennial sedge with white bracts, giving it the appearance of white petals with long, green points...
).
Selected genera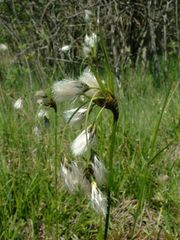 Abildgaardia
Actinoscirpus
Actinoschoenus
Afrotrilepis
Alinula
Amphiscirpus

Amphiscirpus

Amphiscirpus is a monotypic genus of flowering plants in the sedge family containing the single species Amphiscirpus nevadensis, which is known by the common name Nevada bulrush. This plant was formerly included in genus Scirpus...



Androtrichum
Arthrostylis
Ascolepis
Becquerelia
Baumea

Baumea

Baumea is a genus of the sedge family, which includes around 30 species native to Madagascar and the Pacific Islands, with 15 species in Australia. All are perennial rhizomatous herbs, with leaves and stems very similar in appearance. The inflorescence is terminal, with the flowers tightly...



Blysmus
Bolboschoenus

Bolboschoenus

Bolboschoenus is a genus of plants in the sedge family....



Bulbostylis

Bulbostylis

Bulbostylis is a genus of plants in the sedge family. They are sometimes called hairsedges. There are over 100 species of these clump-forming plants of dry grasslands and warm and tropical savannas worldwide. They have solid, rounded, grooved stems and long, thin basal leaves...



Carex

Carex

Carex is a genus of plants in the family Cyperaceae, commonly known as sedges. Other members of the Cyperaceae family are also called sedges, however those of genus Carex may be called "true" sedges, and it is the most species-rich genus in the family. The study of Carex is known as...



Cladium

Cladium

Cladium is a genus of large sedges, with a worldwide distribution in tropical and temperate regions...



Cymophyllus
Cyperus

Cyperus

Cyperus is a large genus of about 600 species of sedges, distributed throughout all continents in both tropical and temperate regions. They are annual or perennial plants, mostly aquatic and growing in still or slow-moving water up to 0.5 m deep. The species vary greatly in size, with small species...



Desmoschoenus
Dulichium

Dulichium (genus)

Dulichium is a monotypic genus of sedge containing the single species Dulichium arundinaceum, which is known by the common name threeway sedge. This is an aquatic or semi-aquatic plant of the lakes, streams, and ponds of North America. It has a wide distribution, covering much of the continent. It...



Eleocharis

Eleocharis

Eleocharis is a genus of 250 or more species of flowering plants in the sedge family, Cyperaceae. They are known commonly as spikerushes, although spikesedges is a more technically appropriate name and most scientists who study them in earnest refer to them as such...



Eleogiton
Elyna

Elyna

Elyna is a genus of sedges....



Eriophorum
Ficinia

Ficinia

Ficinia is a genus of tufted or rhizotamous sedges. There are around 70 recognised species in Africa, two species that occur in New Zealand and a single species Ficinia nodosa that occurs in Australia....



Fimbristylis

Fimbristylis

Fimbristylis is a genus of sedges. A plant in this genus may be known commonly as a fimbry, fimbristyle, or fringe-rush. There are 200 to 300 species distributed worldwide. Several continents have native species but many have been introduced to regions where they are not native. Many are...



Fuirena
Gahnia

Gahnia

Gahnia is a genus of sedges found in Australia and a number of Pacific Islands. The common name is due to the toothed margins...



Hypolytrum

Hypolytrum

Hypolytrum is a genus of plant in family Cyperaceae.Species include:* Hypolytrum amorimii* Hypolytrum bahiense* Hypolytrum heterophyllum* Hypolytrum jardimii* Hypolytrum leptocalamum* Hypolytrum nemorum...



Isolepis

Isolepis

Isolepis is a cosmopolitan genus of sedge. It contains around 70 species. It was first described by prolific botanist Robert Brown in 1810....



Kobresia

Kobresia

Kobresia is a genus of plants in the sedge family. They are sometimes called bog sedges. These perennial sedges are quite similar to Carex species in appearance...



Kyllinga

Kyllinga

Kyllinga is genus of flowering plants in the sedge family known commonly as spikesedges. They are native to tropical and warm temperate areas of the world, especially tropical Africa. These sedges vary in morphology, growing to heights from 2 centimeters to a meter and sometimes lacking rhizomes...



Lagenocarpus
Lepidosperma

Lepidosperma

Lepidosperma is a genus of flowering plant of the family Cyperaceae native to Australia.-Species:Species include:*Lepidosperma angustatum R.Br.*Lepidosperma aphyllum R.Br.*Lepidosperma avium K.L.Wilson...



Lepironia

Lepironia

Lepironia is a genus of the sedge family, comprising only one species, L. articulata, known as the grey sedge. It is found in Madagascar, throughout Malaysia, and around northern and eastern Australia, where Thirlmere Lakes National Park marks its southernmost occurrence....



Lipocarpha

Lipocarpha

Lipocarpha is a genus of sedges known as halfchaff sedges. There are approximately 35 species and representatives can be found throughout the tropical and warmer temperate areas of the world. These mostly are erect annual herbs growing 1 to 30 centimeters tall...



Machaerina
Mapania

Mapania

Mapania is a genus of plant in family Cyperaceae. It contains the following species :* Mapania ferruginea, Ridl....



Mariscus
Mesomelaena

Mesomelaena

Mesomelaena is a genus of sedges.Species include:*Mesomelaena graciliceps K.L.Wilson*Mesomelaena preissii Nees*Mesomelaena pseudostygia K.L.Wilson*Mesomelaena stygia Nees...



Morelotia
Oreobolus
Oxycaryum
Pycreus
Remirea
Rhynchospora

Rhynchospora

Rhynchospora is a genus of about 250-300 species of sedges with a cosmopolitan distribution. The genus includes both annual and perennial species, mostly with erect 3-sided stems and 3-ranked leaves...



Schoenoplectus

Schoenoplectus

Schoenoplectus is a genus of about 80 species of sedges with a cosmopolitan distribution. Note that the name bulrush is also applied to species in the unrelated genus Typha...



Schoenus

Schoenus (plant)

Schoenus is a genus of sedges. Plants of this genus mainly occur in Australasia.Species include:*Schoenus acuminatus*Schoenus andrewsii*Schoenus armeria*Schoenus badius*Schoenus benthamii*Schoenus capillifolius...



Scirpodendron
Scirpoides
Scirpus

Scirpus

The plant genus Scirpus consists of a large number of aquatic, grass-like species in the family Cyperaceae , many with the common names club-rush or bulrush . Other common names are deergrass or grassweed.The genus has a cosmopolitan distribution, and grows in wetlands and moist soil...



Scleria

Scleria

Scleria is a genus of flowering plants in the sedge family, Cyperaceae. Rather tall, coarse plants with leafy, three-angled stems, sometimes with wings along the angles...



Trichophorum

Trichophorum

Trichophorum is a genus of flowering plants in the sedge family, Cyperaceae.The genus contains the following species :* Trichophorum alpinum Pers....



Uncinia

Uncinia

Uncinia is a genus of flowering plants in the family Cyperaceae, known as hook-sedges in Australia and as hook grasses or bastard grasses in New Zealand...



Websteria
External links
Cyperaceae in L. Watson and M.J. Dallwitz (1992 onwards). The families of flowering plants: descriptions, illustrations, identification, information retrieval. Version: 27 April 2006. http://delta-intkey.com.
Visual and matrix-based keys to Carex, Cyperus, Eleocharis, Fuirena, Rhynchospora, and Scleria of North America @ Louisiana State University Herbarium Jones, T. M., Ferguson, D. M., and Reed, C. S. (2011)
Family Cyperaceae Flowers in Israel