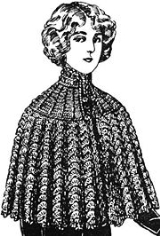 Cape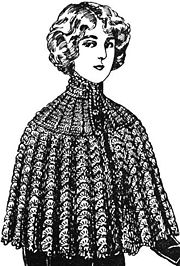 Cape
can be used to describe any sleeveless outer garment, such as a
poncho
, but usually it is a long garment that covers only the back half of the wearer, fastening around the neck. They were common in medieval
Europe
Europe
Europe is, by convention, one of the world's seven continents. Comprising the westernmost peninsula of Eurasia, Europe is generally 'divided' from Asia to its east by the watershed divides of the Ural and Caucasus Mountains, the Ural River, the Caspian and Black Seas, and the waterways connecting...
, especially when combined with a
hood
Hood (headgear)
A hood is a kind of headgear that covers most of the head and neck and sometimes the face. They may be worn for protection from the environment, for fashion, as a form of traditional dress or uniform, to prevent the wearer from seeing or to prevent the wearer from being identified.-History and...
in the
chaperon
Chaperon (headgear)
Chaperon was a form of hood or, later, highly versatile hat worn in all parts of Western Europe in the Middle Ages. Initially a utilitarian garment, it first grew a long partly decorative tail behind, and then developed into a complex, versatile and expensive headgear after what was originally the...
, and have had periodic returns to
fashion
Fashion
Fashion, a general term for a currently popular style or practice, especially in clothing, foot wear, or accessories. Fashion references to anything that is the current trend in look and dress up of a person...
, for example, in nineteenth century Europe. Roman Catholic
clergy
Clergy
Clergy is the generic term used to describe the formal religious leadership within a given religion. A clergyman, churchman or cleric is a member of the clergy, especially one who is a priest, preacher, pastor, or other religious professional....
wear a type of cape known as a
ferraiolo
Ferraiolo
The ferraiolo or ferraiuolo is a type of cape traditionally worn by clergy in the Roman Catholic Church on formal, non-liturgical occasions. Also known as a ferraiolone...
, which is worn for formal events outside of a liturgical context. The
cope
Cope
The cope is a liturgical vestment, a very long mantle or cloak, open in front and fastened at the breast with a band or clasp. It may be of any liturgical colour....
is a liturgical
vestment
Vestment
Vestments are liturgical garments and articles associated primarily with the Christian religion, especially among Latin Rite and other Catholics, Eastern Orthodox, Anglicans, and Lutherans...
in the form of a cape. Capes are often highly decorated with elaborate embroidery.
Capes remain in regular use as rain wear in various
military
Military
A military is an organization authorized by its greater society to use lethal force, usually including use of weapons, in defending its country by combating actual or perceived threats. The military may have additional functions of use to its greater society, such as advancing a political agenda e.g...
units and
police
Police
The police is a personification of the state designated to put in practice the enforced law, protect property and reduce civil disorder in civilian matters. Their powers include the legitimized use of force...
forces, for example in France. A
gas cape
was a voluminous military garment designed to give rain protection to someone wearing the bulky
gas mask
Gas mask
A gas mask is a mask put on over the face to protect the wearer from inhaling airborne pollutants and toxic gases. The mask forms a sealed cover over the nose and mouth, but may also cover the eyes and other vulnerable soft tissues of the face. Some gas masks are also respirators, though the word...
s used in twentieth century wars.
In modern times, comic book
superheroes
Superhero
A superhero is a type of stock character, possessing "extraordinary or superhuman powers", dedicated to protecting the public. Since the debut of the prototypical superhero Superman in 1938, stories of superheroes — ranging from brief episodic adventures to continuing years-long sagas —...
, such as
Superman
Superman
Superman is a fictional comic book superhero appearing in publications by DC Comics, widely considered to be an American cultural icon. Created by American writer Jerry Siegel and Canadian-born American artist Joe Shuster in 1932 while both were living in Cleveland, Ohio, and sold to Detective...
,
Batman
Batman
Batman is a fictional character created by the artist Bob Kane and writer Bill Finger. A comic book superhero, Batman first appeared in Detective Comics #27 , and since then has appeared primarily in publications by DC Comics...
and Thor, are often depicted wearing capes.
In fashion, the word
cape
usually refers to a shorter garment and
cloak
Cloak
A cloak is a type of loose garment that is worn over indoor clothing and serves the same purpose as an overcoat; it protects the wearer from the cold, rain or wind for example, or it may form part of a fashionable outfit or uniform. Cloaks are as old as human history; there has nearly always been...
to a full-length version of the different types of garment, though the two terms are sometimes used synonymously for full-length coverings. The fashion cape does not cover the front to any appreciable degree. In raingear, a cape is usually a long and roomy protective garment worn to keep one dry in the rain.
In full
evening dress
Evening dress
Evening dress may refer to:* White tie, the most formal civilian dress code in Western fashion* Black tie, a semi-formal dress code for evening events and social functions in Western fashion...
,
ladies
Lady
The word lady is a polite term for a woman, specifically the female equivalent to, or spouse of, a lord or gentleman, and in many contexts a term for any adult woman...
frequently use the cape as a fashion statement, or to protect the wearer or the fine
fabric
Textile
A textile or cloth is a flexible woven material consisting of a network of natural or artificial fibres often referred to as thread or yarn. Yarn is produced by spinning raw fibres of wool, flax, cotton, or other material to produce long strands...
s of their evening-wear from the elements, especially where a
coat
Coat (clothing)
A coat is a long garment worn by both men and women, for warmth or fashion. Coats typically have long sleeves and are open down the front, closing by means of buttons, zippers, hook-and-loop fasteners, toggles, a belt, or a combination of some of these...
would crush--or hide--the garment. These capes may be short (over the shoulders or to the waist) or a full-length cloak. Short capes were usually made of, or trimmed in,
fur
Fur
Fur is a synonym for hair, used more in reference to non-human animals, usually mammals; particularly those with extensives body hair coverage. The term is sometimes used to refer to the body hair of an animal as a complete coat, also known as the "pelage". Fur is also used to refer to animal...
; however, because fur is less accepted as a fashion accessory in modern times, other expensive materials are substituted for it, with an opulent
lining
Lining (sewing)
In sewing and tailoring, a lining is an inner layer of fabric, fur, or other material inserted into clothing, hats, luggage, curtains, handbags and similar items....
and trim. Typical fabrics used are
velvet
Velvet
Velvet is a type of woven tufted fabric in which the cut threads are evenly distributed,with a short dense pile, giving it a distinctive feel.The word 'velvety' is used as an adjective to mean -"smooth like velvet".-Composition:...
,
silk
Silk
Silk is a natural protein fiber, some forms of which can be woven into textiles. The best-known type of silk is obtained from the cocoons of the larvae of the mulberry silkworm Bombyx mori reared in captivity...
and
satin
Satin
Satin is a weave that typically has a glossy surface and a dull back. It is a warp-dominated weaving technique that forms a minimum number of interlacings in a fabric. If a fabric is formed with a satin weave using filament fibres such as silk, nylon, or polyester, the corresponding fabric is...
. Capes are still authorized as an alternative to the more utilitarian
trench coat
Trench coat
A trench coat or trenchcoat is a raincoat made of waterproof heavy-duty cotton drill or poplin, wool gabardine, or leather. It generally has a removable insulated lining; and it is usually knee-length.-History:...
for U.S. Army officers in
mess dress
Mess dress
Mess dress is the military term for the formal evening dress worn in the mess or at other formal occasions. It is also known as mess uniform and mess kit...
, formal evening uniform.
Caped overcoats were popular for men during the Victorian era, with some caped Ulsters featuring multiple layered capes, and the
Inverness coat
Inverness coat
The Inverness coat is a type of formal overcoat, with long open sleeves, in day or night variations. The Inverness coat was fashionable in the Victorian and Edwardian periods. The black evening version is the most formal overcoat from the era, and was worn with white tie, while the day version was...
(both formal evening and working day variants) had a cape. The Inverness coat is no longer commonly worn, and the Ulster lost its cape in the 1920s.