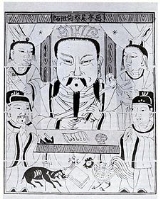 Cai Lun
Cai Lun
(ca. 50 AD – 121), courtesy name
Jingzhong
(敬仲), was a
Chinese
China
Chinese civilization may refer to:* China for more general discussion of the country.* Chinese culture* Greater China, the transnational community of ethnic Chinese.* History of China* Sinosphere, the area historically affected by Chinese culture...
eunuch. He is traditionally regarded as the inventor of
paper
Paper
Paper is a thin material mainly used for writing upon, printing upon, drawing or for packaging. It is produced by pressing together moist fibers, typically cellulose pulp derived from wood, rags or grasses, and drying them into flexible sheets....
and the
papermaking
Papermaking
Papermaking is the process of making paper, a substance which is used universally today for writing and packaging.In papermaking a dilute suspension of fibres in water is drained through a screen, so that a mat of randomly interwoven fibres is laid down. Water is removed from this mat of fibres by...
process, in forms recognizable in modern times as paper (as opposed to
Egypt
Egypt
Egypt , officially the Arab Republic of Egypt, Arabic: , is a country mainly in North Africa, with the Sinai Peninsula forming a land bridge in Southwest Asia. Egypt is thus a transcontinental country, and a major power in Africa, the Mediterranean Basin, the Middle East and the Muslim world...
ian
papyrus
Papyrus
Papyrus is a thick paper-like material produced from the pith of the papyrus plant, Cyperus papyrus, a wetland sedge that was once abundant in the Nile Delta of Egypt....
). Although paper existed in China before Cai Lun (since the 2nd century BC), he was responsible for the first significant improvement and standardization of paper-making by adding essential new materials into its composition.
Life
Cai Lun (蔡伦) was born in Guiyang (modern day
Leiyang
Leiyang
Leiyang is a county-level city in Hengyang, Hunan in China. It has over 1.3 million inhabitants. Cai Lun, the traditionally credited inventor of paper, was born and lived in Leiyang...
,
Hunan
Hunan
' is a province of South-Central China, located to the south of the middle reaches of the Yangtze River and south of Lake Dongting...
) during the Eastern
Han Dynasty
Han Dynasty
The Han Dynasty was the second imperial dynasty of China, preceded by the Qin Dynasty and succeeded by the Three Kingdoms . It was founded by the rebel leader Liu Bang, known posthumously as Emperor Gaozu of Han. It was briefly interrupted by the Xin Dynasty of the former regent Wang Mang...
. After serving as a court eunuch from AD 75, he was given several promotions under the rule of
Emperor He of Han
Emperor He of Han
Emperor He of Han, ch. 漢和帝, py. hàn hé dì, wg. Han Ho-ti, was an emperor of the Chinese Han Dynasty who ruled from 88 to 105. He was the 4th emperor of the Eastern Han dynasty....
. In AD 89 he was promoted with the title of
Shang Fang Si
, an office in charge of manufacturing instruments and weapons; he also became a Regular Palace Attendant (中常侍). He was involved in palace intrigue as a supporter of
Empress Dou
Empress Dou (Zhang)
Empress Dou , formally Empress Zhangde , was an empress during Han Dynasty. Her husband was Emperor Zhang. She was already influential during her husband's reign, but became particularly powerful as empress dowager regent for her adoptive son Emperor He after Emperor Zhang's death...
, and in the death of her romantic rival,
Consort Song
Consort Song
Consort Song , posthumous title Empress Jingyin , was an imperial consort for Emperor Zhang of Han who was the victim of palace intrigue at the hands of Emperor Zhang's wife Empress Dou.Consort Song was the older daughter of Song Yang , a seventh-generation descendant of Song Chang ,...
. After the death of Empress Dou in AD 97, he became an associate of
Consort Deng Sui
Empress Deng Sui
Empress Deng Sui , formally Empress Hexi was an empress during Han Dynasty. She was Emperor He's second wife. She later, as empress dowager, served as regent for his son Emperor Shang and nephew Emperor An, and was regarded as an able and diligent administrator...
.
In B.C. 105, Cai invented the composition for paper along with the papermaking process - though he may have been credited with an invention of someone from a lower class. Tools and machinery of papermaking in modern times may be more complex, but they still employ the ancient technique of felted sheets of fiber suspended in water, draining of the water, and then drying into a thin matted sheet. For this invention Cai would be world-renowned posthumously, and even in his own time he was given recognition for his invention. A part of his official
biography
Biography
A biography is a detailed description or account of someone's life. More than a list of basic facts , biography also portrays the subject's experience of those events...
written later in China read thus (Wade-Giles spelling):
As listed above, the papermaking process included the use of materials like
bark
Bark
Bark is the outermost layers of stems and roots of woody plants. Plants with bark include trees, woody vines and shrubs. Bark refers to all the tissues outside of the vascular cambium and is a nontechnical term. It overlays the wood and consists of the inner bark and the outer bark. The inner...
,
hemp
Hemp
Hemp is mostly used as a name for low tetrahydrocannabinol strains of the plant Cannabis sativa, of fiber and/or oilseed varieties. In modern times, hemp has been used for industrial purposes including paper, textiles, biodegradable plastics, construction, health food and fuel with modest...
,
silk
Silk
Silk is a natural protein fiber, some forms of which can be woven into textiles. The best-known type of silk is obtained from the cocoons of the larvae of the mulberry silkworm Bombyx mori reared in captivity...
, and
fishing net
Fishing net
A fishing net or fishnet is a net that is used for fishing. Fishing nets are meshes usually formed by knotting a relatively thin thread. Modern nets are usually made of artificial polyamides like nylon, although nets of organic polyamides such as wool or silk thread were common until recently and...
; his exact formula has been lost. Emperor He was pleased with the invention and granted Cai an aristocratic title and great wealth.
In 121, Consort Song's grandson
Emperor An of Han
Emperor An of Han
Emperor Ān of Hàn, ch. 漢安帝, py. hàn ān dì, wg. Han An-ti, was an emperor of the Chinese Hàn Dynasty and the sixth emperor of the Eastern Hàn period ruling from 106 to 125...
assumed power after Empress Deng's death and Cai was ordered to report to prison. Before he was to report, he committed
suicide
Suicide
Suicide is the act of intentionally causing one's own death. Suicide is often committed out of despair or attributed to some underlying mental disorder, such as depression, bipolar disorder, schizophrenia, alcoholism, or drug abuse...
by drinking
poison
Poison
In the context of biology, poisons are substances that can cause disturbances to organisms, usually by chemical reaction or other activity on the molecular scale, when a sufficient quantity is absorbed by an organism....
after taking a bath and dressing in fine silk robes. Cai was later revered in Chinese ancestor worship. Fei Zhu of the later
Song Dynasty
Song Dynasty
The Song Dynasty was a ruling dynasty in China between 960 and 1279; it succeeded the Five Dynasties and Ten Kingdoms Period, and was followed by the Yuan Dynasty. It was the first government in world history to issue banknotes or paper money, and the first Chinese government to establish a...
(960-1279) wrote that a
temple
Temple
A temple is a structure reserved for religious or spiritual activities, such as prayer and sacrifice, or analogous rites. A templum constituted a sacred precinct as defined by a priest, or augur. It has the same root as the word "template," a plan in preparation of the building that was marked out...
in honor of Cai Lun had been erected in
Chengdu
Chengdu
Chengdu , formerly transliterated Chengtu, is the capital of Sichuan province in Southwest China. It holds sub-provincial administrative status...
, where several hundred families involved in the papermaking industry traveled five miles (8 km) from the south to come and pay respects.
Influence
The creator of this extremely important invention is only somewhat known outside
East Asia
East Asia
East Asia or Eastern Asia is a subregion of Asia that can be defined in either geographical or cultural terms...
. After Cai invented the papermaking process in 105, it became widely used as a writing medium in China by the 3rd century. It enabled China to develop its civilization (through widespread
literature
Literature
Literature is the art of written works, and is not bound to published sources...
and
literacy
Literacy
Literacy has traditionally been described as the ability to read for knowledge, write coherently and think critically about printed material.Literacy represents the lifelong, intellectual process of gaining meaning from print...
) much faster than it had with earlier writing materials (primarily
bamboo
Bamboo
Bamboo is a group of perennial evergreens in the true grass family Poaceae, subfamily Bambusoideae, tribe Bambuseae. Giant bamboos are the largest members of the grass family....
and
silk
Silk
Silk is a natural protein fiber, some forms of which can be woven into textiles. The best-known type of silk is obtained from the cocoons of the larvae of the mulberry silkworm Bombyx mori reared in captivity...
).
By the 7th century, China's papermaking technique had spread to Korea, Vietnam, and Japan. In 751, some Chinese paper makers were captured by Arabs after
Tang
Tang Dynasty
The Tang Dynasty was an imperial dynasty of China preceded by the Sui Dynasty and followed by the Five Dynasties and Ten Kingdoms Period. It was founded by the Li family, who seized power during the decline and collapse of the Sui Empire...
troops were defeated in the
Battle of Talas
Battle of Talas
The Battle of Talas in 751 AD was an especially notable conflict between the Arab Abbasid Caliphate and the Chinese Tang Dynasty for control not only of the Syr Darya region, but even more...
River
Talas River
The Talas River rises in the Talas Province of Kyrgyzstan and flows west into Kazakhstan. It is formed from the confluence of the Karakol and Uch-Koshoy...
. The techniques of papermaking then spread to the West. When paper was first introduced to
Europe
Europe
Europe is, by convention, one of the world's seven continents. Comprising the westernmost peninsula of Eurasia, Europe is generally 'divided' from Asia to its east by the watershed divides of the Ural and Caucasus Mountains, the Ural River, the Caspian and Black Seas, and the waterways connecting...
in the 12th century, it gradually revolutionized the manner in which written communication could be spread from region to region. Along with contact between Arabs and Europeans during the
Crusades
Crusades
The Crusades were a series of religious wars, blessed by the Pope and the Catholic Church with the main goal of restoring Christian access to the holy places in and near Jerusalem...
(with the essential recovery of
ancient Greek
Ancient Greek
Ancient Greek is the stage of the Greek language in the periods spanning the times c. 9th–6th centuries BC, , c. 5th–4th centuries BC , and the c. 3rd century BC – 6th century AD of ancient Greece and the ancient world; being predated in the 2nd millennium BC by Mycenaean Greek...
written classics), the widespread use of paper aided the foundation of the
Scholastic Age
Scholasticism
Scholasticism is a method of critical thought which dominated teaching by the academics of medieval universities in Europe from about 1100–1500, and a program of employing that method in articulating and defending orthodoxy in an increasingly pluralistic context...
in Europe.