 Fishing net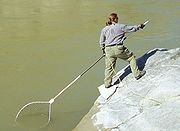 A
fishing net
or
fishnet
is a
net
Net (device)
A net, in its primary meaning, comprises fibers woven in a grid-like structure, and is very infrequently mentioned in discussions of philosophy. It blocks the passage of large items, while letting small items and fluids pass...
that is used for
fishing
Fishing
Fishing is the activity of trying to catch wild fish. Fish are normally caught in the wild. Techniques for catching fish include hand gathering, spearing, netting, angling and trapping....
. Fishing nets are
mesh
Mesh
Mesh consists of semi-permeable barrier made of connected strands of metal, fiber, or other flexible/ductile material. Mesh is similar to web or net in that it has many attached or woven strands.-Types of mesh:...
es usually formed by
knot
Knot
A knot is a method of fastening or securing linear material such as rope by tying or interweaving. It may consist of a length of one or several segments of rope, string, webbing, twine, strap, or even chain interwoven such that the line can bind to itself or to some other object—the "load"...
ting a relatively thin thread. Modern nets are usually made of artificial
polyamide
Polyamide
A polyamide is a polymer containing monomers of amides joined by peptide bonds. They can occur both naturally and artificially, examples being proteins, such as wool and silk, and can be made artificially through step-growth polymerization or solid-phase synthesis, examples being nylons, aramids,...
s like
nylon
Nylon
Nylon is a generic designation for a family of synthetic polymers known generically as polyamides, first produced on February 28, 1935, by Wallace Carothers at DuPont's research facility at the DuPont Experimental Station...
, although nets of organic polyamides such as
wool
Wool
Wool is the textile fiber obtained from sheep and certain other animals, including cashmere from goats, mohair from goats, qiviut from muskoxen, vicuña, alpaca, camel from animals in the camel family, and angora from rabbits....
or
silk
Silk
Silk is a natural protein fiber, some forms of which can be woven into textiles. The best-known type of silk is obtained from the cocoons of the larvae of the mulberry silkworm Bombyx mori reared in captivity...
thread were common until recently and are still used.
Types of fishing nets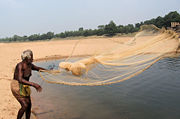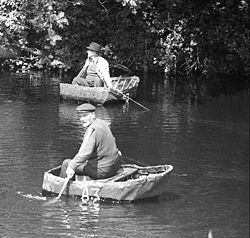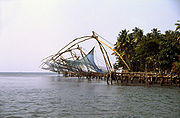 Cast net
Cast nets are small round nets with weights on the edges which is thrown by the fisher. Sizes vary up to about four metres in diameter. The net is thrown by hand in such a manner that it spreads out on the water and sinks. Fish are caught as the net is hauled back in.
Coracle net fishing
Coracle fishing
Coracle
The coracle is a small, lightweight boat of the sort traditionally used in Wales but also in parts of Western and South Western England, Ireland , and Scotland ; the word is also used of similar boats found in India, Vietnam, Iraq and Tibet...
is performed by two men, each seated in a coracle, plying his paddle with one hand and holding a shared net with the other. When a fish is caught, each hauls up his end of the net until the two coracles are brought to touch and the fish is secured.
Chinese nets
The
Chinese fishing nets
Chinese fishing nets (of Kochi)
The Chinese fishing nets are fixed land installations for an unusual form of fishing — shore operated lift nets. They are mostly found in the Indian state of Kerala. Huge mechanical contrivances hold out horizontal nets of 20 m or more across...
(Cheena vala) are used at Kochi in India. They are an example of
shore operated lift nets
because they are held horizontally by a large fixed structure and periodically lowered into the water. Huge mechanical contrivances hold out horizontal nets with diameters of twenty metres or more. The nets are dipped into the water and raised again, but otherwise cannot be moved.
Dragnet
This is a general term which can be applied to any net which is dragged or hauled across a river or along the bottom of a lake or sea.
Drift net
The
drift net
Drift net
Drift netting is a fishing technique where nets, called drift nets, are allowed to float freely at the surface of a sea or lake. Usually a drift net is a gill net with floats attached to a rope along the top of the net, and weights attached to another rope along the foot of the net to keep the net...
is a net that is not anchored. It is usually a gillnet, and is commonly used in the coastal waters of many countries. Its use on the high seas is prohibited, but still occurs.
Drive-in net
A drive-in net is another fixed net, used by small-scale fishermen in some fisheries in Japan and South Asia, particularly in the Philippines. It is used to catch
schooling
Shoaling and schooling
In biology, any group of fish that stay together for social reasons are said to be shoaling , and if, in addition, the group is swimming in the same direction in a coordinated manner, they are said to be schooling . In common usage, the terms are sometimes used rather loosely...
forage fish
Forage fish
Forage fish, also called prey fish or bait fish, are small fish which are preyed on by larger predators for food. Predators include other larger fish, seabirds and marine mammals. Typical ocean forage fish feed near the base of the food chain on plankton, often by filter feeding...
such as
fusilier
Caesionidae
The fusilier fishes are a family, Caesionidae, of fishes in the order Perciformes. They are related to the snappers, but adapted for feeding on plankton, rather than on larger prey.They are cylindrical, streamlined fishes, of up to in length...
s and other reef fish. It is a dustpan-shaped net, resembling a trawl net with long wings. The front part of the net is laid along the seabed. The fishermen either wait until a school swims into the net, or they drive fish into it by creating some sort of commotion. Then the net is closed by lifting the front end so the fish cannot escape.
Fyke net
Fyke nets are bag-shaped nets which are held open by hoops. These can be linked together in long chains, and are used to catch eels in rivers. If fyke nets are equipped with wings and leaders, they can also be used in sheltered places in lakes where there is plenty plant life. Hundreds of these nets can be connected into systems where it is not practical to build large traps.
Gillnet
The
gillnet
Gillnet
Gillnetting is a common fishing method used by commercial and artisanal fishermen of all the oceans and in some freshwater and estuary areas. The gillnet also is used by fisheries scientists to monitor fish populations. Because gillnets can be so effective their use is closely monitored and...
catches fish which try to pass through it by snagging on the gill covers. Thus trapped, the fish can neither advance through the net nor retreat
Ghost net
Ghost net
Ghost net
Ghost nets are fishing nets that have been left or lost in the ocean by fishermen. These nets, often nearly invisible in the dim light, can be left tangled on a rocky reef or drifting in the open sea. They can entangle fish, dolphins, sea turtles, sharks, dugongs, crocodiles, seabirds, crabs, and...
s are nets that have been lost at sea. They may continue to be a menace to marine life for many years.
Hand net
Hand nets are held open by a hoop and are possibly on the end of a long stiff handle. They have been known since antiquity and may be used for sweeping up fish near the water surface like
muskellunge
Muskellunge
A muskellunge , also known as a muskelunge, muscallonge, milliganong, or maskinonge , is a large, relatively uncommon freshwater fish of North America. Muskellunge are the largest member of the pike family, Esocidae...
and
northern pike
Northern Pike
The northern pike , is a species of carnivorous fish of the genus Esox...
. When such a net is used by an
angler
Fisherman
A fisherman or fisher is someone who captures fish and other animals from a body of water, or gathers shellfish. Worldwide, there are about 38 million commercial and subsistence fishermen and fish farmers. The term can also be applied to recreational fishermen and may be used to describe both men...
to help land a fish it is known as a
landing net
. In
England
England
England is a country that is part of the United Kingdom. It shares land borders with Scotland to the north and Wales to the west; the Irish Sea is to the north west, the Celtic Sea to the south west, with the North Sea to the east and the English Channel to the south separating it from continental...
, hand netting is the only legal way of catching
eel
Eel
Eels are an order of fish, which consists of four suborders, 20 families, 111 genera and approximately 800 species. Most eels are predators...
s and has been practised for thousands of years on the
River Parrett
River Parrett
The River Parrett flows through the counties of Dorset and Somerset in South West England, from its source in the Thorney Mills springs in the hills around Chedington in Dorset...
and
River Severn
River Severn
The River Severn is the longest river in Great Britain, at about , but the second longest on the British Isles, behind the River Shannon. It rises at an altitude of on Plynlimon, Ceredigion near Llanidloes, Powys, in the Cambrian Mountains of mid Wales...
.
Lave net
A special form of large hand net is the
Lave net
Lave net
A lave net is a type of fishing net used in river estuaries, particularly in the Severn Estuary in Wales and England to catch salmon.The lave net is a "Y" shaped structure consisting of two arms called rimes made from willow, which act as a frame work to the loosely hung net. The handle is called...
now used in very few locations on the
River Severn
River Severn
The River Severn is the longest river in Great Britain, at about , but the second longest on the British Isles, behind the River Shannon. It rises at an altitude of on Plynlimon, Ceredigion near Llanidloes, Powys, in the Cambrian Mountains of mid Wales...
in England and Wales. The Lave net is set in the water and the fisherman waits till he feels a fish hit against the mesh and the net is then lifted. Fish as large as
sturgeon
Sturgeon
Sturgeon is the common name used for some 26 species of fish in the family Acipenseridae, including the genera Acipenser, Huso, Scaphirhynchus and Pseudoscaphirhynchus. The term includes over 20 species commonly referred to as sturgeon and several closely related species that have distinct common...
are caught in lave nets.
Lift net
A lift net has an opening which faces upwards. The net is first submerged to a desired depth, and then then lifted or hauled from the water. It can be lifted either manually or mechanically, and can be operated on a boat or from a shore.
Plankton net
Research vessel
Research vessel
A research vessel is a ship designed and equipped to carry out research at sea. Research vessels carry out a number of roles. Some of these roles can be combined into a single vessel, others require a dedicated vessel...
s collect plankton from the ocean using fine mesh plankton nets. The vessels either tow the nets through the sea or pump sea water onboard and then pass it through the net.
Seine
A seine is a large fishing net that may be arranged in a number of different ways. In purse seine fishing the net hangs vertically in the water by attaching weights along the bottom edge and floats along the top. A simple and commonly used fishing technique is beach seining, where the seine net is operated from the shore. Danish seine is a method which has some similarities with trawling. In the UK seine netting for Salmon and Sea-trout in coastal waters is only permitted in a very few locations and where it is permitted one end of the seine must remain fixed and the other end is then waded out and returns to the fixed point. This variant is called
Wade netting
and is strictly controlled by law.
Stake net
A stake net is a form of net for catching salmon. It consists of a sheet of network stretched on stakes fixed into the ground, generally in rivers or where the sea ebbs and flows, for entangling and catching the fish.
Surrounding net
A surrounding net surrounds fish on the sides and underneath. It is an evolution of the seine, and is typically used by commercial fishers.
Tangle net
Tangle nets, also known as
tooth nets
, are similar to gillnets except they have a smaller mesh size designed to catch fish by the teeth or upper jaw bone instead of by the gills.
Trammel
A trammel is a fishing net with three layers of netting that is used to entangle fish or crustacea. A slack central layer with a small mesh is sandwiched between two taut outer layers with a much larger mesh. The net is kept vertical by the floats on the headrope and weights on the bottomrope.
Trawl
A trawl is a large net, conical in shape, designed to be towed in the sea or along the sea bottom. The trawl is pulled through the water by one or more boats, called trawlers or draggers. The activity of pulling the trawl through the water is called trawling or dragging.
Floats
Some types of fishing nets, like seine and trammel need to be kept hanging vertically in the water by means of floats at the top.
Small floats were usually made of cork

Cork (material)

Cork is an impermeable, buoyant material, a prime-subset of bark tissue that is harvested for commercial use primarily from Quercus suber , which is endemic to southwest Europe and northwest Africa...


, but fishermen in places where cork was not available used other materials, like birch

Birch

Birch is a tree or shrub of the genus Betula , in the family Betulaceae, closely related to the beech/oak family, Fagaceae. The Betula genus contains 30–60 known taxa...


bark in Finland

Finland

Finland , officially the Republic of Finland, is a Nordic country situated in the Fennoscandian region of Northern Europe. It is bordered by Sweden in the west, Norway in the north and Russia in the east, while Estonia lies to its south across the Gulf of Finland.Around 5.4 million people reside...


and Russia

Russia

Russia or , officially known as both Russia and the Russian Federation , is a country in northern Eurasia. It is a federal semi-presidential republic, comprising 83 federal subjects...


, as well as the pneumatophores of Sonneratia caseolaris

Sonneratia caseolaris

Sonneratia caseolaris, also known as Mangrove Apple or Crabapple Mangrove , is a species of plant in the Lythraceae family.This tree is a type of mangrove growing up to 20 m in height and with a trunk reaching a maximum diameter of 50 cm...


in Southeast Asia

Southeast Asia

Southeast Asia, South-East Asia, South East Asia or Southeastern Asia is a subregion of Asia, consisting of the countries that are geographically south of China, east of India, west of New Guinea and north of Australia. The region lies on the intersection of geological plates, with heavy seismic...


.. These materials have now largely been replaced by plastic foam.
Glass float

Glass float

Glass floats, glass fishing floats, or Japanese glass fishing floats are popular collectors' items. They were once used by fishermen in many parts of the world to keep their fishing nets, as well as longlines or droplines afloat....


s were large glass balls for long oceanic nets, now substituted by hard plastic. They are used not only to keep fishing nets afloat, but also for dropline

Dropline

A dropline is a commercial fishing device, consisting of a long fishing line set vertically down into the water, with a series of fishing hooks attached to snoods....


and longline fishing. Often larger floats have marker flag

Flag

A flag is a piece of fabric with a distinctive design that is usually rectangular and used as a symbol, as a signaling device, or decoration. The term flag is also used to refer to the graphic design employed by a flag, or to its depiction in another medium.The first flags were used to assist...


s for easier spotting.
History
See also: History of fishing

History of fishing

Fishing is the activity of catching fish. It is an ancient practice dating back at least 40,000 years. Since the 16th century fishing vessels have been able to cross oceans in pursuit of fish and since the 19th century it has been possible to use larger vessels and in some cases process the fish on...



Between 177 and 180 the Greek author
Oppian
Oppian
Oppian or Oppianus was the name of the authors of two didactic poems in Greek hexameters, formerly identified, but now generally regarded as two different persons: Oppian of Corycus in Cilicia; and Oppian of Apamea in Syria.-Oppian of Corycus:Oppian of Corycus in Cilicia, who flourished in the...
wrote the
Halieutica
, a didactic poem about fishing. He described various means of fishing including the use of nets cast from boats, scoop nets held open by a hoop, and various traps "which work while their masters sleep". Here is Oppian's description of fishing with a "motionless" net:

The fishers set up very light nets of buoyant flax and wheel in a circle round about while they violently strike the surface of the sea with their oars and make a din with sweeping blow of poles. At the flashing of the swift oars and the noise the fish bound in terror and rush into the bosom of the net which stands at rest, thinking it to be a shelter: foolish fishes which, frightened by a noise, enter the gates of doom. Then the fishers on either side hasten with the ropes to draw the net ashore.

Pictorial evidence of
Roman
Ancient Rome
Ancient Rome was a thriving civilization that grew on the Italian Peninsula as early as the 8th century BC. Located along the Mediterranean Sea and centered on the city of Rome, it expanded to one of the largest empires in the ancient world....
fishing comes from
mosaic
Mosaic
Mosaic is the art of creating images with an assemblage of small pieces of colored glass, stone, or other materials. It may be a technique of decorative art, an aspect of interior decoration, or of cultural and spiritual significance as in a cathedral...
s which show nets. In a parody of fishing, a type of
gladiator
Gladiator
A gladiator was an armed combatant who entertained audiences in the Roman Republic and Roman Empire in violent confrontations with other gladiators, wild animals, and condemned criminals. Some gladiators were volunteers who risked their legal and social standing and their lives by appearing in the...
called
retiarius
Retiarius
A retiarius was a Roman gladiator who fought with equipment styled on that of a fisherman: a weighted net , a three-pointed trident , and a dagger...
was armed with a
trident
Trident
A trident , also called a trishul or leister or gig, is a three-pronged spear. It is used for spear fishing and was also a military weapon. Tridents are featured widely in mythical, historical and modern culture. The major Hindu god, Shiva the Destroyer and the sea god Poseidon or Neptune are...
and a casting-net. He would fight against the
murmillo
Murmillo
The murmillo was a type of gladiator during the Roman Imperial age. The murmillo-class gladiator was adopted in the early Imperial period to replace the earlier Gallus, named after the warriors of Gaul...
, who carried a short sword and a helmet with the image of a fish on the front.
In
Norse mythology
Norse mythology
Norse mythology, a subset of Germanic mythology, is the overall term for the myths, legends and beliefs about supernatural beings of Norse pagans. It flourished prior to the Christianization of Scandinavia, during the Early Middle Ages, and passed into Nordic folklore, with some aspects surviving...
the sea giantess
Rán
Rán
In Norse mythology, Rán is a sea goddess. According to Snorri Sturluson's Prose Edda book Skáldskaparmál, in his retelling of the Poetic Edda poem Lokasenna, she is married to Ægir and they have nine daughters together...
uses a fishing net to trap lost sailors.
External links