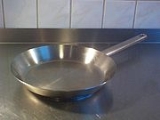 Frying pan
A
frying pan
,
frypan
, or
skillet
is a flat-bottomed
pan
Cookware and bakeware
Cookware and bakeware are types of food preparation containers commonly found in the kitchen. Cookware comprises cooking vessels, such as saucepans and frying pans, intended for use on a stove or range cooktop. Bakeware comprises cooking vessels intended for use inside an oven...
used for
frying
Frying
Frying is the cooking of food in oil or another fat, a technique that originated in ancient Egypt around 2500 BC. Chemically, oils and fats are the same, differing only in melting point, but the distinction is only made when needed. In commerce, many fats are called oils by custom, e.g...
,
searing
Searing
Searing is a technique used in grilling, baking, braising, roasting, sautéing, etc., in which the surface of the food is cooked at high temperature so a caramelized crust forms. Similar techniques, browning and blackening, are typically used to sear all sides of a particular piece of meat, fish,...
, and
browning
Maillard reaction
The Maillard reaction is a form of nonenzymatic browning similar to caramelization. It results from a chemical reaction between an amino acid and a reducing sugar, usually requiring heat....
foods. It is typically 200 millimetre in diameter with relatively low sides that flare outwards, a long handle, and no lid. Larger pans may have a small grab handle opposite the main handle. A pan of similar dimensions, but with vertical sides and often with a lid, is called a
sauté pan
or sauté.