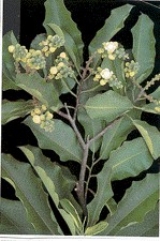 Brazil Nut
The
Brazil nut
is a
South America
South America
South America is a continent situated in the Western Hemisphere, mostly in the Southern Hemisphere, with a relatively small portion in the Northern Hemisphere. The continent is also considered a subcontinent of the Americas. It is bordered on the west by the Pacific Ocean and on the north and east...
n
tree
Tree
A tree is a perennial woody plant. It is most often defined as a woody plant that has many secondary branches supported clear of the ground on a single main stem or trunk with clear apical dominance. A minimum height specification at maturity is cited by some authors, varying from 3 m to...
in the family
Lecythidaceae
Lecythidaceae
The Lecythidaceae comprise a family of about 20 genera and 250-300 species of woody plants native to tropical South America and Madagascar.According to the most recent molecular analysis of Lecythidaceae The Lecythidaceae comprise a family of about 20 genera and 250-300 species of woody plants...
, and also the name of the tree's commercially harvested edible seed.
Order
The Brazil nut family is in the order
Ericales
Ericales
The Ericales are a large and diverse order of dicotyledons, including for example tea, persimmon, blueberry, Brazil nut, and azalea. The order includes trees and bushes, lianas and herbaceous plants. Together with ordinary autophytic plants, the Ericales include chlorophyll-deficient...
, as are other well known plants such as: blueberries,
cranberries
Cranberry
Cranberries are a group of evergreen dwarf shrubs or trailing vines in the subgenus Oxycoccus of the genus Vaccinium. In some methods of classification, Oxycoccus is regarded as a genus in its own right...
,
sapote
Sapote
Sapote is a term for a soft, edible fruit. The word is incorporated into the common names of several unrelated fruit-bearing plants native to Mexico, Central America and northern parts of South America....
,
gutta-percha
Gutta-percha
Gutta-percha is a genus of tropical trees native to Southeast Asia and northern Australasia, from Taiwan south to the Malay Peninsula and east to the Solomon Islands. The same term is used to refer to an inelastic natural latex produced from the sap of these trees, particularly from the species...
,
tea
Tea
Tea is an aromatic beverage prepared by adding cured leaves of the Camellia sinensis plant to hot water. The term also refers to the plant itself. After water, tea is the most widely consumed beverage in the world...
, kiwi fruit,
phlox
Phlox
Phlox is a genus of 67 species of perennial and annual plants found mostly in North America in diverse habitats from alpine tundra to open woodland and prairie. Some flower in spring, others in summer and autumn....
, and
persimmon
Persimmon
A persimmon is the edible fruit of a number of species of trees in the genus Diospyros in the ebony wood family . The word Diospyros means "the fire of Zeus" in ancient Greek. As a tree, it is a perennial plant...
s.
Brazil nut tree
The Brazil nut tree is the only species in the monotypic type genus
Bertholletia
. It is native to the Guianas,
Venezuela
Venezuela
Venezuela , officially called the Bolivarian Republic of Venezuela , is a tropical country on the northern coast of South America. It borders Colombia to the west, Guyana to the east, and Brazil to the south...
,
Brazil
Brazil
Brazil , officially the Federative Republic of Brazil , is the largest country in South America. It is the world's fifth largest country, both by geographical area and by population with over 192 million people...
, eastern
Colombia
Colombia
Colombia, officially the Republic of Colombia , is a unitary constitutional republic comprising thirty-two departments. The country is located in northwestern South America, bordered to the east by Venezuela and Brazil; to the south by Ecuador and Peru; to the north by the Caribbean Sea; to the...
, eastern
Peru
Peru
Peru , officially the Republic of Peru , is a country in western South America. It is bordered on the north by Ecuador and Colombia, on the east by Brazil, on the southeast by Bolivia, on the south by Chile, and on the west by the Pacific Ocean....
and eastern
Bolivia
Bolivia
Bolivia officially known as Plurinational State of Bolivia , is a landlocked country in central South America. It is the poorest country in South America...
. It occurs as scattered trees in large forests on the banks of the
Amazon
Amazon River
The Amazon of South America is the second longest river in the world and by far the largest by waterflow with an average discharge greater than the next seven largest rivers combined...
, Rio Negro,
Tapajós
Tapajós
The Tapajós, a Brazilian river running through a humid and hot valley, pours into the Amazon River 500 miles above Pará and is about 1200 miles long.It rises on the lofty Brazilian plateau near Diamantino in 14 degrees 25' south latitude...
, and the
Orinoco
Orinoco
The Orinoco is one of the longest rivers in South America at . Its drainage basin, sometimes called the Orinoquia, covers , with 76.3% of it in Venezuela and the remainder in Colombia...
. The genus is named after the
French
France
The French Republic , The French Republic , The French Republic , (commonly known as France , is a unitary semi-presidential republic in Western Europe with several overseas territories and islands located on other continents and in the Indian, Pacific, and Atlantic oceans. Metropolitan France...
chemist
Claude Louis Berthollet
Claude Louis Berthollet
Claude Louis Berthollet was a Savoyard-French chemist who became vice president of the French Senate in 1804.-Biography:...
.
The Brazil nut is a large tree, reaching 50 metres (165 ft) tall and 1–2 metres (3–6.5 ft) trunk diameter, among the largest of trees in the
Amazon Rainforest
Amazon Rainforest
The Amazon Rainforest , also known in English as Amazonia or the Amazon Jungle, is a moist broadleaf forest that covers most of the Amazon Basin of South America...
s. It may live for 500 years or more, and according to some authorities often reaches an age of 1,000 years. The stem is straight and commonly unbranched for well over half the tree's height, with a large emergent crown of long branches above the surrounding canopy of other trees.
The bark is grayish and smooth. The
leaves
Leaf
A leaf is an organ of a vascular plant, as defined in botanical terms, and in particular in plant morphology. Foliage is a mass noun that refers to leaves as a feature of plants....
are dry-season
deciduous
Deciduous
Deciduous means "falling off at maturity" or "tending to fall off", and is typically used in reference to trees or shrubs that lose their leaves seasonally, and to the shedding of other plant structures such as petals after flowering or fruit when ripe...
, alternate, simple, entire or crenate, oblong, 20–35 centimetre long and 10–15 centimetres broad. The
flower
Flower
A flower, sometimes known as a bloom or blossom, is the reproductive structure found in flowering plants . The biological function of a flower is to effect reproduction, usually by providing a mechanism for the union of sperm with eggs...
s are small, greenish-white, in panicles 5–10 centimetres long; each flower has a two-parted, deciduous calyx, six unequal cream-colored
petal
Petal
Petals are modified leaves that surround the reproductive parts of flowers. They often are brightly colored or unusually shaped to attract pollinators. Together, all of the petals of a flower are called a corolla. Petals are usually accompanied by another set of special leaves called sepals lying...
s, and numerous
stamen
Stamen
The stamen is the pollen producing reproductive organ of a flower...
s united into a broad, hood-shaped mass.
Reproduction
Brazil nut trees produce fruit almost exclusively in pristine forests, as disturbed forests lack the large-body bees of the genera
Bombus
,
Centris
Centris
The genus Centris contains over 110 species of large apid bees occurring from Kansas to Argentina. A number of these bees possess adaptations for carrying floral oils rather than pollen or nectar....
,
Epicharis
,
Eulaema
Eulaema
Eulaema is a genus of large-bodied euglossine bees that occur primarily in the Neotropics.They are robust brown or black bees, hairy or velvety and often striped with yellow or orange, typically resembling bumblebees.-Distribution:...
, and
Xylocopa
which are the only ones capable of pollinating the tree's flowers. Brazil nuts have been harvested from plantations but production is low and it is currently not economically viable.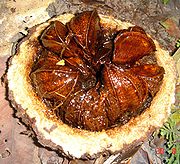 The Brazil nut tree's yellow flowers contain very sweet nectar and can only be pollinated by an
insect
Insect
Insects are a class of living creatures within the arthropods that have a chitinous exoskeleton, a three-part body , three pairs of jointed legs, compound eyes, and two antennae...
strong enough to lift the coiled hood on the flower and with a tongue long enough to negotiate the complex coiled flower. For this reason, the Brazil nut's reproduction depends on the presence of the orchid
Coryanthes vasquezii,
which does not grow on the Brazil nut tree itself. The orchids produce a scent that attracts small male long-tongued
orchid bees
Euglossini
Euglossine bees, also called orchid bees, are the only group of corbiculate bees whose non-parasitic members do not all possess eusocial behavior. Most of the species are solitary, though a few are communal, or exhibit simple forms of eusociality...
(
Euglossa
Euglossa
Euglossa is a genus of orchid bees . Like all their close relatives, they are native to the Neotropics; an introduced population exists in Florida. They are typically bright metallic blue, green, coppery, or golden....
spp), as the male bees need that scent to attract females. The large female long-tongued orchid bee pollinates the Brazil nut tree. Without the orchid, the bees do not mate, and therefore the lack of bees means the fruit does not get pollinated.
The fruit takes 14 months to mature after pollination of the flowers. The fruit itself is a large capsule 10–15 centimetres diameter resembling a
coconut
Coconut
The coconut palm, Cocos nucifera, is a member of the family Arecaceae . It is the only accepted species in the genus Cocos. The term coconut can refer to the entire coconut palm, the seed, or the fruit, which is not a botanical nut. The spelling cocoanut is an old-fashioned form of the word...
endocarp in size and weighing up to 2 kilograms. It has a hard, woody shell 8–12 millimetres thick, and inside contains 8–24 triangular seeds 4–5 centimetres long (the "Brazil nuts") packed like the segments of an
orange
Citrus
Citrus is a common term and genus of flowering plants in the rue family, Rutaceae. Citrus is believed to have originated in the part of Southeast Asia bordered by Northeastern India, Myanmar and the Yunnan province of China...
; it is not a true
nut
Nut (fruit)
A nut is a hard-shelled fruit of some plants having an indehiscent seed. While a wide variety of dried seeds and fruits are called nuts in English, only a certain number of them are considered by biologists to be true nuts...
in the botanical sense.
The capsule contains a small hole at one end, which enables large
rodent
Rodent
Rodentia is an order of mammals also known as rodents, characterised by two continuously growing incisors in the upper and lower jaws which must be kept short by gnawing....
s like the
Agouti
Common agouti
The popular term Agouti designates several rodent species of the genus Dasyprocta that inhabit areas of Middle America, the West Indies, and northern South America. They are related to guinea pigs and look quite similar but have longer legs. The species vary in color from tawny to dark brown with...
to gnaw it open. They then eat some of the nuts inside while burying others for later use; some of these are able to germinate into new Brazil nut trees. Most of the seeds are "planted" by the Agoutis in shady places, and the young saplings may have to wait years, in a state of dormancy, for a tree to fall and sunlight to reach it. It is not until then that it starts growing again.
Capuchin monkey
Capuchin monkey
The capuchins are New World monkeys of the genus Cebus. The range of capuchin monkeys includes Central America and South America as far south as northern Argentina...
s have been reported to open Brazil nuts using a stone as an
anvil
Anvil
An anvil is a basic tool, a block with a hard surface on which another object is struck. The inertia of the anvil allows the energy of the striking tool to be transferred to the work piece. In most cases the anvil is used as a forging tool...
.
Nomenclature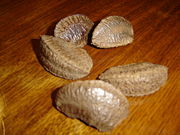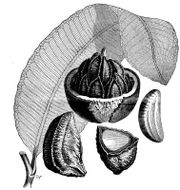 Despite their name, the most significant exporter of Brazil nuts is not Brazil but
Bolivia
Bolivia
Bolivia officially known as Plurinational State of Bolivia , is a landlocked country in central South America. It is the poorest country in South America...
, where they are called
almendras
. In Brazil these nuts are called
castanhas-do-Pará
(literally "nuts from
Pará
Pará
Pará is a state in the north of Brazil. It borders the Brazilian states of Amapá, Maranhão, Tocantins, Mato Grosso, Amazonas and Roraima. To the northwest it also borders Guyana and Suriname, and to the northeast it borders the Atlantic Ocean. The capital is Belém.Pará is the most populous state...
"), but
Acre
Acre (state)
Acre is one of the 27 states of Brazil. It is situated in the southwest of the Northern Region, bordering Amazonas to the north, Rondônia to the east, Bolivia to the southeast and the Ucayali Region of Peru to the south and west. It occupies an area of 152,581.4 km2, being slightly smaller...
ans call them
castanhas-do-Acre
instead.
Indigenous
Indigenous peoples of the Americas
The indigenous peoples of the Americas are the pre-Columbian inhabitants of North and South America, their descendants and other ethnic groups who are identified with those peoples. Indigenous peoples are known in Canada as Aboriginal peoples, and in the United States as Native Americans...
names include
juvia
in the Orinoco area, and
sapucaia
in the rest of Brazil.
While cooks classify the Brazil nut as a
nut
Nut (fruit)
A nut is a hard-shelled fruit of some plants having an indehiscent seed. While a wide variety of dried seeds and fruits are called nuts in English, only a certain number of them are considered by biologists to be true nuts...
, botanists consider it to be a
seed
Seed
A seed is a small embryonic plant enclosed in a covering called the seed coat, usually with some stored food. It is the product of the ripened ovule of gymnosperm and angiosperm plants which occurs after fertilization and some growth within the mother plant...
and not a nut, because in nuts the shell splits in half with the meat separate from the shell.
Nut production
Around 20,000 tons of Brazil nuts are harvested each year, of which Bolivia accounts for about 50%, Brazil 40% and Peru 10% (2000 estimates). In 1980, annual production was around 40,000 tons per year from Brazil alone, and in 1970 Brazil harvested a reported 104,487 tons of nuts.
Effects of harvesting
Brazil nuts for international trade come entirely from wild collection rather than from plantations. This has been advanced as a model for generating income from a
tropical forest
Tropical and subtropical moist broadleaf forests
Tropical and subtropical moist broadleaf forests , also known as tropical moist forests, are a tropical and subtropical forest biome....
without destroying it. The nuts are gathered by migrant workers known as
castanheiros
.
Analysis of tree ages in areas that are harvested show that moderate and intense gathering takes so many seeds that not enough are left to replace older trees as they die. Sites with light gathering activities had many young trees, while sites with intense gathering practices had hardly any young trees.
Statistical tests were done to determine what environmental factors could be contributing to the lack of younger trees. The most consistent effect was found to be the level of gathering activity at a particular site. A
computer model
Computer simulation
A computer simulation, a computer model, or a computational model is a computer program, or network of computers, that attempts to simulate an abstract model of a particular system...
predicting the size of trees where people picked all the nuts matched the tree size data that was gathered from physical sites that had heavy harvesting.
Nutrition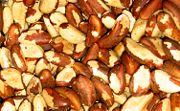 Brazil nuts are 18%
protein
Protein
Proteins are biochemical compounds consisting of one or more polypeptides typically folded into a globular or fibrous form, facilitating a biological function. A polypeptide is a single linear polymer chain of amino acids bonded together by peptide bonds between the carboxyl and amino groups of...
by weight, 13% carbohydrates, and 69%
fat
Fat
Fats consist of a wide group of compounds that are generally soluble in organic solvents and generally insoluble in water. Chemically, fats are triglycerides, triesters of glycerol and any of several fatty acids. Fats may be either solid or liquid at room temperature, depending on their structure...
. 91% of its calories come from fat. The fat breakdown is roughly 25%
saturated
Saturated fat
Saturated fat is fat that consists of triglycerides containing only saturated fatty acids. Saturated fatty acids have no double bonds between the individual carbon atoms of the fatty acid chain. That is, the chain of carbon atoms is fully "saturated" with hydrogen atoms...
, 41%
monounsaturated
Monounsaturated fat
In biochemistry and nutrition, monounsaturated fats or MUFA are fatty acids that have one double bond in the fatty acid chain and all of the remainder of the carbon atoms in the chain are single-bonded...
, and 34%
polyunsaturated
Polyunsaturated fat
In nutrition, polyunsaturated fat, or polyunsaturated fatty acid, are fatty acids in which more than one carbon–carbon double bond exists within the representative molecule. That is, the molecule has two or more points on its structure capable of supporting hydrogen atoms not currently part of the...
. The saturated fat content of Brazil nuts is among the highest of all nuts, surpassing macadamia nuts, which are primarily monounsaturated fat, and the nuts are pressed for their oil. Because of the resulting rich taste, Brazil nuts can often substitute for macadamia nuts or even
coconut
Coconut
The coconut palm, Cocos nucifera, is a member of the family Arecaceae . It is the only accepted species in the genus Cocos. The term coconut can refer to the entire coconut palm, the seed, or the fruit, which is not a botanical nut. The spelling cocoanut is an old-fashioned form of the word...
in recipes. Also due to their high
polyunsaturated fat
Polyunsaturated fat
In nutrition, polyunsaturated fat, or polyunsaturated fatty acid, are fatty acids in which more than one carbon–carbon double bond exists within the representative molecule. That is, the molecule has two or more points on its structure capable of supporting hydrogen atoms not currently part of the...
content, primarily
omega-6
Omega-6 fatty acid
n−6 fatty acids are a family of unsaturated fatty acids that have in common a final carbon–carbon double bond in the n−6 position, that is, the sixth bond, counting from the methyl end.The biological effects of the n−6 fatty acids are largely mediated by their conversion to n-6 eicosanoids...
, shelled Brazil nuts soon become
rancid
Rancidification
Rancidification is the chemical decomposition of fats, oils and other lipids . When these processes occur in food, undesirable odors and flavors can result. In some cases, however, the flavors can be desirable . In processed meats, these flavors are collectively known as "warmed over flavor"...
.
Nutritionally, Brazil nuts are a good source of some vitamins and minerals. A cup or 133 grams of Brazil nuts contains the vitamins thiamin (0.8 mg—55% DV) and vitamin E (7.6 mg—38% DV); minerals calcium (213 mg—21% DV), magnesium (500 mg—125% DV), phosphorus (946 mg—96% DV), copper (2.3 mg—116% DV), and manganese (1.6 mg—81%), and are perhaps the richest dietary source of
selenium
Selenium
Selenium is a chemical element with atomic number 34, chemical symbol Se, and an atomic mass of 78.96. It is a nonmetal, whose properties are intermediate between those of adjacent chalcogen elements sulfur and tellurium...
; one ounce can contain as much as 10 times the adult USRDA (U.S.
Recommended Dietary Allowances
Reference Daily Intake
The Reference Daily Intake or Recommended Daily Intake is the daily intake level of a nutrient that is considered to be sufficient to meet the requirements of 97–98% of healthy individuals in every demographic in the United States .The RDI is used to determine the Daily Value of foods,...
), more even than the Tolerable Upper Intake Level (UL), although the amount of selenium within batches of nuts varies greatly.
Recent research suggests that proper selenium intake is correlated with a reduced risk of both
breast cancer
Breast cancer
Breast cancer is cancer originating from breast tissue, most commonly from the inner lining of milk ducts or the lobules that supply the ducts with milk. Cancers originating from ducts are known as ductal carcinomas; those originating from lobules are known as lobular carcinomas...
and
prostate cancer
Prostate cancer
Prostate cancer is a form of cancer that develops in the prostate, a gland in the male reproductive system. Most prostate cancers are slow growing; however, there are cases of aggressive prostate cancers. The cancer cells may metastasize from the prostate to other parts of the body, particularly...
. This has led some health commentators and nutritionists to recommend the consumption of Brazil nuts as a protective measure. These findings are inconclusive, however; other investigations into the effects of selenium on prostate cancer were inconclusive.
Brazil nuts have one of the highest concentrations of phytic acid at 2 to 6% of dry weight. (
Phytic acid
Phytic acid
Phytic acid is the principal storage form of phosphorus in many plant tissues, especially bran and seeds. Phytate is not digestible to humans or nonruminant animals, however, so it is not a source of either inositol or phosphate if eaten directly...
can prevent absorption of some nutrients, mainly iron, but is also a subject of research and possibly confers health benefits - see phytic acid article for more information.)
Despite the possible health benefits of the nut, the
European Union
European Union
The European Union is an economic and political union of 27 independent member states which are located primarily in Europe. The EU traces its origins from the European Coal and Steel Community and the European Economic Community , formed by six countries in 1958...
has imposed strict regulations on the import from Brazil of Brazil nuts in their shells, as the shells have been found to contain high levels of
aflatoxin
Aflatoxin
Aflatoxins are naturally occurring mycotoxins that are produced by many species of Aspergillus, a fungus, the most notable ones being Aspergillus flavus and Aspergillus parasiticus. Aflatoxins are toxic and among the most carcinogenic substances known...
s, which can lead to liver cancer.
Brazil nuts contain small amounts of
radium
Radium
Radium is a chemical element with atomic number 88, represented by the symbol Ra. Radium is an almost pure-white alkaline earth metal, but it readily oxidizes on exposure to air, becoming black in color. All isotopes of radium are highly radioactive, with the most stable isotope being radium-226,...
. Although the amount of radium, a radioactive element, is very small, about 1–7 pCi/g (40–260
Bq
Becquerel
The becquerel is the SI-derived unit of radioactivity. One Bq is defined as the activity of a quantity of radioactive material in which one nucleus decays per second. The Bq unit is therefore equivalent to an inverse second, s−1...
/kg), and most of it is not retained by the body, this is 1,000 times higher than in other foods. According to
Oak Ridge Associated Universities
Oak Ridge Associated Universities
Oak Ridge Associated Universities is a consortium of American and British universities headquartered in Oak Ridge, Tennessee, with an office in Washington, D.C., and staff at several other locations across the country.- History :...
, this is not because of elevated levels of radium in the soil, but due to "the very extensive root system of the tree."
Other uses
As well as its food use, Brazil nut oil is also used as a
lubricant
Lubricant
A lubricant is a substance introduced to reduce friction between moving surfaces. It may also have the function of transporting foreign particles and of distributing heat...
in
clock
Clock
A clock is an instrument used to indicate, keep, and co-ordinate time. The word clock is derived ultimately from the Celtic words clagan and clocca meaning "bell". A silent instrument missing such a mechanism has traditionally been known as a timepiece...
s, for making
artist
Artist
An artist is a person engaged in one or more of any of a broad spectrum of activities related to creating art, practicing the arts and/or demonstrating an art. The common usage in both everyday speech and academic discourse is a practitioner in the visual arts only...
s'
paint
Paint
Paint is any liquid, liquefiable, or mastic composition which after application to a substrate in a thin layer is converted to an opaque solid film. One may also consider the digital mimicry thereof...
s, and in the
cosmetics
Cosmetics
Cosmetics are substances used to enhance the appearance or odor of the human body. Cosmetics include skin-care creams, lotions, powders, perfumes, lipsticks, fingernail and toe nail polish, eye and facial makeup, towelettes, permanent waves, colored contact lenses, hair colors, hair sprays and...
industry.
The
lumber
Lumber
Lumber or timber is wood in any of its stages from felling through readiness for use as structural material for construction, or wood pulp for paper production....
from Brazil nut trees (not to be confused with
Brazilwood
Brazilwood
Caesalpinia echinata is a species of Brazilian timber tree in the pea family, Fabaceae. Common names include Brazilwood, Pau-Brasil, Pau de Pernambuco and Ibirapitanga . This plant has a dense, orange-red heartwood that takes a high shine, and it is the premier wood used for making bows for...
) is of excellent quality, but logging the trees is prohibited by law in all three producing countries (Brazil, Bolivia and Peru). Illegal extraction of timber and land clearances present a continuing threat.
The
Brazil nut effect
Brazil nut effect
Granular convection is a phenomenon where granular material subjected to shaking or vibration will exhibit circulation patterns similar to types of fluid convection...
is the tendency of the larger items to rise to the top of a mixture of items of various sizes but similar densities, e.g., Brazil nuts mixed with
peanut
Peanut
The peanut, or groundnut , is a species in the legume or "bean" family , so it is not a nut. The peanut was probably first cultivated in the valleys of Peru. It is an annual herbaceous plant growing tall...
s.
External links
Listed as Vulnerable (VU A1acd+2 cd v2.3) (Overharvesting of Brazil nuts as threat to regeneration.)