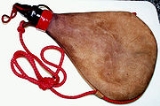 Bota bag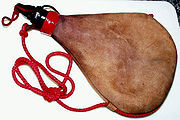 A
bota bag
or
wineskin
is a traditional
Spanish
Spain
Spain , officially the Kingdom of Spain languages]] under the European Charter for Regional or Minority Languages. In each of these, Spain's official name is as follows:;;;;;;), is a country and member state of the European Union located in southwestern Europe on the Iberian Peninsula...
liquid receptacle. Typically, it is made of
leather
Leather
Leather is a durable and flexible material created via the tanning of putrescible animal rawhide and skin, primarily cattlehide. It can be produced through different manufacturing processes, ranging from cottage industry to heavy industry.-Forms:...
(when made of
goatskin
Goatskin (material)
Goatskin is the skin of a goat.Non tanned goatskin is used for parchment or for drumheads or sounding boards of some musical instruments, e.g., mišnice in medieval Europe, bodhrán in Ireland, esraj in India and for instrumental drum skin named bedug in Indonesia.Tanned leather from goatskin is...
it is known as a goatskin itself), and is used to carry
wine
Wine
Wine is an alcoholic beverage, made of fermented fruit juice, usually from grapes. The natural chemical balance of grapes lets them ferment without the addition of sugars, acids, enzymes, or other nutrients. Grape wine is produced by fermenting crushed grapes using various types of yeast. Yeast...
, although any liquid will do.
Construction
Traditionally, bota bags were lined with tree
sap
Sap
Sap may refer to:* Plant sap, the fluid transported in xylem cells or phloem sieve tube elements of a plant* Sap , a village in the Dunajská Streda District of Slovakia...
or other
resin
Resin
Resin in the most specific use of the term is a hydrocarbon secretion of many plants, particularly coniferous trees. Resins are valued for their chemical properties and associated uses, such as the production of varnishes, adhesives, and food glazing agents; as an important source of raw materials...
s to prevent liquids from seeping through. Modern bota bags have a
plastic
Plastic
A plastic material is any of a wide range of synthetic or semi-synthetic organic solids used in the manufacture of industrial products. Plastics are typically polymers of high molecular mass, and may contain other substances to improve performance and/or reduce production costs...
liner and nozzle.
Variants
The
zahato
s̻ahato is the traditional goatskin bottle of the Basque
shepherd
Shepherd
A shepherd is a person who tends, feeds or guards flocks of sheep.- Origins :Shepherding is one of the oldest occupations, beginning some 6,000 years ago in Asia Minor. Sheep were kept for their milk, meat and especially their wool...
s. With its narrow nozzle, it is possible to drink "zurrust", i.e. intercepting the jet without touching the bottle. The name of
zahato
or
zahako
(variants:
xahako
ʃahako,
zarako
) is a diminutive
zahat-to/-ko
of
zahagi
'big goatskin bottle'. Its manufacturer is a
zahatogile
.
The zahato is made of two pieces of tanned and close-cropped goatskin. Softened, they are cut out on a last and are sewn on their sides. Then the bottle is turned up, seam and hair inside. After drying, it is inflated, then coated with
pitch
Pitch (resin)
Pitch is the name for any of a number of viscoelastic, solid polymers. Pitch can be made from petroleum products or plants. Petroleum-derived pitch is also called bitumen. Pitch produced from plants is also known as resin. Products made from plant resin are also known as rosin.Pitch was...
to make it impermeable. The nozzle, traditionally in
horn
Horn (anatomy)
A horn is a pointed projection of the skin on the head of various animals, consisting of a covering of horn surrounding a core of living bone. True horns are found mainly among the ruminant artiodactyls, in the families Antilocapridae and Bovidae...
, is fixed by a red collar. The zahato is carried across the shoulder with the red cord which surrounds it along the seam.