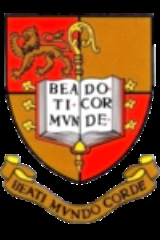 Birkenhead School
Birkenhead School
is an independent, selective, co-educational school located on the
Wirral Peninsula
Wirral Peninsula
Wirral or the Wirral is a peninsula in North West England. It is bounded by three bodies of water: to the west by the River Dee, forming a boundary with Wales, to the east by the River Mersey and to the north by the Irish Sea. Both terms "Wirral" and "the Wirral" are used locally , although the...
in the northwest of England. It is a member of the
Headmasters' and Headmistresses' Conference
Headmasters' and Headmistresses' Conference
The Headmasters' and Headmistresses' Conference is an association of the headmasters or headmistressess of 243 leading day and boarding independent schools in the United Kingdom, Crown Dependencies and the Republic of Ireland...
.
Overview
The school is subdivided into
Nursery Department (for children aged three months to three years),
Pre-Prep (for pupils aged three to five),
Preparatory

Preparatory school (UK)

In English language usage in the former British Empire, the present-day Commonwealth, a preparatory school is an independent school preparing children up to the age of eleven or thirteen for entry into fee-paying, secondary independent schools, some of which are known as public schools...


(six years from ages five to eleven),
"Overdale" (two years from ages eleven to thirteen)
Senior School (five years from thirteen up to the sixth form

Sixth form

In the education systems of England, Wales, and Northern Ireland, and of Commonwealth West Indian countries such as Barbados, Trinidad and Tobago, Belize, Jamaica and Malta, the sixth form is the final two years of secondary education, where students, usually sixteen to eighteen years of age,...


at about eighteen).
Entrance is via the Prep School, by open competitive examination at 11, by
Common Entrance
Common Entrance
Common Entrance Examinations are taken by some children in the UK as part of the admissions process for academically selective secondary schools at age 13 or 11. Most of the secondary schools that use Common Entrance for admission are public schools; most of the schools that routinely prepare...
at 13, or by interview at the sixth-form level. The school offers some assistance with fees to pupils who would not otherwise be able to take up a place at the school through a bursary scheme financed by the Birkenhead School Foundation Trust. This charity was established in 1998 and is currently supporting about sixty pupils in the school. A few scholarships are also awarded, based principally on academic ability, but occasionally as a result of exceptional sporting or musical potential. These give a fixed reduction in fee, independent of the parents' financial circumstances. The school no longer has boarders.
The current headmaster is John Clark (since 2003). Previous headmasters include Stuart Haggett (1988–2003),
John Gwilliam
John Gwilliam
John Albert Gwilliam was a Welsh rugby union 'No 8' who played international rugby for Wales and club rugby for Cambridge University, Edinburgh Wanderers, Gloucester, Newport, London Welsh, Llanelli and Wasps...
(1963–1988), Kenneth "KD" Robinson (1946–1963) and
Warin Foster Bushell
Warin Foster Bushell
Warin Foster Bushell MA FRAS was a schoolmaster and educationalist who was headmaster of leading schools in England and South Africa and a President of the Mathematical Association.-Early life:...
(1930–1946).
As well as a strong sporting tradition, the school has a large
Combined Cadet Force
Combined Cadet Force
The Combined Cadet Force is a Ministry of Defence sponsored youth organisation in the United Kingdom. Its aim is to "provide a disciplined organisation in a school so that pupils may develop powers of leadership by means of training to promote the qualities of responsibility, self reliance,...
contingent and Chapel Choir. It also has a student council, created in 2003, which seeks to improve the lives of Birkenhead School pupils.
Quality of education
The last formal inspection of the school took place in late 2007. The report by the Independent Schools Inspectorate concluded that the overall quality of teaching was 'good' with a significant proportion 'outstanding.' It added that pupils have "evident self-esteem and positive, secure moral values… excellent relationships with teachers and other pupils, [they] willingly take on responsibility and recognise the importance of contributing to the social good. They have a good understanding of their own culture and that of others. Pupils' behaviour is exemplary, and they have an excellent attitude to their studies in lessons." These comments largely echo inspection reports of previous years. The next inspection is likely to take place in 2011.
History
Birkenhead School was opened in Park Road North,
Birkenhead
Birkenhead
Birkenhead is a town within the Metropolitan Borough of Wirral in Merseyside, England. It is on the Wirral Peninsula, along the west bank of the River Mersey, opposite the city of Liverpool...
on 9 August 1860 at first called Birkenhead Proprietary School. It started with 18 pupils but had grown to 30 by the end of the first term. By 1870 there were 85 pupils and so a new building was required. The school moved to its present site in
Oxton
Oxton, Merseyside
Oxton is a suburb of Birkenhead, on the Wirral Peninsula, England. Administratively it is a ward of the Metropolitan Borough of Wirral. Originally a village in its own right, it became part of the Municipal Borough of Birkenhead upon its creation in 1877...
on 2 November 1871. The school's motto was taken from the gospel reading for that day. The Chapel was opened in 1883. The Preparatory Department was established in September 1889 and moved to Beresford Road in 1893. During 1899 the ground alongside Beresford Road was leveled to create the school's playing field.
In 1905 the Noctorum ground, approximately 2.3 hectares (5.5 acres), was rented and subsequently bought in 1910. Buildings on Bidston Road were acquired in 1920 for use as a science block and in 1921 the Lodge in Beresford Road was purchased for the use of the school. The Fender Ground, 9.3 hectares, was acquired in 1922 and part was used by the newly formed Old Birkonian Football Club, prior to moving to an adjacent ground in 1926. Matches were played here until 1976, when the club merged with
Birkenhead Park
Birkenhead Park
Birkenhead Park is a public park in the centre of Birkenhead, on the Wirral Peninsula, England. It was designed by Joseph Paxton and opened on 5 April 1847...
Rugby Club. As playing fields nearer the school were developed, Fender Field was later sold. In 1931, "Junior School" was started in Overdale at the top of Beresford Road.
In 1948 the L.C. McAllester Memorial Ground, 4.7 hectares, was presented to the school. It was officially opened in 1952. A purpose-built science block on Bidston Road was built in 1958, and has since been expanded. In 1982 the Bushell Hall was opened for use by the main school, and the Preparatory School moved into the vacated Shrewsbury Road buildings. These included the original "big school" dating back to 1871, and the recently closed boarding house which at its peak had catered for over forty boarders. The vacated Preparatory School building in Beresford Road was then adapted to provide an extensive Music School, although this has subsequently moved onto the main School campus and the Beresford Road property sold and redeveloped as apartments.
What was the headmaster's house on Shrewsbury Road was acquired in 1988 so that by then the school owned all the properties in the block apart from the Holy Name Church on Beresford Road. In 1992, the Sports Hall was completed. In conjunction with Oxton Sports Club, an all-weather pitch was completed on the McAllester Field site, and also in 1992 the Preparatory Department's purpose built Little School was opened in Kingsmead Road South. In 2001 a climbing wall was added to the Sports Hall. The school opened a Nursery in 2006, catering for children from 3 months upwards. Building work to support the co-educational future of the school, including additional classrooms on Shrewsbury Road and an extension to the Sports Pavilion at McAllester Field to provide female changing facilities, was completed in 2009. In 2011 the redeveloped Sixth Form Centre on Bidston Road opened.
In 2000 the
sixth form
Sixth form
In the education systems of England, Wales, and Northern Ireland, and of Commonwealth West Indian countries such as Barbados, Trinidad and Tobago, Belize, Jamaica and Malta, the sixth form is the final two years of secondary education, where students, usually sixteen to eighteen years of age,...
became co-educational. This was followed by the Pre-Prep Department (
kindergarten
Kindergarten
A kindergarten is a preschool educational institution for children. The term was created by Friedrich Fröbel for the play and activity institute that he created in 1837 in Bad Blankenburg as a social experience for children for their transition from home to school...
) in 2006. Partly in response to the decision of
Birkenhead High School
Birkenhead High School
Birkenhead High School Academy is an all-ability state funded girls' Academy in Birkenhead, Wirral.-Admissions:It is a member of the Girls' Day School Trust, a national educational charity based in London. Its predecessor school was Birkenhead High School, which was an independent selective school...
to become a non-selective city academy, Birkenhead School became wholly co-educational in 2008 and girls currently make up around 23% of the school. In 2010 the first female chaplain was appointed.
In 1935 Birkenhead School became a
Direct Grant school
Direct grant grammar school
A direct grant grammar school was a selective secondary school in England and Wales between 1945 and 1976 funded partly by the state and partly through private fees....
. Under this scheme it received a subsidy from the local education authority allowing fees to be based on the ability to pay, with some places being free. The Direct Grant scheme began to be phased out in 1976 and so the School became independent. An
Assisted Places Scheme
Assisted Places Scheme
The Assisted Places Scheme was established in the UK by the Conservative government in 1980. Children who could not afford to go to fee-paying independent schools were provided with free or subsidised places - if they were able to score within the top 10-15% of applicants in the school's entrance...
was introduced in 1980 but this was abolished in 1997. Bursaries and assisted places are now provided by the privately funded Birkenhead School Foundation Trust.
Notable Old Birkonians
Charles Harrison Townsend

Charles Harrison Townsend

Charles Harrison Townsend was an English architect. He was born in Birkenhead, educated at Birkenhead School and articled to the Liverpool architect Walter Scott in 1870. He moved to London with his family in 1880 and entered partnership with the London architect Thomas Lewis Banks in 1884...


(1851–1928), architect

Architecture

Architecture is both the process and product of planning, designing and construction. Architectural works, in the material form of buildings, are often perceived as cultural and political symbols and as works of art...



Cecil Reddie (1858–1932), Founder and Headmaster of Abbotsholme School, 1889–1927
Robert Hope-Jones

Robert Hope-Jones

Robert Hope-Jones , is considered to be the inventor of the theatre organ in the early 20th century...


(1859–1914), inventor of the theatre organ
Frank Hope-Jones (1867–1950), horologist and creator of the Greenwich Time Signal

Greenwich Time Signal

The Greenwich Time Signal , popularly known as the pips, is a series of six short tones broadcast at one-second intervals by many BBC Radio stations to mark the precise start of each hour...


pips
Leslie Brooke (1862–1940), children's writer and illustrator
Wynfrid Duckworth (1870–1956), anatomist

Anatomy

Anatomy is a branch of biology and medicine that is the consideration of the structure of living things. It is a general term that includes human anatomy, animal anatomy , and plant anatomy...


, and Master of Jesus College, Cambridge

Jesus College, Cambridge

Jesus College is a constituent college of the University of Cambridge, England.The College was founded in 1496 on the site of a Benedictine nunnery by John Alcock, then Bishop of Ely...


, 1940–1945
F. E. Smith, 1st Earl of Birkenhead

F. E. Smith, 1st Earl of Birkenhead

Frederick Edwin Smith, 1st Earl of Birkenhead GCSI, PC, KC , best known to history as F. E. Smith , was a British Conservative statesman and lawyer of the early 20th century. He was a skilled orator, noted for his staunch opposition to Irish nationalism, his wit, pugnacious views, and hard living...


(1872–1930), barrister

Barrister

A barrister is a member of one of the two classes of lawyer found in many common law jurisdictions with split legal professions. Barristers specialise in courtroom advocacy, drafting legal pleadings and giving expert legal opinions...


, Attorney-General

Attorney General for England and Wales

Her Majesty's Attorney General for England and Wales, usually known simply as the Attorney General, is one of the Law Officers of the Crown. Along with the subordinate Solicitor General for England and Wales, the Attorney General serves as the chief legal adviser of the Crown and its government in...


, 1916–1919, Lord Chancellor

Lord Chancellor

The Lord High Chancellor of Great Britain, or Lord Chancellor, is a senior and important functionary in the government of the United Kingdom. He is the second highest ranking of the Great Officers of State, ranking only after the Lord High Steward. The Lord Chancellor is appointed by the Sovereign...


, 1919–1922, and Secretary of State for India

Secretary of State for India

The Secretary of State for India, or India Secretary, was the British Cabinet minister responsible for the government of India and the political head of the India Office...


, 1924–1928
Douglas Laurie (1874–1953), Professor of Zoology

Zoology

Zoology |zoölogy]]), is the branch of biology that relates to the animal kingdom, including the structure, embryology, evolution, classification, habits, and distribution of all animals, both living and extinct...


, University College of Wales, Aberystwyth

University of Wales, Aberystwyth

Aberystwyth University is a university located in Aberystwyth, Wales. Aberystwyth was a founding Member Institution of the former federal University of Wales. As of late 2006, the university had over 12,000 students spread across seventeen academic departments.The university was founded in 1872 as...


, 1922–1940, and Founding Honorary General Secretary

General Secretary

The office of general secretary is staffed by the chief officer of:*The General Secretariat for Macedonia and Thrace, a government agency for the Greek regions of Macedonia and Thrace...


, Association of University Teachers

Association of University Teachers

The Association of University Teachers was the trade union and professional association that represented academic and academic-related staff at pre-1992 universities in the United Kingdom...


, 1919–1953
Henry Graham White

Henry Graham White

Henry Graham White was a British Liberal Party politician. He was educated at Birkenhead School and Liverpool University.-Politics:...


(1880–1965); Liberal

Liberal Party (UK)

The Liberal Party was one of the two major political parties of the United Kingdom during the 19th and early 20th centuries. It was a third party of negligible importance throughout the latter half of the 20th Century, before merging with the Social Democratic Party in 1988 to form the present day...


politician
Lieutenant-General Sir Wilfrid Lindsell (1884–1973), Quartermaster-General

Quartermaster general

A Quartermaster general is the staff officer in charge of supplies for a whole army.- The United Kingdom :In the United Kingdom, the Quartermaster-General to the Forces is one of the most senior generals in the British Army...


, British Expeditionary Force

British Expeditionary Force (World War II)

The British Expeditionary Force was the British force in Europe from 1939–1940 during the Second World War. Commanded by General Lord Gort, the BEF constituted one-tenth of the defending Allied force....


, 1939–1940, Lieutenant-General i/c Administration, Middle East

Middle East

The Middle East is a region that encompasses Western Asia and Northern Africa. It is often used as a synonym for Near East, in opposition to Far East...


, 1942–1943, and Principal Administration Officer, Fourteenth Army

British Fourteenth Army

The British Fourteenth Army was a multinational force comprising units from Commonwealth countries during World War II. Many of its units were from the Indian Army as well as British units and there were also significant contributions from West and East African divisions within the British Army.It...


, 1943–1945
Sir Melvill Jones

Melvill Jones

Sir Bennett Melvill Jones was Francis Mond Professor of Aeronautical Engineering at the University of Cambridge from 1919 to 1935. He demonstrated the importance of streamlining in aircraft design...


(1887–1975), Francis Mond Professor of Aeronautical Engineering

Francis Mond Professor of Aeronautical Engineering

The Francis Mond Professor of Aeronautical Engineering is a professorship in the University of Cambridge. It was established in 1919 as a result of a benefaction from Emile Mond, in memory of his son Francis who had been educated at Peterhouse and was killed in action on 15 May 1918 whilst serving...


, University of Cambridge

University of Cambridge

The University of Cambridge is a public research university located in Cambridge, United Kingdom. It is the second-oldest university in both the United Kingdom and the English-speaking world , and the seventh-oldest globally...


, 1919–1952
Martin Percival Charlesworth (1895–1950), classicist

Classics

Classics is the branch of the Humanities comprising the languages, literature, philosophy, history, art, archaeology and other culture of the ancient Mediterranean world ; especially Ancient Greece and Ancient Rome during Classical Antiquity Classics (sometimes encompassing Classical Studies or...



Geoffrey Webb

Geoffrey Webb

Geoffrey Fairbank Webb was a British art historian, Slade Professor of Fine Art and head of the Monuments and Fine Arts section of the Control Commission during World War II....


(1898–1970), Slade Professor of Fine Art

Slade Professor of Fine Art

The Slade Professorship of Fine Art is the oldest professorship of art at the universities of Cambridge, Oxford and London.-History:The chairs were founded concurrently in 1869 by a bequest from the art collector and philanthropist Felix Slade, with studentships also created in the University of...


, University of Cambridge

University of Cambridge

The University of Cambridge is a public research university located in Cambridge, United Kingdom. It is the second-oldest university in both the United Kingdom and the English-speaking world , and the seventh-oldest globally...


, 1938–1949, and Secretary, Royal Commission on Historical Monuments (England), 1948–1962
Sir Gordon Willmer

Gordon Willmer

The Right Honourable Sir Henry Gordon Willmer OBE, TD, , was an English lawyer.Willmer was educated at Birkenhead School, before reading for the Bar. During an illustrious career he "was the acknowledged master of Admiralty law" and sat as a Lord Justice of Appeal...


(1899–1983), Lord Justice of Appeal

Lord Justice of Appeal

A Lord Justice of Appeal is an ordinary judge of the Court of Appeal of England and Wales, the court that hears appeals from the High Court of Justice, and represents the second highest level of judge in the courts of England and Wales-Appointment:...



Andrew Irvine

Andrew Irvine (mountaineer)

Andrew "Sandy" Comyn Irvine was an English mountaineer who took part in 1924 British Everest Expedition, the third British expedition to the world's highest mountain, Mount Everest....


(1902–1924), mountaineer

Mountaineering

Mountaineering or mountain climbing is the sport, hobby or profession of hiking, skiing, and climbing mountains. While mountaineering began as attempts to reach the highest point of unclimbed mountains it has branched into specialisations that address different aspects of the mountain and consists...


who attempted the summit of Mount Everest

Mount Everest

Mount Everest is the world's highest mountain, with a peak at above sea level. It is located in the Mahalangur section of the Himalayas. The international boundary runs across the precise summit point...


with George Mallory

George Mallory

George Herbert Leigh Mallory was an English mountaineer who took part in the first three British expeditions to Mount Everest in the early 1920s....



Nevill Willmer

Nevill Willmer

Professor Nevill Willmer, FRS was sometime Professor of Histology at Cambridge University.He was born in Birkenhead, Cheshire, the son of a cotton broker, and educated at Birkenhead School and Corpus Christi College, Oxford . He was a demonstrator at Manchester University before being elected a...


(1902–2001), Professor of Histology

Histology

Histology is the study of the microscopic anatomy of cells and tissues of plants and animals. It is performed by examining cells and tissues commonly by sectioning and staining; followed by examination under a light microscope or electron microscope...


, University of Cambridge

University of Cambridge

The University of Cambridge is a public research university located in Cambridge, United Kingdom. It is the second-oldest university in both the United Kingdom and the English-speaking world , and the seventh-oldest globally...


, 1966–1969
Brigadier Sir Philip Toosey (1904–1975), merchant bank

Merchant bank

A merchant bank is a financial institution which provides capital to companies in the form of share ownership instead of loans. A merchant bank also provides advisory on corporate matters to the firms they lend to....


er, Territorial Army officer, and senior Allied officer during the building of the Bridge on the River Kwai

The Bridge on the River Kwai

The Bridge on the River Kwai is a 1957 British World War II film by David Lean based on The Bridge over the River Kwai by French writer Pierre Boulle. The film is a work of fiction but borrows the construction of the Burma Railway in 1942–43 for its historical setting. It stars William...



Peter Shepheard (1913–2002), architect

Architect

An architect is a person trained in the planning, design and oversight of the construction of buildings. To practice architecture means to offer or render services in connection with the design and construction of a building, or group of buildings and the space within the site surrounding the...



Henry Pelling

Henry Pelling

Henry Mathison Pelling , was a British historian best known for his works on the history of the British Labour Party, including:*The Origins of the Labour Party and*A Short History of the Labour Party ....


(1920–1997), historian

History

History is the discovery, collection, organization, and presentation of information about past events. History can also mean the period of time after writing was invented. Scholars who write about history are called historians...



Air Chief Marshal Sir John Aiken

John Aiken

Air Chief Marshal Sir John Alexander Carlisle Aiken KCB was Commander of British forces in Cyprus at the time of the Turkish invasion of the island in 1974.-RAF career:...


(1921–2005), Director of Training, Royal Air Force

Royal Air Force

The Royal Air Force is the aerial warfare service branch of the British Armed Forces. Formed on 1 April 1918, it is the oldest independent air force in the world...


, 1971–1973, and Commander, British Forces in Cyprus

Cyprus

Cyprus , officially the Republic of Cyprus , is a Eurasian island country, member of the European Union, in the Eastern Mediterranean, east of Greece, south of Turkey, west of Syria and north of Egypt. It is the third largest island in the Mediterranean Sea.The earliest known human activity on the...


, 1973–1976
Gruffydd Evans, Baron Evans of Claughton

Gruffydd Evans, Baron Evans of Claughton

David Thomas Gruffydd Evans, Baron Evans of Claughton DL , was a British solicitor and politician.Lord Evans was educated at Birkenhead School and held the office of Deputy Lieutenant of Merseyside....


(1928–1992), lawyer and politician
Clifford Embleton (1931–1994), Professor of Geography

Geography

Geography is the science that studies the lands, features, inhabitants, and phenomena of Earth. A literal translation would be "to describe or write about the Earth". The first person to use the word "geography" was Eratosthenes...


, King's College London

King's College London

King's College London is a public research university located in London, United Kingdom and a constituent college of the federal University of London. King's has a claim to being the third oldest university in England, having been founded by King George IV and the Duke of Wellington in 1829, and...


, 1982–1994
William Wade, Baron Wade of Chorlton

William Wade, Baron Wade of Chorlton

Sir William Oulton Wade, Baron Wade of Chorlton, JP is a British politician, businessman and agriculturalist.Wade was educated at Birkenhead School and the Queen's University of Belfast. He was an elected member of Cheshire County Council between 1973–77, and then Joint Treasurer of the...


(born 1932), businessman, and Joint Treasurer of the Conservative Party

Conservative Party (UK)

The Conservative Party, formally the Conservative and Unionist Party, is a centre-right political party in the United Kingdom that adheres to the philosophies of conservatism and British unionism. It is the largest political party in the UK, and is currently the largest single party in the House...


, 1982–1990
Donald Nicholls, Baron Nicholls of Birkenhead

Donald Nicholls, Baron Nicholls of Birkenhead

Donald James Nicholls, Baron Nicholls of Birkenhead, PC , is a British lawyer and retired Law Lord .-Biography:...


(born 1933), Vice-Chancellor, High Court of Justice

High Court of Justice

The High Court of Justice is, together with the Court of Appeal and the Crown Court, one of the Senior Courts of England and Wales...


, 1991–1994, and Lord of Appeal in Ordinary

Lord of Appeal in Ordinary

Lords of Appeal in Ordinary, commonly known as Law Lords, were appointed under the Appellate Jurisdiction Act 1876 to the House of Lords of the United Kingdom in order to exercise its judicial functions, which included acting as the highest court of appeal for most domestic matters...


, 1994–2007
Andreas Whittam Smith

Andreas Whittam Smith

Andreas Whittam Smith CBE is an English financial journalist, who was one of the founders of The Independent newspaper which began publication in October 1986 with Whittam Smith as editor...


(born 1937), journalist and co-founder of The Independent

The Independent

The Independent is a British national morning newspaper published in London by Independent Print Limited, owned by Alexander Lebedev since 2010. It is nicknamed the Indy, while the Sunday edition, The Independent on Sunday, is the Sindy. Launched in 1986, it is one of the youngest UK national daily...



Barry Porter

Barry Porter

George Barrington Porter, known as Barry Porter was a British lawyer and Conservative Party politician....


(1939–1996), Conservative politician
Graham Richards

Graham Richards

Professor William Graham Richards C.B.E., M.A., D.Phil, D.Sc, C.Chem, FRSC was born 1 October 1939 in Hoylake, Cheshire and was Head of Chemistry at the University of Oxford. He is a Fellow of Brasenose College, Oxford and the author of 300 scientific articles and 15 books...


(born 1939) Head of Chemistry (1997–2006) at the University of Oxford

University of Oxford

The University of Oxford is a university located in Oxford, United Kingdom. It is the second-oldest surviving university in the world and the oldest in the English-speaking world. Although its exact date of foundation is unclear, there is evidence of teaching as far back as 1096...


.
Timothy Mason

Timothy Mason

Timothy Wright Mason was a British Marxist historian of Nazi Germany.-Life and work:He was born in Birkenhead, the child of school-teachers and was educated at Birkenhead School and Oxford University. He taught at Oxford from 1971–1984 and was twice married. He helped to found the...


(1940–1990), historian

History

History is the discovery, collection, organization, and presentation of information about past events. History can also mean the period of time after writing was invented. Scholars who write about history are called historians...



Michael Gray

Michael Gray (author)

Michael Gray is a British author who has written extensively about popular music.Gray grew up on Merseyside, attended Birkenhead School, and read History and English Literature at the University of York. Gray subsequently lived and worked in North Devon, Birmingham, West Malvern, London and North...


, (born 1946), author and Bob Dylan

Bob Dylan

Bob Dylan is an American singer-songwriter, musician, poet, film director and painter. He has been a major and profoundly influential figure in popular music and culture for five decades. Much of his most celebrated work dates from the 1960s when he was an informal chronicler and a seemingly...


critic
Michael F. Land

Michael F. Land

Michael Francis Land FRS is a British neurobiologist. He is currently Emeritus Professor of Neurobiology in the Sussex Vision laboratory at the Sussex Centre for Neuroscience, University of Sussex, England....


(born 1942), Professor of Neurobiology, University of Sussex

University of Sussex

The University of Sussex is an English public research university situated next to the East Sussex village of Falmer, within the city of Brighton and Hove. The University received its Royal Charter in August 1961....



Crispin Wright

Crispin Wright

Crispin Wright is a British philosopher, who has written on neo-Fregean philosophy of mathematics, Wittgenstein's later philosophy, and on issues related to truth, realism, cognitivism, skepticism, knowledge, and objectivity....


(born 1942), philosopher
Tony Hall, Baron Hall of Birkenhead

Tony Hall (arts manager)

Anthony William Hall, Baron Hall of Birkenhead, CBE , usually known as Tony Hall, has been chief executive of the Royal Opera House, Covent Garden since 2001...


(born 1951), Chief Executive, Royal Opera House

Royal Opera House

The Royal Opera House is an opera house and major performing arts venue in Covent Garden, central London. The large building is often referred to as simply "Covent Garden", after a previous use of the site of the opera house's original construction in 1732. It is the home of The Royal Opera, The...


, Covent Garden
Alan Rouse

Alan Rouse

Alan Paul Rouse was the first British climber to reach the summit of the second highest mountain in the world, K2, but died on the descent.-Education:...


(1951–1986), mountaineer

Mountaineering

Mountaineering or mountain climbing is the sport, hobby or profession of hiking, skiing, and climbing mountains. While mountaineering began as attempts to reach the highest point of unclimbed mountains it has branched into specialisations that address different aspects of the mountain and consists...


, and first Briton to reach the summit of K2

K2

K2 is the second-highest mountain on Earth, after Mount Everest...



Donald Allister

Donald Allister

Donald Spargo Allister is a Church of England bishop. He was Archdeacon of Chester from 2002–2010, and on 5 November 2009 was nominated as the next Bishop of Peterborough, a post into which he was installed on 17 April 2010....


(born 1952), Bishop of Peterborough

Bishop of Peterborough

The Bishop of Peterborough is the ordinary of the Church of England Diocese of Peterborough in the Province of Canterbury.The diocese covers the counties of Northamptonshire, Rutland and the Soke of Peterborough in Cambridgeshire...



Graham Vick

Graham Vick

Graham Vick CBE is an English opera director. He studied at the Royal Northern College of Music, Manchester....


CBE (born 1953), opera director
Kevin Sampson

Kevin Sampson (writer)

Kevin Sampson is a British novelist, best known for his novels Awaydays and Powder . Sampson is from the Wirral, England and was educated at Birkenhead School.-Career:...


(born 1961), novelist
Karl McCartney

Karl McCartney

Karl Ian McCartney is a politician in the United Kingdom. He is Conservative Party member of Parliament for Lincoln, and was first elected in 2010.-Biography:...


(born 1968), Conservative politician
Notable masters
External links