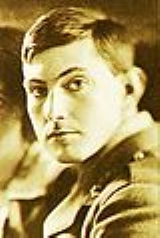 George Mallory
George Herbert Leigh Mallory
(18 June 1886 – 8/9 June 1924) was an English
mountaineer
Mountaineer
-Sports:*Mountaineering, the sport, hobby or profession of walking, hiking, trekking and climbing up mountains, also known as alpinism-University athletic teams and mascots:*Appalachian State Mountaineers, the athletic teams of Appalachian State University...
who took part in the first three British expeditions to
Mount Everest
Mount Everest
Mount Everest is the world's highest mountain, with a peak at above sea level. It is located in the Mahalangur section of the Himalayas. The international boundary runs across the precise summit point...
in the early 1920s.
During the 1924 British Mount Everest Expedition, Mallory and his climbing partner
Andrew "Sandy" Irvine
Andrew Irvine (mountaineer)
Andrew "Sandy" Comyn Irvine was an English mountaineer who took part in 1924 British Everest Expedition, the third British expedition to the world's highest mountain, Mount Everest....
both disappeared somewhere high on the North-East ridge during their attempt to make the
first ascent
First ascent
In climbing, a first ascent is the first successful, documented attainment of the top of a mountain, or the first to follow a particular climbing route...
of the world's highest mountain.
For the stone from the top for geologists, the knowledge of the limits of endurance for the doctors, but above all for the spirit of adventure to keep alive the soul of man.

One comes to bless the absolute bareness, feeling that here is a pure beauty of form, a kind of ultimate harmony.

Gradually, very gradually, we saw the great mountain sides and glaciers and aretes, now one fragment and now another through the floating rifts, until far higher in the sky than imagination had dared to suggest the white summit of Everest appeared.

I look back on tremendous efforts & exhaustion & dismal looking out of a tent door on to a dismal world of snow and vanishing hopes - & yet, & yet, & yet there have been a good many things to see the other side.