 Biographical film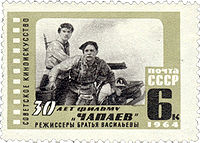 A
biographical film
, or
biopic
(
biographical motion picture
), is a film that dramatizes the life of an actual person or people. They differ from films "based on a true story" or "historical films" in that they attempt to comprehensively tell a person's life story or at least the most historically important years of their lives.
Because the figures portrayed are actual people, whose actions and characteristics are known, biopics are considered some of the most demanding films of actors and actresses.
Johnny Depp
Johnny Depp
John Christopher "Johnny" Depp II is an American actor, producer and musician. He has won the Golden Globe Award and Screen Actors Guild award for Best Actor. Depp rose to prominence on the 1980s television series 21 Jump Street, becoming a teen idol...
,
Jim Carrey
Jim Carrey
James Eugene "Jim" Carrey is a Canadian-American actor and comedian. He has received two Golden Globe Awards and has also been nominated on four occasions. Carrey began comedy in 1979, performing at Yuk Yuk's in Toronto, Ontario...
, and
Jamie Foxx
Jamie Foxx
Eric Marlon Bishop , professionally known as Jamie Foxx, is an American actor, singer-songwriter, stand-up comedian, and talk radio host. As an actor, his work in the film Ray earned him the Academy Award and BAFTA Award for Best Actor as well as the Golden Globe Award for Best Actor in a...
all gained respect as dramatic actors after starring in biopics: Depp as Edward D. Wood, Jr. in
Ed Wood
Ed Wood (film)
Ed Wood is a 1994 American comedy-drama biopic directed and produced by Tim Burton, and starring Johnny Depp as cult filmmaker Edward D. Wood, Jr. The film concerns the period in Wood's life when he made his best-known films as well as his relationship with actor Bela Lugosi, played by Martin Landau...
(1994), Carrey as
Andy Kaufman
Andy Kaufman
Andrew Geoffrey "Andy" Kaufman was an American entertainer, actor and performance artist. While often referred to as a comedian, Kaufman did not consider himself one...
in
Man on the Moon
(1999), and Foxx as
Ray Charles
Ray Charles
Ray Charles Robinson , known by his shortened stage name Ray Charles, was an American musician. He was a pioneer in the genre of soul music during the 1950s by fusing rhythm and blues, gospel, and blues styles into his early recordings with Atlantic Records...
in
Ray
Ray (film)
Ray is a 2004 biographical film focusing on 30 years of the life of rhythm and blues musician Ray Charles. The independently produced film was directed by Taylor Hackford and starred Jamie Foxx in the title role; Foxx received an Academy Award for Best Actor for his performance.Charles was set to...
(2004).
In rare cases, sometimes called
autobiopics
, the subject of the film plays himself or herself:
Jackie Robinson
Jackie Robinson
Jack Roosevelt "Jackie" Robinson was the first black Major League Baseball player of the modern era. Robinson broke the baseball color line when he debuted with the Brooklyn Dodgers in 1947...
in
The Jackie Robinson Story
The Jackie Robinson Story
The Jackie Robinson Story is a 1950 biographical film starring baseball legend Jackie Robinson as himself. The film focuses on Robinson's struggle with the abuse of racist bigots as he becomes the first African American Major League Baseball player of the modern era...
;
Muhammad Ali
Muhammad Ali
Muhammad Ali is an American former professional boxer, philanthropist and social activist...
in
The Greatest
;
Audie Murphy
Audie Murphy
Audie Leon Murphy was a highly decorated and famous soldier. Through LIFE magazine's July 16, 1945 issue , he became one the most famous soldiers of World War II and widely regarded as the most decorated American soldier of the war...
in
To Hell and Back
To Hell and Back (film)
To Hell and Back is a CinemaScope war film released in 1955. It was directed by Jesse Hibbs and starred Audie Murphy as himself and Kyle Sanville. It is based on the 1949 autobiography of the same name and is an account of Murphy's World War II experiences as a soldier in the U.S. Army...
;
Patty Duke
Patty Duke
Anna Marie "Patty" Duke is an American actress of stage, film, and television. First becoming famous as a child star, winning an Academy Award for Best Supporting Actress at age 16, and later starring in her eponymous sitcom for three years, she progressed to more mature roles upon playing Neely...
in
Call Me Anna
;
Arlo Guthrie
Arlo Guthrie
Arlo Davy Guthrie is an American folk singer. Like his father, Woody Guthrie, Arlo often sings songs of protest against social injustice...
in
Alice's Restaurant
Alice's Restaurant
"Alice's Restaurant Massacree" is a musical monologue by singer-songwriter Arlo Guthrie released on his 1967 album Alice's Restaurant. The song is one of Guthrie's most prominent works, based on a true incident in his life that began on Thanksgiving Day 1965, and which inspired a 1969 movie of the...
; and
Howard Stern
Howard Stern
Howard Allan Stern is an American radio personality, television host, author, and actor best known for his radio show, which was nationally syndicated from 1986 to 2005. He gained wide recognition in the 1990s where he was labeled a "shock jock" for his outspoken and sometimes controversial style...
in
Private Parts
Private Parts (1997 film)
Private Parts is a 1997 American biographical comedy film produced by Ivan Reitman and released by Paramount Pictures. Written by Len Blum and Michael Kalesniko, the film is an adaptation of the 1993 best-selling book of the same name by radio personality Howard Stern, who stars as himself. It...
.
Biopic scholars include George Custen of The College of Staten Island and
Dennis Bingham
Dennis Bingham
Dennis Bingham was a British Olympic polo player. He competed in the 1924 Paris Summer Olympic Games and won the bronze medal alongside teammates Frederick Guest, Frederick Barrett, and Kinnear Wise.- References :...
of
Indiana University-Purdue University Indianapolis
Indiana University-Purdue University Indianapolis
Indiana University – Purdue University Indianapolis is an urban campus of Indiana University and Purdue University in Indianapolis, Indiana, United States. Indiana University is the managing partner...
. Custen tells the genre as having died with the Hollywood studio era, and in particular, Daryl Zanuck, but Bingham's 2010 study
Whose Lives Are They Anyway? The Biopic as Contemporary Film Genre
shows how it perpetuates as a codified genre using many of the same tropes used in the studio era that has followed a similar trajectory as that shown by
Rick Altman
Rick Altman
Rick Altman is a professor of Cinema and Comparative Literature in the Department of Cinema and Comparative Literature, University of Iowa, Iowa City, United States. He has also published under the name Charles F. Altman.-References:...
in his landmark study,
Film/Genre
.
Controversies over veracity
A certain amount of fabrication is expected, at least to reduce the risk of libel, but the films often alter events to suit the storyline. Events are sometimes portrayed more dramatically than they occurred, time is "condensed" to fit all important events into the film or several people are blended into a composite.
Although many viewers and critics forgive such fabrications for entertainment value, some biopics have come under criticism for allegations of deception. Historians noted the wayward chronology of
Michael Collins

Michael Collins (film)

Michael Collins is a 1996 historical biopic written and directed by Neil Jordan and starring Liam Neeson as General Michael Collins, the Irish patriot and revolutionary who died in the Irish Civil War. It won the Golden Lion at the Venice Film Festival....


,
a team of
Greek
Greece
Greece , officially the Hellenic Republic , and historically Hellas or the Republic of Greece in English, is a country in southeastern Europe....
lawyers threatened to sue the makers of
Alexander
Alexander (film)
Alexander is a 2004 epic film based on the life of Alexander the Great. It is not a remake of the 1956 film which starred Richard Burton. It was directed by Oliver Stone, with Colin Farrell in the title role...
for implying that
Alexander the Great
was bisexual and many
boxing
Boxing
Boxing, also called pugilism, is a combat sport in which two people fight each other using their fists. Boxing is supervised by a referee over a series of between one to three minute intervals called rounds...
fans resented the villainous portrayal of Max Baer in
Cinderella Man

Cinderella Man

Cinderella Man is a 2005 American drama film by Ron Howard, titled after the nickname of heavyweight boxing champion James J. Braddock and inspired by his life story. The film was produced by Howard, Penny Marshall, and Brian Grazer.-Plot:James J...


.
But a more controversial biopic in terms of accuracy is 1999's
The Hurricane

The Hurricane (1999 film)

The Hurricane is a 1999 biographical film directed by Norman Jewison, and starring Denzel Washington. The script was adapted by Armyan Bernstein and Dan Gordon from the books Lazarus and the Hurricane by Sam Chaiton and Terry Swinton and The Sixteenth Round by Rubin "Hurricane" Carter.The film...


,
about boxer
Rubin Carter
Rubin Carter
Rubin "Hurricane" Carter fought professionally as a middleweight boxer from 1961 to 1966. In 1966, he was arrested for a triple homicide in the Lafayette Bar and Grill in Paterson, New Jersey...
and his hotly-disputed triple murder conviction. Several details were altered to enhance the image of Carter and details about the police procedures that lead to the conviction conflicted with court records. Also, former middle weight champion
Joey Giardello
Joey Giardello
Carmine Orlando Tilelli was an American boxer who was the middleweight champion of the world from 1963 to 1965, and was better known by his professional pseudonym of Joey Giardello.-Early life:...
, who won a title bout against Carter, sued the film's producers for suggesting he won due to a racist "fix". The case was settled out of court.
Roger Ebert
Roger Ebert
Roger Joseph Ebert is an American film critic and screenwriter. He is the first film critic to win a Pulitzer Prize for Criticism.Ebert is known for his film review column and for the television programs Sneak Previews, At the Movies with Gene Siskel and Roger Ebert, and Siskel and Ebert and The...
defended the
The Hurricane
and distortions in biographical films in general, stating "those who seek the truth about a man from the film of his life might as well seek it from his loving grandmother. ...
The Hurricane
is not a
documentary
Documentary film
Documentary films constitute a broad category of nonfictional motion pictures intended to document some aspect of reality, primarily for the purposes of instruction or maintaining a historical record...
but a
parable
Parable
A parable is a succinct story, in prose or verse, which illustrates one or more instructive principles, or lessons, or a normative principle. It differs from a fable in that fables use animals, plants, inanimate objects, and forces of nature as characters, while parables generally feature human...
."
Some biopics purposely stretch the truth.
Confessions of a Dangerous Mind
Confessions of a Dangerous Mind
Confessions of a Dangerous Mind is a 2002 biographical spy film depicting the life of popular game show host and producer Chuck Barris, who claimed to have also been an assassin for the Central Intelligence Agency...
was based on
game show
Game show
A game show is a type of radio or television program in which members of the public, television personalities or celebrities, sometimes as part of a team, play a game which involves answering questions or solving puzzles usually for money and/or prizes...
host
Chuck Barris
Chuck Barris
Charles Hirsch "Chuck" Barris is an American game show producer, film director and presenter best known for hosting The Gong Show and creating The Dating Game. Barris, a survivor of lung cancer, is also an author and claims to have worked for the CIA.-Early career:Barris was born in Oakland, New...
' widely debunked, yet still popular,
memoir
Memoir
A memoir , is a literary genre, forming a subclass of autobiography – although the terms 'memoir' and 'autobiography' are almost interchangeable. Memoir is autobiographical writing, but not all autobiographical writing follows the criteria for memoir set out below...
of the same name, in which he claimed to be a
CIA
Central Intelligence Agency
The Central Intelligence Agency is a civilian intelligence agency of the United States government. It is an executive agency and reports directly to the Director of National Intelligence, responsible for providing national security intelligence assessment to senior United States policymakers...
agent, and
Kafka
Kafka (film)
Kafka is a 1991 mystery thriller film directed by Steven Soderbergh. Ostensibly a biopic, based on the life of Franz Kafka, the film blurs the lines between fact and Kafka's fiction , creating a Kafkaesque atmosphere...
incorporated both the life of author
Franz Kafka
Franz Kafka
Franz Kafka was a culturally influential German-language author of short stories and novels. Contemporary critics and academics, including Vladimir Nabokov, regard Kafka as one of the best writers of the 20th century...
and the
surreal
Surrealism
Surrealism is a cultural movement that began in the early 1920s, and is best known for the visual artworks and writings of the group members....
aspects of his
fiction
Fiction
Fiction is the form of any narrative or informative work that deals, in part or in whole, with information or events that are not factual, but rather, imaginary—that is, invented by the author. Although fiction describes a major branch of literary work, it may also refer to theatrical,...
.
The
Errol Flynn
Errol Flynn
Errol Leslie Flynn was an Australian-born actor. He was known for his romantic swashbuckler roles in Hollywood films, being a legend and his flamboyant lifestyle.-Early life:...
film
They Died With Their Boots On
They Died with Their Boots On
They Died with Their Boots On is a 1941 western film directed by Raoul Walsh and starring Errol Flynn and Olivia de Havilland. Despite being rife with historical inaccuracies, the film was one of the top-grossing films of the year, being the last of eight Flynn–de Havilland collaborations.Like...
tells the story of Custer but is highly romanticised.
Casting can be controversial for biographical films. Some felt that
Anthony Hopkins
Anthony Hopkins
Sir Philip Anthony Hopkins, KBE , best known as Anthony Hopkins, is a Welsh actor of film, stage and television...
should not have played
Richard Nixon
Richard Nixon
Richard Milhous Nixon was the 37th President of the United States, serving from 1969 to 1974. The only president to resign the office, Nixon had previously served as a US representative and senator from California and as the 36th Vice President of the United States from 1953 to 1961 under...
in
Nixon
Nixon (film)
Nixon is a 1995 American biographical film directed by Oliver Stone for Cinergi Pictures that tells the story of the political and personal life of former US President Richard Nixon, played by Anthony Hopkins....
because of a lack of resemblance between the two. Egyptian critics criticized the casting of
Louis Gossett, Jr.
Louis Gossett, Jr.
Louis Cameron Gossett, Jr. is an American actor best known for his role as Gunnery Sergeant Emil Foley in the 1982 film An Officer and a Gentleman and Fiddler in the 1970s television miniseries Roots...
, an African American actor, as Egyptian president
Anwar Sadat
Anwar Sadat
Muhammad Anwar al-Sadat was the third President of Egypt, serving from 15 October 1970 until his assassination by fundamentalist army officers on 6 October 1981...
in the 1982 TV miniseries
Sadat
Sadat (film)
Sadat is a 1983 two-part miniseries film based on the life and death of the late 3rd President of Egypt, Anwar Sadat starring Louis Gossett, Jr. as Sadat and Madolyn Smith as Sadat's wife, Jehan. It was distributed by Columbia Pictures Television through Operation Prime Time...
. Also, some objected to the casting of
Jennifer Lopez
Jennifer Lopez
Jennifer Lynn Lopez is an American actress, singer, record producer, dancer, television personality, and fashion designer. Lopez began her career as a dancer on the television comedy program In Living Color. Subsequently venturing into acting, she gained recognition in the 1995 action-thriller...
in
Selena
Selena (film)
Selena is a 1997 American biographical drama film about the life and career of the late Tejano music star Selena, a recording artist who was well known in the Mexican-American and Hispanic communities in the United States and Mexico before she was shot to death at the age of twenty-three.The movie...
because she is
Puerto Rican
Puerto Rico
Puerto Rico , officially the Commonwealth of Puerto Rico , is an unincorporated territory of the United States, located in the northeastern Caribbean, east of the Dominican Republic and west of both the United States Virgin Islands and the British Virgin Islands.Puerto Rico comprises an...
and
Selena
Selena
Selena Quintanilla-Pérez , known simply as Selena, was a Mexican American singer-songwriter. She was named the "top Latin artist of the '90s" and "Best selling Latin artist of the decade" by Billboard for her fourteen top-ten singles in the Top Latin Songs chart, including seven number-one hits...
was Mexican-American.