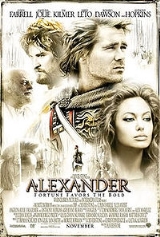 Alexander (film)
Alexander
is a 2004
epic film
Epic film
An epic is a genre of film that emphasizes human drama on a grand scale. Epics are more ambitious in scope than other film genres, and their ambitious nature helps to differentiate them from similar genres such as the period piece or adventure film...
based on the life of
Alexander the Great
. It is not a remake of the
1956 film
Alexander the Great (1956 film)
Alexander the Great is a 1956 America sword and sandal epic film written, directed and produced by Robert Rossen with Gordon S. Griffith as executive producer...
which starred
Richard Burton
Richard Burton
Richard Burton, CBE was a Welsh actor. He was nominated seven times for an Academy Award, six of which were for Best Actor in a Leading Role , and was a recipient of BAFTA, Golden Globe and Tony Awards for Best Actor. Although never trained as an actor, Burton was, at one time, the highest-paid...
. It was directed by
Oliver Stone
Oliver Stone
William Oliver Stone is an American film director, producer and screenwriter. Stone became well known in the late 1980s and the early 1990s for directing a series of films about the Vietnam War, for which he had previously participated as an infantry soldier. His work frequently focuses on...
, with
Colin Farrell
Colin Farrell
Colin James Farrell is an Irish actor, who has appeared in such film as Tigerland, Miami Vice, Minority Report, Phone Booth, The Recruit, Alexander and S.W.A.T....
in the title role. The film was an original screenplay based in part on the book
Alexander the Great
, written in the 1970s by historian
Robin Lane Fox
Robin Lane Fox
Robin Lane Fox is an English historian, currently a Fellow of New College, Oxford and University of Oxford Reader in Ancient History.-Life:Lane Fox was educated at Eton and Magdalen College, Oxford....
, Professor of Ancient History at Oxford.
The film was critically derided upon its release and failed at the
American
United States
The United States of America is a federal constitutional republic comprising fifty states and a federal district...
box office.
(Of his father Phillip)This is the man who is going to take you from Greece to Persia?! He can't even make it from one couch to the next.

It's a high ransom she charges for nine months lodging in the womb.

In the end, all that matters is what you've done.

When I was a child my mother thought me divine and my father weak... which one am I Hephaistion? Weak or divine?

Were we gods we'd breach these walls to the Eastern Ocean.

Each land, each boundary I cross, I strip away another illusion. I sense death will be the last. Yet still I push, harder and harder to reach this..."home." Where has our eagle gone? We must go on Ptolemy, until we find an end.

Aristotle be damned! By Zeus and by all the gods, what makes you so much better than them, Cassander! Better than you really are! In you and those like you is this.

What disturbs me most is not your lack of respect for my judgment, but your contempt for a world far older than ours.

You break my heart, you men...afraid!? Of course you have fears, we all have fears. Because noone has ever come this far before.