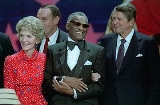 Ray Charles
Ray Charles Robinson
known by his shortened stage name
Ray Charles
, was an American musician. He was a pioneer in the genre of
soul music
Soul music
Soul music is a music genre originating in the United States combining elements of gospel music and rhythm and blues. According to the Rock and Roll Hall of Fame, soul is "music that arose out of the black experience in America through the transmutation of gospel and rhythm & blues into a form of...
during the 1950s by fusing
rhythm and blues
Rhythm and blues
Rhythm and blues, often abbreviated to R&B, is a genre of popular African American music that originated in the 1940s. The term was originally used by record companies to describe recordings marketed predominantly to urban African Americans, at a time when "urbane, rocking, jazz based music with a...
,
gospel
Gospel music
Gospel music is music that is written to express either personal, spiritual or a communal belief regarding Christian life, as well as to give a Christian alternative to mainstream secular music....
, and
blues
Blues
Blues is the name given to both a musical form and a music genre that originated in African-American communities of primarily the "Deep South" of the United States at the end of the 19th century from spirituals, work songs, field hollers, shouts and chants, and rhymed simple narrative ballads...
styles into his early recordings with
Atlantic Records
Atlantic Records
Atlantic Records is an American record label best known for its many recordings of rhythm and blues, rock and roll, and jazz...
. He also helped racially integrate
country
Country music
Country music is a popular American musical style that began in the rural Southern United States in the 1920s. It takes its roots from Western cowboy and folk music...
and
pop music
Pop music
Pop music is usually understood to be commercially recorded music, often oriented toward a youth market, usually consisting of relatively short, simple songs utilizing technological innovations to produce new variations on existing themes.- Definitions :David Hatch and Stephen Millward define pop...
during the 1960s with his
crossover
Crossover (music)
Crossover is a term applied to musical works or performers appearing on two or more of the record charts which track differing musical tastes, or genres...
success on
ABC Records
ABC Records
ABC Records was an American record label, founded in New York City in 1955 as ABC-Paramount Records. It originated as the main popular music label operated the Am-Par Record Corporation, the music subsidiary of the American Broadcasting Company . ABC-Paramount Records' first president was Samuel H....
, most notably with his
Modern Sounds
Modern Sounds in Country and Western Music
Modern Sounds in Country and Western Music is a studio album by American R&B and soul musician Ray Charles, released in April 1962 on ABC-Paramount Records. Recording sessions for the album took place in early to mid-February 1962 at Capitol Studios in New York City and at United Recording Studios...
albums. While with ABC, Charles became one of the first African-American musicians to be given artistic control by a mainstream record company.
I got a woman way over town, That's good to me, Oh yeah!

"I Got a Woman" (1955)
Tell your Mama Tell your Pa Gonna send you back to Arkansas

"What'd I Say" (1957)
Hit the road, Jack, and don't you come back no more, no more, no more, no more.

"Hit the Road, Jack" (1961)
Music has been around a long time, and there's going to be music long after Ray Charles is dead. I just want to make my mark, leave something musically good behind. If it's a big record, that's the frosting on the cake, but music's the main meal.

As quoted "Words of the Week" in Jet magazine, Vol. 64, No. 6 (25 April 1983), p. 40
The fact of the matter is, you don't give up what's natural. Anything I've fantasized about, I've done.

Los Angeles Times, (1989)
I started to sing like myself — as opposed to imitating Nat King Cole|Nat Cole, which I had done for a while — when I started singing like Ray Charles, it had this spiritual and churchy, this religious or gospel sound. It had this holiness and preachy tone to it. It was very controversial. I got a lot of criticism for it.

San Jose Mercury News, (1994)
Do it right or don't do it at all. That comes from my mom. If there's something I want to do, I'm one of those people that won't be satisfied until I get it done. If I'm trying to sing something and I can't get it, I'm going to keep at it until I get where I want it.

Fort Lauderdale Sun-Sentinel (1998)
Before I begin, let me say right here and now that I'm a country boy. And, man, I mean the real backwoods! That's at the start of the start of the thing, and that's at the heart of the thing.

Home, p. 1