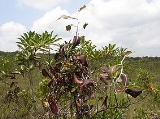 Bako National Park
Bako National Park
, established in 1957, is the oldest national park in
Sarawak
Sarawak
Sarawak is one of two Malaysian states on the island of Borneo. Known as Bumi Kenyalang , Sarawak is situated on the north-west of the island. It is the largest state in Malaysia followed by Sabah, the second largest state located to the North- East.The administrative capital is Kuching, which...
, eastern
Malaysia
, on the island of
Borneo
Borneo
Borneo is the third largest island in the world and is located north of Java Island, Indonesia, at the geographic centre of Maritime Southeast Asia....
. It covers an area of 27.27 square kilometres (10.5 sq mi) at the tip of the Muara Tebas peninsula at the mouth of the Bako and Kuching Rivers. It is approximately 40 kilometres (24.9 mi) by road from
Kuching
Kuching
Kuching , officially the City of Kuching, and formerly the City of Sarawak, is the capital and most populous city of the East Malaysian state of Sarawak. It is the largest city on the island of Borneo, and the fourth largest city in Malaysia....
. Millions of years of erosion of the sandstone have created a coastline of steep cliffs, rocky headlands and stretches of white, sandy bays. Wave erosion at the base of the cliffs has carved many of the rocky headlands into fantastically shaped sea arches and seastacks with colored patterns formed by iron deposition. Some of these rock formations can be seen on entry to the
Teluk Assam Beach
Teluk Assam Beach
Teluk Assam Beach is the beach which fronts the Bako National Park in Malaysia. The access to this park is only by boat from Kuching. There are spectacular rock formations on this beach, caused due to erosion and exhibiting colorful layers showing how it was formed....
, which fronts the park. The park can only be reached by a 20-minute boat ride from the village of Kampung Bako. It is often visited as a day-trip from Kuching, though accommodations (campground and forestry service bungalows) are available.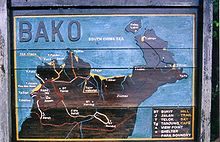 Bako is one of the smallest national parks in Sarawak, yet one of the most interesting, with multiple biomes (including
rainforest
Rainforest
Rainforests are forests characterized by high rainfall, with definitions based on a minimum normal annual rainfall of 1750-2000 mm...
), abundant wildlife, jungle streams and waterfalls, secluded beaches, and trekking trails. A network of 16 marked walking trails of different lengths allows visitors access. In addition, various beaches are accessible by boat from Kampung Bako or Teluk Assam, as well as a geologically interesting sea stack rock formation. The range of attractions and activities in a compact area have made Bako one of the most popular parks in Sarawak.
The park was the final pit stop of
The Amazing Race Asia 1
The Amazing Race Asia 1
The Amazing Race Asia 1 is the first season of the reality television game show The Amazing Race Asia. The show features ten teams of two, with a pre-existing relationship, in a race around Asia and Pacific Rim to win US$100,000. Applications were accepted through March 31, 2006...
.
Flora
Bako contains almost every type of plant life found in Borneo, with over 25 distinct types of vegetation from seven complete
ecosystem
Ecosystem
An ecosystem is a biological environment consisting of all the organisms living in a particular area, as well as all the nonliving , physical components of the environment with which the organisms interact, such as air, soil, water and sunlight....
s: beach vegetation, cliff vegetation,
kerangas
or
heath
Heath (habitat)
A heath or heathland is a dwarf-shrub habitat found on mainly low quality acidic soils, characterised by open, low growing woody vegetation, often dominated by plants of the Ericaceae. There are some clear differences between heath and moorland...
forest, mangrove forest, mixed dipterocarp forest,
padang
or grasslands vegetation and
peat
Peat
Peat is an accumulation of partially decayed vegetation matter or histosol. Peat forms in wetland bogs, moors, muskegs, pocosins, mires, and peat swamp forests. Peat is harvested as an important source of fuel in certain parts of the world...
swamp
Swamp
A swamp is a wetland with some flooding of large areas of land by shallow bodies of water. A swamp generally has a large number of hammocks, or dry-land protrusions, covered by aquatic vegetation, or vegetation that tolerates periodical inundation. The two main types of swamp are "true" or swamp...
forest. The unusual plant life includes a variety of carnivorous plants (four species of
pitcher plant
Pitcher plant
Pitcher plants are carnivorous plants whose prey-trapping mechanism features a deep cavity filled with liquid known as a pitfall trap. It has been widely assumed that the various sorts of pitfall trap evolved from rolled leaves, with selection pressure favouring more deeply cupped leaves over...
s,
sundew
Sundew
Drosera, commonly known as the sundews, comprise one of the largest genera of carnivorous plants, with at least 194 species. These members of the family Droseraceae lure, capture, and digest insects using stalked mucilaginous glands covering their leaf surface. The insects are used to supplement...
s,
bladderwort
Bladderwort
Utricularia, commonly and collectively called the bladderworts, is a genus of carnivorous plants consisting of approximately 233 species . They occur in fresh water and wet soil as terrestrial or aquatic species across every continent except Antarctica...
s) as well as a huge variety of tree and other plant species.
Fauna
Bako is home to approximately 150 endangered
proboscis monkey
Proboscis Monkey
The proboscis monkey or long-nosed monkey, known as the bekantan in Malay, is a reddish-brown arboreal Old World monkey that is endemic to the south-east Asian island of Borneo...
s, which are endemic to Borneo, and has been called "the best place to see proboscis monkeys in Sarawak". Other animals include long-tailed macaques, silvered langur,
monitor lizard
Monitor lizard
Monitor lizards are usually large reptiles, although some can be as small as in length. They have long necks, powerful tails and claws, and well-developed limbs. Most species are terrestrial, but arboreal and semiaquatic monitors are also known...
s, plantain
squirrel
Squirrel
Squirrels belong to a large family of small or medium-sized rodents called the Sciuridae. The family includes tree squirrels, ground squirrels, chipmunks, marmots , flying squirrels, and prairie dogs. Squirrels are indigenous to the Americas, Eurasia, and Africa and have been introduced to Australia...
s, Bornean
bearded pig
Bearded Pig
The bearded pig , also known as the Bornean bearded pig, is a species of pig. It can be recognized by its prominent beard. It also sometimes has tassels on its tail. It is found in Southeast Asia—Sumatra, Borneo, the Malay Peninsula, and various smaller islands—where it inhabits rainforests and...
s, and
otter
Otter
The Otters are twelve species of semi-aquatic mammals which feed on fish and shellfish, and also other invertebrates, amphibians, birds and small mammals....
s. All of these are present in the forest as well as near camp headquarters on Telok Assam beach. Bako is also home to a number of lizards and snakes, most of which are harmless. Bako is a fascinating place for bird watching, with over 150 species recorded. Bako's nocturnal creatures include the
colugo
Colugo
Colugos are arboreal gliding mammals found in South-east Asia. There are just two extant species, which make up the entire family Cynocephalidae and order Dermoptera. They are the most capable of all gliding mammals, using flaps of extra skin between their legs to glide from higher to lower...
,
pangolin
Pangolin
A pangolin , also scaly anteater or Trenggiling, is a mammal of the order Pholidota. There is only one extant family and one genus of pangolins, comprising eight species. There are also a number of extinct taxa. Pangolins have large keratin scales covering their skin and are the only mammals with...
, mouse deer, various species of fruit eating and insect eating bats,
tarsier
Tarsier
Tarsiers are haplorrhine primates of the genus Tarsius, a genus in the family Tarsiidae, which is itself the lone extant family within the infraorder Tarsiiformes...
,
slow loris
Slow loris
Slow lorises are a group of five species of strepsirrhine primates which make up the genus Nycticebus. Found in South and Southeast Asia, they range from Northeast India in the west to the Philippines in the east, and from the Yunnan province in China in the north to the island of Java in the south...
, and palm civet cat.

External links