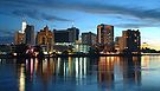 Kuching
Kuching
officially the
City of Kuching
, and formerly the
City of Sarawak
, is the capital and most populous city of the
East Malaysia
East Malaysia
East Malaysia, also known as Malaysian Borneo, is the part of Malaysia located on the island of Borneo. It consists of the Malaysian states of Sabah and Sarawak, and the Federal Territory of Labuan. It lies to the east from Peninsular Malaysia , which is located on the Malay Peninsula. The two are...
n state of
Sarawak
Sarawak
Sarawak is one of two Malaysian states on the island of Borneo. Known as Bumi Kenyalang , Sarawak is situated on the north-west of the island. It is the largest state in Malaysia followed by Sabah, the second largest state located to the North- East.The administrative capital is Kuching, which...
. It is the largest city on the island of
Borneo
Borneo
Borneo is the third largest island in the world and is located north of Java Island, Indonesia, at the geographic centre of Maritime Southeast Asia....
, and the fourth largest city in
Malaysia
.
Kuching is one of the two subsets of the Kuching Proper subdistrict, the other subset being part of the
Padawan municipality
Padawan municipality
The Padawan municipality is a collective name given to a subset of the Kuching District area which is not administered locally by the Council of the City of Kuching South and the Commission of the City of Kuching North...
.