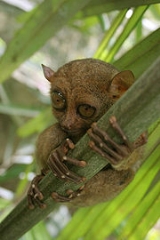 Tarsier
Tarsiers
are haplorrhine
primate
Primate
A primate is a mammal of the order Primates , which contains prosimians and simians. Primates arose from ancestors that lived in the trees of tropical forests; many primate characteristics represent adaptations to life in this challenging three-dimensional environment...
s of the genus
Tarsius
, a genus in the family
Tarsiidae
, which is itself the lone extant family within the infraorder
Tarsiiformes
Tarsiiformes
Tarsiiformes are a group of primates that was once ranged across Europe, northern Africa, Asia, and North America, but today all living species are found in the islands of Southeast Asia. Tarsiers are the only living members of the infraorder, and also include the extinct Tarsius eocaenus from the...
. Although the group was once more widespread, all the
species
Species
In biology, a species is one of the basic units of biological classification and a taxonomic rank. A species is often defined as a group of organisms capable of interbreeding and producing fertile offspring. While in many cases this definition is adequate, more precise or differing measures are...
living today are found in the islands of
Southeast Asia
Southeast Asia
Southeast Asia, South-East Asia, South East Asia or Southeastern Asia is a subregion of Asia, consisting of the countries that are geographically south of China, east of India, west of New Guinea and north of Australia. The region lies on the intersection of geological plates, with heavy seismic...
.
Fossils of tarsiiform primates are found in Asia, Europe, and North America, and there are disputed fossils from Africa, but extant tarsiers are restricted to several Southeast Asian islands including the
Philippines
Philippines
The Philippines , officially known as the Republic of the Philippines , is a country in Southeast Asia in the western Pacific Ocean. To its north across the Luzon Strait lies Taiwan. West across the South China Sea sits Vietnam...
,
Sulawesi
Sulawesi
Sulawesi is one of the four larger Sunda Islands of Indonesia and is situated between Borneo and the Maluku Islands. In Indonesia, only Sumatra, Borneo, and Papua are larger in territory, and only Java and Sumatra have larger Indonesian populations.- Etymology :The Portuguese were the first to...
,
Borneo
Borneo
Borneo is the third largest island in the world and is located north of Java Island, Indonesia, at the geographic centre of Maritime Southeast Asia....
, and
Sumatra
Sumatra
Sumatra is an island in western Indonesia, westernmost of the Sunda Islands. It is the largest island entirely in Indonesia , and the sixth largest island in the world at 473,481 km2 with a population of 50,365,538...
.