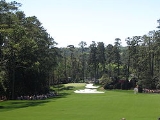 Augusta National Golf Club
Augusta National Golf Club
, located in
Augusta, Georgia
Augusta, Georgia
Augusta is a consolidated city in the U.S. state of Georgia, located along the Savannah River. As of the 2010 census, the Augusta–Richmond County population was 195,844 not counting the unconsolidated cities of Hephzibah and Blythe.Augusta is the principal city of the Augusta-Richmond County...
, is a famous men's
golf club
Country club
A country club is a private club, often with a closed membership, that typically offers a variety of recreational sports facilities and is located in city outskirts or rural areas. Activities may include, for example, any of golf, tennis, swimming or polo...
. Founded by
Bobby Jones
Bobby Jones (golfer)
Robert Tyre "Bobby" Jones Jr. was an American amateur golfer, and a lawyer by profession. Jones was the most successful amateur golfer ever to compete on a national and international level...
and
Clifford Roberts
Clifford Roberts
Clifford Roberts was an American investment dealer and golf administrator.-Biography:Born in Morning Sun, Iowa, Roberts had a troubled family life as a boy, and left school in the ninth grade. He worked at a great variety of jobs all around the United States, and eventually chose the investment...
and designed by
Alister MacKenzie
Alister MacKenzie
Dr. Alister MacKenzie was an internationally renowned, British golf course architect whose course designs, on three different continents, are consistently ranked among the finest golf courses in the world...
on the site of a former
indigo
Indigofera
Indigofera is a large genus of about 700 species of flowering plants belonging to the family Fabaceae.The species are mostly shrubs, though some are herbaceous, and a few can become small trees up to tall. Most are dry-season or winter deciduous. The leaves are pinnate with 5–31 leaflets and the...
plantation, the club opened for play in January 1933. Since 1934, it has played host to the annual Masters Tournament, one of the
four major championships
Men's major golf championships
The men's major golf championships, commonly known as the Major Championships, and often referred to simply as the majors, are the four most prestigious annual tournaments in professional golf...
in professional
golf
Golf
Golf is a precision club and ball sport, in which competing players use many types of clubs to hit balls into a series of holes on a golf course using the fewest number of strokes....
. It was the number one ranked course in
Golf Digest
Golf Digest
Golf Digest is a monthly golf magazine published by Condé Nast Publications in the United States. It is a generalist golf publication covering recreational golf and men's and women's competitive golf. Condé Nast Publications also publishes the more specialized , and Golf World Business. The...
'
s 2009 list of
America's
United States
The United States of America is a federal constitutional republic comprising fifty states and a federal district...
100 greatest courses and is currently the number ten ranked course on
Golfweek Magazine
'
s 2011 list of best classic courses in the United States (written from a golf course architecture viewpoint).
Overview
Since the Masters is held at this venue every year, fans have the unique opportunity to become familiar with the course, something the other three rotating majors do not afford. Each hole on the course is named after the tree or shrub with which it has become associated:
Hole #
Name
Par
Yards
Meters
1
Tea Olive
4
455
416
2
Pink Dogwood

Flowering Dogwood

Cornus florida is a species of dogwood native to eastern North America, from southern Maine west to southern Ontario, Illinois, and eastern Kansas, and south to northern Florida and eastern Texas, with a disjunct population in Nuevo León and Veracruz in eastern Mexico.-Classification:The flowering...



5
575
526
3
Flowering Peach

Peach

The peach tree is a deciduous tree growing to tall and 6 in. in diameter, belonging to the subfamily Prunoideae of the family Rosaceae. It bears an edible juicy fruit called a peach...



4
350
320
4
Flowering Crab Apple

Malus

Malus , the apples, are a genus of about 30–35 species of small deciduous trees or shrubs in the family Rosaceae. Other studies go as far as 55 species including the domesticated Orchard Apple, or Table apple as it was formerly called...



3
240
219
5
Magnolia

Southern magnolia

Magnolia grandiflora, commonly known as the southern magnolia or bull bay, is a tree of the family Magnoliaceae native to the southeastern United States, from coastal Virginia south to central Florida, and west to eastern Texas and Oklahoma...



4
455
416
6
Juniper
3
180
165
7
Pampas
4
450
411
8
Yellow Jasmine

Yellow Jessamine

Gelsemium sempervirens is a twining vine in the family Gelsemiaceae, native to warm temperate and tropical America from Guatemala north to the Southeastern United States...



5
570
521
9
Carolina Cherry

Cherry

The cherry is the fruit of many plants of the genus Prunus, and is a fleshy stone fruit. The cherry fruits of commerce are usually obtained from a limited number of species, including especially cultivars of the wild cherry, Prunus avium....



4
460
421
Hole #
Name
Par
Yards
Meters
10
Camellia

Camellia

Camellia, the camellias, is a genus of flowering plants in the family Theaceae. They are found in eastern and southern Asia, from the Himalaya east to Korea and Indonesia. There are 100–250 described species, with some controversy over the exact number...



4
495
453
11
White Dogwood
4
505
462
12
Golden Bell

Forsythia

Forsythia is a genus of flowering plants in the family Oleaceae . There are about 11 species, mostly native to eastern Asia, but one native to southeastern Europe. The common name is also Forsythia; the genus is named after William Forsyth.-Growth:They are deciduous shrubs typically growing to a...



3
155
142
13
Azalea

Azalea

Azaleas are flowering shrubs comprising two of the eight subgenera of the genus Rhododendron, Pentanthera and Tsutsuji . Azaleas bloom in spring, their flowers often lasting several weeks...



5
510
466
14
Chinese Fir

Cunninghamia

The genus Cunninghamia is a genus of one or two species of evergreen coniferous trees in the cypress family Cupressaceae. They are native to China, Taiwan and northern Vietnam, where they may reach 50–55 m in height....



4
440
402
15
Firethorn

Pyracantha

Pyracantha is a genus of thorny evergreen large shrubs in the family Rosaceae, with common names Firethorn or Pyracantha. They are native to an area extending from Southeast Europe east to Southeast Asia, resemble and are related to Cotoneaster, but have serrated leaf margins and numerous thorns...



5
530
485
16
Redbud

Eastern Redbud

Cercis canadensis L. is a large shrub or small tree native to eastern North America from Southern Ontario, Canada south to northern Florida, United States....



3
170
155
17
Nandina

Nandina

-Description:Nandina domestica commonly known as nandina, heavenly bamboo or sacred bamboo, is a suckering shrub in the Barberry family, Berberidaceae. It is a monotypic genus, with this species as its only member. It is native to eastern Asia from the Himalaya east to Japan.Despite the common...



4
440
402
18
Holly

American Holly

Ilex opaca, the American Holly, is a species of holly, native to the eastern United States, from coastal Massachusetts south to central Florida, and west to southeastern Missouri and eastern Texas.-Description:...



4
465
425
Unlike most other private or public golf courses in the United States, Augusta National has never been rated. During the 1990 Masters Tournament, a team of
USGA
United States Golf Association
The United States Golf Association is the United States' national association of golf courses, clubs and facilities and the governing body of golf for the U.S. and Mexico. Together with The R&A, the USGA produces and interprets the Rules of Golf. The USGA also provides a national handicap system...
raters organized by
Golf Digest
evaluated the course and gave it an unofficial rating of 76.2.
The golf course architecture website GolfClubAtlas.com has said, "Augusta National has gone through more changes since its inception than any of the world's twenty or so greatest courses. To call it a MacKenzie course is false advertising as his features are essentially long gone and his routing is all that is left." The authors of the site also add that MacKenzie and Jones were heavily influenced by the
Old Course at St Andrews
Old Course at St Andrews
The Old Course at St Andrews is the oldest golf course in the world. The Old Course is a public course over common land in St Andrews, Fife, Scotland and is held in trust by The St Andrews Links Trust under an act of Parliament...
, and intended that the ground game be central to the course. However, almost from Augusta's opening, Roberts sought to make changes to minimize the ground game, and effectively got free rein to do so because MacKenzie died shortly after the course's opening and Jones went into inactivity due to World War II and then
a crippling illness
Syringomyelia
Syringomyelia is a generic term referring to a disorder in which a cyst or cavity forms within the spinal cord. This cyst, called a syrinx, can expand and elongate over time, destroying the spinal cord. The damage may result in pain, paralysis, weakness, and stiffness in the back, shoulders, and...
. The authors add, "With the ground game gone, the course was especially vulnerable to changes in technology, and this brought on a slew of changes from at least 15 different 'architects'."
Amen Corner
The second shot at the 11th, all of the 12th, and the tee shot at the 13th hole at Augusta are nicknamed "Amen Corner". This term was first used in print by author
Herbert Warren Wind
Herbert Warren Wind
Herbert Warren Wind was an American golfer and golf writer, who also wrote on other subjects.-Early years:...
in his April 21, 1958
Sports Illustrated
Sports Illustrated
Sports Illustrated is an American sports media company owned by media conglomerate Time Warner. Its self titled magazine has over 3.5 million subscribers and is read by 23 million adults each week, including over 18 million men. It was the first magazine with circulation over one million to win the...
article about the Masters that year. In a
Golf Digest
article in April 1984, 26 years later, Wind told about its origin. He said he wanted a catchy phrase like baseball's "hot-corner" or football's "coffin-corner" to explain where some of the most exciting golf had taken place (the Palmer-Venturi rules issue at twelve in particular). Thus "Amen Corner" was born. He said it came from the title of a jazz record he had heard in the mid-1930s by a group led by
Chicago
Chicago
Chicago is the largest city in the US state of Illinois. With nearly 2.7 million residents, it is the most populous city in the Midwestern United States and the third most populous in the US, after New York City and Los Angeles...
's Mezz Mezzrow,
Shouting in that Amen Corner
. In a
Golf Digest
article in April 2008, writer Bill Fields added some new updated information about the origin of the name. He wrote that Richard Moore, a golf and jazz historian from
South Carolina
South Carolina
South Carolina is a state in the Deep South of the United States that borders Georgia to the south, North Carolina to the north, and the Atlantic Ocean to the east. Originally part of the Province of Carolina, the Province of South Carolina was one of the 13 colonies that declared independence...
, tried to purchase a copy of the old Mezzrow 78 RPM disc for an "Amen Corner" exhibit he was putting together for his Golf Museum at Ahmic Lake, Ontario. After extensive research, Moore found that the record never existed. As Moore put it, Wind, himself a jazz buff, must have "unfortunately bogeyed his mind, 26 years later". While at Yale, he was no doubt familiar with, and meant all along, the popular version of the song (with the correct title, "Shoutin' in that Amen Corner" written by Andy Razaf), which was recorded by the Dorsey Brothers Orchestra, vocal by Mildred Bailey (Brunswick label No. 6655) in 1935. Moore told Fields that, being a great admirer of Wind's work over the years, he was reluctant, for months, to come forth with his discovery that contradicted Wind's memory. Moore's discovery was first reported in
Golf World
Golf World
Golf World is a weekly magazine covering the game of golf published by Condé Nast Publications. It celebrated its 60th anniversary in 2007, and is therefore the oldest golf publication in the United States...
magazine in 2007, before Fields' longer article in
Golf Digest
in 2008.
In 1958
Arnold Palmer
Arnold Palmer
Arnold Daniel Palmer is an American professional golfer, who is generally regarded as one of the greatest players in the history of men's professional golf. He has won numerous events on both the PGA Tour and Champions Tour, dating back to 1955...
outlasted
Ken Venturi
Ken Venturi
Kenneth Venturi is an American former professional golfer and golf broadcaster.-Early years and amateur career:Venturi was born in San Francisco, California. He learned golf from an early age, and developed his game at Harding Park Golf Course and other public courses in the area...
to win the tournament with heroic escapes at Amen Corner. Amen Corner also played host to Masters moments such as
Byron Nelson
Byron Nelson
John Byron Nelson, Jr. was an American PGA Tour golfer between 1935 and 1946.Nelson and two other well known golfers of the time, Ben Hogan and Sam Snead, were born within seven months of each other in 1912...
's birdie-eagle at 12 and 13 in 1937, and
Sam Snead
Sam Snead
Samuel Jackson Snead was an American professional golfer who was one of the top players in the world for most of four decades. Snead won a record 82 PGA Tour events including seven majors. He failed to win a U.S...
's water save at 12 in 1949 that sparked him to victory.
"The Big Oak Tree"
"The Big Oak Tree" is on the golf course side of the clubhouse and was planted in the 1850s.
Eisenhower Tree
Also known as the "Eisenhower Pine", a
loblolly pine
Loblolly Pine
Pinus taeda is one of several pines native to the Southeastern United States, from central Texas east to Florida, and north to Delaware. It is particularly dominant in the eastern half of North Carolina, where there are huge expanses consisting solely of Loblolly Pine trees...
is located on the 17th hole, approximately 210 yards (192 m) from the Masters tee.
President
President of the United States
The President of the United States of America is the head of state and head of government of the United States. The president leads the executive branch of the federal government and is the commander-in-chief of the United States Armed Forces....
Dwight D. Eisenhower
Dwight D. Eisenhower
Dwight David "Ike" Eisenhower was the 34th President of the United States, from 1953 until 1961. He was a five-star general in the United States Army...
, an Augusta National member, hit the tree so many times that, at a 1956 club meeting, he proposed that it be cut down. Not wanting to offend the president, the club's chairman, Clifford Roberts, immediately adjourned the meeting rather than reject the request.
Ike's Pond
During a visit to Augusta National, then General Eisenhower returned from a walk through the woods on the eastern part of the grounds, and informed Clifford Roberts that he had found a perfect place to build a dam if the club would like a fish
pond
Pond
A pond is a body of standing water, either natural or man-made, that is usually smaller than a lake. A wide variety of man-made bodies of water are classified as ponds, including water gardens, water features and koi ponds; all designed for aesthetic ornamentation as landscape or architectural...
. Ike's Pond was built and named, and the dam is located just where Eisenhower said it should be.
Rae's Creek
Rae's Creek cuts across the southeastern corner of the Augusta National property. It flows along the back of the 11th green, in front of the 12th green, and ahead of the 13th tee. This is the lowest point in elevation of the course. The Hogan and Nelson Bridges cross the creek after the 12th and 13th tee boxes, respectively. The
creek
Stream
A stream is a body of water with a current, confined within a bed and stream banks. Depending on its locale or certain characteristics, a stream may be referred to as a branch, brook, beck, burn, creek, "crick", gill , kill, lick, rill, river, syke, bayou, rivulet, streamage, wash, run or...
was named after former property owner John Rae, who died in 1789.
Architectural features
Crow's Nest
Available for amateurs wishing to be housed there during the Masters Tournament, the Crow's Nest provides living space for up to five individuals. Rising from the approximately 30 by 40-foot (12 m
2
) room is the clubhouse's 11 feet (3.4 m) square
cupola
Cupola
In architecture, a cupola is a small, most-often dome-like, structure on top of a building. Often used to provide a lookout or to admit light and air, it usually crowns a larger roof or dome....
. The cupola features windows on all sides. The Crow's Nest consists of one room with partitions and dividers that create three cubicles with one bed each, and one cubicle with two beds. There is also a full bathroom with an additional sink. The sitting area has a game table, sofa, and chairs, telephone and television. Placed throughout the Crow's Nest are books on golf, and lining the walls are photos and sketches depicting past Masters and other golf scenes.
Eisenhower Cabin
One of ten cabins on the Augusta National property, it was built by the club's membership for member Dwight D. Eisenhower after his election to the presidency. The cabin was built according to
Secret Service
United States Secret Service
The United States Secret Service is a United States federal law enforcement agency that is part of the United States Department of Homeland Security. The sworn members are divided among the Special Agents and the Uniformed Division. Until March 1, 2003, the Service was part of the United States...
security guidelines, and is adorned by an eagle located above the front porch.
Founders Circle
Founders Circle is a memorial located in front of the course's clubhouse, at the end of Magnolia Lane. Plaques at Founders Circle honor Bobby Jones and Clifford Roberts.
Hogan Bridge
There is a bridge over Rae's Creek that connects the fairway of hole 12 to its green. It is constructed of stone and covered with
artificial turf
Artificial turf
Artificial turf is a surface manufactured from synthetic fibers made to look like natural grass. It is most often used in arenas for sports that were originally or are normally played on grass. However, it is now being used on residential lawns and commercial applications as well...
. The bridge was dedicated to
Ben Hogan
Ben Hogan
William Ben Hogan was an American golfer, generally considered one of the greatest players in the history of the game...
in 1958 to commemorate his 72-hole score of 274 strokes five years earlier, the course record at the time.
Magnolia Lane
The main
driveway
Driveway
A driveway is a type of private road for local access to one or a small group of structures, and is owned and maintained by an individual or group....
leading from Washington Road to the course's clubhouse is called Magnolia Lane. The lane is flanked on either side by 60 magnolia trees, each grown from seeds planted by the
Berckmans
Louis Berckmans
Louis Mathieu Edouard, Baron Berckmans was a Belgian aristocrat and a medical doctor who was famous for his interest in plant biology and specifically in horticulture.- Biography :...
family in the 1850s. Magnolia Lane is 330 yards (300 m) long and was paved in 1947. There were formerly 61 trees along the road, but a severe thunderstorm on April 4, 2011, the night before practice day, felled one of the 61 magnolia trees.
Nelson Bridge
Nelson Bridge is a stonework bridge over Rae's Creek that connects the
teeing ground
Teeing ground
In golf, the teeing ground is the area at the beginning of a hole from which the player's first stroke is taken. When referring to the area, the terms "tee", "tee box", and "teeing ground" are often used interchangeably....
of hole 13 to its fairway. In 1958, it was dedicated to Byron Nelson to honor his performance in the
1937 Masters
1937 Masters Tournament
The 1937 Masters Tournament was contested from April 1 to April 4 at Augusta National Golf Club. It was the 4th Masters Tournament. Byron Nelson made up six strokes on Ralph Guldahl over two holes on the final day to win by two strokes. Compared to Guldahl's 5-6, Nelson played the 12th and 13th...
.
Par 3 Fountain
The Par 3 Fountain is next to the No. 1 tee on the Par 3 course. The fountain has a list of Par 3 contest winners, starting with Sam Snead's win in 1960.
Record Fountain
The Record Fountain was built to commemorate the 25th anniversary of the Masters Tournament. Located left of the No. 17 tee, it displays course records and Masters Tournament champions.
Sarazen Bridge
Sarazen Bridge is a
footbridge
Footbridge
A footbridge or pedestrian bridge is a bridge designed for pedestrians and in some cases cyclists, animal traffic and horse riders, rather than vehicular traffic. Footbridges complement the landscape and can be used decoratively to visually link two distinct areas or to signal a transaction...
that crosses the pond on hole 15 that separates the fairway from the green. Made of stone, it was named for
Gene Sarazen
Gene Sarazen
Gene Sarazen was an American professional golfer, one of the world's top players in the 1920s and 1930s. He is one of five golfers to win all the current major championships in his career, the Career Grand Slam:U.S...
for a memorable double eagle "Shot heard 'round the World" in the
1935 Masters Tournament
1935 Masters Tournament
The 1935 Masters Tournament was contested from April 4 to April 8 at Augusta National Golf Club. It was the 2nd Masters Tournament. The golf course nines were reversed for this tournament. Gene Sarazen holed an double eagle at the par 5, 15th hole to tie Craig Wood and force a 36-hole playoff....
that propelled him to victory. Players must cross the Sarazen Bridge to get onto the 15th green. The hazard creates headaches for players, as balls hit on the green often roll off the green and into the water.
Chairmen
Clifford Roberts

Clifford Roberts

Clifford Roberts was an American investment dealer and golf administrator.-Biography:Born in Morning Sun, Iowa, Roberts had a troubled family life as a boy, and left school in the ninth grade. He worked at a great variety of jobs all around the United States, and eventually chose the investment...


(1934 to 1976)
William Lane (1976 to 1980)
Hord Hardin

Hord Hardin

Hord Wilson Hardin was the President of the United States Golf Association from 1968 to 1969, then Chairman of the Masters Tournament and the Augusta National Golf Club from 1980 to 1991.-Biography:...


(1980 to 1991)
Jackson T. Stephens

Jackson T. Stephens

Jackson Thomas Stephens was the founder of Little Rock, Arkansas-based Stephens Group, a diversified family of investment and media companies.- Background :...


(1991 to 1998)
Hootie Johnson (1998 to 2006)
Billy Payne (2006 to present)
Culture
Augusta National Golf Club is known to be a conservative institution where decorum is paramount; it is a place where traditions and the integrity of the game are jealously guarded. In prepared remarks before the
2010 Masters
2010 Masters Tournament
The 2010 Masters Tournament, played April 8–11 at Augusta National Golf Club, was the 74th Masters Tournament. This was the first major championship of the 2010 season.Phil Mickelson won his third Masters title by three shots over runner-up Lee Westwood....
, Chairman Billy Payne had harsh words for
Tiger Woods
Tiger Woods
Eldrick Tont "Tiger" Woods is an American professional golfer whose achievements to date rank him among the most successful golfers of all time. Formerly the World No...
, saying the world's top-ranked golfer disappointed everyone with his sex scandals and did not live up to expectations as a role model.
Membership
Augusta National Golf Club has about 300 members at any given time. Membership is strictly by invitation; there is no application process. It is believed that annual dues are low (less than $10,000 per year) given that the Masters broadcast on CBS earns the club millions per year.
Amid much criticism of exclusive and discriminatory admissions, Augusta accepted an African-American member in 1990.
In 2004,
USA Today
USA Today
USA Today is a national American daily newspaper published by the Gannett Company. It was founded by Al Neuharth. The newspaper vies with The Wall Street Journal for the position of having the widest circulation of any newspaper in the United States, something it previously held since 2003...
published a list of all the current members of Augusta National.
Notable members
Notable current members include:
2002 membership controversy
Augusta National and Chairman Hootie Johnson are widely known for a disagreement beginning in 2002 with
Martha Burk
Martha Burk
Martha Burk is an American political psychologist, feminist, and former Chair of the National Council of Women's Organizations....
, then chairwoman of the Washington-based
National Council of Women's Organizations
National Council of Women's Organizations
The National Council of Women's Organizations is an American non-profit umbrella organization of women's organizations. Formerly headed by Martha Burk, it has a membership of 11 million women through its 215 member organizations...
, over admission of female members to Augusta National. Burk contended that hosting the Masters Tournament at a male-only club constituted
sexism
Sexism
Sexism, also known as gender discrimination or sex discrimination, is the application of the belief or attitude that there are characteristics implicit to one's gender that indirectly affect one's abilities in unrelated areas...
. Johnson characterized Burk's approach as "offensive and coercive", and responding to efforts to link the issue to sexism and civil rights, Johnson maintained the issue had to do with the rights of any private club:
Burk, whose childhood nickname was also Hootie, claims to have been "called a man hater, anti-family, lesbian, all the usual things." Johnson was portrayed as a
Senator Claghorn
Senator Claghorn
Senator Beauregard Claghorn of Charleston, South Carolina, was a popular radio character on the "Allen's Alley" segment of The Fred Allen Show beginning in 1945...
type—"a blustery defender of all things Southern"—despite his progressive social record.
Following the discord, two club members resigned: Thomas H. Wyman, a former CEO of CBS, and
John Snow
John W. Snow
| image=John W. Snow.jpg|imagesize = 250px| order=73rd| title=United States Secretary of the Treasury| term_start=February 3, 2003| term_end=June 28, 2006| predecessor=Paul O'Neill| successor=Henry Paulson| birth_date=| birth_place=Toledo, Ohio...
, when President George W. Bush nominated him to serve as Secretary of the Treasury. Pressure on corporate sponsors led the club to broadcast the 2003 and 2004 tournaments without commercials. The club has women on its membership waiting list, but will not allow them to circumvent the regular membership process to appease those outside the club. As of 2010, no woman had been admitted to Augusta National. The controversy was discussed by the
International Olympic Committee
International Olympic Committee
The International Olympic Committee is an international corporation based in Lausanne, Switzerland, created by Pierre de Coubertin on 23 June 1894 with Demetrios Vikelas as its first president...
when re-examining whether golf meets Olympic criteria of a "sport practiced without discrimination with a spirit of friendship, solidarity and fair play."
Green jacket
Every member of Augusta National receives a green sports coat with the club's logo on the left breast. The idea of the green jacket originated with club co-founder Clifford Roberts. Many believe it is because he wanted patrons visiting during the tournament to be able to readily identify members. Since Sam Snead's victory in 1949, the winner of each year's Masters Tournament has received a green jacket. The jacket is presented to the new winner by the winner of the previous tournament. If the previous champion is either unavailable or has won consecutive tournaments, then the current chairman acts as the presenter. Until 1967, the jackets were manufactured by
Brooks Brothers
Brooks Brothers
Brooks Brothers is the oldest men's clothier chain in the United States. Founded in 1818 as a family business, the privately owned company is now owned by Retail Brand Alliance, also features clothing for women, and is headquartered on Madison Avenue in Manhattan, New York City.-History:On April 7,...
and since have been made by Hamilton of Cincinnati, Ohio.
Caddies
Augusta National remains one of the few golf clubs with a staff of
caddies
Caddy
In golf, a caddy is the person who carries a player's bag and clubs, and gives insightful advice and moral support. A good caddy is aware of the challenges and obstacles of the golf course being played, along with the best strategy in playing it. This includes knowing overall yardage, pin...
ready to assist members, guests, and professionals. Before 1983, staff caddies were assigned to professional players. In 1983, Chairman Hord Hardin permitted players in the Masters Tournament to use their regular caddies. Although Augusta's caddy staff continues to wear its trademark white jumpsuits year-round, the garb is not a PGA Tour mandate. And though the club remains without female members, female caddies are permitted. Most of them, however, were professional golfers' regular caddies, such as
Fanny Sunesson
Fanny Sunesson
Fanny Sunesson born in Karlshamn, Sweden is a professional golf caddy, who is most noted as being the caddy for Nick Faldo from 1990 to 1999. She is the caddy for European Tour player Henrik Stenson.-Career:Fanny was born into a golfing family...
. Sunesson is one of the PGA Tour's few female caddies, and has caddied for several players at the Masters, most notably three-time Masters champion
Nick Faldo
Nick Faldo
Sir Nicholas Alexander "Nick" Faldo, MBE is an English professional golfer on the European Tour who now mainly works as an on air golf analyst. Over his career, he has won six majors: three Open Championships and three Masters. He was ranked the World No...
, and more recently
Henrik Stenson
Henrik Stenson
Henrik Stenson is a Swedish professional golfer who plays both on the US and European tours. He has spent over 100 weeks ranked in the World top ten and his career high ranking of fourth is the best by any Swedish golfer.-Career:...
. During the pre-tournament Masters events in 2007, Golf Channel's
Kelly Tilghman
Kelly Tilghman
Kelly Tilghman is a broadcaster for The Golf Channel, and the PGA Tour's first female lead golf announcer....
was selected by Arnold Palmer to caddy alongside him. In 2009,
Fuzzy Zoeller
Fuzzy Zoeller
Frank Urban "Fuzzy" Zoeller, Jr. is an American professional golfer. He is one of three golfers to have won The Masters in his first appearance in the event. He also won the 1984 U.S. Open, which earned him the 1985 Bob Jones Award....
's daughter Gretchen was his caddy for his last year competing in the Masters.
Ben Crenshaw
Ben Crenshaw
Ben Daniel Crenshaw is an American professional golfer.Crenshaw was born in Austin, Texas. He attended and played golf at Austin High School and the University of Texas, where he won three NCAA Championships from 1971 to 1973...
won both of his Masters titles with an Augusta National caddie,
Carl Jackson
Carl Jackson (caddie)
Carl Jackson is a golf caddie at the Augusta National Golf Club. He has caddied at every Masters Tournament, except one, since 1961 holding the record for the most appearances, at 50, of a caddy at this tournament...
.
Appearances in video games
Augusta National Golf Club and the Masters Tournament are featured in the video game
Tiger Woods PGA Tour 12: The Masters
. This is the first time that the course has been officially included in the Tiger Woods franchise. Augusta National was previously used in the 1986 computer game
Mean 18
Mean 18
Mean 18 is the name of a series of computer golf games released by Accolade in the late 1980s and early 1990s. It is also the name of the first game in the series. In the early 1990s, the series was phased out by Accolade's Jack Nicklaus series of golf games, which arrived in 1990...
, published by Accolade.
External links