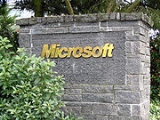 Microsoft
Microsoft Corporation
( and ) is an American
public
Public company
This is not the same as a Government-owned corporation.A public company or publicly traded company is a limited liability company that offers its securities for sale to the general public, typically through a stock exchange, or through market makers operating in over the counter markets...
multinational corporation
Multinational corporation
A multi national corporation or enterprise , is a corporation or an enterprise that manages production or delivers services in more than one country. It can also be referred to as an international corporation...
headquartered in
Redmond, Washington
Redmond, Washington
Redmond is a city in King County, Washington, United States, located east of Seattle. The population was 54,144 at the 2010 census,up from 45,256 in 2000....
, USA that develops, manufactures, licenses, and supports a wide range of products and services predominantly related to
computing
Computing
Computing is usually defined as the activity of using and improving computer hardware and software. It is the computer-specific part of information technology...
through its various product divisions. Established on April 4, 1975 to develop and sell
BASIC
BASIC
BASIC is a family of general-purpose, high-level programming languages whose design philosophy emphasizes ease of use - the name is an acronym from Beginner's All-purpose Symbolic Instruction Code....
interpreters for the
Altair 8800
Altair 8800
The MITS Altair 8800 was a microcomputer design from 1975 based on the Intel 8080 CPU and sold by mail order through advertisements in Popular Electronics, Radio-Electronics and other hobbyist magazines. The designers hoped to sell only a few hundred build-it-yourself kits to hobbyists, and were...
, Microsoft rose to dominate the
home computer
Home computer
Home computers were a class of microcomputers entering the market in 1977, and becoming increasingly common during the 1980s. They were marketed to consumers as affordable and accessible computers that, for the first time, were intended for the use of a single nontechnical user...
operating system
Operating system
An operating system is a set of programs that manage computer hardware resources and provide common services for application software. The operating system is the most important type of system software in a computer system...
market with
MS-DOS
MS-DOS
MS-DOS is an operating system for x86-based personal computers. It was the most commonly used member of the DOS family of operating systems, and was the main operating system for IBM PC compatible personal computers during the 1980s to the mid 1990s, until it was gradually superseded by operating...
in the mid-1980s, followed by the
Microsoft Windows
Microsoft Windows
Microsoft Windows is a series of operating systems produced by Microsoft.Microsoft introduced an operating environment named Windows on November 20, 1985 as an add-on to MS-DOS in response to the growing interest in graphical user interfaces . Microsoft Windows came to dominate the world's personal...
line of operating systems.
Microsoft would also come to dominate the
office suite
Office suite
In computing, an office suite, sometimes called an office software suite or productivity suite is a collection of programs intended to be used by knowledge workers...
market with
Microsoft Office
Microsoft Office
Microsoft Office is a non-free commercial office suite of inter-related desktop applications, servers and services for the Microsoft Windows and Mac OS X operating systems, introduced by Microsoft in August 1, 1989. Initially a marketing term for a bundled set of applications, the first version of...
.
1975 Microsoft is founded as a partnership between Bill Gates and Paul Allen in Albuquerque, New Mexico
1981 Microsoft is restructured to become an incorporated business in its home state of Washington.
1985 Microsoft Windows 1.0 is released.
1990 Microsoft releases the Windows 3.0 operating system.
1995 Computer software developer Microsoft releases its Windows 95 operating system.
1999 The "Melissa worm" infects Microsoft word processing and e-mail systems around the world.
2000 United States v. Microsoft: Microsoft is ruled to have violated United States antitrust laws by keeping "an oppressive thumb" on its competitors.