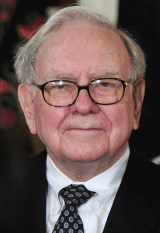 Warren Buffett
Warren Edward Buffett
(ˈbʌfɨt; born August 30, 1930) is an American
business magnate
Business magnate
A business magnate, sometimes referred to as a capitalist, czar, mogul, tycoon, baron, oligarch, or industrialist, is an informal term used to refer to an entrepreneur who has reached prominence and derived a notable amount of wealth from a particular industry .-Etymology:The word magnate itself...
, investor, and philanthropist. He is widely regarded as one of the most successful investors in the world. Often introduced as "legendary investor, Warren Buffett", he is the
primary shareholder
Shareholder
A shareholder or stockholder is an individual or institution that legally owns one or more shares of stock in a public or private corporation. Shareholders own the stock, but not the corporation itself ....
, chairman and CEO of
Berkshire Hathaway
Berkshire Hathaway
Berkshire Hathaway Inc. is an American multinational conglomerate holding company headquartered in Omaha, Nebraska, United States, that oversees and manages a number of subsidiary companies. The company averaged an annual growth in book value of 20.3% to its shareholders for the last 44 years,...
. He is consistently ranked among the
world's wealthiest people
Forbes list of billionaires
Forbes list of billionaires is based on an annual assessment of wealth and assets compiled and published by Forbes magazine on March 10, 2011.-Forbes list of billionaires :...
. He was ranked as the world's wealthiest person in 2008 and is the third wealthiest person in the world as of 2011.
Buffett is called the "Wizard of Omaha", "Oracle of Omaha"
or the "Sage of Omaha" and is noted for his adherence to the
value investing
Value investing
Value investing is an investment paradigm that derives from the ideas on investment and speculation that Ben Graham and David Dodd began teaching at Columbia Business School in 1928 and subsequently developed in their 1934 text Security Analysis...
philosophy and for his personal
frugality
Frugality
Frugality is the quality of being frugal, sparing, thrifty, prudent or economical in the use of consumable resources such as food, time or money, and avoiding waste, lavishness or extravagance....
despite his immense
wealth
Wealth
Wealth is the abundance of valuable resources or material possessions. The word wealth is derived from the old English wela, which is from an Indo-European word stem...
.
[Gold] gets dug out of the ground in Africa, or someplace. Then we melt it down, dig another hole, bury it again and pay people to stand around guarding it. It has no utility. Anyone watching from Mars would be scratching their head.

Harvard, 1998
Someone's sitting in the shade today because someone planted a tree a long time ago.

As quoted in The Real Warren Buffett : Managing Capital, Leading People (2002) by James O'Loughlin