 Atole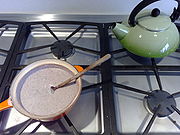 Atole
is a traditional
masa
Masa
Masa is Spanish for dough. In the Americas it is often short for masa de maíz, a maize dough made from freshly prepared hominy. It is used for making corn tortillas, tamales, pupusas, arepas and many other Latin American dishes. The dried and powdered form is called masa harina, masa de harina,...
-based
Mexican
Mexico
The United Mexican States , commonly known as Mexico , is a federal constitutional republic in North America. It is bordered on the north by the United States; on the south and west by the Pacific Ocean; on the southeast by Guatemala, Belize, and the Caribbean Sea; and on the east by the Gulf of...
and Central American (where it is known as
atol
) hot drink.
Chocolate
Chocolate
Chocolate is a raw or processed food produced from the seed of the tropical Theobroma cacao tree. Cacao has been cultivated for at least three millennia in Mexico, Central and South America. Its earliest documented use is around 1100 BC...
atole is known as
champurrado
Champurrado (beverage)
Champurrado is a chocolate-based atole, a warm and thick Mexican drink, based on masa , piloncillo, water or milk and occasionally containing cinnamon, anise seed and or vanilla bean. Atole drinks are whipped up using a wooden whisk called a molinillo...
or atole. It is typically accompanied with
tamale
Tamale
A tamale — or more correctly tamal — is a traditional Latin American dish made of masa , which is steamed or boiled in a leaf wrapper. The wrapping is discarded before eating...
s, and very popular during the
Christmas
Christmas
Christmas or Christmas Day is an annual holiday generally celebrated on December 25 by billions of people around the world. It is a Christian feast that commemorates the birth of Jesus Christ, liturgically closing the Advent season and initiating the season of Christmastide, which lasts twelve days...
holiday season (Las Posadas).
The drink typically includes
masa
Masa
Masa is Spanish for dough. In the Americas it is often short for masa de maíz, a maize dough made from freshly prepared hominy. It is used for making corn tortillas, tamales, pupusas, arepas and many other Latin American dishes. The dried and powdered form is called masa harina, masa de harina,...
(corn
hominy
Hominy
Hominy or nixtamal is dried maize kernels which have been treated with an alkali in a process called nixtamalization.The English term hominy is derived from the Powhatan language word for maize. Many other Native American cultures also made hominy and integrated it into their diet...
flour), water, piloncillo (unrefined cane sugar), cinnamon, vanilla and optional chocolate or fruit. The mixture is blended and heated before serving. Atole is made by toasting masa on a
comal
Comal (cookware)
A comal is a smooth, flat griddle typically used in Mexico to cook tortillas, toast spices, sear meat, and generally prepare food. Similar cookware is called a budare in South America. Some comals are concave and made of "barro" . These are still made and used by the indigenous peoples of Mexico...
(griddle), then adding water that was boiled with cinnamon sticks. The resulting blends vary in texture, ranging from a porridge to a very thin liquid consistency. Atole can also be prepared with
rice
Rice
Rice is the seed of the monocot plants Oryza sativa or Oryza glaberrima . As a cereal grain, it is the most important staple food for a large part of the world's human population, especially in East Asia, Southeast Asia, South Asia, the Middle East, and the West Indies...
flour
Flour
Flour is a powder which is made by grinding cereal grains, other seeds or roots . It is the main ingredient of bread, which is a staple food for many cultures, making the availability of adequate supplies of flour a major economic and political issue at various times throughout history...
or
oatmeal
Oatmeal
Oatmeal is ground oat groats , or a porridge made from oats . Oatmeal can also be ground oat, steel-cut oats, crushed oats, or rolled oats....
in place of masa. In northern Mexico, there is also a variation using pinole (sweetened toasted corn meal). Although atole is one of the traditional drinks of the Mexican holiday
Day of the Dead
Day of the Dead
Day of the Dead is a Mexican holiday celebrated throughout Mexico and around the world in many cultures. The holiday focuses on gatherings of family and friends to pray for and remember friends and family members who have died. It is particularly celebrated in Mexico, where it attains the quality...
, it is very common during breakfast and dinnertime at any time of year. It is usually sold as street food.
In Northern Mexico and South Texas, Atole is a traditional
comfort food
Comfort food
Comfort food is food prepared traditionally that may have a nostalgic or sentimental appeal. Comfort foods may be foods that have a nostalgic element either to an individual or a specific culture...
. It is often eaten as a breakfast or an after dinner snack on cold days.
Other derivations exist. In
New Mexico
New Mexico
New Mexico is a state located in the southwest and western regions of the United States. New Mexico is also usually considered one of the Mountain States. With a population density of 16 per square mile, New Mexico is the sixth-most sparsely inhabited U.S...
,
blue corn
Blue corn
Blue corn is a variety of maize grown in northern Mexico and the Southwestern United States, particularly in the states of Arizona and New Mexico....
atole is finely ground cornmeal toasted for cooking, consumed as a grainy
porridge
Porridge
Porridge is a dish made by boiling oats or other cereal meals in water, milk, or both. It is usually served hot in a bowl or dish...
-style drink served warm, usually sweetened with sugar and/or thinned with milk. It is usually served at breakfast like cream of wheat or oatmeal. It is said that elders would drink Atole because it gave them energy and if a mother is nursing it gives her more milk.
Salvadoran
El Salvador
El Salvador or simply Salvador is the smallest and the most densely populated country in Central America. The country's capital city and largest city is San Salvador; Santa Ana and San Miguel are also important cultural and commercial centers in the country and in all of Central America...
varieties include
atol shuco
("dirty" atol, a reference to its darker color), particularly popular in the Cabañas region. The
Nicaragua
Nicaragua
Nicaragua is the largest country in the Central American American isthmus, bordered by Honduras to the north and Costa Rica to the south. The country is situated between 11 and 14 degrees north of the Equator in the Northern Hemisphere, which places it entirely within the tropics. The Pacific Ocean...
n homologue is
pinolillo
Pinolillo
Pinolillo is a sweet cornmeal and cacao-based traditional drink in Nicaragua. It is made of ground toasted corn and a bit of cacao. It can be mixed with water or milk, served sweetened or unsweetened. If unsweetened, it is rather bitter. It can also be used in cooking some local dishes, such as...
. In some parts of Honduras, fresh corn is ground and the expressed liquid is used as the base (instead of masa flour).