 Comfort food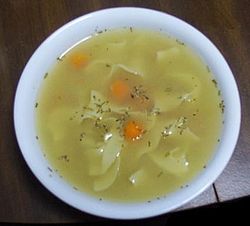 Comfort food
is
food
Food
Food is any substance consumed to provide nutritional support for the body. It is usually of plant or animal origin, and contains essential nutrients, such as carbohydrates, fats, proteins, vitamins, or minerals...
prepared traditionally that may have a nostalgic or sentimental appeal. Comfort foods may be foods that have a nostalgic element either to an individual or a specific
culture
Culture
Culture is a term that has many different inter-related meanings. For example, in 1952, Alfred Kroeber and Clyde Kluckhohn compiled a list of 164 definitions of "culture" in Culture: A Critical Review of Concepts and Definitions...
. Many comfort foods are flavorful and easily eaten, having soft consistencies.
One recent development, as chefs have explored the roots of
American cuisine
Cuisine of the United States
American cuisine is a style of food preparation originating from the United States of America. European colonization of the Americas yielded the introduction of a number of ingredients and cooking styles to the latter...
and tried to define it as a unique style, is the advent of fine dining comfort food restaurants that feature more careful cooking and presentation, higher quality and fresh
organic
Organic food
Organic foods are foods that are produced using methods that do not involve modern synthetic inputs such as synthetic pesticides and chemical fertilizers, do not contain genetically modified organisms, and are not processed using irradiation, industrial solvents, or chemical food additives.For the...
ingredients, along with consequently higher prices.
American comfort foods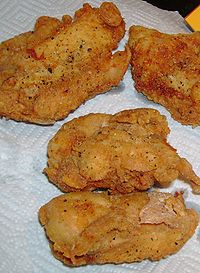 In a reader's
opinion poll
Opinion poll
An opinion poll, sometimes simply referred to as a poll is a survey of public opinion from a particular sample. Opinion polls are usually designed to represent the opinions of a population by conducting a series of questions and then extrapolating generalities in ratio or within confidence...
by About.com, the following are the top 25 foods stated as comfort foods by respondents:
Australian comfort foods
While some of these comfort foods have different names regionally, they tend to be available in all states. This list also demonstrates the ethnic influences on
Australian cuisine
Australian cuisine
Australian cuisine refers to the cuisine of the Commonwealth of Australia and its preceding indigenous and colonial societies. Indigenous Australians have occupied the lands of Australia for some 40,000-60,000 years, during which time they developed a unique hunter gatherer diet, known as "bush...
.
Chinese comfort foods
In Chinese culture the comfort foods might differ between each households. Nevertheless the common theme is usually invoked nostalgic sentiments of home and family. Chinese comfort foods usually served warm, have soft texture and it might be soupy. Some of common Chinese comfort foods are:
Filipino comfort foods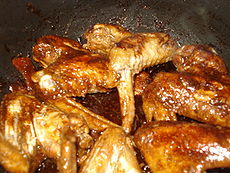 In Filipino cultures, comforts are those that are common in Filipino society. Comfort foods, especially home-cooked meals, usually invoke a sense of feeling of being in the comforts of home. It makes feels of the life in the hometown (for Filipino immigrants). Some common Filipino comfort foods include:
Indonesian comfort foods
Some of popular Indonesian food are considered as comfort food, usually served hot or warm, soupy and have soft texture. Some Indonesian comfort food are traditional Indonesian food and some are derived from Chinese influences. For some Indonesians, especially those whom are abroad, comfort food might also be a certain brand or type of Indonesian instant noodle, such as
Indomie Mi goreng
IndoMie Mi Goreng
Indomie Mi goreng is an instant noodles product line made under the Indomie brand by the Indofood company, the world's largest instant noodle manufacturer, located in Indonesia. The product entered the market in 1982 and is available in many parts of the world including the US, Australia, New...
. Indonesian comfort foods include:
Japanese comfort foods
Korean comfort foods
Swedish comfort foods
Psychological studies
Comfort foods may be consumed to positively pique emotions, to relieve negative psychological affects or to increase positive feelings. The term was first used, according to
Webster's Dictionary
Webster's Dictionary
Webster's Dictionary refers to the line of dictionaries first developed by Noah Webster in the early 19th century, and also to numerous unrelated dictionaries that added Webster's name just to share his prestige. The term is a genericized trademark in the U.S.A...
, in 1977.
One study divided college-students' comfort-food identifications into four categories (nostalgic foods, indulgence foods,
convenience food
Convenience food
Convenience food, or tertiary processed food, is commercially prepared food designed for ease of consumption. Products designated as convenience foods are often prepared food stuffs that can be sold as hot, ready-to-eat dishes; as room-temperature, shelf-stable products; or as refrigerated or...
s, and physical comfort foods) with a special emphasis on the deliberate selection of particular foods to modify mood or affect, and indications that the medical-therapeutic use of particular foods may ultimately be a matter of mood-alteration.
The identification of particular items as comfort food may be idiosyncratic, though patterns are detectable. In one study of American preferences, "males preferred warm, hearty, meal-related comfort foods (such as steak, casseroles, and soup), while females instead preferred comfort foods that were more snack related (such as chocolate and ice cream). In addition, younger people preferred more snack-related comfort foods compared to those over 55 years of age." The study also revealed strong connections between consumption of comfort foods and feelings of guilt.
Comfort food consumption has been seen as a response to emotional stress, and consequently, as a key contributor to the epidemic of obesity in the United States. The provocation of specific hormonal responses leading selectively to increases in abdominal fat is seen as a form of
self-medication
Self-medication
Self-medication is a term used to describe the use of drugs or other self-soothing forms of behavior to treat untreated and often undiagnosed mental distress, stress and anxiety, including mental illnesses and/or psychological trauma...
.
Further studies suggest that consumption of comfort food is triggered in men by positive emotions, and by negative ones in women. The stress effect is particularly pronounced among college-aged women, with only 33% reporting
healthy eating
Healthy diet
A healthy diet is one that helps maintain or improve general health. It is important for lowering many chronic health risks, such as obesity, heart disease, diabetes, hypertension and cancer. A healthy diet involves consuming appropriate amounts of all essential nutrients and an adequate amount of...
choices during times of emotional stress. For women specifically, these psychological patterns may be maladaptive.
A therapeutic use of these findings includes offering comfort foods or "happy hour" beverages to
anorectic
Anorexia (symptom)
Anorexia is the decreased sensation of appetite...
geriatric patients whose health and quality of life otherwise decreases with reduced oral intake.
See also