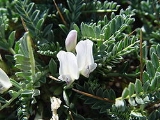 Astragalus
Astragalus
is a large genus of about 3,000 species of
herb
Herb
Except in botanical usage, an herb is "any plant with leaves, seeds, or flowers used for flavoring, food, medicine, or perfume" or "a part of such a plant as used in cooking"...
s and small
shrub
Shrub
A shrub or bush is distinguished from a tree by its multiple stems and shorter height, usually under 5–6 m tall. A large number of plants may become either shrubs or trees, depending on the growing conditions they experience...
s, belonging to the
legume
family
Fabaceae
Fabaceae
The Fabaceae or Leguminosae, commonly known as the legume, pea, or bean family, is a large and economically important family of flowering plants. The group is the third largest land plant family, behind only the Orchidaceae and Asteraceae, with 730 genera and over 19,400 species...
, subfamily
Faboideae
Faboideae
Faboideae is a subfamily of the flowering plant family Fabaceae or Leguminosae. One acceptable alternative name for the subfamily is Papilionoideae....
. The genus is native to temperate regions of the
Northern Hemisphere
Northern Hemisphere
The Northern Hemisphere is the half of a planet that is north of its equator—the word hemisphere literally means "half sphere". It is also that half of the celestial sphere north of the celestial equator...
. Common names include milk-vetch (most species),
locoweed
Locoweed
Locoweed is a common name in North America for any plant that produces swainsonine, a phytotoxin harmful to livestock. Worldwide, swainsonine is produced by a small number of species, most in three genera of the flowering plant family Fabaceae: Oxytropis and Astragalus in North America, and...
(in western US, some species; although most locoweeds are not genus
Astragalus
but in related genera) and
goat's-thorn
(
A. gummifer
,
A. tragacanthus
). Some pale-flowered
vetches
Vicia
Vicia is a genus of about 140 species of flowering plants commonly known as vetches. It is in the legume family . Member species are native to Europe, North America, South America, Asia and Africa. Some other genera of their subfamily Faboideae also have names containing "vetch", for example the...
are similar in appearance, but vetches are more
vine
Vine
A vine in the narrowest sense is the grapevine , but more generally it can refer to any plant with a growth habit of trailing or scandent, that is to say climbing, stems or runners...
-like.
Species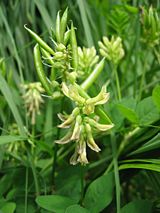 Astragalus
species are used as food plants by the
larva
Larva
A larva is a distinct juvenile form many animals undergo before metamorphosis into adults. Animals with indirect development such as insects, amphibians, or cnidarians typically have a larval phase of their life cycle...
e of some
Lepidoptera
Lepidoptera
Lepidoptera is a large order of insects that includes moths and butterflies . It is one of the most widespread and widely recognizable insect orders in the world, encompassing moths and the three superfamilies of butterflies, skipper butterflies, and moth-butterflies...
species including the following case-bearers of the genus
Coleophora
Coleophora
Coleophora is a very large genus of moths of the family Coleophoridae. It contains some 1,350 described species. The genus is represented on all continents, but the majority are found in the Nearctic and Palaearctic regions...
:
C. astragalella
(feeds exclusively on
A. glycyphyllos
),
C. cartilaginella
(feeds exclusively on
Astragalus
),
C. colutella
,
C. euryaula
(feeds exclusively on
Astragalus
),
C. gallipennella
(feeds exclusively on
A. glycyphyllos
),
C. hippodromica
(feeds exclusively on
A. gombo
),
C. onobrychiella
(feeds exclusively on
Astragalus
),
C. polonicella
(feeds exclusively on
A. arenarius
) and
C. vicinella
.
Traditional uses
Astragalus propinquus
Astragalus propinquus
Astragalus propinquus also known as huáng qí or běi qí , huáng hua huáng qí , is a flowering plant in the family Fabaceae. It is one of the 50 fundamental herbs used in traditional Chinese medicine. It is a perennial plant and it is not listed as being threatened.- Herbalism :A...
(also known as
Astragalus membranaceus
) has a history of use as a herbal medicine and is used in
traditional Chinese medicine
Traditional Chinese medicine
Traditional Chinese Medicine refers to a broad range of medicine practices sharing common theoretical concepts which have been developed in China and are based on a tradition of more than 2,000 years, including various forms of herbal medicine, acupuncture, massage , exercise , and dietary therapy...
.
Research
The biotechnology firms Geron Corporation and TA Therapeutics of
Hong Kong
Hong Kong
Hong Kong is one of two Special Administrative Regions of the People's Republic of China , the other being Macau. A city-state situated on China's south coast and enclosed by the Pearl River Delta and South China Sea, it is renowned for its expansive skyline and deep natural harbour...
have been working on deriving a
telomerase
Telomerase
Telomerase is an enzyme that adds DNA sequence repeats to the 3' end of DNA strands in the telomere regions, which are found at the ends of eukaryotic chromosomes. This region of repeated nucleotide called telomeres contains non-coding DNA material and prevents constant loss of important DNA from...
activator from it. The chemical constituent
cycloastragenol
Cycloastragenol
Cycloastragenol is a saponin found in or derived from Astragalus/Astragalus membranaceus.It is used as a nutraceutical and seems to moderately increase telomerase activity and proliferative capacity of both CD4 and CD8 T cells...
(also called TAT2) is being studied to help combat
HIV
HIV
Human immunodeficiency virus is a lentivirus that causes acquired immunodeficiency syndrome , a condition in humans in which progressive failure of the immune system allows life-threatening opportunistic infections and cancers to thrive...
, as well as infections associated with chronic diseases or aging. However, the
National Institutes of Health
National Institutes of Health
The National Institutes of Health are an agency of the United States Department of Health and Human Services and are the primary agency of the United States government responsible for biomedical and health-related research. Its science and engineering counterpart is the National Science Foundation...
states:
The evidence for using astragalus for any health condition is limited. High-quality clinical trials (studies in people) are generally lacking. There is some preliminary evidence to suggest that astragalus, either alone or in combination with other herbs, may have potential benefits for the immune system, heart, and liver, and as an adjunctive therapy for cancer
.
Supplement use
Extracts of
Astragalus membranaceus
are marketed as life prolonging extracts in humans. A proprietary extract of the dried root of
Astragalus membranaceus
, called
TA-65
TA-65
TA-65 is an isolate of a proprietary extract of the dried root of Astragalus membranaceus, which is found to be connected with an "age-reversal" effect in the immune system, in that it leads to declines in the percentage of senescent cytotoxic T cells and natural killer cells after six to twelve...
, 'was associated with a significant age-reversal effect in the immune system, in that it led to declines in the percentage of senescent cytotoxic T cells and natural killer cells after six to twelve months of use.' In October 2010, Intertek/AAC Labs, an ISO 17025 internationally recognized lab, found the largest component of TA-65 to be Cycloastragenol. Telomerase activation was feared to pose an increased risk of cancer because
telomere
Telomere
A telomere is a region of repetitive DNA sequences at the end of a chromosome, which protects the end of the chromosome from deterioration or from fusion with neighboring chromosomes. Its name is derived from the Greek nouns telos "end" and merοs "part"...
shortening is a mechanism that limits cell proliferation. However, short telomeres result in chromosome instability, hence there is also a potential mechanism for telomere lengthening to protect against cancer (as distinct from mutation-induced activation).
Side effects
Astragalus
may interact with medications that suppress the immune system, such as
cyclophosphamide
Cyclophosphamide
Cyclophosphamide , also known as cytophosphane, is a nitrogen mustard alkylating agent, from the oxazophorines group....
. It may also affect blood sugar levels and blood pressure. Some
Astragalus
species can be toxic. For example, several species that grow in the United States contain the
neurotoxin
Neurotoxin
A neurotoxin is a toxin that acts specifically on nerve cells , usually by interacting with membrane proteins such as ion channels. Some sources are more general, and define the effect of neurotoxins as occurring at nerve tissue...
swainsonine
Swainsonine
Swainsonine is an indolizine alkaloid. It is a potent inhibitor of Golgi alpha-mannosidase II, an immunomodulator, and a potential chemotherapy drug...
.
Ornamental use
Several species, including
A. alpinus
(bluish-purple flowers),
A. hypoglottis
(purple flowers) and
A. lotoides
, are grown as
ornamental plant
Ornamental plant
Ornamental plants are plants that are grown for decorative purposes in gardens and landscape design projects, as house plants, for cut flowers and specimen display...
s in gardens.
Toxicology
The family of
Astragalus
has been reviewed by Rios and Waterman, indicating that the toxicities vary from one species to another.
Selected species
(See external references)
Astragalus acutirostris

Astragalus acutirostris

Astragalus acutirostris is a species of milkvetch known by the common name sharpkeel milkvetch. It is native to the Mojave Desert and surroundings of California, Nevada, and Arizona, where it grows in dry, sandy, gravelly areas.-Description:...


– Sharpkeel milkvetch
Astragalus agnicidus

Astragalus agnicidus

Astragalus agnicidus is a rare species of milkvetch known by the common name Humboldt County milkvetch. It is endemic to northern California, where it is known only from two populations in Humboldt County and one in Mendocino County....


– Humboldt County milkvetch
Astragalus agrestis

Astragalus agrestis

Astragalus agrestis is a species of milkvetch known by the common names purple milkvetch, purple loco, and field milkvetch. It is native to much of western and northern North America from most of Canada to the southwestern United States, as well as eastern Asia...


– Field milkvetch, Purple milkvetch, Cock's-head
Astragalus albens

Astragalus albens

Astragalus albens is a species of milkvetch known by the common names Cushenbury milkvetch and silvery-white milkvetch.-Distribution:...


– Cushenbury milkvetch
Astragalus albertii
Astragalus alopecuroides
Astragalus alpinus

Astragalus alpinus

Astragalus alpinus is a species of flowering plant in the legume family known by the common name alpine milkvetch. It has a circumpolar distribution, occurring throughout the upper latitudes of the Northern Hemisphere. It is widespread in Eurasia...


– Alpine milkvetch, mountain locoweed
Astragalus amphioxys – Crescent milkvetch
Astragalus ampullarioides

Astragalus ampullarioides

Astragalus ampullarioides is a rare species of milkvetch known by the common name Shivwits milkvetch. It was previously classified as a variety of Astragalus eremiticus. It is endemic to Washington County, Utah, where it is known from only seven populations. Estimates of the total number of...


– Shivwits milkvetch
Astragalus andersonii

Astragalus andersonii

Astragalus andersonii is a species of milkvetch known by the common name Anderson's milkvetch. It is native to eastern California and western Nevada, where it is found in the plateaus at the foot of the Sierra Nevada, including the Modoc Plateau....


– Anderson's milkvetch
Astragalus angustifolius
Astragalus annularis
Astragalus anserinus

Astragalus anserinus

Astragalus anserinus, also called the Goose Creek milkvetch, is a member of the genus Astragalus that is listed as a candidate species under the Endangered Species Act. It grows in a area of the of the Upper Snake Basin in Idaho, Nevada and Utah,-External links:**Atwood, N. D., et al. . Great...


– Goose Creek milkvetch
Astragalus anxius

Astragalus anxius

Astragalus anxius is a rare species of milkvetch known by the common names troubled milkvetch and Ash Valley milkvetch. It is endemic to northern Lassen County, California, where it grows in the volcanic soil of the Modoc Plateau. It was formally described in 1992...


– Troubled milkvetch
Astragalus applegatei

Astragalus applegatei

Astragalus applegatei is a rare species of milkvetch known by the common name Applegate's milkvetch. It is endemic to Klamath County, Oregon, where it is known from three populations, one of which is made up of only three plants. Much of the remaining habitat is seriously threatened by development,...


– Applegate's milkvetch
Astragalus arenarius
Astragalus aristatus
Astragalus asymmetricus

Astragalus asymmetricus

Astragalus asymmetricus is a species of milkvetch known by the common name San Joaquin milkvetch. It is endemic to California, where it grows in grassy and disturbed areas in the Central Valley and nearby parts of the Central Coast Ranges and San Francisco Bay Area.-Description:Astragalus...


– San Joaquin milkvetch
Astragalus atratus – Owyhee mourning milkvetch
Astragalus atropilosulus

Astragalus atropilosulus

Astragalus atropilosulus is a perennial herb in the legume family. It is native to Africa.It is used as a vegetable in Malawi and Kenya.-External links:...



Astragalus austiniae

Astragalus austiniae

Astragalus austiniae is a species of milkvetch known by the common name Austin's milkvetch. It is native to the Sierra Nevada of California and Nevada in the vicinity of Lake Tahoe...


– Austin's milkvetch
Astragalus azizi
Astragalus baionensis
Astragalus balearicus – Balearic milkvetch
Astragalus barrii – Barr's milkvetch
Astragalus bernardinus

Astragalus bernardinus

Astragalus bernardinus is a species of milkvetch known by the common name San Bernardino milkvetch. It is native to the San Bernardino Mountains of southern California. It is also found in the Ivanpah Mountains in the Mojave Desert and the nearby New York Mountains which straddle the...


– San Bernardino milkvetch
Astragalus bibullatus

Astragalus bibullatus

Astragalus bibullatus is an endangered species of flowering plant that is endemic to the cedar glades of the central basin of Tennessee...


– Limestone-glade milkvetch
Astragalus bicristatus

Astragalus bicristatus

Astragalus bicristatus is a species of milkvetch known by the common names crested milkvetch and two-crested milkvetch. It is endemic to southern California, where it grows in the coniferous forests of the San Gabriel and San Bernardino Mountains of the Transverse Ranges.-Description:Astragalus...


– Crested milkvetch, Two-crested milkvetch
Astragalus bidentatus

Astragalus bidentatus

Astragalus bidentatus is a species of legume in the Fabaceae family.It is found only in Ecuador in two locations in the south above the timberline in the Azuay and Cañar provinces....



Astragalus bisulcatus

Astragalus bisulcatus

Astragalus bisulcatus, commonly called two-grooved milkvetch or silver-leafed milkvetch, is a leafy perennial with pea-like flowers. It is native to central and western North America, and typically grows on selenium-rich soils...


– Two-groove milkvetch
Astragalus boeticus
Astragalus bolanderi

Astragalus bolanderi

Astragalus bolanderi is a species of milkvetch known by the common name Bolander's milkvetch. It is native to western Nevada and parts of the Sierra Nevada in California. It grows in dry, rocky habitat on mountain and plateau.-Description:...


– Bolander's milkvetch
Astragalus brachycalyx
Astragalus brauntonii

Astragalus brauntonii

Astragalus brauntonii is a rare species of milkvetch known by the common name Braunton's milkvetch. It is endemic to southern California, where it is known from fewer than 20 extant occurrences in the hills and mountains surrounding Los Angeles...


– Braunton's milkvetch
Astragalus breweri

Astragalus breweri

Astragalus breweri is a species of milkvetch known by the common name Brewer's milkvetch. It is endemic to northern California, where it is found in several counties surrounding the north edge of the San Francisco Bay Area...


– Brewer's milkvetch
Astragalus californicus

Astragalus californicus

Astragalus californicus is a species of milkvetch known by the common name Klamath Basin milkvetch. It is native to the Klamath Mountains and surrounding ranges of northern California and southern Oregon, where it grows in scrub and woodland habitat....


– California milkvetch
Astragalus canadensis

Astragalus canadensis

Astragalus canadensis is a common and widespread member of the milkvetch genus in the legume family, known commonly as Canadian milkvetch. The plant is found throughout Canada and the United States in many habitats including wetlands, woodlands, and prairies...


– Canadian milkvetch
Astragalus casei

Astragalus casei

Astragalus casei is a species of milkvetch known by the common name Case's milkvetch. It is native to the Mojave Desert and its sky island woodlands of eastern California and western Nevada.-Description:...


– Case's milkvetch
Astragalus centralpinus
Astragalus christianus
Astragalus cicer

Astragalus cicer

Native to Eastern Europe, the cicer milkvetch, Astragalus cicer – popularized and subsequently transported to areas in Southern Europe, North America, and South America – is a perennial angiosperm , or a plant that commonly lives for two or more years. Cicer milkvetch exhibits legume-like...


– Wild Lentil, Chickpea milkvetch
Astragalus cimae

Astragalus cimae

Astragalus cimae is a species of milkvetch known by the common name Cima milkvetch. It is native to the Mojave Desert and its sky island woodlands of eastern California western Nevada, especially on calcareous soils, including the Cima Dome area in the Mojave National...


– Cima milkvetch
Astragalus clarianus

Astragalus clarianus

Astragalus clarianus is a rare species of milkvetch known by the common names Clara Hunt's milkvetch and Napa milkvetch. It is endemic to northern California where it is known from only four or five occurrences along the border between Sonoma and Napa Counties...


syn. Astragalus claranus – Clara Hunt's milkvetch, Napa milkvetch
Astragalus clevelandii

Astragalus clevelandii

Astragalus clevelandii is an uncommon species of milkvetch known by the common name Cleveland's milkvetch. It is endemic to northern California, where it grows in moist areas of the North Coast Ranges. It is a member of the serpentine soils flora....


– Cleveland's milkvetch
Astragalus coccineus

Astragalus coccineus

Astragalus coccineus is a species of milkvetch known by the common name scarlet milkvetch. It is native to the deserts and scrub of the Southwestern United States, and northern Mexico.-Description:...


– Scarlet milkvetch, scarlet locoweed
Astragalus congdonii

Astragalus congdonii

Astragalus congdonii is a species of milkvetch known by the common name Congdon's milkvetch.-Description:Astragalus congdonii is a hairy perennial herb growing to heights between 20 and 70 centimeters. The sparse leaves are up to 14 centimeters long and are made up of several pairs of oval-shaped...


– Congdon's milkvetch
Astragalus crassicarpus (caryocarpus) – Ground-plum, Buffalo Plum
Astragalus cremnophylax

Astragalus cremnophylax

Astragalus cremnophylax is a rare species of milkvetch known by the common names sentry milkvetch and cliff milkvetch. It is endemic to Arizona, where the three varieties grow in three separate locations. The rarest variety, var. cremnophylax, is a federally listed endangered species which grows...


– Sentry milkvetch
Astragalus crotalariae

Astragalus crotalariae

Astragalus crotalariae is a species of milkvetch known by the common name Salton milkvetch. It is native to the Colorado Desert in California and other Sonoran Deserts in Arizona and northern Mexico...


– Salton milkvetch
Astragalus curtipes

Astragalus curtipes

Astragalus curtipes is a species of milkvetch known by the common name Morro milkvetch. It is endemic to the Central Coast of California, including the Morro Bay area in San Luis Obispo County.-Description:...


– Morro milkvetch
Astragalus danicus
Astragalus deanei

Astragalus deanei

Astragalus deanei is a rare species of milkvetch known by the common name Dean's milkvetch, or Deane's milkvetch. It is endemic to southern San Diego County, California, where it grows on the slopes of the Peninsular Ranges between El Cajon and Tecate.It is mostly hairless perennial herb growing...


– Deane's milkvetch, Dean's milkvetch
Astragalus debequaeus – Debeque milkvetch
Astragalus depressus
Astragalus desereticus

Astragalus desereticus

Astragalus desereticus is a rare species of milkvetch known by the common name deseret milkvetch. It is endemic to Utah County, Utah, where it is known from only one population. It was thought to be extinct until 1981, when this population was discovered. The population contains 5,000 to 10,000...


– Deseret milkvetch
Astragalus didymocarpus

Astragalus didymocarpus

Astragalus didymocarpus is a species of milkvetch known by the common names dwarf white milkvetch and two-seeded milkvetch. It is native to the southwestern United States and northern Mexico, where it can be found in many types of habitat....


– Two-seeded milkvetch, Dwarf white milkvetch, white dwarf locoweed
Astragalus douglasii

Astragalus douglasii

Astragalus douglasii is a species of milkvetch known by the common name Douglas' milkvetch. It is native to California and Baja California, where it can be found in many types of desert, valley, chaparral and woodlands, and montane habitats....


– Douglas's milkvetch
Astragalus echinus
Astragalus eriocarpus
Astragalus ertterae

Astragalus ertterae

Astragalus ertterae is a rare species of milkvetch known by the common name Walker Pass milkvetch. It is endemic to California, where it is known from only three occurrences near Walker Pass in the Sierra Nevada.-Description:...


– Walker Pass milkvetch
Astragalus exscapus
Astragalus filipes

Astragalus filipes

Astragalus filipes is a species of milkvetch known by the common name basalt milkvetch. It is native to western North America from British Columbia to California to Utah, where it grows in many types of habitat, especially dry areas.-Description:...


– Basalt milkvetch
Astragalus frigidus – American milk-vetch, Arctic milkvetch
Astragalus funereus

Astragalus funereus

Astragalus funereus is an uncommon species of milkvetch known by the common names Funeral Mountain milkvetch and black milkvetch....


– Funeral Mountain milkvetch
Astragalus galegiformis
Astragalus gambelianus

Astragalus gambelianus

Astragalus gambelianus is a species of milkvetch known by the common name Gambel's dwarf milkvetch. It is native to California, with its distribution extending into Oregon to the north and Baja California to the south....


– Gambel's dwarf milkvetch, dwarf locoweed
Astragalus gibbsii

Astragalus gibbsii

Astragalus gibbsii is a species of milkvetch known by the common name Gibbs' milkvetch. It is native to eastern California, the north-central Sierra Nevada, and western Nevada, where it grows in the pine forest habitat of the mountains and the sagebrush of the plateaus.-Description:Astragalus...


– Gibbs' milkvetch
Astragalus gilmanii

Astragalus gilmanii

Astragalus gilmanii is a species of milkvetch known by the common name Gilman's milkvetch. It is native to the desert scrub and woodland of Nevada, the California Sierra Nevada and Inyo Mountains, and it is known from a few locations in the Panamint Range adjacent to Death Valley in...


– Gilman's milkvetch
Astragalus gilviflorus – Plains milk-vetch, Plains orophaca
Astragalus glycyphyllos

Astragalus glycyphyllos

Astragalus glycyphyllos is a flowering plant in the family Fabaceae, native to Europe. It is a perennial herbaceous plant which sometimes used for tea.-External links:**...


– Wild Liquorice, Licorice milkvetch
Astragalus gummifer
Astragalus holmgreniorum

Astragalus holmgreniorum

Astragalus holmgreniorum is a rare species of milkvetch known by the common names Holmgren milkvetch and paradox milkvetch. It is native to a tiny section of desert shrub woodland on the border between Utah and Arizona, in the far northern Mojave Desert. There are six populations remaining...


– Holmgren locoweed
Astragalus humillimus

Astragalus humillimus

Astragalus humillimus is a rare species of milkvetch known by the common name Mancos milkvetch. It is native to a small section of the Four Corners region of the United States, where it can be found in Montezuma County, Colorado, and San Juan County, New Mexico. There are about nine small,...


– Mancos milkvetch
Astragalus hypoglottis – Field milkvetch, Purple milkvetch, Cock's-head
Astragalus hypoxylus

Astragalus hypoxylus

Astragalus hypoxylus is a rare species of flowering plant in the legume family known by the common name Huachuca milkvetch, or Huachuca Mountain milkvetch. It is endemic to Arizona in the United States, where it is known only from the Patagonia and Huachuca Mountains...


- Huachuca Mountain milkvetch
Astragalus illyricus – Illirian milkvetch
Astragalus inversus

Astragalus inversus

Astragalus inversus is a species of milkvetch known by the common name Susanville milkvetch. It is endemic to the northeastern corner of California, where it grows in forest and dry scrub habitat. It is a perennial herb with slender, wiry, mostly leafless stems growing 20 to 50 centimeters long....


– Susanville milkvetch
Astragalus inyoensis

Astragalus inyoensis

Astragalus inyoensis is a species of milkvetch known by the common name Inyo milkvetch.It is native to the Great Basin desert mountains and flats of western Nevada, and the White and Inyo Mountains of eastern California.-Description:...


– Inyo milkvetch
Astragalus iselyi

Astragalus iselyi

Astragalus iselyi is a rare species of flowering plant in the legume family known by the common name Isely's milkvetch. It is endemic to Utah in the United States....


- Isely's milkvetch
Astragalus jaegerianus

Astragalus jaegerianus

Astragalus jaegerianus is a rare species of milkvetch known by the common name Lane Mountain milkvetch. The plant was named for the biologist Edmund Jaeger, who first documented it in 1939.-Distribution:...


– Lane Mountain milkvetch
Astragalus johannis-howellii

Astragalus johannis-howellii

Astragalus johannis-howellii is a species of milkvetch known by the common name Long Valley milkvetch. It is native to eastern California, including Long Valley in Mono County, and its distribution extends over the border into Nevada...


– Long Valley milkvetch
Astragalus kentrophyta

Astragalus kentrophyta

Astragalus kentrophyta is a species of milkvetch known by the common name spiny milkvetch. It is native to western North America from central to west Canada, to California, to New Mexico. It grows in rocky mountainous areas, such as the Sierra Nevada, and on plateaus.-Description:This perennial...


– Spiny milkvetch
Astragalus layneae

Astragalus layneae

Astragalus layneae is a species of milkvetch known by the common name widow's milkvetch. It is native to the Mojave Desert and surrounding mountain ridges in California and Nevada.-Description:...


– Widow's milkvetch
Astragalus lemmonii

Astragalus lemmonii

Astragalus lemmonii, the Lemmon's milkvetch, is a rare plant of eastern California. It is a member of the bean family, the Leguminosae , and specifically a member of the subfamily Papilionoideae . The genus Astragalus is a large genus within this family; members of this genus are known as...


– Lemmon's milkvetch
Astragalus lentiformis

Astragalus lentiformis

Astragalus lentiformis is a species of milkvetch known by the common name lens-pod milkvetch. It is endemic to the Sierra Nevada in eastern Plumas County, California, where it grows in scrub and coniferous forest.-Description:...


– Lens pod milkvetch
Astragalus lentiginosus

Astragalus lentiginosus

Astragalus lentiginosus is a species of legume known by the common names spotted locoweed and freckled milkvetch. It is native to western North America where it grows in many habitat types. There are a great number of wild varieties of this species, and they vary in appearance...


– Freckled milkvetch, mottled locoweed, speckled locoweed, spotted locoweed
Astragalus leontinus
Astragalus leucolobus

Astragalus leucolobus

Astragalus leucolobus is a species of milkvetch known by the common names Bear Valley milkvetch and Bear Valley woollypod.-Distribution:...


– Bear Valley woollypod, Bear Valley milkvetch
Astragalus loanus

Astragalus loanus

Astragalus loanus is a rare species of flowering plant in the legume family known by the common name Glenwood milkvetch. It is endemic to Utah in the United States, where it occurs only in Sevier County. It is limited to volcanic gravel substrates....


- Glenwood milkvetch
Astragalus lotoides
Astragalus lusitanicus
Astragalus malacus

Astragalus malacus

Astragalus malacus is a species of milkvetch known by the common name shaggy milkvetch. It is native to the Great Basin in the western United States.-Description:...


– Shaggy milkvetch
Astragalus massiliensis
Astragalus miguelensis

Astragalus miguelensis

Astragalus miguelensis is a rare species of milkvetch known by the common name San Miguel milkvetch. It is endemic to five of the eight Channel Islands of California. This is a mat-forming perennial herb growing in wide, thick patches on rocky seaside bluffs and beaches. The abundant leaves are up...


– San Miguel milkvetch
Astragalus missouriensis

Astragalus missouriensis

Astragalus missouriensis is a species of flowering plant in the legume family known by the common name Missouri milkvetch. It is native to central North America, where it is common and widespread.-External links:**...


– Missouri milkvetch
Astragalus mohavensis

Astragalus mohavensis

Astragalus mohavensis is a species of milkvetch known by the common name Mojave milkvetch. It is native to the Mojave Desert of California and Nevada.-Description:...


– Mojave milkvetch
Astragalus mollissimus, woolly locoweed, stemmed locoweed
Astragalus monoensis

Astragalus monoensis

Astragalus monoensis is a rare species of milkvetch known by the common name Mono milkvetch. It is endemic to the open pumice plains of central Mono County, California. This is a rhizomatous perennial herb with stems growing partly underground and emerging to lie flat on the sand. The leaves are up...


– Mono milkvetch
Astragalus monspessulanus

Astragalus monspessulanus

Astragalus monspessulanus is a plant species in the genus Astragalus.- External references :...



Astragalus montii

Astragalus montii

Astragalus montii is a rare species of flowering plant in the legume family known by the common name heliotrope milkvetch. It is endemic to Utah in the United States, where there are only three known populations. It is a federally listed threatened species of the United States...



Astragalus naturitensis – Naturita milkvetch
Astragalus nevinii

Astragalus nevinii

Astragalus nevinii is a rare species of milkvetch known by the common name San Clemente Island milkvetch. It is endemic to San Clemente Island, one of the Channel Islands of California. This is perennial herb growing upright 10 to 30 centimeters tall. It is coated in woolly, tangled hairs. Its...


– San Clemente Island milkvetch
Astragalus newberryi

Astragalus newberryi

Astragalus newberryi , is a flowering plant in the family Fabaceae, native to the western United States from Idaho to New Mexico and California. A variety is found in the Death Valley area and the eastern Mojave Desert in California and Nevada...


– Newberry's milk-vetch
Astragalus norvegicus
Astragalus nutans

Astragalus nutans

Astragalus nutans is a species of milkvetch known by the common name Providence Mountains milkvetch.-Distribution:It is endemic to the Mojave Desert of eastern California, where it was named for the local Providence Mountains in the Mojave National Preserve.-Description:Astragalus nutans is a small...


– Providence Mountains milkvetch
Astragalus nuttallianus

Astragalus nuttallianus

Astragalus nuttallianus is a species of milkvetch known by the common names smallflower milkvetch and turkeypeas. It is native to the southwestern and south central United States and northern Mexico, where it can be found in many types of habitat, often in dry areas.This is an annual herb which is...


– Smallflowered milkvetch
Astragalus nuttallii

Astragalus nuttallii

Astragalus nuttallii is a species of milkvetch known by the common name Nuttall's milkvetch. It is native to California and Baja California, where it grows in the sandy soils of coastal habitat. This is a perennial herb forming thick, tangled clumps of hairy to hairless stems up to a meter in length...


– Nuttall's milk-vetch
Astragalus obscurus

Astragalus obscurus

Astragalus obscurus is a species of milkvetch known by the common name arcane milkvetch. It is native to the northwestern United States of Idaho and Oregon and northern parts of Nevada and California. It is a plant of rocky areas in mountains and Great Basin plateaus...


– Arcane milkvetch
Astragalus onobrychis
Astragalus oocarpus

Astragalus oocarpus

Astragalus oocarpus is a rare species of milkvetch known by the common names San Diego milkvetch and Descanso milkvetch. It is endemic to southern California, where it is known only from the Peninsular Ranges of San Diego County. Its range may extend north into Riverside County...


– Descanso milkvetch, San Diego milkvetch
Astragalus oophorus

Astragalus oophorus

Astragalus oophorus is a species of milkvetch known by the common name egg milkvetch. It is native to the western United States, mainly California and Nevada, though one variety can be found as far east as Colorado...


– Egg milkvetch
Astragalus osterhoutii

Astragalus osterhoutii

Astragalus osterhoutii is a rare species of milkvetch known by the common name Osterhout milkvetch. It is endemic to Grand County, Colorado, where it is known from a few populations in Middle Park, a mountain basin. There are five or six occurrences...


– Osterhout milkvetch
Astragalus oxyphysus

Astragalus oxyphysus

Astragalus oxyphysus is a species of milkvetch known by the common name Mt. Diablo milkvetch. It is endemic to central California, where it grows in dry grassland and scrub habitat in the Central Valley and the adjacent Inner Coast Ranges and Sierra Nevada foothills.-Description:Astragalus...


– Mt. Diablo milkvetch, Diablo locoweed
Astragalus pachypus

Astragalus pachypus

Astragalus pachypus is a species of milkvetch known by the common name thickpod milkvetch. It is endemic to California, where it is known from many types of open habitat across the southern half of the state. This is a robust perennial herb forming stands of tough, wiry stems up to 80 centimeters...


– Thickpod milkvetch
Astragalus panamintensis

Astragalus panamintensis

Astragalus panamintensis is a species of milkvetch known by the common name Panamint milkvetch.-Distribution:It is endemic to Inyo County, California, where it is native to the Panamint Range...


– Panamint milkvetch
Astragalus pauperculus

Astragalus pauperculus

Astragalus pauperculus is an uncommon species of milkvetch known by the common name depauperate milkvetch. It is endemic to northern California, where it is known from the northern Sacramento Valley and the lowest reaches of the Cascade foothills adjacent. It grows in chaparral and vernally wet...


– Depauperate milkvetch
Astragalus penduliflorus
Astragalus phoenix

Astragalus phoenix

Astragalus phoenix is a rare species of milkvetch known by the common name Ash Meadows milkvetch. It is endemic to Ash Meadows, a desert oasis and wildlife refuge in Nye County, Nevada, near the California border. It is one of several rare plants and animals endemic to the area...


– Ash Meadows milkvetch
Astragalus platytropis

Astragalus platytropis

Astragalus platytropis is a species of milkvetch known by the common name broadkeel milkvetch. It is native to the western United States from Montana to California, where it lives at high elevation in alpine and subalpine plant communities. This is a very small perennial milkvetch which forms a...


– Broadkeel milkvetch
Astragalus pomonensis

Astragalus pomonensis

Astragalus pomonensis is a species of milkvetch known by the common name Pomona milkvetch. It is native to Baja California and southern California, where it can be found in a number of coastal habitats, including the California Coast Ranges. This is a bushy perennial herb forming a clump of thick,...


– Pomona milkvetch, Pomona locoweed
Astragalus propinquus

Astragalus propinquus

Astragalus propinquus also known as huáng qí or běi qí , huáng hua huáng qí , is a flowering plant in the family Fabaceae. It is one of the 50 fundamental herbs used in traditional Chinese medicine. It is a perennial plant and it is not listed as being threatened.- Herbalism :A...


(syn. A. membranaceus) – Huang qi
Astragalus pseudiodanthus

Astragalus pseudiodanthus

Astragalus pseudiodanthus is a species of milkvetch known by the common name Tonopah milkvetch. It is native to the Great Basin deserts of Nevada and eastern California, such as the Tonopah area, where it grows in sandy habitat....


– Tonopah milkvetch
Astragalus pulsiferae

Astragalus pulsiferae

Astragalus pulsiferae is a species of milkvetch known by the common name Ames' milkvetch. It is native to California and Nevada, and it is known but rare in Washington. It is known from many habitat types, including mountains and plateaus....


– Ames' milkvetch
Astragalus purshii

Astragalus purshii

Astragalus purshii is a species of milkvetch known by the common names woollypod milkvetch and Pursh's milkvetch. It is native to much of western North America, including the southwestern provinces of Canada and the northwestern United States, where it is known from many types of habitat...


– Pursh's milk-vetch, Woolly-pod milkvetch, woolly-pod locoweed
Astragalus pycnostachyus

Astragalus pycnostachyus

Astragalus pycnostachyus is a species of milkvetch known by the common name marsh milkvetch. It is endemic to the coastline of California, where it grows in wet saline habitat such as marshes.-Description:...


– Marsh milkvetch
Astragalus rattanii

Astragalus rattanii

Astragalus rattanii is a species of milkvetch known by the common name Rattan's milkvetch. It is endemic to northern California, where it grows in the North Coast Ranges.This is a hairy annual herb with thin stems growing up to 30 centimeters long...


– Rattan's milkvetch
Astragalus robbinsii

Astragalus robbinsii

Astragalus robbinsii is a species of milkvetch known by the common name Robbins' milkvetch. It is native to North America, where it is widespread with several varieties originating from different regions....


– Robbins' milkvetch
Astragalus sabulonum

Astragalus sabulonum

Astragalus sabulonum is a species of milkvetch known by the common name gravel milkvetch. It is native to the Southwestern United States and California, from desert to mountain habitats....


– Gravel milkvetch
Astragalus scaphoides

Astragalus scaphoides

- Astragalus scaphoides :Astragalus scaphoides , is a flowering plant in the family Fabaceae, found only in a small area of southwest Montana and adjacent parts Idaho. It grows in shallow, south facing slopes, in semi-arid sage scrub.Astragalus scaphoides is a perennial herbaceous plant, with...


– Bitterroot milkvetch
Astragalus sclerocarpus – Sicklepod milkvetch
Astragalus sempervirens
Astragalus shevockii

Astragalus shevockii

Astragalus shevockii is a rare species of milkvetch known by the common names Little Kern milkvetch and Shevock's milkvetch. It is endemic to Tulare County, California, where it grows in the High Sierra, generally on granite-based soils in Jeffrey pine forests.-Description:Astragalus shevockii is a...


– Shevock's milkvetch, Little Kern milkvetch
Astragalus shinanensis
Astragalus shiroumaensis
Astragalus sinicus – Chinese milkvetch, Zi yun ying ( 紫雲英 )
Astragalus sirinicus
Astragalus spatulatus – Tufted milk-vetch, Draba milkvetch
Astragalus speirocarpus – coilpod locoweed
Astragalus spinosus – Spiny milkvetch
Astragalus subvestitus

Astragalus subvestitus

Astragalus subvestitus is a species of milkvetch known by the common name Kern County milkvetch.-Distribution:It is endemic to California, where it grows in sagebrush habitat on the slopes of the Sierra Nevada in Kern and Tulare Counties....


– Kern County milkvetch
Astragalus tener

Astragalus tener

Astragalus tener is a species of milkvetch known by the common name alkali milkvetch. It is endemic to California, where it grows in both coastal and inland areas such as the Central Valley, especially in moist places.-Description:...


– Alkali milkvetch
Astragalus tennesseensis – Tennessee milk vetch
Astragalus tidestromii

Astragalus tidestromii

Astragalus tidestromii is a species of milkvetch known by the common name Tidestrøm's milkvetch. It is native to the Mojave Desert of California and Nevada, where it grows in limestone gravel soils. The plant is named for the botanist Ivar Frederick Tidestrøm.-Description:This is a tuft or clump...


– Tidestrøm's milkvetch
Astragalus traskiae

Astragalus traskiae

Astragalus traskiae is a rare species of milkvetch known by the common name Trask's milkvetch. It is endemic to the southern Channel Islands of California, where it is known only from Santa Barbara Island and San Nicolas Island.-Description:...


– Trask's milkvetch
Astragalus tricarinatus

Astragalus tricarinatus

Astragalus tricarinatus is a rare species of milkvetch known by the common name triplerib milkvetch, or triple-ribbed milkvetch....


– Triple-ribbed milkvetch
Astragalus trichopodus

Astragalus trichopodus

Astragalus trichopodus is a species of legume known by the common name Santa Barbara milk vetch. It is native to southern California and Baja California, where it grows in several types of open habitat, including in the Transverse Ranges and Mojave Desert.This is a robust perennial herb producing a...


– Santa Barbara milkvetch, coast locoweed, Southern California locoweed
Astragalus tridactylus – Foothill milk-vetch
Astragalus tragacanthus
Astragalus umbraticus

Astragalus umbraticus

Astragalus umbraticus is a species of milkvetch known by the common name Bald Mountain milkvetch. It is native to western Oregon and northwestern California, where it grows in the woodlands of the coastal mountain ranges....


– Bald Mountain milkvetch
Astragalus vesicarius
Astragalus vogelii
Astragalus webberi

Astragalus webberi

Astragalus webberi is a rare species of milkvetch known by the common name Webber's milkvetch. It is endemic to the coniferous forests in the Sierra Nevada, in Plumas County, eastern California.-Description:...


– Webber's milkvetch
Astragalus whitneyi

Astragalus whitneyi

Atragalus whitneyi is a species of legume known by the common name Balloon-pod milk-vetch or Balloon milk-vetch. It is a native to the Cascade Range and is unusual for its bright red balloon-like pods.-External links:*...


– Balloon-pod milkvetch
Astragalus zionis

Astragalus zionis

Atragalus zionis is a species of legume known by the common name Zion milkvetch. It is one of the earliest flowers to bloom in Zion canyon....


– Zion milkvetch
External links