 Art forgery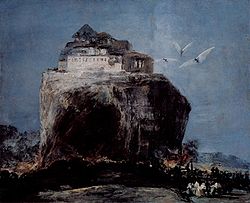 Art forgery
is the creation of works of
art
Art
Art is the product or process of deliberately arranging items in a way that influences and affects one or more of the senses, emotions, and intellect....
which are falsely attributed to other, usually more famous, artists. Art forgery can be extremely lucrative, but modern dating and analysis techniques have made the identification of forged artwork much simpler.
History
Art forgery dates back more than two thousand years.
Roman
Ancient Rome
Ancient Rome was a thriving civilization that grew on the Italian Peninsula as early as the 8th century BC. Located along the Mediterranean Sea and centered on the city of Rome, it expanded to one of the largest empires in the ancient world....
sculptors produced copies of
Greek
Ancient Greek
Ancient Greek is the stage of the Greek language in the periods spanning the times c. 9th–6th centuries BC, , c. 5th–4th centuries BC , and the c. 3rd century BC – 6th century AD of ancient Greece and the ancient world; being predated in the 2nd millennium BC by Mycenaean Greek...
sculptures. Presumably the contemporary buyers knew that they were not genuine. During the classical period art was generally created for historical reference, religious inspiration, or simply aesthetic enjoyment. The identity of the artist was often of little importance to the buyer.
During the
Renaissance
Renaissance
The Renaissance was a cultural movement that spanned roughly the 14th to the 17th century, beginning in Italy in the Late Middle Ages and later spreading to the rest of Europe. The term is also used more loosely to refer to the historical era, but since the changes of the Renaissance were not...
, many painters took on apprentices who studied painting techniques by copying the works and style of the master. As a payment for the training, the master would then sell these works. This practice was generally considered a tribute, not forgery, although some of these copies have later erroneously been attributed to the master.
Following the Renaissance, a redistribution of the world's wealth created a fierce demand for art among the newly prosperous middle class. Near the end of the 14th century, Roman statues were unearthed in Italy, intensifying the populace's interest in
antiquities
Antiquities
Antiquities, nearly always used in the plural in this sense, is a term for objects from Antiquity, especially the civilizations of the Mediterranean: the Classical antiquity of Greece and Rome, Ancient Egypt and the other Ancient Near Eastern cultures...
, and leading to a sharp increase in the value of these objects. This upsurge soon extended to
contemporary
Contemporary art
Contemporary art can be defined variously as art produced at this present point in time or art produced since World War II. The definition of the word contemporary would support the first view, but museums of contemporary art commonly define their collections as consisting of art produced...
and recently deceased artists. Art had become a commercial
commodity
Commodity
In economics, a commodity is the generic term for any marketable item produced to satisfy wants or needs. Economic commodities comprise goods and services....
, and the monetary value of the artwork came to depend on the identity of the artist. To identify their works, painters began to mark them. These marks later evolved into signatures. As the demand for certain artwork began to exceed the supply, fraudulent marks and signatures began to appear on the open market.
During the 16th century imitators of
Albrecht Dürer
Albrecht Dürer
Albrecht Dürer was a German painter, printmaker, engraver, mathematician, and theorist from Nuremberg. His prints established his reputation across Europe when he was still in his twenties, and he has been conventionally regarded as the greatest artist of the Northern Renaissance ever since...
's style of printmaking added signatures to them to increase the value of their prints. In his engraving of the Virgin, Durer added the inscription "Be cursed, plunderers and imitators of the work and talent of others". Even extremely famous artists created forgeries. In 1496,
Michelangelo
Michelangelo
Michelangelo di Lodovico Buonarroti Simoni , commonly known as Michelangelo, was an Italian Renaissance painter, sculptor, architect, poet, and engineer who exerted an unparalleled influence on the development of Western art...
made a sleeping
Cupid
Cupid (Michelangelo)
Michelangelo created two sculptures of Cupid, the first of which was a forgery designed to look like an antique sculpture, through which he first came to the attention of patrons in Rome. Both works are now lost.-Sleeping Cupid:...
figure and treated it with acidic earth to make it seem ancient. He then sold it to a dealer, Baldassare del Milanese, who in turn sold it to
Cardinal Riario of San Giorgio
Raffaele Riario
Raffaele Sansoni Galeoti Riario was an Italian Cardinal of the Renaissance, mainly known as the constructor of the Palazzo della Cancelleria and the one who invited Michelangelo to Rome. He was a patron of the arts...
who later learned of the fraud and demanded his money back. However Michelangelo was permitted to keep his share of the money.
The 20th century art market has favored artists such as
Salvador Dalí
Salvador Dalí
Salvador Domènec Felip Jacint Dalí i Domènech, Marquis de Púbol , commonly known as Salvador Dalí , was a prominent Spanish Catalan surrealist painter born in Figueres,Spain....
,
Pablo Picasso
Pablo Picasso
Pablo Diego José Francisco de Paula Juan Nepomuceno María de los Remedios Cipriano de la Santísima Trinidad Ruiz y Picasso known as Pablo Ruiz Picasso was a Spanish expatriate painter, sculptor, printmaker, ceramicist, and stage designer, one of the greatest and most influential artists of the...
,
Klee
Paul Klee
Paul Klee was born in Münchenbuchsee, Switzerland, and is considered both a German and a Swiss painter. His highly individual style was influenced by movements in art that included expressionism, cubism, and surrealism. He was, as well, a student of orientalism...
and Matisse and works by these artists have commonly been targets of forgery. These forgeries are typically sold to
art galleries
Art gallery
An art gallery or art museum is a building or space for the exhibition of art, usually visual art.Museums can be public or private, but what distinguishes a museum is the ownership of a collection...
and
auction
Auction
An auction is a process of buying and selling goods or services by offering them up for bid, taking bids, and then selling the item to the highest bidder...
houses who cater to the tastes of art and antiquities
collectors
Collecting
The hobby of collecting includes seeking, locating, acquiring, organizing, cataloging, displaying, storing, and maintaining whatever items are of interest to the individual collector. Some collectors are generalists, accumulating merchandise, or stamps from all countries of the world...
.
Forgers
There are essentially three varieties of art forger. The person who actually creates the fraudulent piece, the person who discovers a piece and attempts to pass it off as something it is not, in order to increase the piece's value, and the third who discovers that a work is a fake, but sells it as an original anyway.
Copies, replicas, reproductions and
pastiche
Pastiche
A pastiche is a literary or other artistic genre or technique that is a "hodge-podge" or imitation. The word is also a linguistic term used to describe an early stage in the development of a pidgin language.-Hodge-podge:...
s are often legitimate works, and the distinction between a legitimate reproduction and deliberate forgery is blurred. For example,
Guy Hain
Guy Hain
Guy Hain is a French art forger who produced number of fake bronze sculptures.Guy Hain begun as a seller of veterinary products. In his job he met a number of veterinarians who had antique bronze sculptures of animals and developed an interest of them. In 1962 he spent 550,000.00 French francs for...
used original molds to reproduce several of
Auguste Rodin
Auguste Rodin
François-Auguste-René Rodin , known as Auguste Rodin , was a French sculptor. Although Rodin is generally considered the progenitor of modern sculpture, he did not set out to rebel against the past...
's sculptures. However, when Hain then signed the reproductions with the name of Rodin's original
foundry
Foundry
A foundry is a factory that produces metal castings. Metals are cast into shapes by melting them into a liquid, pouring the metal in a mold, and removing the mold material or casting after the metal has solidified as it cools. The most common metals processed are aluminum and cast iron...
, the works became deliberate forgeries.
Artists
An art forger must be at least somewhat proficient in the type of art he is trying to imitate. Many forgers were once fledging artists who tried, unsuccessfully, to break into the market, eventually resorting to forgery. Sometimes, an original item is borrowed or stolen from the owner in order to create a copy. Forgers will then return the copy to the owner, keeping the original for himself. In 1799, a self portrait by
Albrecht Dürer
Albrecht Dürer
Albrecht Dürer was a German painter, printmaker, engraver, mathematician, and theorist from Nuremberg. His prints established his reputation across Europe when he was still in his twenties, and he has been conventionally regarded as the greatest artist of the Northern Renaissance ever since...
which had hung in the
Nuremberg
Nuremberg
Nuremberg[p] is a city in the German state of Bavaria, in the administrative region of Middle Franconia. Situated on the Pegnitz river and the Rhine–Main–Danube Canal, it is located about north of Munich and is Franconia's largest city. The population is 505,664...
Town Hall since the sixteenth century, was loaned to Abraham Küffner. The painter made a copy of the original and returned the copy in place of the original. The forgery was discovered in 1805, when the original came up for auction and was purchased for the royal collection.
Although many art forgers reproduce works solely for money, some have claimed that they have created forgeries to expose the credulity and snobbishness of the art world. Essentially the artists claim, usually after they have been caught, that they have performed only "
hoax
Hoax
A hoax is a deliberately fabricated falsehood made to masquerade as truth. It is distinguishable from errors in observation or judgment, or rumors, urban legends, pseudosciences or April Fools' Day events that are passed along in good faith by believers or as jokes.-Definition:The British...
es of exposure".
Some exposed forgers have later sold their reproductions honestly, by attributing them as copies, and some have actually gained enough notoriety to become famous in their own right. Forgeries painted by the late
Elmyr de Hory
Elmyr de Hory
Elmyr de Hory was a Hungarian-born painter and art forger who claimed to have sold over a thousand forgeries to reputable art galleries all over the world...
, featured in the film
F for Fake
F for Fake
F for Fake is the last major film completed by Orson Welles, who directed, co-wrote, and starred in the film. Initially released in 1974, it focuses on Elmyr de Hory's recounting of his career as a professional art forger; de Hory's story serves as the backdrop for a fast-paced, meandering...
directed by
Orson Welles
Orson Welles
George Orson Welles , best known as Orson Welles, was an American film director, actor, theatre director, screenwriter, and producer, who worked extensively in film, theatre, television and radio...
, have become so valuable that forged de Horys have appeared on the market.
A peculiar case was that of the artist
Han van Meegeren
Han van Meegeren
Han van Meegeren , born Henricus Antonius van Meegeren, was a Dutch painter and portraitist, and is considered to be one of the most ingenious art forgers of the 20th century....
who became famous by creating "the finest Vermeer ever" and exposing that feat eight years later in 1945. His own work became valuable as well, which in turn attracted other forgers. One of these forgers was his son
Jacques van Meegeren
Jacques van Meegeren
Jacques van Meegeren , born Jacques Henri Emil van Meegeren, was a Dutch Illustrator and painter.He is also considered to be a forger of the work of his father Han van Meegeren...
who was in the unique position to write certificates stating that a particular piece of art that he was offering "was created by his father, Han van Meegeren".
Forgers usually copy works by deceased artists, but a small number imitate living artists. In May 2004, Norwegian painter Kjell Nupen noticed that the
Kristianstad
Kristianstad
Kristianstad is a city and the seat of Kristianstad Municipality, Skåne County, Sweden with 35,711 inhabitants in 2010.-History:The city was founded in 1614 by King Christian IV of Denmark, the city's name literally means 'Town of Christian', as a planned city after the burning of the town of Vä...
gallery was selling unauthorized, signed copies of his work.
Dealers
Claims have surfaced recently, alleging that
art dealer
Art dealer
An art dealer is a person or company that buys and sells works of art. Art dealers' professional associations serve to set high standards for accreditation or membership and to support art exhibitions and shows.-Role:...
s and auction houses have been overly eager, by accepting forgeries as genuine, and selling them quickly, to turn a profit. If a dealer finds the work is a forgery, he may quietly withdraw the piece and return it to its previous owner—giving the forger an opportunity to sell it elsewhere.
Some forgers have created false paper trails relating to a piece, in order to make the work appear genuine. British art dealer
John Drewe
John Drewe
John Drewe is a British purveyor of art forgeries who commissioned artist John Myatt to paint them. Drewe earned about £1.8 million executing these art crimes.-Early life:...
created false documents of
provenance
Provenance
Provenance, from the French provenir, "to come from", refers to the chronology of the ownership or location of an historical object. The term was originally mostly used for works of art, but is now used in similar senses in a wide range of fields, including science and computing...
for works forged by his partner
John Myatt
John Myatt
John Myatt, , is a British artist and convicted forger who, with John Drewe, perpetrated what has been described as "the biggest art fraud of the 20th century".-Early life:...
, and even inserted pictures of forgeries into the archives of prominent art institutions. Experts and institutions may also be reluctant to admit their own fallibility. Art historian Thomas Hoving estimates that various types of forged art comprise up to 40% of the art market.
Methods of detection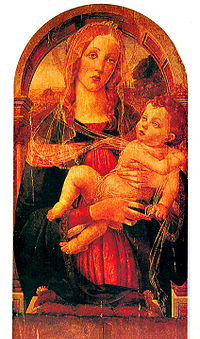 The most obvious forgeries are revealed as clumsy copies of previous art. A forger may try to create a "new" work by combining the elements of more than one work. The forger may omit details typical to the artist they are trying to imitate, or add
anachronism
Anachronism
An anachronism—from the Greek ανά and χρόνος — is an inconsistency in some chronological arrangement, especially a chronological misplacing of persons, events, objects, or customs in regard to each other...
s, in an attempt to claim that the forged work is a slightly different copy, or a previous version of a more famous work. To detect the work of a skilled forger, investigators must rely on other methods.
Technique of examination
Often a thorough examination (sometimes referred to as Morellian Analysis). of the piece is enough to determine authenticity. For example, a sculpture may have been created obviously with modern methods and tools. Some forgers have used artistic methods inconsistent with those of the original artists, such as incorrect characteristic brushwork, perspective, preferred themes or techniques, or have used colors that were not available during the artist's lifetime to create the painting. Some forgers have dipped pieces in chemicals to "age" them and some have even tried to imitate worm marks by drilling holes into objects (See image, right).
While attempting to authenticate artwork, experts will also determine the piece's
provenance
Provenance
Provenance, from the French provenir, "to come from", refers to the chronology of the ownership or location of an historical object. The term was originally mostly used for works of art, but is now used in similar senses in a wide range of fields, including science and computing...
. If the item has no paper trail, it is more likely to be a forgery. Other techniques forgers use which might indicate that a painting is not authentic include:
Frames, either new or old, that have been altered in order to make forged paintings look more genuine.
To hide inconsistencies or manipulations, forgers will sometimes glue paper, either new or old, to a painting's back, or cut a forged painting from its original size.
Recently added labels or artist listings, onto unsigned works of art, unless these labels are as old as the art itself, suspicion should be aroused.
While art restorers legitimately use new stretcher bars when the old bars have worn, new stretcher bars on old canvases might be an indication that a forger is attempting to alter the painting's identity.
Old nail holes or mounting marks on the back of a piece, might indicate that a painting has been removed from its frame, doctored and then replaced into either its original frame or different frame.
Signatures, on paintings or graphics, that look inconsistent with the art itself (either fresher, bolder, etc.).
Unsigned work that a dealer has "heard" is by a particular artist.
More recently, magnetic signatures used in the
ink
Ink
Ink is a liquid or paste that contains pigments and/or dyes and is used to color a surface to produce an image, text, or design. Ink is used for drawing and/or writing with a pen, brush, or quill...
of bank notes are becoming popular for authentication of artworks.
Forensic authentication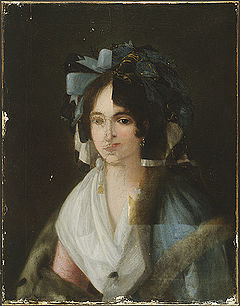 If examination of a piece fails to reveal whether it is authentic or forged, investigators may attempt to authenticate the object using some, or all, of the forensic methods below:
Carbon dating is used to measure the age of an object up to 10,000 years old.
"White Lead

Cerussite

Cerussite is a mineral consisting of lead carbonate , and an important ore of lead. The name is from the Latin cerussa, white lead. Cerussa nativa was mentioned by Conrad Gessner in 1565, and in 1832 F. S. Beudant applied the name cruse to the mineral, whilst the present form, cerussite, is due to...


" Dating is used to pinpoint the age of an object up to 1,600 years old.
Conventional X-ray

X-ray

X-radiation is a form of electromagnetic radiation. X-rays have a wavelength in the range of 0.01 to 10 nanometers, corresponding to frequencies in the range 30 petahertz to 30 exahertz and energies in the range 120 eV to 120 keV. They are shorter in wavelength than UV rays and longer than gamma...


can be used to detect earlier work present under the surface of a painting (see image, right). Sometimes artists will legitimately re-use their own canvasses, but if the painting on top is supposed to be from the 17th century, but the one underneath shows people in 19th century dress, the scientist will assume the top painting is not authentic. Also x-rays can be used to view inside an object to determine if the object has been altered or repaired.

X-ray diffraction (the object bends X-rays) is used to analyze the components that make up the paint an artist used, and to detect pentimenti

Pentimento

A pentimento is an alteration in a painting, evidenced by traces of previous work, showing that the artist has changed his mind as to the composition during the process of painting...


(see image, right).
X-ray fluorescence

X-ray fluorescence

X-ray fluorescence is the emission of characteristic "secondary" X-rays from a material that has been excited by bombarding with high-energy X-rays or gamma rays...


(bathing the object with radiation causes it to emit X-rays) can reveal if the metals in a metal sculpture or if the composition of pigments is too pure, or newer than their supposed age. Or reveal the artist's (or forger's) fingerprints.

Ultraviolet fluorescence

Spectroscopy

Spectroscopy is the study of the interaction between matter and radiated energy. Historically, spectroscopy originated through the study of visible light dispersed according to its wavelength, e.g., by a prism. Later the concept was expanded greatly to comprise any interaction with radiative...


and infrared

Infrared

Infrared light is electromagnetic radiation with a wavelength longer than that of visible light, measured from the nominal edge of visible red light at 0.74 micrometres , and extending conventionally to 300 µm...


analysis are used to detect repairs or earlier painting present on canvasses.
Atomic Absorption Spectrophotometry (AAS) and Inductively Coupled Plasma Mass Spectrometry (ICP-MS

ICP-MS

Inductively coupled plasma mass spectrometry is a type of mass spectrometry that is highly sensitive and capable of the determination of a range of metals and several non-metals at concentrations below one part in 1012...


) are used to detect anomalies in paintings and materials. If an element is present that the investigators know was not used historically in objects of this type, then the object is not authentic.
Dendrochronology

Dendrochronology

Dendrochronology or tree-ring dating is the scientific method of dating based on the analysis of patterns of tree-rings. Dendrochronology can date the time at which tree rings were formed, in many types of wood, to the exact calendar year...


is used to date a wooden object by counting the number of tree rings present in the object. This is of limited use, though, as to date the piece accurately the wood needs to have about 100 rings.
Stable isotope

Stable isotope

Stable isotopes are chemical isotopes that may or may not be radioactive, but if radioactive, have half-lives too long to be measured.Only 90 nuclides from the first 40 elements are energetically stable to any kind of decay save proton decay, in theory...


analysis can be used to determine where the marble used in a sculpture was quarried.
Thermoluminescence

Thermoluminescence

Thermoluminescence is a form of luminescence that is exhibited by certain crystalline materials, such as some minerals, when previously absorbed energy from electromagnetic radiation or other ionizing radiation is re-emitted as light upon heating of the material...


(TL) is used to date pottery. TL is the light produced by heat, older pottery produces more TL when heated than a newer piece.
A feature of genuine paintings sometimes used to detect forgery is craquelure

Craquelure

In art, craquelure is the fine pattern of dense "cracking" formed on the surface of paintings, in particular due to the aging of paints. It is often used to determine the age of paintings and to detect art forgery, as craquelure is a hard-to-forge signature of authenticity.-Authentic:Authentic...


.
Digital authentication
Statistical analysis
Statistics
Statistics is the study of the collection, organization, analysis, and interpretation of data. It deals with all aspects of this, including the planning of data collection in terms of the design of surveys and experiments....
of
digital image
Digital image
A digital image is a numeric representation of a two-dimensional image. Depending on whether or not the image resolution is fixed, it may be of vector or raster type...
s of paintings is a new method that that has recently been used to detect forgeries. Using a technique called
wavelet
Wavelet
A wavelet is a wave-like oscillation with an amplitude that starts out at zero, increases, and then decreases back to zero. It can typically be visualized as a "brief oscillation" like one might see recorded by a seismograph or heart monitor. Generally, wavelets are purposefully crafted to have...
decomposition, a picture is broken down into a collection of more basic images called sub-bands. These sub-bands are analyzed to determine textures, assigning a
frequency
Frequency
Frequency is the number of occurrences of a repeating event per unit time. It is also referred to as temporal frequency.The period is the duration of one cycle in a repeating event, so the period is the reciprocal of the frequency...
to each sub-band. The broad strokes of a surface such as a blue sky would show up as mostly low frequency sub-bands whereas the fine strokes in blades of grass would produce high frequency sub-bands.
A group of thirteen drawings attributed to
Pieter Brueghel the Elder
Pieter Brueghel the Elder
Pieter Bruegel the Elder was a Flemish renaissance painter and printmaker known for his landscapes and peasant scenes . He is sometimes referred to as the "Peasant Bruegel" to distinguish him from other members of the Brueghel dynasty, but he is also the one generally meant when the context does...
was tested using the wavelet decomposition method. Five of the drawings were known to be imitations. The analysis was able to correctly identify the five forged paintings. The method was also used on the painting
Virgin and Child with Saints
, created in the studios of
Pietro Perugino
Pietro Perugino
Pietro Perugino , born Pietro Vannucci, was an Italian Renaissance painter of the Umbrian school, who developed some of the qualities that found classic expression in the High Renaissance...
. Historians have long suspected that Perugino painted only a portion of the work. The wavelet decomposition method identified that at least four different artists had worked on the painting.
Problems with authentication
Art specialists, whom we now refer to as experts, began to surface in the art world during the late 1850s. At that time they were usually historians or museum
curator
Curator
A curator is a manager or overseer. Traditionally, a curator or keeper of a cultural heritage institution is a content specialist responsible for an institution's collections and involved with the interpretation of heritage material...
s, writing books about paintings, sculpture, and other art forms. Communication amongst the different specialties was poor, and they often made mistakes when authenticating pieces. While many books and art catalogues were published prior to 1900, many were not widely circulated, and often did not contain information about contemporary artwork. In addition, these specialists lacked many of the important technological means that experts use to authenticate art today.
The fact that experts do not always agree on the authenticity of a particular item makes the matter of
provenance
Provenance
Provenance, from the French provenir, "to come from", refers to the chronology of the ownership or location of an historical object. The term was originally mostly used for works of art, but is now used in similar senses in a wide range of fields, including science and computing...
more complex. Some artists have even accepted copies as their own work - Picasso once said that he "would sign a very good forgery". Jean Corot painted over 700 works, but also signed copies made by others in his name, because he felt honored to be copied. Occasionally work that has previously been declared a forgery is later accepted as genuine; Vermeer's
Young Woman Seated at the Virginals
had been regarded as a forgery from 1947 until March, 2004, when it was finally declared genuine, although some experts still disagree.
At times
restoration
Art restoration
Art restoration is related to art conservation. Restoration is a process that attempts to return the work of art to some previous state that the restorer imagines was the "original". This was commonly done in the past...
of a piece is so extensive that the original is essentially replaced when new materials are used to supplement older ones. An art restorer may also add or remove details on a painting, in an attempt to make the painting more saleable on the contemporary art market. This, however, is not a modern phenomenon - historical painters often "retouched" other artist's works by repainting some of the background or details.
Many forgeries still escape detection;
Han van Meegeren
Han van Meegeren
Han van Meegeren , born Henricus Antonius van Meegeren, was a Dutch painter and portraitist, and is considered to be one of the most ingenious art forgers of the 20th century....
, possibly the most famous forger of the 20th century, used historical
canvas
Canvas
Canvas is an extremely heavy-duty plain-woven fabric used for making sails, tents, marquees, backpacks, and other items for which sturdiness is required. It is also popularly used by artists as a painting surface, typically stretched across a wooden frame...
ses for his Vermeer forgeries and created his own pigments to ensure that they were authentic. He confessed to creating the forgeries only after he was charged with
treason
Treason
In law, treason is the crime that covers some of the more extreme acts against one's sovereign or nation. Historically, treason also covered the murder of specific social superiors, such as the murder of a husband by his wife. Treason against the king was known as high treason and treason against a...
, an offense which carried the death penalty. So masterful were his forgeries that van Meegeren was forced to create another "Vermeer" while under police guard, to prove himself innocent of the treason charges.
A recent, thought-provoking instance of potential art forgery involves the
Getty kouros
Getty kouros
The Getty kouros is an over-life-sized statue in the form of a late archaic Greek kouros. The dolomitic marble sculpture was bought by the J. Paul Getty Museum, Malibu, California, in 1985 for $7 million and first exhibited there in October 1986....
, the authenticity of which has not been resolved. The Getty Kouros was offered, along with seven other pieces, to The
J. Paul Getty Museum
J. Paul Getty Museum
The J. Paul Getty Museum, a program of the J. Paul Getty Trust, is an art museum. It has two locations, one at the Getty Center in Los Angeles, California, and one at the Getty Villa in Pacific Palisades, Los Angeles, California...
in
Malibu, California
in the spring of 1983. For the next twelve years art historians, conservators, and archeologists studied the Kouros, scientific tests were performed and showed that the surface could not have been created artificially. However, when several of the other pieces offered with the Kouros were shown to be forgeries, its authenticity was again questioned. In May 1992, the Kouros was displayed in Athens, Greece, at an international conference, called to determine its authenticity. The conference failed to solve the problem; while most art historians and archeologists denounced it, the scientists present believed the statue to be authentic. To this day, the Getty Kouros' authenticity remains a mystery and the statue is displayed with the date: "Greek, 530 B.C. or modern forgery".
Photographic forgery
Recently, photographs have become the target of forgers, and as the market value of these works increase, so will forgery continue. Following their deaths, works by
Man Ray
Man Ray
Man Ray , born Emmanuel Radnitzky, was an American artist who spent most of his career in Paris, France. Perhaps best described simply as a modernist, he was a significant contributor to both the Dada and Surrealist movements, although his ties to each were informal...
and
Ansel Adams
Ansel Adams
Ansel Easton Adams was an American photographer and environmentalist, best known for his black-and-white photographs of the American West, especially in Yosemite National Park....
became frequent targets of forgery. The detection of forged photography is particularly difficult, as experts must be able to tell the difference between originals and reprints.
In the case of photographer Man Ray print production was often poorly managed during his lifetime, and many of his negatives were stolen by people who had access to his studio. The possession of the photo-negatives would allow a forger to print an unlimited number of fake prints, which he could then pass off as original. Fake prints would be nearly indistinguishable from originals, if the same photographic paper was used. Since unused photographic paper has a short (2–5 years) useful life, and the composition of photographic paper was frequently changed, the fakes would have had to be produced not long after the originals.
Further complicating matters, following Man Ray's death, control of printing copyrights fell to his widow, Juliet Man Ray, and her brother, who approved production of a large number of prints that Man Ray himself had earlier rejected. While these reprints are of limited value, the originals, printed during Man Ray's lifetime, have skyrocketed in value, leading many forgers to alter the reprints, so that they appear to be original.
Legal issues
In the United States, criminal prosecutions of art forgers are possible under federal, state and/or local laws.
For example, federal prosecutions have been successful using generalized criminal statutes, including the
Racketeer Influenced and Corrupt Organizations Act
Racketeer Influenced and Corrupt Organizations Act
The Racketeer Influenced and Corrupt Organizations Act, commonly referred to as the RICO Act or simply RICO, is a United States federal law that provides for extended criminal penalties and a civil cause of action for acts performed as part of an ongoing criminal organization...
("RICO"). A successful RICO charge was brought against a family which had sold counterfeit prints purportedly by Chagall, Miro, and Dali. The defendants were also found guilty of other federal crimes including conspiracy to defraud,
money laundering
Money laundering
Money laundering is the process of disguising illegal sources of money so that it looks like it came from legal sources. The methods by which money may be laundered are varied and can range in sophistication. Many regulatory and governmental authorities quote estimates each year for the amount...
, and postal fraud. Federal prosecutors are also able to prosecute forgers using the federal
wire fraud
Wire fraud
Mail and wire fraud is a federal crime in the United States. Together, 18 U.S.C. §§ 1341, 1343, and 1346 reach any fraudulent scheme or artifice to intentionally deprive another of property or honest services with a nexus to mail or wire communication....
or mail fraud statutes where the defendants used such communications.
However, federal criminal prosecutions against art forgers are seldom brought due in part to high evidentiary burdens and competing law enforcement priorities. For example internet art frauds now appear in the federal courts' rulings that one may study in the PACER court records. Some frauds are done on the internet on a popular auction websites. Traces are readily available to see the full extent of the frauds from a forensic standpoint or even basic due diligence of professionals who may research matters including sources of PACER / enforcing authority records and on the internet.
Prosecution is also possible under state criminal laws, such as prohibitions against criminal fraud, or against the simulation of personal signatures. However, in order to trigger criminal liability under states' laws, the government must prove that the defendant had intent to defraud. The evidentiary burden, as in all criminal prosecutions, is high.
Art forgery may also be subject to civil sanctions. The
Federal Trade Commission
Federal Trade Commission
The Federal Trade Commission is an independent agency of the United States government, established in 1914 by the Federal Trade Commission Act...
, for example, has used the FTC Act to combat an array of unfair trade practices in the art market. An FTC Act case was successfully brought against a purveyor of fake Dali prints in FTC v. Magui Publishers, Inc., who was permanently enjoined from fraudulent activity and ordered to restore their illegal profits. In that case, the defendant had collected millions of dollars from his sale of forged prints.
At the state level, art forgery may constitute a species of fraud, material misrepresentation, or breach of contract. The Uniform Commercial Code provides contractually-based relief to duped buyers based on warranties of authenticity. The predominant civil theory to address art forgery remains civil fraud. When substantiating a civil fraud claim, the plaintiff is generally required to prove that the defendant falsely represented a material fact, that this representation was made with intent to deceive, that the plaintiff reasonably relied on the representation, and the representation resulted in damages to the plaintiff.
Some legal experts have recommended strengthening existing intellectual property laws to address the growing problem of art forgeries proliferating in the mass market. They argue that the existing legal regime is ineffective in combating this growing trend.
Art Crime Education
In summer 2009, ARCA - the Association for Research into Crimes against Art - began offering the first postgraduate program dedicated to the study of art crime. The
International Art Crime Studies Masters Program
International Art Crime Studies Masters Program
ARCA's International Art Crime Studies Masters Program is the first post-graduate program to specialize in the study of art crime and cultural property protection...
includes coursework in art fakes and forgery.
Film
Literature
Tom Ripley is involved in an artwork forgery scheme in several of Patricia Highsmith

Patricia Highsmith

Patricia Highsmith was an American novelist and short-story writer most widely known for her psychological thrillers, which led to more than two dozen film adaptations. Her first novel, Strangers on a Train, has been adapted for stage and screen numerous times, notably by Alfred Hitchcock in 1951...


's crime novels, most notably Ripley Under Ground

Ripley Under Ground

Ripley Under Ground is a psychological thriller by Patricia Highsmith, the second novel in her Ripliad series.- Plot summary :Six years after the events of The Talented Mr. Ripley, Tom Ripley is now in his early 30s, living a comfortable life in France with his heiress wife, Heloise Plisson...


(1970), in which he is confronted by a collector who correctly suspects that the paintings sold by Tom are forgeries. The novel was adapted to film

Ripley Under Ground (film)

Ripley Under Ground is a 2005 film directed by Roger Spottiswoode and based on the second novel in Patricia Highsmith's Tom Ripley series. The film stars Barry Pepper as Ripley and features Willem Dafoe, Alan Cumming and Tom Wilkinson in supporting roles....


in 2005, and the 1977 film The American Friend

The American Friend

The American Friend is a 1977 film by Wim Wenders, loosely adapted from the novel Ripley's Game by Patricia Highsmith. The film is of the neo-noir genre, and features Dennis Hopper as career criminal Tom Ripley and Bruno Ganz as Jonathan Zimmermann, a terminally ill picture framer whom Ripley...


is also partially based on the novel.
See also
Archaeological forgery

Archaeological forgery

Archaeological forgery is the manufacture of supposedly ancient items that are sold to the antiquities market and may even end up in the collections of museums. It is related to art forgery....



Authenticity in art

Authenticity in art

Authenticity in art has a variety of meanings related to different ways in which a work of art or an artistic performance may be considered authentic.Denis Dutton distinguishes between nominal authenticity and expressive authenticity....



Forgery

Forgery

Forgery is the process of making, adapting, or imitating objects, statistics, or documents with the intent to deceive. Copies, studio replicas, and reproductions are not considered forgeries, though they may later become forgeries through knowing and willful misrepresentations. Forging money or...



Museum of Art Fakes

Museum of Art Fakes

The Museum of Art Fakes opened in Vienna, Austria in 2005. This small, privately run museum in the Landstraße district is the only one of its kind in the German-speaking world....


, Vienna
Works of Art with Contested Provenance
Famous forgeries
Known art forgers and dealers of forged art
Further reading