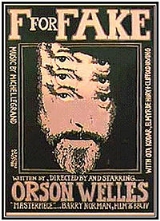 F for Fake
F for Fake
is the last major film completed by
Orson Welles
Orson Welles
George Orson Welles , best known as Orson Welles, was an American film director, actor, theatre director, screenwriter, and producer, who worked extensively in film, theatre, television and radio...
, who directed, co-wrote, and starred in the film. Initially released in 1974, it focuses on
Elmyr de Hory's
Elmyr de Hory
Elmyr de Hory was a Hungarian-born painter and art forger who claimed to have sold over a thousand forgeries to reputable art galleries all over the world...
recounting of his career as a professional art forger; de Hory's story serves as the backdrop for a fast-paced, meandering investigation of the natures of authorship and
authenticity
Authentication
Authentication is the act of confirming the truth of an attribute of a datum or entity...
, as well as the basis of the value of art. Loosely a
documentary
Documentary film
Documentary films constitute a broad category of nonfictional motion pictures intended to document some aspect of reality, primarily for the purposes of instruction or maintaining a historical record...
, the film operates in several different genres and has been described as a kind of film essay.
Far from serving as a traditional documentary on Elmyr de Hory, the film also incorporates Welles's companion
Oja Kodar
Oja Kodar
Oja Kodar is a Croatian actress, screenwriter and director, best known as the girlfriend of Orson Welles for the last 24 years of his life.-Life:...
, notorious "hoax-biographer"
Clifford Irving
Clifford Irving
Clifford Michael Irving is an American author of novels and works of nonfiction, but best known for using forged handwritten letters to convince his publisher into accepting a fake "autobiography" of reclusive businessman Howard Hughes in the early 1970s...
, and Orson Welles himself, in an autobiographical role. In 2005,
The Criterion Collection
The Criterion Collection
The Criterion Collection is a video-distribution company selling "important classic and contemporary films" to film aficionados. The Criterion series is noted for helping to standardize the letterbox format for home video, bonus features, and special editions...
released the film on Region 1
DVD
DVD
A DVD is an optical disc storage media format, invented and developed by Philips, Sony, Toshiba, and Panasonic in 1995. DVDs offer higher storage capacity than Compact Discs while having the same dimensions....
, and in 2009 it was released for Region 4 by
Madman Entertainment
Madman Entertainment
Madman Entertainment is an Australian company that distributes international films as well as Japanese anime and manga in Australia and New Zealand. The company is owned by Funtastic Limited and is one of the major entertainment companies in Australia. It employs 130 people and has an annual...
's Director's Suite.
Plot
Several narratives are woven together throughout the film, including those of de Hory, Irving, Welles, Howard Hughes and Kodar.
About de Hory, we learn that he was a struggling artist who turned to forgery out of desperation, only to see the greater share of the profits from his deceptions go to doubly unscrupulous art dealers. As partial compensation for that injustice, he is maintained in a villa in Ibiza by one of his dealers. What is only hinted at in Welles's documentary is that de Hory had recently served a two-month sentence in a Spanish prison for homosexuality and consorting with criminals. (De Hory would commit suicide a few years after the release of Welles' film, on hearing that Spain had agreed to turn him over to the French authorities.)
Irving's original part in
F for Fake
was as de Hory's biographer, but his part grew unexpectedly at some point during production. There has not always been agreement among commentators over just how that production unfolded, but the now-accepted story is that the director François Reichenbach shot a documentary about de Hory and Irving before giving his footage to Welles, who then shot additional footage with Reichenbach as his cinematographer.
In the time between the shooting of Reichenbach's documentary and the finishing of Welles', it became known that Irving had perpetrated a hoax of his own, namely a fabricated "authorized biography" of
Howard Hughes
Howard Hughes
Howard Robard Hughes, Jr. was an American business magnate, investor, aviator, engineer, film producer, director, and philanthropist. He was one of the wealthiest people in the world...
(the hoax was later fictionalized in
The Hoax
The Hoax
The Hoax is a 2007 American drama film directed by Lasse Hallström. The screenplay by William Wheeler is based on the book of the same title by Clifford Irving and focuses on the autobiography Irving supposedly helped Howard Hughes write...
). This discovery prompted the shooting of still more footage, which then got woven into
F for Fake
. Blurring the lines even more, there are several pieces of footage in the film showing Welles at a party with De Hory, and, at one point, De Hory even signs a painting with a forgery of Welles' signature. Some of Hughes' career is outlined in the form of a parody of the "News on the March" sequence in
Citizen Kane
Citizen Kane
Citizen Kane is a 1941 American drama film, directed by and starring Orson Welles. Many critics consider it the greatest American film of all time, especially for its innovative cinematography, music and narrative structure. Citizen Kane was Welles' first feature film...
.
Exactly one hour before narrating Kodar's story, Welles promises that everything in the next hour of his film will be true. Exactly one hour later, the film tells a story where Kodar sits for a series of nudes for
Pablo Picasso
Pablo Picasso
Pablo Diego José Francisco de Paula Juan Nepomuceno María de los Remedios Cipriano de la Santísima Trinidad Ruiz y Picasso known as Pablo Ruiz Picasso was a Spanish expatriate painter, sculptor, printmaker, ceramicist, and stage designer, one of the greatest and most influential artists of the...
after getting him to agree to give her the finished portraits, and then selling not those very portraits but fake Picassos in their place. The story climaxes with Welles and Kodar re-enacting a tense exchange between Picasso and Kodar's grandfather, the alleged forger of the paintings, before Welles reminds the viewer that he only promised to tell the truth for an hour and that "for the last 17 minutes, I've been lying my head off."
In the commentary to the Criterion Collection DVD release of
F for Fake
, Kodar claims the idea for this segment as her own. She also claims credit for the movie's opening sequence, which consists of shots of Kodar walking down streets while rubbernecking male admirers (unaware that they are being filmed) stop and openly stare. This sequence is described by Kodar as inspired by her feminism.
Locations
Rome, Italy — Girl-watching sequence
Ibiza

Ibiza

Ibiza or Eivissa is a Spanish island in the Mediterranean Sea 79 km off the coast of the city of Valencia in Spain. It is the third largest of the Balearic Islands, an autonomous community of Spain. With Formentera, it is one of the two Pine Islands or Pityuses. Its largest cities are Ibiza...


, Spain — 16 mm

16 mm film

16 mm film refers to a popular, economical gauge of film used for motion pictures and non-theatrical film making. 16 mm refers to the width of the film...


elements from the original Reichenbach documentary
Paris, France — Gare d'Austerlitz

Gare d'Austerlitz

Paris Austerlitz is one of the six large terminus railway stations in Paris. It is situated on the left bank of the Seine in the southeastern part of the city, in the XIIIe arrondissement...


, Champ de Mars, art gallery on left bank

Rive Gauche

La Rive Gauche is the southern bank of the river Seine in Paris. Here the river flows roughly westward, cutting the city in two: looking downstream, the southern bank is to the left, and the northern bank is to the right....


, La Méditerranée seafood restaurant
Los Angeles — The Beverly Hills Hotel — The ham sandwich of Howard Hughes
Chartres Cathedral - France
Orvilliers

Orvilliers

Orvilliers is a commune in the Yvelines department in the Île-de-France region in north-central France....


, France — Orson Welles and Oja Kodar house—editing-room scenes, set for various indoor scenes
Houdan

Houdan

Houdan is a commune in the Yvelines department in the Île-de-France region in north-central France.-Geography:Houdan is west of Paris in the Yvelines département. It is linked by SNCF Alençon and Paris .-History:...


, France — Oja and Picasso story
Paris-Orly Airport — South terminal terrace and main hall
Reception
F for Fake
faced widespread popular rejection in the United States upon its release, though it fared better commercially in Europe. Critical reaction ranged from praise to confusion and hostility, with many finding the work to be indulgent or incoherent.
F for Fake
has, however, grown in stature over the years and is now often considered not only a film classic, but a precursor to modern editing techniques as well as a popularizer of more avant-garde methods. As the film embraces everything from self-conscious notation of the film process to ironic employment of 1950s-era
B movie
B movie
A B movie is a low-budget commercial motion picture that is not definitively an arthouse or pornographic film. In its original usage, during the Golden Age of Hollywood, the term more precisely identified a film intended for distribution as the less-publicized, bottom half of a double feature....
footage, Welles in essence was creating not so much a documentary as a "new kind of film," as he once told writer
Jonathan Rosenbaum
Jonathan Rosenbaum
Jonathan Rosenbaum is an American film critic. Rosenbaum was the head film critic for the Chicago Reader from 1987 until 2008, when he retired at the age of 65...
.
F for Fake
is now sometimes referred to as a "film essay."
Style
F for Fake
is often judged as a masterpiece of the art of
film editing
Film editing
Film editing is part of the creative post-production process of filmmaking. It involves the selection and combining of shots into sequences, and ultimately creating a finished motion picture. It is an art of storytelling...
— a key subject of the film itself, which at many points shows Welles sitting at his editing desk as he narrates. Welles and his assistants worked on the final cut for an entire year, working seven days a week—shots are rapidly intercut almost by the second throughout, lending the film a quick-paced touch. One of the examples considered to be among the best is a series of near wordless shots of Irving and de Hory seemingly in debate as to whether de Hory ever signed his forgeries (the shots of Irving and de Hory were in fact taken at different times). Some have even argued that after
Citizen Kane
Citizen Kane
Citizen Kane is a 1941 American drama film, directed by and starring Orson Welles. Many critics consider it the greatest American film of all time, especially for its innovative cinematography, music and narrative structure. Citizen Kane was Welles' first feature film...
,
F for Fake
is Welles's most influential film, for it invented the
MTV
MTV
MTV, formerly an initialism of Music Television, is an American network based in New York City that launched on August 1, 1981. The original purpose of the channel was to play music videos guided by on-air hosts known as VJs....
style of editing.
Welles's autobiographical asides in the film reflect on his
1938 radio adaptation
The War of the Worlds (radio)
The War of the Worlds was an episode of the American radio drama anthology series Mercury Theatre on the Air. It was performed as a Halloween episode of the series on October 30, 1938, and aired over the Columbia Broadcasting System radio network. Directed and narrated by actor and future filmmaker...
of
The War of the Worlds
The War of the Worlds
The War of the Worlds is an 1898 science fiction novel written by H. G. Wells.The War of the Worlds may also refer to:- Radio broadcasts :* The War of the Worlds , the 1938 radio broadcast by Orson Welles...
, which caused a nationwide panic with its fake news broadcast. In introducing this chapter of his life, Welles declares his uncertainty as to his own authenticity, as he believes he too has engaged in fraud. Interestingly, while the basic facts of the
War of the Worlds
incident are correctly given, the apparent excerpts from the play featured in the movie are complete fabrications, including a scene in which President Roosevelt meets the Martian invaders—something which did not happen in the original (fabricated) broadcast.
External links