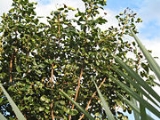 Amyris elemifera
Amyris elemifera
, commonly known as
Sea Torchwood
, is a
coast
Coast
A coastline or seashore is the area where land meets the sea or ocean. A precise line that can be called a coastline cannot be determined due to the dynamic nature of tides. The term "coastal zone" can be used instead, which is a spatial zone where interaction of the sea and land processes occurs...
al
evergreen
Evergreen
In botany, an evergreen plant is a plant that has leaves in all seasons. This contrasts with deciduous plants, which completely lose their foliage during the winter or dry season.There are many different kinds of evergreen plants, both trees and shrubs...
shrub
Shrub
A shrub or bush is distinguished from a tree by its multiple stems and shorter height, usually under 5–6 m tall. A large number of plants may become either shrubs or trees, depending on the growing conditions they experience...
or small
tree
Tree
A tree is a perennial woody plant. It is most often defined as a woody plant that has many secondary branches supported clear of the ground on a single main stem or trunk with clear apical dominance. A minimum height specification at maturity is cited by some authors, varying from 3 m to...
. It is found in central and southern
Florida
Florida
Florida is a state in the southeastern United States, located on the nation's Atlantic and Gulf coasts. It is bordered to the west by the Gulf of Mexico, to the north by Alabama and Georgia and to the east by the Atlantic Ocean. With a population of 18,801,310 as measured by the 2010 census, it...
in the
United States
United States
The United States of America is a federal constitutional republic comprising fifty states and a federal district...
,
The Bahamas
The Bahamas
The Bahamas , officially the Commonwealth of the Bahamas, is a nation consisting of 29 islands, 661 cays, and 2,387 islets . It is located in the Atlantic Ocean north of Cuba and Hispaniola , northwest of the Turks and Caicos Islands, and southeast of the United States...
, the
Caribbean
Caribbean
The Caribbean is a crescent-shaped group of islands more than 2,000 miles long separating the Gulf of Mexico and the Caribbean Sea, to the west and south, from the Atlantic Ocean, to the east and north...
, and the
Central America
Central America
Central America is the central geographic region of the Americas. It is the southernmost, isthmian portion of the North American continent, which connects with South America on the southeast. When considered part of the unified continental model, it is considered a subcontinent...
n countries of
Guatemala
Guatemala
Guatemala is a country in Central America bordered by Mexico to the north and west, the Pacific Ocean to the southwest, Belize to the northeast, the Caribbean to the east, and Honduras and El Salvador to the southeast...
,
Belize
Belize
Belize is a constitutional monarchy and the northernmost country in Central America. Belize has a diverse society, comprising many cultures and languages. Even though Kriol and Spanish are spoken among the population, Belize is the only country in Central America where English is the official...
,
Honduras
Honduras
Honduras is a republic in Central America. It was previously known as Spanish Honduras to differentiate it from British Honduras, which became the modern-day state of Belize...
, and
El Salvador
El Salvador
El Salvador or simply Salvador is the smallest and the most densely populated country in Central America. The country's capital city and largest city is San Salvador; Santa Ana and San Miguel are also important cultural and commercial centers in the country and in all of Central America...
. The
resin
Resin
Resin in the most specific use of the term is a hydrocarbon secretion of many plants, particularly coniferous trees. Resins are valued for their chemical properties and associated uses, such as the production of varnishes, adhesives, and food glazing agents; as an important source of raw materials...
ous wood has been utilized for fuel and torches. Extracts from the roots and resin have been utilized as an
expectorant
Mucolytic agent
Mucokinetics are a class of drugs which aid in the clearance of mucous from the airways, lungs, bronchi, and trachea. Such drugs can be further categorized by their mechanism of action.* expectorants* mucolytic agents...
via several
species
Species
In biology, a species is one of the basic units of biological classification and a taxonomic rank. A species is often defined as a group of organisms capable of interbreeding and producing fertile offspring. While in many cases this definition is adequate, more precise or differing measures are...
in the
genus
Genus
In biology, a genus is a low-level taxonomic rank used in the biological classification of living and fossil organisms, which is an example of definition by genus and differentia...
. In Florida, Sea Torchwood is a food source for the
endangered
Endangered species
An endangered species is a population of organisms which is at risk of becoming extinct because it is either few in numbers, or threatened by changing environmental or predation parameters...
Schaus' Swallowtail (
Papilio aristodemus ponceanus
Papilio aristodemus
Papilio aristodemus, commonly known as Schaus' Swallowtail, is a species of American butterfly in the Papilionidae family. It is found in the southern Florida with subspecies in the Bahamas, Hispaniola, and Cuba. Historically it occurred in tropical hardwood hammock from South Miami to Lower...
). It is also known as
candlewood
and
sea amyris
, in addition to several common names. The latter portion of its scientific name means "resin bearing" in Greek.
Description
Sea Torchwood attains a maximum height of 4 metre. The smooth, gray
bark
Bark
Bark is the outermost layers of stems and roots of woody plants. Plants with bark include trees, woody vines and shrubs. Bark refers to all the tissues outside of the vascular cambium and is a nontechnical term. It overlays the wood and consists of the inner bark and the outer bark. The inner...
matures into a rough and furrowed surface with plates. The wood is close-grained. The species has a vertical branching habit. The species contains a weak
taproot
Taproot
A taproot is an enlarged, somewhat straight to tapering plant root that grows vertically downward. It forms a center from which other roots sprout laterally.Plants with taproots are difficult to transplant...
, although lateral roots are stiff and strong. The yellow-gray twigs turn gray via aging. The compound leaves are opposite or sub-opposite. A 3 cm (1.2 in)
petiole
Petiole (botany)
In botany, the petiole is the stalk attaching the leaf blade to the stem. The petiole usually has the same internal structure as the stem. Outgrowths appearing on each side of the petiole are called stipules. Leaves lacking a petiole are called sessile, or clasping when they partly surround the...
supports three to five
leaflet
Leaflet
A leaflet in botany is a part of a compound leaf. A leaflet may resemble an entire leaf, but it is not borne on a stem as a leaf is, but rather on a vein of the whole leaf. Compound leaves are common in many plant families...
s with ovate, rhombic ovate, or lanceolate blades. The fragrant, globose
drupe
Drupe
In botany, a drupe is a fruit in which an outer fleshy part surrounds a shell of hardened endocarp with a seed inside. These fruits develop from a single carpel, and mostly from flowers with superior ovaries...
s are black and contain a single brown
seed
Seed
A seed is a small embryonic plant enclosed in a covering called the seed coat, usually with some stored food. It is the product of the ripened ovule of gymnosperm and angiosperm plants which occurs after fertilization and some growth within the mother plant...
. The pendulous foliage is aromatic. The tiny, fragrant white flowers and fruit attract wildlife, including various species of birds.
Ecology
Sea Torchwood tolerates full sun to light shade. In
Florida
Florida
Florida is a state in the southeastern United States, located on the nation's Atlantic and Gulf coasts. It is bordered to the west by the Gulf of Mexico, to the north by Alabama and Georgia and to the east by the Atlantic Ocean. With a population of 18,801,310 as measured by the 2010 census, it...
, it often grows along the edges of
hammocks
Hammock (ecology)
Hammocks are dense stands of hardwood trees that grow on natural rises of only a few inches higher than surrounding marshland that is otherwise too wet to support them. Hammocks are distinctive in that they are formed gradually over thousands of years rising in a wet area through the deposits of...
. Torchwood grows in a wide variety of soil textures, fertility, and
pH
Soil pH
The soil pH is a measure of the acidity or basicity in soils. pH is defined as the negative logarithm of the activity of hydrogen ions in solution. It ranges from 0 to 14, with 7 being neutral. A pH below 7 is acidic and above 7 is basic. Soil pH is considered a master variable in soils as it...
levels. Torchwood can grow in soils underlain by
sedimentary rock
Sedimentary rock
Sedimentary rock are types of rock that are formed by the deposition of material at the Earth's surface and within bodies of water. Sedimentation is the collective name for processes that cause mineral and/or organic particles to settle and accumulate or minerals to precipitate from a solution....
such as
limestone
Limestone
Limestone is a sedimentary rock composed largely of the minerals calcite and aragonite, which are different crystal forms of calcium carbonate . Many limestones are composed from skeletal fragments of marine organisms such as coral or foraminifera....
,
igneous rock
Igneous rock
Igneous rock is one of the three main rock types, the others being sedimentary and metamorphic rock. Igneous rock is formed through the cooling and solidification of magma or lava...
,
metamorphic rock
Metamorphic rock
Metamorphic rock is the transformation of an existing rock type, the protolith, in a process called metamorphism, which means "change in form". The protolith is subjected to heat and pressure causing profound physical and/or chemical change...
, as well as coastal
sand
Sand
Sand is a naturally occurring granular material composed of finely divided rock and mineral particles.The composition of sand is highly variable, depending on the local rock sources and conditions, but the most common constituent of sand in inland continental settings and non-tropical coastal...
. Sea Torchwood usually prefers well-drained sites, although it tolerates 750 to 2000 mm (29.5 to 78.7 in) of yearly precipitation in
Puerto Rico
Puerto Rico
Puerto Rico , officially the Commonwealth of Puerto Rico , is an unincorporated territory of the United States, located in the northeastern Caribbean, east of the Dominican Republic and west of both the United States Virgin Islands and the British Virgin Islands.Puerto Rico comprises an...
. Young plants linger in the understory until gaps allow further growth to flowering and fruiting positions. In Florida, Sea Torchwood is found along the east coast to
Flagler County
Flagler County, Florida
Flagler County was created in 1917 from portions of Saint Johns and Volusia counties. It was named for Henry Morrison Flagler, a famous railroad builder who built the Florida East Coast Railway. Bunnell is the county seat of Flagler County....
.
Uses
Torchwood has been utilized for fences, fuel, and
honey
Honey
Honey is a sweet food made by bees using nectar from flowers. The variety produced by honey bees is the one most commonly referred to and is the type of honey collected by beekeepers and consumed by humans...
production. The fine-grained, fragrant wood is resistant to dry wood
termite
Termite
Termites are a group of eusocial insects that, until recently, were classified at the taxonomic rank of order Isoptera , but are now accepted as the epifamily Termitoidae, of the cockroach order Blattodea...
s, although it has not been extensively utilized because of its scarcity. Texaline has been extracted from the plant; this
oxazole
Oxazole
Oxazole is the parent compound for a vast class of heterocyclic aromatic organic compounds. These are azoles with an oxygen and a nitrogen separated by one carbon. Oxazoles are aromatic compounds but less so than the thiazoles...
has been an effective
antibiotic
Antibiotic
An antibacterial is a compound or substance that kills or slows down the growth of bacteria.The term is often used synonymously with the term antibiotic; today, however, with increased knowledge of the causative agents of various infectious diseases, antibiotic has come to denote a broader range of...
against bioactive chemicals from
Mycobacterium
Mycobacterium
Mycobacterium is a genus of Actinobacteria, given its own family, the Mycobacteriaceae. The genus includes pathogens known to cause serious diseases in mammals, including tuberculosis and leprosy...
.