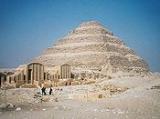 Old Kingdom
Old Kingdom
is the name given to the period in the 3rd millennium BC when
Egypt
Ancient Egypt
Ancient Egypt was an ancient civilization of Northeastern Africa, concentrated along the lower reaches of the Nile River in what is now the modern country of Egypt. Egyptian civilization coalesced around 3150 BC with the political unification of Upper and Lower Egypt under the first pharaoh...
attained its first continuous peak of
civilization
Civilization
Civilization is a sometimes controversial term that has been used in several related ways. Primarily, the term has been used to refer to the material and instrumental side of human cultures that are complex in terms of technology, science, and division of labor. Such civilizations are generally...
in complexity and achievement – the first of three so-called "Kingdom" periods, which mark the high points of civilization in the lower Nile Valley (the others being
Middle Kingdom
Middle Kingdom of Egypt
The Middle Kingdom of Egypt is the period in the history of ancient Egypt stretching from the establishment of the Eleventh Dynasty to the end of the Fourteenth Dynasty, between 2055 BC and 1650 BC, although some writers include the Thirteenth and Fourteenth dynasties in the Second Intermediate...
and the
New Kingdom
New Kingdom
The New Kingdom of Egypt, also referred to as the Egyptian Empire is the period in ancient Egyptian history between the 16th century BC and the 11th century BC, covering the Eighteenth, Nineteenth, and Twentieth Dynasties of Egypt....
).
The term itself was coined by nineteenth century historians and the distinction between the Old Kingdom and the
Early Dynastic Period
Early Dynastic Period of Egypt
The Archaic or Early Dynastic Period of Egypt immediately follows the unification of Lower and Upper Egypt c. 3100 BC. It is generally taken to include the First and Second Dynasties, lasting from the Protodynastic Period of Egypt until about 2686 BC, or the beginning of the Old Kingdom...
is not one which would have been recognized by Ancient Egyptians.