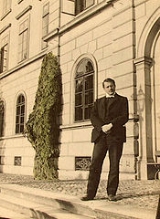 Carl Jung
Topics
Carl Jung
Quotations

Quotations
Carl Gustav Jung
(26 July 1875 – 6 June 1961 was a Swiss
psychiatrist
and founder of
analytical psychology
.
Sourced
The little world of childhood with its familiar surroundings is a model of the greater world. The more intensively the family has stamped its character upon the child, the more it will tend to feel and see its earlier miniature world again in the bigger world of adult life. Naturally this is not a conscious, intellectual process.

The Theory of Psychoanalysis (1913)
This whole creation is essentially subjective, and the dream is the theater where the dreamer is at once scene, actor, prompter, stage manager, author, audience, and critic.

General Aspects of Dream Psychology (1928)
The dream is the small hidden door in the deepest and most intimate sanctum of the soul, which opens to that primeval cosmic night that was soul long before there was conscious ego and will be soul far beyond what a conscious ego could ever reach.

The Meaning of Psychology for Modern Man (1934)
Emotion is the chief source of all becoming-conscious. There can be no transforming of darkness into light and of apathy into movement without emotion.

Psychological Aspects of the Modern Archetype (1938)
There is no question but that Hitler belongs in the category of the truly mystic medicine man. As somebody commented about him at the last Nürnberg party congress, since the time of Mohammed nothing like it has been seen in this world. His body does not suggest strength. The outstanding characteristic of his physiognomy is its dreamy look. I was especially struck by that when I saw pictures taken of him in the Czechoslovakian crisis; there was in his eyes the look of a seer. This markedly mystic characteristic of Hitler's is what makes him do things which seem to us illogical, inexplicable, and unreasonable. ... So you see, Hitler is a medicine man, a spiritual vessel, a demi-deity or, even better, a myth.

During an interview with H. R. Knickerbocker, first published in Hearst's International Cosmopolitan (January 1939), in which Jung was asked to diagnose Adolf Hitler, Benito Mussolini, and Joseph Stalin, later published in Is Tomorrow Hitler's? (1941), by H. R. Knickerbocker, also published in The Seduction of Unreason : The Intellectual Romance with Fascism (2004) by Richard Wolin, Ch. 2 : Prometheus Unhinged : C. G. Jung and the Temptations of Aryan Religion, p. 75
No nation keeps its word. A nation is a big, blind worm, following what? Fate perhaps. A nation has no honour, it has no word to keep. ... Hitler is himself the nation. That incidentally is why Hitler always has to talk so loud, even in private conversation — because he is speaking with 78 million voices.

During an interview with H. R. Knickerbocker (1939), quoted in A Life of Jung (2002) by Ronald Hayman, p. 360
No one can flatter himself that he is immune to the spirit of his own epoch, or even that he possesses a full understanding of it. Irrespective of our conscious convictions, each one of us, without exception, being a particle of the general mass, is somewhere attached to, colored by, or even undermined by the spirit which goes through the mass. Freedom stretches only as far as the limits of our consciousness.

Paracelsus the Physician (1942)
That higher and "complete" man is begotten by the "unknown" father and born from Wisdom, and it is he who, in the figure of the puer aeternus—"vultu mutabilis albus et ater"—represents our totality, which transcends consciousness. It was this boy into whom Faust had to change, abandoning his inflated onesidedness which saw the devil only outside. Christ's "Except ye become as little children" is a prefiguration of this, for in them the opposites lie close together; but what is meant is the boy who is born from the maturity of the adult man, and not the unconscious child we would like to remain.

Answer to Job, R. Hull, trans. (1984), pp. 157-158
The unconscious is not just evil by nature, it is also the source of the highest good: not only dark but also light, not only bestial, semihuman, and demonic but superhuman, spiritual, and, in the classical sense of the word, "divine."

The Practice of Psychotherapy, p. 364 (1953)
Our blight is ideologies — they are the long-expected Antichrist!

The Tibetan Book of the Great Liberation (1954)
Even if the whole world were to fall to pieces, the unity of the psyche would never be shattered. And the wider and more numerous the fissures on the surface, the more the unity is strengthened in the depths.

Civilization in Transition (1964)
One of the most difficult tasks men can perform, however much others may despise it, is the invention of good games and it cannot be done by men out of touch with their instinctive selves.

Jung and the Story of Our Time, Laurens van der Post (1977)
The Undiscovered Self (1958)
Any theory based on experience is necessarily statistical; that is to say, it formulates an ideal average which abolishes all exceptions at either end of the scale and replaces them by an abstract mean. This mean is quite valid though it need not necessarily occur in reality. Despite this it figures in the theory as an unassailable fundamental fact. ... If, for instance, I determine the weight of each stone in a bed of pebbles and get an average weight of 145 grams, this tells me very little about the real nature of the pebbles. Anyone who thought, on the basis of these findings, that he could pick up a pebbles of 145 grams at the first try would be in for a serious disappointment. Indeed, it might well happen that however long he searched he would not find a single pebble weighing exactly 145 grams. The statistical method shows the facts in the light of the ideal average but does not give us a picture of their empirical reality. While reflecting an indisputable aspect of reality, it can falsify the actual truth in a most misleading way.
The bigger the crowd, the more negligible the individual.
Just as man as a social being, cannot in the long run exist without a tie to the community, so the individual will never find the real justification for his existence, and his own spiritual and moral autonomy, anywhere except in an extramundane principle capable of relativizing the overpowering influence of external factors.
It is astounding that man, the instigator, inventor and vehicle of all these developments, the originator of all judgements and decisions and the planner of the future, must make himself such a quantité negligeable.
Without consciousness there would, practically speaking, be no world, for the world exists as such only in so far as it is consciously reflected and considered by a psyche. Consciousness is a precondition of being.
You can take away a man's gods, but only to give him others in return.
The seat of faith, however, is not consciousness but spontaneous religious experience, which brings the individual's faith into immediate relation with God. Here we must ask: Have I any religious experience and immediate relation to God, and hence that certainty which will keep me, as an individual, from dissolving in the crowd?
Reason alone does not suffice.
We are living in what the Greeks called the right time for a "metamorphosis of the gods," i.e. of the fundamental principles and symbols. This peculiarity of our time, which is certainly not of our conscious choosing, is the expression of the unconscious man within us who is changing. Coming generations will have to take account of this momentous transformation if humanity is not to destroy itself through the might of its own technology and science.
Psychological Types, or, The Psychology of Individuation (1921)
Without this playing with fantasy no creative work has ever yet come to birth. The debt we owe to the play of imagination is incalculable.
The great problems of life — sexuality, of course, among others — are always related to the primordial images of the collective unconscious. These images are really balancing or compensating factors which correspond with the problems life presents in actuality. This is not to be marvelled at, since these images are deposits representing the accumulated experience of thousands of years of struggle for adaptation and existence.
We should not pretend to understand the world only by the intellect; we apprehend it just as much by feeling. Therefore, the judgment of the intellect is, at best, only the half of truth, and must, if it be honest, also come to an understanding of its inadequacy.

Variant translation: We should not pretend to understand the world only by the intellect. The judgement of the intellect is only part of the truth.
Conclusion, p. 628
Contributions to Analytical Psychology (1928)
The woman is increasingly aware that love alone can give her full stature, just as the man begins to discern that spirit alone can endow his life with its highest meaning. Fundamentally, therefore, both seek a psychic relation to the other, because love needs the spirit, and the spirit love, for their fulfillment.
Seldom, or perhaps never, does a marriage develop into an individual relationship smoothly and without crises; there is no coming to consciousness without pain.
The growth of the mind is the widening of the range of consciousness, and ... each step forward has been a most painful and laborious achievement.
Modern Man in Search of a Soul (1933)
No language exists that cannot be misused... Every Interpretation is hypothetical, for it is a mere attempt to read an unfamiliar text.
The meeting of two personalities is like the contact of two chemical substances: if there is any reaction, both are transformed.
It is in applied psychology, if anywhere, that today we should be modest and grant validity to a number of apparently contradictory opinions; for we are still far from having anything like a thorough knowledge of the human psyche, that most challenging field of scientific enquiry. For the present we have merely more or less plausible opinions that defy reconciliation.
The great decisions of human life have as a rule far more to do with the instincts and other mysterious unconscious factors than with conscious will and well-meaning reasonableness. The shoe that fits one person pinches another; there is no recipe for living that suits all cases. Each of us carries his own life-form—an indeterminable form which cannot be superseded by any other.
Aging people should know that their lives are not mounting and unfolding but that an inexorable inner process forces the contraction of life. For a young person it is almost a sin — and certainly a danger — to be too much occupied with himself; but for the aging person it is a duty and a necessity to give serious attention to himself.
Every civilized human being, whatever his conscious development, is still an archaic man at the deeper levels of his psyche. Just as the human body connects us with the mammals and displays numerous relics of earlier evolutionary stages going back to even the reptilian age, so the human psyche is likewise a product of evolution which, when followed up to its origins, show countless archaic traits.
No psychic value can disappear without being replaced by another of equivalent intensity.
The Archetypes and the Collective Unconscious (1934)
Collected Works of C. G. Jung, Vol. 9, Part 1. 2nd ed. (1968), Princeton University Press ISBN 0691018332
A more or less superficial layer of the unconscious is undoubtedly personal. I call it the "personal unconscious". But this personal layer rests upon a deeper layer, which does not derive from personal experience and is not a personal acquisition but is inborn. This deeper layer I call the "collective unconscious". I have chosen the term "collective" because this part of the unconscious is not individual but universal; in contrast to the personal psyche, it has contents and modes of behaviour that are more or less the same everywhere and in all individuals.
Why is psychology the youngest of the empirical sciences? Why have we not long since discovered the unconscious and raised up its treasure-house of eternal images? Simply because we had a religious formula for everything psychic — and one that is far more beautiful and comprehensive than immediate experience. Though the Christian view of the world has paled for many people, the symbolic treasure-rooms of the East are still full of marvels that can nourish for a long time to come the passion for show and new clothes. What is more, these images — be they Christian or Buddhist or what you will — are lovely, mysterious, richly intuitive.
Whereas the personal unconscious consists for the most part of "complexes", the content of the collective unconscious is made up essentially of "archetypes". The concept of the archetype, which is an indispensable correlate of the idea of the collective unconscious, indicates the existence of definite forms in the psyche which seem to be present always and everywhere. Mythological research calls them 'motifs'; in the psychology of primitives they correspond to Levy-Bruhl's concept of "representations collectives," and in the field of comparative religion they have been defined by Hubert and Mauss as 'categories of the imagination'... My thesis, then, is as follows: In addition to our immediate consciousness, which is of a thoroughly personal nature and which we believe to be the only empirical psyche (even if we tack on the personal unconscious as an appendix), there exists a second psychic system of a collective, universal, and impersonal nature which is identical in all individuals.
We must now turn to the question of how the existence of archetypes can be proved. Since archetypes are supposed to produce certain psychic forms, we must discuss how and where one can get hold of the material demonstrating these forms. The main source, then, is dreams, which have the advantage of being involuntary, spontaneous products of nature not falsified by any conscious purpose. By questioning the individual one can ascertain which of the motifs appearing in the dream are known to him... Consequently, we must look for motifs which could not possibly be known to the dreamer and yet behave functionally of the archetype known from historical sources.
The Integration of the Personality (1939)
All ages before ours believed in gods in some form or other. Only an unparalleled impoverishment in symbolism could enable us to rediscover the gods as psychic factors, which is to say, as archetypes of the unconscious. No doubt this discovery is hardly credible as yet.
If there is anything that we wish to change in the child, we should first examine it and see whether it is not something that could better be changed in ourselves.
The Psychology of the Unconscious (1943)
This world is empty to him alone who does not understand how to direct his libido towards objects, and to render them alive and beautiful for himself, for Beauty does not indeed lie in things, but in the feeling that we give to them.
Where love rules, there is no will to power; and where power predominates, there love is lacking. The one is the shadow of the other.
The erotic instinct is something questionable, and will always be so whatever a future set of laws may have to say on the matter. It belongs, on the one hand, to the original animal nature of man, which will exist as long as man has an animal body. On the other hand, it is connected with the highest forms of the spirit. But it blooms only when the spirit and instinct are in true harmony. If one or the other aspect is missing, then an injury occurs, or at least there is a one-sided lack of balance which easily slips into the pathological. Too much of the animal disfigures the civilized human being, too much culture makes a sick animal.
Every archetype is capable of endless development and differentiation. It is therefore possible for it to be more developed or less. In an outward form of religion where all the emphasis is on the outward figure (hence where we are dealing with a more or less complete projection) the archetype is identical with externalized ideas but remains unconscious as a psychic factor. When an unconscious content is replaced by a projected image to that extent, it is cut off from all participation in an influence on the conscious mind. Hence it largely forfeits its own life, because prevented from exerting the formative influence on consciousness natural to it; what is more, it remains in its original form — unchanged, for nothing changes in the unconscious.
The conscious mind allows itself to be trained like a parrot, but the unconscious does not — which is why St. Augustine thanked God for not making him responsible for his dreams.
We Shall Naturally look round in vain the macrophysical world for acausal events, for the simple reason that we cannot imagine events that are connected non-causally and are capable of a non-causal explanation. But that does not mean that such events do not exist... The so-called "scientific view of the world" based on this can hardly be anything more than a psychologically biased partial view which misses out all those by no means unimportant aspects that cannot be grasped statistically.
Primitive superstition lies just below the surface of even the most tough-minded individuals, and it is precisely those who most fight against it who are the first to succumb to its suggestive effects.
Naturally, every age thinks that all ages before it were prejudiced, and today we think this more than ever and are just as wrong as all previous ages that thought so. How often have we not seen the truth condemned! It is sad but unfortunately true that man learns nothing from history.
This grasping of the whole is obviously the aim of science as well, but it is a goal that necessarily lies very far off because science, whenever possible, proceeds experimentally and in all cases statistically. Experiment, however, consists in asking a definite question which excludes as far as possible anything disturbing and irrelevant. It makes conditions, imposes them on Nature, and in this way forces her to give an answer to a question devised by man. She is prevented from answering out of the fullness of her possibilities since these possibilities are restricted as far as practible. For this purpose there is created in the laboratory a situation which is artificially restricted to the question which compels Nature to give an unequivocal answer. The workings of Nature in her unrestricted wholeness are completely excluded. If we want to know what these workings are, we need a method of inquiry which imposes the fewest possible conditions, or if possible no conditions at all, and then leave Nature to answer out of her fullness.
My example concerns a young woman patient who, in spite of efforts made on both sides, proved to be psychologically inaccessible. The Difficulty lay in the fact that she always knew better about everything. Her excellent education had provided her with a weapon ideally suited to this purpose, namely a highly polished Cartesian rationalism with an impeccably "geometrical" idea of reality. After several fruitless attempts to sweeten her rationalism with a somewhat more human understanding, I had to confine myself to the hope that something unexpected and irrational would turn up, something that burst the intellectual retort into which she had sealed herself. Well, I was sitting opposite of her one day, with my back to the window, listening to her flow of rhetoric. She had an impressive dream the night before, in which someone had given her a golden scarab-a costly piece of jewellery. While she was still telling me this dream, I heard something behind me gently tapping on the window. I turned round and saw that it was a fairly large flying insect that was knocking against the window from outside in the obvious effort to get into the dark room. This seemed to me very strange. I opened the window and immediately and caught the insect in the air as it flew in. It was a scarabaeid beetle, or common rose-chafer, whose colden green color most nearly resembles that of a golden scarab. I handed the beetle to my patient with the words "Here is your scarab." This broke the ice of her intellectual resistance. The treatment could now be continued with satisfactory results.
Jung's autobiography, recorded and edited by Aniela Jaffé. (Pantheon Books, 1963)
Life has always seemed to me like a plant that lives on its rhizome. Its true life is invisible, hidden in the rhizome. The part that appears above ground lasts only a single summer. What we see is the blossom, which passes. The rhizome remains.

Closing lines of the preface.
I know every numbskull will babble on about "black man," "maneater," "chance," and "retrospective interpretation," in order to banish something terribly inconvenient that might sully the familiar picture of childhood innocence. Ah, these good, efficient, healthy-minded people, they always remind me of those optimistic tadpoles who bask in a puddle in the sun, in the shallowest of waters, crowding together and amiably wriggling their tails, totally unaware that the next morning the puddle will have dried up and left them stranded.

On a phallic dream he had as a young child. p. 14
Sometimes I had an overwhelming urge to speak, not about that, but only to hint that there were some curious things about me which no one knew of. I wanted to find out whether other people had undergone similar experiences. I never succeeded in discovering so much as a trace of them in others. As a result, I had the feeling that I was either outlawed or elect, accursed or blessed.
My interests drew me in different directions. On the one hand I was powerfully attracted by science, with its truths based on facts; on the other hand I was fascinated by everything to do with comparative religion. [...] In science I missed the factor of meaning; and in religion, that of empiricism.
As far as we can discern, the sole purpose of human existence is to kindle a light of meaning in the darkness of mere being.

p. 326 (this quote also appears in Watchmen by Alan Moore and Dave Gibbons, Chapter 9, p. 28)
C.G. Jung, M.-L. von Franz, Joseph L. Henderson, Jolande Jacobi, Aniela Jaffé (Aldus Books, 1964, ISBN 978-0440351832)
Because we cannot discover God's throne in the sky with a radiotelescope or establish (for certain) that a beloved father or mother is still about in a more or less corporeal form, people assume that such ideas are "not true." I would rather say that they are not "true" enough, for these are conceptions of a kind that have accompanied human life from prehistoric times, and that still break through into consciousness at any provocation.
Modern man may assert that he can dispense with them, and he may bolster his opinion by insisting that there is no scientific evidence of their truth. But since we are dealing with invisible and unknowable things (for God is beyond human understanding, and there is no mean of proving immortality), why should we bother with evidence?
Misattributed
Vocatus atque non vocatus, Deus aderit.

Called or uncalled, God is present.
This is actually a statement that Jung discovered among the Latin writings of Desiderius Erasmus, who declared the statement had been an ancient Spartan proverb. Jung popularized it, having it inscribed over the doorway of his house, and upon his tomb.
Variant translations:
Summoned or not summoned, God is present.
Invoked or not invoked, God is present
Called or not called, the god will be there.
Bidden or unbidden, God is present.
Bidden or not bidden, God is present.
Bidden or not, God is present.
Bidden or not bidden, God is there.
Called or uncalled, God is there.