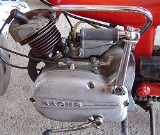 ZF Sachs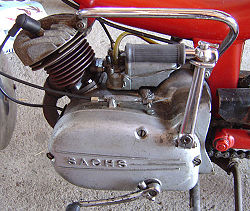 ZF Sachs AG
is a
German
Germany
Germany , officially the Federal Republic of Germany , is a federal parliamentary republic in Europe. The country consists of 16 states while the capital and largest city is Berlin. Germany covers an area of 357,021 km2 and has a largely temperate seasonal climate...
manufacturer of automotive parts, producing powertrain and suspension components. It was formerly known as
Fichtel & Sachs
,
Mannesmann Sachs
and
Sachs
. In the past the company also produced ball bearings, motorcycle engines, bicycle parts and via its subsidiary
Sachs Motorcycles
Sachs Motorcycles
Sachs Motorcycles is a German based motorcycle manufacturer, founded in 1886 in Schweinfurt as Schweinfurter Präzisions-Kugellagerwerke Fichtel & Sachs, formerly known as Fichtel & Sachs, Mannesmann Sachs and later just Sachs....
also
motorcycle
Motorcycle
A motorcycle is a single-track, two-wheeled motor vehicle. Motorcycles vary considerably depending on the task for which they are designed, such as long distance travel, navigating congested urban traffic, cruising, sport and racing, or off-road conditions.Motorcycles are one of the most...
s,
moped
Moped
Mopeds are a type of low-powered motorcycle designed to provide economical and relatively safe transport with minimal licensing requirements.Mopeds were once all equipped with bicycle-like pedals , but moped has been increasingly applied by governments to vehicles without pedals, based on their...
s, motorised bicycles and
all-terrain vehicle
All-terrain vehicle
An all-terrain vehicle , also known as a quad, quad bike, three wheeler, or four wheeler, is defined by the American National Standards Institute as a vehicle that travels on low pressure tires, with a seat that is straddled by the operator, along with handlebars for steering control...
s (ATVs).
History
On 1 August 1895, the
Schweinfurter Präzisions-Kugellagerwerke Fichtel & Sachs
General Partnership
General partnership
In the commercial and legal parlance of most countries, a general partnership or simply a partnership, refers to an association of persons or an unincorporated company with the following major features:...
(oHG) was founded in
Schweinfurt
Schweinfurt
Schweinfurt is a city in the Lower Franconia region of Bavaria in Germany on the right bank of the canalized Main, which is here spanned by several bridges, 27 km northeast of Würzburg.- History :...
by inventors Ernst Sachs and Karl Fichtel, to produce
ball bearing
Ball bearing
A ball bearing is a type of rolling-element bearing that uses balls to maintain the separation between the bearing races.The purpose of a ball bearing is to reduce rotational friction and support radial and axial loads. It achieves this by using at least two races to contain the balls and transmit...
s and bicycle hubs. In 1897, the company introduced the world's first freewheel.
By 1911, the year Fichtel died, the company had approximately 7,000 employees. In 1923, the oHG partnership was changed to a stock corporation, and the ball bearing division was sold to the
SKF
SKF
SKF, Svenska Kullagerfabriken AB , later AB SKF, is a Swedish bearing company founded in 1907, supplying bearings, seals, lubrication and lubrication systems, maintenance products, mechatronics products, power transmission products and related services globally.-History:The company was founded on...
, a
Swedish
Sweden
Sweden , officially the Kingdom of Sweden , is a Nordic country on the Scandinavian Peninsula in Northern Europe. Sweden borders with Norway and Finland and is connected to Denmark by a bridge-tunnel across the Öresund....
ball bearing corporation, with the condition that the production remain in Schweinfurt permanently.
From 1929 to 1996, F&S also produced motors, first for bicycles, and later for motorbikes, two-stroke snowmobiles, and small cars. In 1929, F&S started production of automobile components, mainly
clutch
Clutch
A clutch is a mechanical device which provides for the transmission of power from one component to another...
es and
shock absorber
Shock absorber
A shock absorber is a mechanical device designed to smooth out or damp shock impulse, and dissipate kinetic energy. It is a type of dashpot.-Nomenclature:...
s. Ernst Sachs died in 1932, and, in 1936, his son Willy Sachs donated the
Willy-Sachs-Stadion
sporting arena to the city of Schweinfurt. In 1987, the German Mannesmann AG acquired the majority of F&S stock, and, in 1997, F&S was renamed to
Mannesmann Sachs AG
.
In the early
1970s
1970s
File:1970s decade montage.png|From left, clockwise: US President Richard Nixon doing the V for Victory sign after his resignation from office after the Watergate scandal in 1974; Refugees aboard a US naval boat after the Fall of Saigon, leading to the end of the Vietnam War in 1975; The 1973 oil...
, Sachs produced the revolutionary Wankel
rotary engine
Rotary engine
The rotary engine was an early type of internal-combustion engine, usually designed with an odd number of cylinders per row in a radial configuration, in which the crankshaft remained stationary and the entire cylinder block rotated around it...
powered
Hercules motorcycle
Hercules (motorcycle)
Hercules was a brand of motorcycle manufactured in Germany until 1992.The Hercules Company was founded in 1886 and began producing motorcycles in 1904. It was merged with Zweirad Union after being purchased by ZF Sachs in 1963....
.
In 2001, Sachs was sold to
ZF Friedrichshafen AG
ZF Friedrichshafen
ZF Friedrichshafen AG, also known as ZF Group, and commonly abbreviated to ZF, is a German public company headquartered in Friedrichshafen, in the south-west German region of Baden-Württemberg....
, and renamed to
ZF Sachs AG
. The bicycle division was sold to a US-company, the
Chicago
Chicago
Chicago is the largest city in the US state of Illinois. With nearly 2.7 million residents, it is the most populous city in the Midwestern United States and the third most populous in the US, after New York City and Los Angeles...
-based
SRAM
SRAM (bicycles)
SRAM Corporation is a privately held bicycle component manufacturer based in Chicago, Illinois, founded in 1987. SRAM is an acronym comprising the names of its founders, Scott, Ray, and Sam, .In 2008, the company received a strategic investment from Trilantic Capital Partners, formerly known as...
corporation, leaving the Sachs division of ZF to focus on the production of
automobile
Automobile
An automobile, autocar, motor car or car is a wheeled motor vehicle used for transporting passengers, which also carries its own engine or motor...
components for
drivetrains
Powertrain
In a motor vehicle, the term powertrain or powerplant refers to the group of components that generate power and deliver it to the road surface, water, or air. This includes the engine, transmission, drive shafts, differentials, and the final drive...
and
chassis
Chassis
A chassis consists of an internal framework that supports a man-made object. It is analogous to an animal's skeleton. An example of a chassis is the underpart of a motor vehicle, consisting of the frame with the wheels and machinery.- Vehicles :In the case of vehicles, the term chassis means the...
. As of 2003, ZF Sachs AG had 16,511 employees in 19 countries, and a sales volume of 2.1 billion
euro
Euro
The euro is the official currency of the eurozone: 17 of the 27 member states of the European Union. It is also the currency used by the Institutions of the European Union. The eurozone consists of Austria, Belgium, Cyprus, Estonia, Finland, France, Germany, Greece, Ireland, Italy, Luxembourg,...
s.