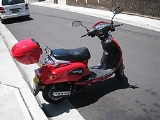 Sachs Motorcycles
Sachs Motorcycles
is a German based motorcycle manufacturer, founded in 1886 in
Schweinfurt
Schweinfurt
Schweinfurt is a city in the Lower Franconia region of Bavaria in Germany on the right bank of the canalized Main, which is here spanned by several bridges, 27 km northeast of Würzburg.- History :...
as
Schweinfurter Präzisions-Kugellagerwerke Fichtel & Sachs
, formerly known as
Fichtel & Sachs
,
Mannesmann Sachs
and later just
Sachs
.
It is one of the world's oldest motorcycle manufacturers (
Peugeot
Peugeot
Peugeot is a major French car brand, part of PSA Peugeot Citroën, the second largest carmaker based in Europe.The family business that precedes the current Peugeot company was founded in 1810, and manufactured coffee mills and bicycles. On 20 November 1858, Emile Peugeot applied for the lion...
the oldest extant, since 1898;
Triumph
Triumph
-Business:* Triumph , a defunct German motorcycle manufacturer* Triumph Cycle Co. Ltd., a British bicycle brand* Triumph Engineering Co Ltd, a defunct British motorcycle manufacturer* Triumph Group, an aerospace manufacturing and repair company...
produced bikes in 1902,
Harley-Davidson
Harley-Davidson
Harley-Davidson , often abbreviated H-D or Harley, is an American motorcycle manufacturer. Founded in Milwaukee, Wisconsin, during the first decade of the 20th century, it was one of two major American motorcycle manufacturers to survive the Great Depression...
in 1903 and
Husqvarna
Husqvarna
Husqvarna , originally a military arsenal founded in 1689 to produce muskets for the Swedish Army.The company Husqvarna has since grown, and its production has changed from weapons, sewing machines, kitchen equipment, bicycles and motorcycles to lawn mowers, chainsaws and construction products. The...
in 1903). The company produced ball bearings, motorcycle engines and bicycle parts. Sachs Motorcycles was a subsidiary producing
motorcycle
Motorcycle
A motorcycle is a single-track, two-wheeled motor vehicle. Motorcycles vary considerably depending on the task for which they are designed, such as long distance travel, navigating congested urban traffic, cruising, sport and racing, or off-road conditions.Motorcycles are one of the most...
s,
moped
Moped
Mopeds are a type of low-powered motorcycle designed to provide economical and relatively safe transport with minimal licensing requirements.Mopeds were once all equipped with bicycle-like pedals , but moped has been increasingly applied by governments to vehicles without pedals, based on their...
s, motorised bicycles and
all-terrain vehicle
All-terrain vehicle
An all-terrain vehicle , also known as a quad, quad bike, three wheeler, or four wheeler, is defined by the American National Standards Institute as a vehicle that travels on low pressure tires, with a seat that is straddled by the operator, along with handlebars for steering control...
s (ATVs). The manufaturing of motorcycles was broken out of Sachs into its own company and the mother company producing automotive parts was bought by ZF Friedrichshafen AG to form
ZF Sachs
ZF Sachs
ZF Sachs AG is a German manufacturer of automotive parts, producing powertrain and suspension components. It was formerly known as Fichtel & Sachs, Mannesmann Sachs and Sachs...
.
Sachs manufactured their first motorcycle in 1904. Sachs took over
Victoria
Victoria (motorcycle)
Victoria was a bicycle manufacturer in Nürnberg, Germany that made motorcycles from about 1901 until 1966. It should not be confused with a lesser-known, unrelated Victoria Motorcycle Company in Glasgow, Scotland that made motorcycles between 1902 and 1928....
,
Express
Express Werke AG
Express Werke AG was a company in Neumarkt in der Oberpfalz, Germany that manufactured bicycles and motorcycles. In the 1930s Express built mopeds and lightweight motorcycles with 75cc and 98cc Sachs engines. From 1949 the company resumed production using Sachs and ILO engines up to 248cc. In 1958...
and
DKW
DKW
DKW is a historic German car and motorcycle marque. The name derives from Dampf-Kraft-Wagen .In 1916, the Danish engineer Jørgen Skafte Rasmussen founded a factory in Zschopau, Saxony, Germany, to produce steam fittings. In the same year, he attempted to produce a steam-driven car, called the DKW...
in the 1960s. Fichtel & Sachs became a large maker of automotive parts and 2 or 3 geared moped motors used by many brands into the eighties. The company also began to supply motorcycles for the
German Federal Armed Forces
Bundeswehr
The Bundeswehr consists of the unified armed forces of Germany and their civil administration and procurement authorities...
in 1992.
After facing a series of financial problems, stemming from
pension
Pension
In general, a pension is an arrangement to provide people with an income when they are no longer earning a regular income from employment. Pensions should not be confused with severance pay; the former is paid in regular installments, while the latter is paid in one lump sum.The terms retirement...
s issues relating to the Hercules bicycle works, the company went into
insolvency
Insolvency
Insolvency means the inability to pay one's debts as they fall due. Usually used to refer to a business, insolvency refers to the inability of a company to pay off its debts.Business insolvency is defined in two different ways:...
proceedings and ultimately saw a successful management buyout led by the managing director Corrado Savazzi. At this time Sachs was reduced to local assembly of small, cheap, Chinese-sourced scooters, which weren't doing well. The distinctive
Sachs MadAss
Sachs MadAss
The Sachs MadAss is an underbone motorcycle available in a or made by German automotive company Sachs Motorcycles since 2000. The engine is based on the popular horizontal one cylinder originally used in Honda mopeds and small motorcycles from the late 1960s.It incorporates the fuel tank into...
was the only Sachs-engineered motorcycle made at the time.
The insolvency administrator Mr. Wolker Boehm was not only able to continue trading, but also put the company in a position to develop new models, such as the new XTC125, unveiled at the
Intermot
Intermot
INTERMOT Cologne is a biennial trade show for motorcycle manufacturers. The trade show began in Munich in 1998, though originally founded in Cologne. Since 2004 it has moved to koelnmesse in Cologne. The Intermot 2006 had over 1.000 exhibitors and some 187.000 visitors....
fair in Cologne, Germany in October 2006. In 2007 the company moved to new locations in Nürnberg / Katzwang and 2008 changed its name from
SACHS Fahrzeug- und Motorentechnik GmbH
to
SFM GmbH
. In 2010 it has become one of the market leaders in self-propelled electric bicycles and development of new motorcycle and scooter models has continued, taking the brand away from local assembly of cheap scooters under the crisis years to possibly rebuilding its own former identity strength.
Models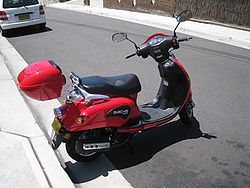 150KN (Sold in Australia as "Express")
B-805
Balboa
Bee 50 and Bee 125
Big Roadster V 3.8
Dirty Devil 50
MadAss

Sachs MadAss

The Sachs MadAss is an underbone motorcycle available in a or made by German automotive company Sachs Motorcycles since 2000. The engine is based on the popular horizontal one cylinder originally used in Honda mopeds and small motorcycles from the late 1960s.It incorporates the fuel tank into...



Prima
Prima G3
Roadster 650
Hercules

Hercules (motorcycle)

Hercules was a brand of motorcycle manufactured in Germany until 1992.The Hercules Company was founded in 1886 and began producing motorcycles in 1904. It was merged with Zweirad Union after being purchased by ZF Sachs in 1963....


125 cc
Roadster 800
Roadster V 1.6
Roadster 125 V2
Roadster 2000
Speedjet R 50 (Air cooled)
Speedjet RS 50 (Liquid cooled intr. 2010)
SR 125
SX-1
SX-1 (Urbano Limited Edition)
VS 125
Westlake
X Road
XTC 125
XTC-N
XTC-R
ZX 125
External links