 Wimperg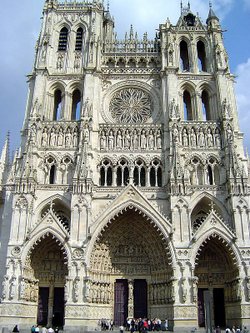 A
wimperg
is a German and Dutch word for a Gothic ornamental
gable
Gable
A gable is the generally triangular portion of a wall between the edges of a sloping roof. The shape of the gable and how it is detailed depends on the structural system being used and aesthetic concerns. Thus the type of roof enclosing the volume dictates the shape of the gable...
with
tracery
Tracery
In architecture, Tracery is the stonework elements that support the glass in a Gothic window. The term probably derives from the 'tracing floors' on which the complex patterns of late Gothic windows were laid out.-Plate tracery:...
over
window
Window
A window is a transparent or translucent opening in a wall or door that allows the passage of light and, if not closed or sealed, air and sound. Windows are usually glazed or covered in some other transparent or translucent material like float glass. Windows are held in place by frames, which...
s or
portal
Portal (architecture)
Portal is a general term describing an opening in the walls of a building, gate or fortification, and especially a grand entrance to an important structure. Doors, metal gates or portcullis in the opening can be used to control entry or exit. The surface surrounding the opening may be made of...
s, which were often accompanied with
pinnacle
Pinnacle
A pinnacle is an architectural ornament originally forming the cap or crown of a buttress or small turret, but afterwards used on parapets at the corners of towers and in many other situations. The pinnacle looks like a small spire...
s. It was a typical element in
Gothic Architecture
Gothic architecture
Gothic architecture is a style of architecture that flourished during the high and late medieval period. It evolved from Romanesque architecture and was succeeded by Renaissance architecture....
especially in cathedral architecture. Wimpergs often had
crocket
Crocket
A crocket is a hook-shaped decorative element common in Gothic architecture. It is in the form of a stylised carving of curled leaves, buds or flowers which is used at regular intervals to decorate the sloping edges of spires, finials, pinnacles, and wimpergs....
s or other decorative elements in the Gothic style. The intention behind the wimperg was the perception of increased height.
In the
Middle Ages
Middle Ages
The Middle Ages is a periodization of European history from the 5th century to the 15th century. The Middle Ages follows the fall of the Western Roman Empire in 476 and precedes the Early Modern Era. It is the middle period of a three-period division of Western history: Classic, Medieval and Modern...
the wimperg was applied rarely. The more common, rectangular (and generally very narrow) windows were
merlon
Merlon
In architecture, a merlon forms the solid part of an embattled parapet, sometimes pierced by embrasures. The space between two merlons is usually called a crenel, although those later designed and used for cannons were called embrasures.-Etymology:...
s—these used as defense against projectiles.