 Portal (architecture)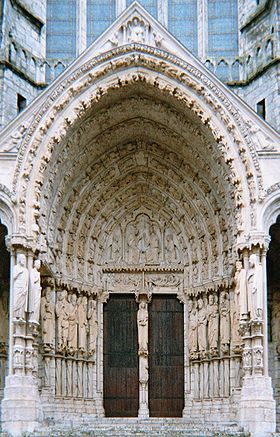 Portal
is a general term describing an opening in the walls of a building, gate or fortification, and especially a grand entrance to an important structure. Doors, metal gates or
portcullis
Portcullis
A portcullis is a latticed grille made of wood, metal, fibreglass or a combination of the three. Portcullises fortified the entrances to many medieval castles, acting as a last line of defence during time of attack or siege...
in the opening can be used to control entry or exit. The surface surrounding the opening may be made of simple building materials or decorated with
ornamentation
Ornament (architecture)
In architecture and decorative art, ornament is a decoration used to embellish parts of a building or object. Large figurative elements such as monumental sculpture and their equivalents in decorative art are excluded from the term; most ornament does not include human figures, and if present they...
. The elements of a portal can include the
voussoir
Voussoir
A voussoir is a wedge-shaped element, typically a stone, used in building an arch or vault.Although each unit in an arch or vault is a voussoir, two units are of distinct functional importance: the keystone and the springer. The keystone is the center stone or masonry unit at the apex of an arch. A...
,
tympanum
Tympanum (architecture)
In architecture, a tympanum is the semi-circular or triangular decorative wall surface over an entrance, bounded by a lintel and arch. It often contains sculpture or other imagery or ornaments. Most architectural styles include this element....
, an ornamented
mullion
Mullion
A mullion is a vertical structural element which divides adjacent window units. The primary purpose of the mullion is as a structural support to an arch or lintel above the window opening. Its secondary purpose may be as a rigid support to the glazing of the window...
or
trumeau
between doors, and
column
Column
A column or pillar in architecture and structural engineering is a vertical structural element that transmits, through compression, the weight of the structure above to other structural elements below. For the purpose of wind or earthquake engineering, columns may be designed to resist lateral forces...
s with carvings of saints in the
westwork
Westwork
A westwork is the monumental, west-facing entrance section of a Carolingian, Ottonian, or Romanesque church. The exterior consists of multiple stories between two towers. The interior includes an entrance vestibule, a chapel, and a series of galleries overlooking the nave...
of a church.