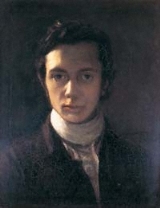 William Hazlitt
William Hazlitt
was an English
writer
Writer
A writer is a person who produces literature, such as novels, short stories, plays, screenplays, poetry, or other literary art. Skilled writers are able to use language to portray ideas and images....
, remembered for his humanistic
essay
Essay
An essay is a piece of writing which is often written from an author's personal point of view. Essays can consist of a number of elements, including: literary criticism, political manifestos, learned arguments, observations of daily life, recollections, and reflections of the author. The definition...
s and
literary criticism
Literary criticism
Literary criticism is the study, evaluation, and interpretation of literature. Modern literary criticism is often informed by literary theory, which is the philosophical discussion of its methods and goals...
, and as a grammarian and philosopher. He is now considered one of the great critics and essayists of the
English language
English language
English is a West Germanic language that arose in the Anglo-Saxon kingdoms of England and spread into what was to become south-east Scotland under the influence of the Anglian medieval kingdom of Northumbria...
, placed in the company of
Samuel Johnson
Samuel Johnson
Samuel Johnson , often referred to as Dr. Johnson, was an English author who made lasting contributions to English literature as a poet, essayist, moralist, literary critic, biographer, editor and lexicographer...
and
George Orwell
George Orwell
Eric Arthur Blair , better known by his pen name George Orwell, was an English author and journalist...
. Yet his work is currently little read and mostly out of print. During his lifetime he befriended many people who are now part of the 19th-century literary canon, including Charles and
Mary Lamb
Mary Lamb
Mary Ann Lamb , was an English writer, the sister and collaborator of Charles Lamb.-Biography:She was born on 3 December 1764. In 1796, Mary, who had suffered a breakdown from the strain of caring for her family, killed her mother with a kitchen knife, and from then on had to be kept under constant...
,
Stendhal
Stendhal
Marie-Henri Beyle , better known by his pen name Stendhal, was a 19th-century French writer. Known for his acute analysis of his characters' psychology, he is considered one of the earliest and foremost practitioners of realism in his two novels Le Rouge et le Noir and La Chartreuse de Parme...
,
Samuel Taylor Coleridge
Samuel Taylor Coleridge
Samuel Taylor Coleridge was an English poet, Romantic, literary critic and philosopher who, with his friend William Wordsworth, was a founder of the Romantic Movement in England and a member of the Lake Poets. He is probably best known for his poems The Rime of the Ancient Mariner and Kubla...
, and
William Wordsworth
William Wordsworth
William Wordsworth was a major English Romantic poet who, with Samuel Taylor Coleridge, helped to launch the Romantic Age in English literature with the 1798 joint publication Lyrical Ballads....
.
Hazlitt's father
William Hazlitt (Unitarian minister)
William Hazlitt was a Unitarian minister and author, and the father of the writer of the same name. He was an important figure in eighteenth-century English dissent, and had a major influence on his son's work.- Biography :...
's family were
Irish
Ireland
Ireland is an island to the northwest of continental Europe. It is the third-largest island in Europe and the twentieth-largest island on Earth...
Protestants who moved from the county of
Antrim
County Antrim
County Antrim is one of six counties that form Northern Ireland, situated in the north-east of the island of Ireland. Adjoined to the north-east shore of Lough Neagh, the county covers an area of 2,844 km², with a population of approximately 616,000...
to
Tipperary
Tipperary
Tipperary is a town and a civil parish in South Tipperary in Ireland. Its population was 4,415 at the 2006 census. It is also an ecclesiastical parish in the Roman Catholic Archdiocese of Cashel and Emly, and is in the historical barony of Clanwilliam....
in the early 18th century.
We do not see nature with our eyes, but with our understandings and our hearts.

"Thoughts on Taste," Edinburgh Magazine, (October 1818), reprinted in The Collected Works of William Hazlitt (1902-1904)
Look up, laugh loud, talk big, keep the colour in your cheek and the fire in your eye, adorn your person, maintain your health, your beauty, and your animal spirits, and you will pass for a fine man.

"On The Conduct of Life" (1822)
You know more of a road by having travelled it then by all the conjectures and descriptions in the world.

"On The Conduct of Life" (1822)
The art of life is to know how to enjoy a little and to endure much.

"Common Places," No. 1, The Literary Examiner (September - December 1823), reprinted in The Collected Works of William Hazlitt (1902-1904)
A scholar is like a book written in a dead language - it is not every one that can read in it.

"Common Places," No. 13, The Literary Examiner (September - December 1823)
I hate to be near the sea, and to hear it roaring and raging like a wild beast in its den. It puts me in mind of the everlasting efforts of the human mind, struggling to be free, and ending just where it began.

"Common Places," No. 60, The Literary Examiner (September - December 1823)
Mankind are an incorrigible race. Give them but bugbears and idols — it is all that they ask; the distinctions of right and wrong, of truth and falsehood, of good and evil, are worse than indifferent to them.

"Common Places," No. 76, The Literary Examiner (September - December 1823)
Man is a make-believe animal — he is never so truly himself as when he is acting a part.

Notes of a Journey through France and Italy (1824), ch. XVI