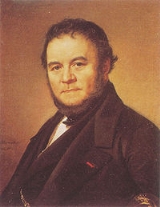 Stendhal
Marie-Henri Beyle
better known by his
pen name
Pen name
A pen name, nom de plume, or literary double, is a pseudonym adopted by an author. A pen name may be used to make the author's name more distinctive, to disguise his or her gender, to distance an author from some or all of his or her works, to protect the author from retribution for his or her...
Stendhal
, was a 19th-century French writer. Known for his acute analysis of his characters' psychology, he is considered one of the earliest and foremost practitioners of
realism
Realism (arts)
Realism in the visual arts and literature refers to the general attempt to depict subjects "in accordance with secular, empirical rules", as they are considered to exist in third person objective reality, without embellishment or interpretation...
in his two novels
Le Rouge et le Noir
(
The Red and the Black
The Red and the Black
Le Rouge et le Noir , 1830, by Stendhal, is a historical psychological novel in two volumes, chronicling a provincial young man's attempts to socially rise beyond his plebeian upbringing with a combination of talent and hard work, deception and hypocrisy — yet who ultimately allows his passions to...
, 1830) and
La Chartreuse de Parme
(
The Charterhouse of Parma
The Charterhouse of Parma
The Charterhouse of Parma is a novel published in 1839 by Stendhal.-Plot summary:The Charterhouse of Parma tells the story of the young Italian nobleman Fabrice del Dongo and his adventures from his birth in 1798 to his death...
, 1839).
Born in
Grenoble
Grenoble
Grenoble is a city in southeastern France, at the foot of the French Alps where the river Drac joins the Isère. Located in the Rhône-Alpes region, Grenoble is the capital of the department of Isère...
,
Isère
Isère
Isère is a department in the Rhône-Alpes region in the east of France named after the river Isère.- History :Isère is one of the original 83 departments created during the French Revolution on March 4, 1790. It was created from part of the former province of Dauphiné...
, he had an unhappy childhood in what he found to be stifling provincial France, disliking his "unimaginative" father and mourning his mother, who had died when he was young.
Je ne vois qu'une règle: être clair. Si je ne suis pas clair, tout mon monde est anéanti.

I see but one rule: to be clear. If I am not clear, all my world crumbles to nothing.
Le même esprit ne dure que deux cents ans.

Wit lasts no more than two centuries.
Ce sera la noblesse de leur style qui, dans quarante ans, rendra illisibles nos écrivains de 1840.

It is the nobility of their style which will make our writers of 1840 unreadable forty years from now.
L'amour a toujours été pour moi la plus grande des affaires ou plutôt la seule.

Love has always been the most important business in my life; I should say the only one.
I call "crystallization" that action of the mind that discovers fresh perfections in its beloved at every turn of events.

Ch. 1
The great majority of men, especially in France, both desire and possess a fashionable woman, much in the way one might own a fine horse—as a luxury befitting a young man.

Ch. 1
In love, unlike most other passions, the recollection of what you have had and lost is always better than what you can hope for in the future.

Ch. 1
Beauty is nothing other than the promise of happiness.

Ch. 17, footnote
A wise woman never yields by appointment. It should always be an unforeseen happiness.

Ch. 60