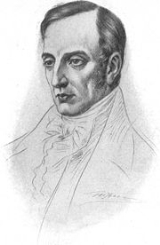 William Wordsworth
William Wordsworth
was a major English
Romantic
Romantic poetry
Romanticism, a philosophical, literary, artistic and cultural era which began in the mid/late-1700s as a reaction against the prevailing Enlightenment ideals of the day , also influenced poetry...
poet who, with
Samuel Taylor Coleridge
Samuel Taylor Coleridge
Samuel Taylor Coleridge was an English poet, Romantic, literary critic and philosopher who, with his friend William Wordsworth, was a founder of the Romantic Movement in England and a member of the Lake Poets. He is probably best known for his poems The Rime of the Ancient Mariner and Kubla...
, helped to launch the
Romantic Age
Romanticism
Romanticism was an artistic, literary and intellectual movement that originated in the second half of the 18th century in Europe, and gained strength in reaction to the Industrial Revolution...
in
English literature
English literature
English literature is the literature written in the English language, including literature composed in English by writers not necessarily from England; for example, Robert Burns was Scottish, James Joyce was Irish, Joseph Conrad was Polish, Dylan Thomas was Welsh, Edgar Allan Poe was American, J....
with the 1798 joint publication
Lyrical Ballads

Lyrical Ballads

Lyrical Ballads, with a Few Other Poems is a collection of poems by William Wordsworth and Samuel Taylor Coleridge, first published in 1798 and generally considered to have marked the beginning of the English Romantic movement in literature...


.
Wordsworth's
magnum opus
Masterpiece
Masterpiece in modern usage refers to a creation that has been given much critical praise, especially one that is considered the greatest work of a person's career or to a work of outstanding creativity, skill or workmanship....
is generally considered to be
The Prelude

The Prelude

The Prelude; or, Growth of a Poet's Mind is an autobiographical, "philosophical" poem in blank verse by the English poet William Wordsworth. Wordsworth wrote the first version of the poem when he was 28, and worked over the rest of it for his long life without publishing it...


,
a semiautobiographical poem of his early years which he revised and expanded a number of times. It was posthumously titled and published, prior to which it was generally known as the poem "to Coleridge".
And homeless near a thousand homes I stood,And near a thousand tables pined and wanted food.

Guilt and Sorrow, st. 41 (1791-1794)
There's something in a flying horse,There's something in a huge balloon;But through the clouds I'll never floatUntil I have a little Boat,Shaped like the crescent-moon.

Peter Bell, Prologue, st. 1 (1798)
A primrose by a river's brimA yellow primrose was to him,And it was nothing more.

Peter Bell, Pt. I, st. 12 (1798)
I traveled among unknown men,In lands beyond the sea;Nor, England! did I know till thenWhat love I bore to thee.

I Traveled Among Unknown Men, st. 1 (1799)
Much converse do I find in thee,Historian of my infancy!Float near me; do not yet depart!Dead times revive in thee:Thou bring'st, gay creature as thou art!A solemn image to my heart.

To a Butterfly (Stay Near Me), st. 1 (1801)
Behold, within the leafy shade,Those bright blue eggs together laid!On me the chance-discovered sightGleamed like a vision of delight.

The Sparrow's Nest, st. 1 (1801)
She gave me eyes, she gave me ears;And humble cares,and delicate fears;A heart, the fountain of sweet tears;And love, and thought, and joy.

The Sparrow's Nest, st. 2 (1801)
Sweet childish days, that were as longAs twenty days are now.

To a Butterfly (I've Watched You Now a Full Half-Hour), st. 2 (1801)
Like an army defeatedThe snow hath retreated,And now doth fare illOn the top of the bare hill;The Ploughboy is whooping— anon— anon!There's joy in the mountains:There's life in the fountains;Small clouds are sailing,Blue sky prevailing;The rain is over and gone.

Written in March, st. 2 (1801)