 Wattle and daub
Wattle and daub
is a
composite
Composite material
Composite materials, often shortened to composites or called composition materials, are engineered or naturally occurring materials made from two or more constituent materials with significantly different physical or chemical properties which remain separate and distinct at the macroscopic or...
building material
Building material
Building material is any material which is used for a construction purpose. Many naturally occurring substances, such as clay, sand, wood and rocks, even twigs and leaves have been used to construct buildings. Apart from naturally occurring materials, many man-made products are in use, some more...
used for making walls, in which a woven lattice of wooden strips called
wattle
is
daubed
with a sticky material usually made of some combination of wet
soil
Soil
Soil is a natural body consisting of layers of mineral constituents of variable thicknesses, which differ from the parent materials in their morphological, physical, chemical, and mineralogical characteristics...
,
clay
Clay
Clay is a general term including many combinations of one or more clay minerals with traces of metal oxides and organic matter. Geologic clay deposits are mostly composed of phyllosilicate minerals containing variable amounts of water trapped in the mineral structure.- Formation :Clay minerals...
,
sand
Sand
Sand is a naturally occurring granular material composed of finely divided rock and mineral particles.The composition of sand is highly variable, depending on the local rock sources and conditions, but the most common constituent of sand in inland continental settings and non-tropical coastal...
,
animal dung
Feces
Feces, faeces, or fæces is a waste product from an animal's digestive tract expelled through the anus or cloaca during defecation.-Etymology:...
and straw. Wattle and daub has been used for at least 6,000 years, and is still an important construction material in many parts of the world. Many historic buildings include wattle and daub construction, and the technique is becoming popular again in more developed areas as a low-impact sustainable building technique.
Construction
The wattle is made by weaving thin branches (either whole, or more usually split) or slats between upright stakes. The wattle may be made as loose panels, slotted between
timber framing
Timber framing
Timber framing , or half-timbering, also called in North America "post-and-beam" construction, is the method of creating structures using heavy squared off and carefully fitted and joined timbers with joints secured by large wooden pegs . It is commonplace in large barns...
to make infill panels, or it may be made in place to form the whole of a wall.
Daub is generally created from a mixture of certain ingredients from three categories: binders, aggregates and reinforcement. Binders hold the mix together and can include clay, lime, chalk dust and limestone dust. Aggregates give the mix its bulk and dimensional stability through materials such as earth, sand, crushed chalk and crushed stone. Reinforcement is provided by straw, hair, hay or other fibrous materials, and helps to hold the mix together as well as to control shrinkage and provide flexibility. The daub may be mixed by hand, or by treading – either by humans or
livestock
Livestock
Livestock refers to one or more domesticated animals raised in an agricultural setting to produce commodities such as food, fiber and labor. The term "livestock" as used in this article does not include poultry or farmed fish; however the inclusion of these, especially poultry, within the meaning...
. It is then applied to the wattle and allowed to dry, and often then
whitewash
Whitewash
Whitewash, or calcimine, kalsomine, calsomine, or lime paint is a very low-cost type of paint made from slaked lime and chalk . Various other additives are also used...
ed to increase its resistance to rain.
This process is similar in modern
architecture
Architecture
Architecture is both the process and product of planning, designing and construction. Architectural works, in the material form of buildings, are often perceived as cultural and political symbols and as works of art...
to
lath and plaster
Lath and plaster
Lath and plaster is a building process used mainly for interior walls in Canada and the United States until the late 1950s. After the 1950s, drywall began to replace the lath and plaster process in the United States. In the United Kingdom, lath and plaster was used for some interior partition...
, a common building material for wall and ceiling surfaces, in which a series of nailed wooden strips are covered with
plaster
Plaster
Plaster is a building material used for coating walls and ceilings. Plaster starts as a dry powder similar to mortar or cement and like those materials it is mixed with water to form a paste which liberates heat and then hardens. Unlike mortar and cement, plaster remains quite soft after setting,...
smoothed into a flat surface. In some regions this building method has itself been overtaken by
drywall
Drywall
Drywall, also known as plasterboard, wallboard or gypsum board is a panel made of gypsum plaster pressed between two thick sheets of paper...
construction using plasterboard sheets.
History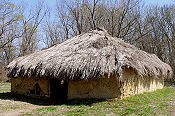 The wattle and daub technique was used already in the
Neolithic
Neolithic
The Neolithic Age, Era, or Period, or New Stone Age, was a period in the development of human technology, beginning about 9500 BC in some parts of the Middle East, and later in other parts of the world. It is traditionally considered as the last part of the Stone Age...
. It was common for houses of the Linearbandkeramic and Rössen cultures of Central Europe, but is also found in Western Asia (
Çatalhöyük
Çatalhöyük
Çatalhöyük was a very large Neolithic and Chalcolithic settlement in southern Anatolia, which existed from approximately 7500 BCE to 5700 BCE...
,
Shillourokambos
Shillourokambos
Shillourokambos is an aceramic Neolithic site near Parekklisha, 6 km east of Limassol in southern Cyprus. It is located on a low plateau. Excavations began in 1992...
) as well as in North America (
Mississippian Culture
Mississippian culture
The Mississippian culture was a mound-building Native American culture that flourished in what is now the Midwestern, Eastern, and Southeastern United States from approximately 800 CE to 1500 CE, varying regionally....
) and South America (
Brazil
Brazil
Brazil , officially the Federative Republic of Brazil , is the largest country in South America. It is the world's fifth largest country, both by geographical area and by population with over 192 million people...
). Its usage dates back at least 6000 years. There are suggestions that construction techniques such as
lath and plaster
Lath and plaster
Lath and plaster is a building process used mainly for interior walls in Canada and the United States until the late 1950s. After the 1950s, drywall began to replace the lath and plaster process in the United States. In the United Kingdom, lath and plaster was used for some interior partition...
and even cob may have evolved from the practicality of wattle and daub. Fragments from prehistoric wattle and daub buildings have been found in Africa, Europe, Mesoamerica and North America. A review of English architecture especially reveals that the sophistication of this craft is dependent on the various styles of timber frame housing.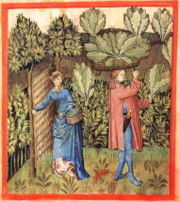 Styles of panels
As discussed earlier there were two popular choices for wattle and daub paneling: square paneling and close-studded paneling.
Close-studding
Close-studding panels create a much more narrow space between the timbers; anywhere from seven to sixteen inches. For this style of panel weaving becomes too difficult so the wattles run horizontally and are known as ledgers. The ledgers are sprung into each upright timber (stud) through a system of augured holes on one side and short chiseled groves along the other. The holes (along with holes of square paneling) are drilled at a slight angle towards the outer face of each stud. This allows room for upright hazels to be tied to ledgers from the inside of the building. The horizontal ledgers are placed every two to three feet with whole hazel rods positioned upright top to bottom and lashed to the ledgers. These hazel rods are generally tied a finger widths apart with 6-8 rods to each 16 inch width. Gaps allow key formation for drying.
Square panels
Square panels are large, wide panels typical of some later timber frame houses. They have a square shape although sometimes they are triangular to accommodate arched or decorative bracing. This style does require wattles to be woven for better support of the daub.
To insert wattles in a square panel several steps are required. First, a series of evenly spaced holes are drilled along the middle of the inner face of each upper timber. Next, a continuous groove is cut along the middle of each inner face of the lower timber in each panel. Vertical slender timbers, known as staves, are then inserted and these hold the whole panel within the timber frame. The staves are positioned into the holes and then sprung into the grooves. They must be placed with sufficient gaps to weave the flexible horizontal wattles (Sunshine, 2006).
Acacias
The origin of the term 'wattle' as a term describing a group of
acacia
Acacia
Acacia is a genus of shrubs and trees belonging to the subfamily Mimosoideae of the family Fabaceae, first described in Africa by the Swedish botanist Carl Linnaeus in 1773. Many non-Australian species tend to be thorny, whereas the majority of Australian acacias are not...
s in Australia, is from the term "wattling". In early Australian European settlement the acacias were commonly used in wattling, and the name became shortened to wattle.
Pug and pine (or pine and pug)
In the early days of
South Australia
South Australia
South Australia is a state of Australia in the southern central part of the country. It covers some of the most arid parts of the continent; with a total land area of , it is the fourth largest of Australia's six states and two territories.South Australia shares borders with all of the mainland...
, in areas where substantial timber was unavailable, pioneers' cottages and other small buildings were frequently constructed with light vertical timbers, which may have been "native pine" (
Callitris
Callitris
Callitris is a genus of coniferous trees in the Cupressaceae . There are 15 species in the genus, of which 13 are native to Australia and the other two native to New Caledonia. Traditionally the most widely used common name is cypress-pine, a name shared by the closely related genus Actinostrobus...
or
Casuarina
Casuarina
Casuarina is a genus of 17 species in the family Casuarinaceae, native to Australasia, southeast Asia, and islands of the western Pacific Ocean. It was once treated as the sole genus in the family, but has been split into three genera .They are evergreen shrubs and trees growing to 35 m tall...
spp.), driven into the ground, the gaps being stopped with "pug" (kneaded clay and grass mixture). Another term for this construction is "palisade and pug".
See also
Lath and plaster

Lath and plaster

Lath and plaster is a building process used mainly for interior walls in Canada and the United States until the late 1950s. After the 1950s, drywall began to replace the lath and plaster process in the United States. In the United Kingdom, lath and plaster was used for some interior partition...



Quincha

Quincha

Quincha is a traditional construction system that uses, fundamentally, wood and cane or giant reed forming an earthquake-proof framework that is covered in mud and plaster....



Mudbrick

Mudbrick

A mudbrick is a firefree brick, made of a mixture of clay, mud, sand, and water mixed with a binding material such as rice husks or straw. They use a stiff mixture and let them dry in the sun for 25 days....



Adobe

Adobe

Adobe is a natural building material made from sand, clay, water, and some kind of fibrous or organic material , which the builders shape into bricks using frames and dry in the sun. Adobe buildings are similar to cob and mudbrick buildings. Adobe structures are extremely durable, and account for...



Cob (building)

Cob (building)

Cob or cobb or clom is a building material consisting of clay, sand, straw, water, and earth, similar to adobe. Cob is fireproof, resistant to seismic activity, and inexpensive...



Rammed earth

Rammed earth

Rammed earth, also known as taipa , tapial , and pisé , is a technique for building walls using the raw materials of earth, chalk, lime and gravel. It is an ancient building method that has seen a revival in recent years as people seek more sustainable building materials and natural building methods...



Timber frame
Ceramic Houses

Ceramic houses

Ceramic houses are buildings made of an earth mixture which is high in clay, and fired to become ceramic. The process of building and firing such houses was developed by Iranian architect, Nader Khalili, in the late 1970s. he named it Geltaftan; "Gel", means "clay", and "taftan", means "firing,...