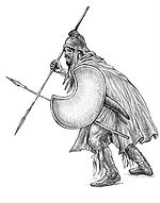 Warrior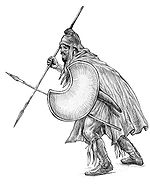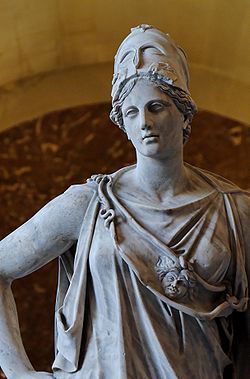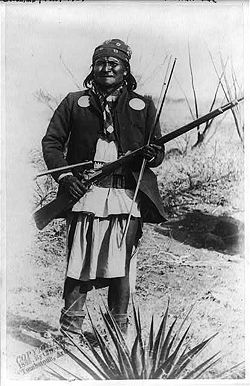 A
warrior
is a person skilled in
combat
Combat
Combat, or fighting, is a purposeful violent conflict meant to establish dominance over the opposition, or to terminate the opposition forever, or drive the opposition away from a location where it is not wanted or needed....
or
war
War
War is a state of organized, armed, and often prolonged conflict carried on between states, nations, or other parties typified by extreme aggression, social disruption, and usually high mortality. War should be understood as an actual, intentional and widespread armed conflict between political...
fare, especially within the context of a tribal or
clan
Clan
A clan is a group of people united by actual or perceived kinship and descent. Even if lineage details are unknown, clan members may be organized around a founding member or apical ancestor. The kinship-based bonds may be symbolical, whereby the clan shares a "stipulated" common ancestor that is a...
-based society that recognizes a separate
warrior class
.
Warrior classes in tribal culture
In
tribal
Tribe
A tribe, viewed historically or developmentally, consists of a social group existing before the development of, or outside of, states.Many anthropologists use the term tribal society to refer to societies organized largely on the basis of kinship, especially corporate descent groups .Some theorists...
societies engaging in
endemic warfare
Endemic warfare
Endemic warfare is the state of continual, low-threshold warfare in a tribal warrior society. Endemic warfare is often highly ritualized and plays an important function in assisting the formation of a social structure among the tribes' men by proving themselves in battle.Ritual fighting permits...
, warriors often form a
caste
Caste
Caste is an elaborate and complex social system that combines elements of endogamy, occupation, culture, social class, tribal affiliation and political power. It should not be confused with race or social class, e.g. members of different castes in one society may belong to the same race, as in India...
or class of their own. In
feudalism
Feudalism
Feudalism was a set of legal and military customs in medieval Europe that flourished between the 9th and 15th centuries, which, broadly defined, was a system for ordering society around relationships derived from the holding of land in exchange for service or labour.Although derived from the...
, the vassals essentially form a military or warrior class, even if in actual warfare, peasants may be called to fight as well. In some societies, warfare may be so central that the entire people (or, more often, large parts of the male population) may be considered warriors, for example in the Iron Age Germanic tribes and Arab tribes the Medieval
Rajput
Rajput
A Rajput is a member of one of the patrilineal clans of western, central, northern India and in some parts of Pakistan. Rajputs are descendants of one of the major ruling warrior classes in the Indian subcontinent, particularly North India...
and Sikhs.
Women as warriors
While the warrior class in tribal societies is typically all-male, there are some exceptions on record where women (typically unmarried, young women) formed part of the warrior class.
A purported group of fighting women is the legend of the
Amazons
Amazons
The Amazons are a nation of all-female warriors in Greek mythology and Classical antiquity. Herodotus placed them in a region bordering Scythia in Sarmatia...
, recorded in Classical Greek mythology.
Military castes in feudal society
The military caste in a feudal society is evolved from, but not identical with the warrior class in a tribal society.
Many pre-modern and states had castes, estates or social groups dedicated to warfare.
This includes the Khalsa and
kshatriya
Kshatriya
*For the Bollywood film of the same name see Kshatriya Kshatriya or Kashtriya, meaning warrior, is one of the four varnas in Hinduism...
caste in modern and ancient India, the
samurai
Samurai
is the term for the military nobility of pre-industrial Japan. According to translator William Scott Wilson: "In Chinese, the character 侍 was originally a verb meaning to wait upon or accompany a person in the upper ranks of society, and this is also true of the original term in Japanese, saburau...
class in feudal Japan, and
nobility
Nobility
Nobility is a social class which possesses more acknowledged privileges or eminence than members of most other classes in a society, membership therein typically being hereditary. The privileges associated with nobility may constitute substantial advantages over or relative to non-nobles, or may be...
(especially knighthood) in feudal Europe.
Behavioral codes
In many societies in which a specialized warrior class exists, specific codes of conduct (
ethical code
Ethical code
An ethical code is adopted by an organization in an attempt to assist those in the organization called upon to make a decision understand the difference between 'right' and 'wrong' and to apply this understanding to their decision...
s) are established to ensure that the warrior class is not
corrupted
Political corruption
Political corruption is the use of legislated powers by government officials for illegitimate private gain. Misuse of government power for other purposes, such as repression of political opponents and general police brutality, is not considered political corruption. Neither are illegal acts by...
or otherwise dangerous to the rest of society. Common features include valuing
honour
Honour
Honour or honor is an abstract concept entailing a perceived quality of worthiness and respectability that affects both the social standing and the self-evaluation of an individual or corporate body such as a family, school, regiment or nation...
in the forms of
faith
Faith
Faith is confidence or trust in a person or thing, or a belief that is not based on proof. In religion, faith is a belief in a transcendent reality, a religious teacher, a set of teachings or a Supreme Being. Generally speaking, it is offered as a means by which the truth of the proposition,...
,
loyalty
Loyalty
Loyalty is faithfulness or a devotion to a person, country, group, or cause There are many aspects to...
and
courage
Courage
Courage is the ability to confront fear, pain, danger, uncertainty, or intimidation...
.
Examples include the following:
Warriors' honour is dependent on following the code. Common
virtue
Virtue
Virtue is moral excellence. A virtue is a positive trait or quality subjectively deemed to be morally excellent and thus is valued as a foundation of principle and good moral being....
s in warrior codes are
mercy
Mercy
Mercy is broad term that refers to benevolence, forgiveness and kindness in a variety of ethical, religious, social and legal contexts.The concept of a "Merciful God" appears in various religions from Christianity to...
,
courage
Courage
Courage is the ability to confront fear, pain, danger, uncertainty, or intimidation...
and
loyalty
Loyalty
Loyalty is faithfulness or a devotion to a person, country, group, or cause There are many aspects to...
.
Modern warfare
With the end of the Middle Ages and the professional standing armies of Early Modern warfare, the concept of a "warrior class" or "military caste" became an anachronism. The term "warrior" is still sometimes used, anachronistically, to refer to professional
soldier
Soldier
A soldier is a member of the land component of national armed forces; whereas a soldier hired for service in a foreign army would be termed a mercenary...
s or
mercenaries
Mercenary
A mercenary, is a person who takes part in an armed conflict based on the promise of material compensation rather than having a direct interest in, or a legal obligation to, the conflict itself. A non-conscript professional member of a regular army is not considered to be a mercenary although he...
.
Due to the heroic connotations of the term "warrior", this metaphor is especially popular in publications advocating or recruiting for a country's military.
Figurative use
In addition to the literal meaning, now mostly historical, the term has acquired a
figurative sense
Literal and figurative language
Literal and figurative language is a distinction in traditional systems for analyzing language. Literal language refers to words that do not deviate from their defined meaning. Figurative language refers to words, and groups of words, that exaggerate or alter the usual meanings of the component...
referring to "a person who shows or has shown great vigor, courage, or aggressiveness, as in politics or athletics."
The "warrior" metaphor in sports is particularly popular in
combat sport
Combat sport
A Combat sport, also known as a Fighting sport, is a competitive contact sport where two combatants fight against each other using certain rules of engagement , typically with the aim of simulating parts of real hand to hand combat...
, as evident from brand names such as
Warrior-1 MMA
Warrior-1 MMA
Warrior One MMA is a Canadian mixed martial arts promotion based in Toronto, Ontario but hosting its events in Quebec. W-1 is known for attracting veterans such as Marcus Davis, Jason MacDonald and Denis Kang.-Rounds:...
,
Cage Warriors
Cage Warriors
Cage Warriors Fighting Championship or CWFC is a mixed martial arts promotion, based in London, England. Cage Warriors was established in 2001 and staged its first MMA event in London in July, 2002. Warrior Promotions, the organisation behind CWFC, is a UK management agency for MMA fighters...
, Supreme Warrior Championship, etc. The company
Warrior Roots
Warrior roots
Warrior Roots is a commercial genetic genealogy and sports company based in Kensington, Maryland. Warrior Roots offers analysis of YDNA for genealogical purposes based on DNA samples collected using a cheek swab method with a kit supplied by Warrior Roots to its customers...
combines the martial arts metaphor with the connotation of antiquity and tribal heritage by offering to test clients' "ancient ancestral roots" (i.e. their Y-Chromosome DNA) as well as their "genetic tendencies for various athletic characteristics".
Spiritual warrior
A
spiritual warrior
Spiritual warrior
A spiritual warrior is a person who bravely battles with the universal enemy, self-ignorance , the ultimate source of suffering according to dharmic philosophies. The term is applied in religious and metaphysical writing. There are self-described spiritual warriors. The spiritual warrior can be...
is a person who bravely battles with the universal enemy, self-ignorance (
avidya
Avidya (Buddhism)
Avidyā or avijjā means "ignorance" or "delusion" and is the opposite of 'vidyā' and 'rig pa'...
), the ultimate source of suffering according to dharmic philosophies. The term is applied in religious and metaphysical writing. There are self-described spiritual warriors. The spiritual warrior can be described as an
archetype
Archetype
An archetype is a universally understood symbol or term or pattern of behavior, a prototype upon which others are copied, patterned, or emulated...
character on a journey for self discovery to benefit others.