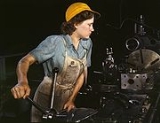 War effort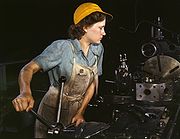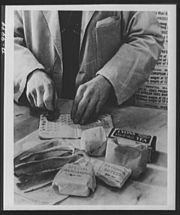 In
politics
Politics
Politics is a process by which groups of people make collective decisions. The term is generally applied to the art or science of running governmental or state affairs, including behavior within civil governments, but also applies to institutions, fields, and special interest groups such as the...
and military planning, a
war effort
refers to a coordinated
mobilization
Mobilization
Mobilization is the act of assembling and making both troops and supplies ready for war. The word mobilization was first used, in a military context, in order to describe the preparation of the Prussian army during the 1850s and 1860s. Mobilization theories and techniques have continuously changed...
of
society's
Society
A society, or a human society, is a group of people related to each other through persistent relations, or a large social grouping sharing the same geographical or virtual territory, subject to the same political authority and dominant cultural expectations...
resources—both industrial and
human
Human resources
Human resources is a term used to describe the individuals who make up the workforce of an organization, although it is also applied in labor economics to, for example, business sectors or even whole nations...
—towards the support of a
military
Military
A military is an organization authorized by its greater society to use lethal force, usually including use of weapons, in defending its country by combating actual or perceived threats. The military may have additional functions of use to its greater society, such as advancing a political agenda e.g...
force. Depending on the
militarization
Militarism
Militarism is defined as: the belief or desire of a government or people that a country should maintain a strong military capability and be prepared to use it aggressively to defend or promote national interests....
of the culture, the relative size of the armed forces and the society supporting them, the style of government, and the popular support for the military objectives, such war effort can range from a small industry to complete command of society.
Introduction of the concept
Although many societies were retroactively perceived to be engaged in a war effort, the concept was not generally used until the last decade of the 18th century, when the leaders of the
French Revolution
French Revolution
The French Revolution , sometimes distinguished as the 'Great French Revolution' , was a period of radical social and political upheaval in France and Europe. The absolute monarchy that had ruled France for centuries collapsed in three years...
called for the
levée en masse
Levée en masse
Levée en masse is a French term for mass conscription during the French Revolutionary Wars, particularly for the one from 16 August 1793.- Terminology :...
and a general mobilization of society to prevent monarchist forces from reclaiming control of the French government.
The Twentieth Century
The concept was subsequently adapted and used by
Prussia
Prussia
Prussia was a German kingdom and historic state originating out of the Duchy of Prussia and the Margraviate of Brandenburg. For centuries, the House of Hohenzollern ruled Prussia, successfully expanding its size by way of an unusually well-organized and effective army. Prussia shaped the history...
, the
United Kingdom
United Kingdom
The United Kingdom of Great Britain and Northern IrelandIn the United Kingdom and Dependencies, other languages have been officially recognised as legitimate autochthonous languages under the European Charter for Regional or Minority Languages...
, and the
United States
United States
The United States of America is a federal constitutional republic comprising fifty states and a federal district...
, especially during
World War I
World War I
World War I , which was predominantly called the World War or the Great War from its occurrence until 1939, and the First World War or World War I thereafter, was a major war centred in Europe that began on 28 July 1914 and lasted until 11 November 1918...
and
World War II
World War II
World War II, or the Second World War , was a global conflict lasting from 1939 to 1945, involving most of the world's nations—including all of the great powers—eventually forming two opposing military alliances: the Allies and the Axis...
. The term
war effort
was coined in conjunction with these efforts.
Economic aspects
Although certain societies, especially
nomad
Nomad
Nomadic people , commonly known as itinerants in modern-day contexts, are communities of people who move from one place to another, rather than settling permanently in one location. There are an estimated 30-40 million nomads in the world. Many cultures have traditionally been nomadic, but...
ic
raid
Raid (military)
Raid, also known as depredation, is a military tactic or operational warfare mission which has a specific purpose and is not normally intended to capture and hold terrain, but instead finish with the raiding force quickly retreating to a previous defended position prior to the enemy forces being...
ers and mobile cavalry societies such as the
Mongols
Mongols
Mongols ) are a Central-East Asian ethnic group that lives mainly in the countries of Mongolia, China, and Russia. In China, ethnic Mongols can be found mainly in the central north region of China such as Inner Mongolia...
, specialized in providing war effort-like support for their armies, the idea of a specialized
war effort
that diverted supplies, means of production, and people to military support came into general use only with the increased specialization of the
industrial revolution
Industrial Revolution
The Industrial Revolution was a period from the 18th to the 19th century where major changes in agriculture, manufacturing, mining, transportation, and technology had a profound effect on the social, economic and cultural conditions of the times...
. Previously, most military supplies were either common elements of the economy (food, clothing, horses, gunpowder) or specialized instruments produced only for war purposes by industries dedicated to the task (mainly weapons and vehicles).
Moreover, in Feudal societies, peasants - who were the great majority of the population - often perceived wars as the business of the aristocracy, and did not feel especially obliged to make an extra effort to help their country's aristocracy win a war with that of another country. The modern concept of a state belonging to its "people" carried the concomitant assumption that war was everybody's business and everyone, soldier or not, was excepted to contribute actively to winning it.
Crossover use of peacetime elements of society and economy for wartime uses became important due to scarcity of manpower (due to the large size of armies) and specialized materials used for war production (
rubber
Rubber
Natural rubber, also called India rubber or caoutchouc, is an elastomer that was originally derived from latex, a milky colloid produced by some plants. The plants would be 'tapped', that is, an incision made into the bark of the tree and the sticky, milk colored latex sap collected and refined...
, aluminum,
steel
Steel
Steel is an alloy that consists mostly of iron and has a carbon content between 0.2% and 2.1% by weight, depending on the grade. Carbon is the most common alloying material for iron, but various other alloying elements are used, such as manganese, chromium, vanadium, and tungsten...
, etc). The complex decisions involved in conversion to wartime use also necessitated organization and a bureaucracy; the term
war effort
was coined to describe these collective tasks.
Implicit in the concept of
war effort
was that the entire society was expected to contribute in some way; this served the double purpose of improving
morale
Morale
Morale, also known as esprit de corps when discussing the morale of a group, is an intangible term used to describe the capacity of people to maintain belief in an institution or a goal, or even in oneself and others...
as well as resource conservation.
The "Home Front"
Closely related is the concept of the
Home Front
Home front
Home front is the informal term commonly used to describe the civilian populace of the nation at war as an active support system of their military....
- i.e. that civilians engaged in civilian pursuits (particularly, industrial production) are in effect also fighting the enemy on a "front" of their own, and that the result of their "fighting" - i.e. higher productivity, refraining from labor disputes and
strike
Strike action
Strike action, also called labour strike, on strike, greve , or simply strike, is a work stoppage caused by the mass refusal of employees to work. A strike usually takes place in response to employee grievances. Strikes became important during the industrial revolution, when mass labour became...
s etc. - might determine the difference between victory and defeat.
See also
World War 2:
Home front during World War II

Home front during World War II

The home front covers the activities of the civilians in a nation at war. World War II was a total war; homeland production became even more invaluable to both the Allied and Axis powers. Life on the home front during World War II was a significant part of the war effort for all participants and...



United States home front during World War II

United States home front during World War II

This page, United States home front during World War II, covers the developments within the United States, 1940–1945, to support its efforts during World War II.-Economics:...



External links
Collection of Photographs of World War II War Effort in the United States