 War Canoe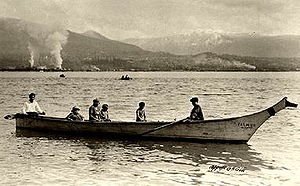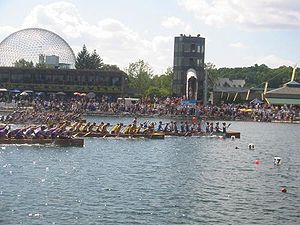 A
war canoe
is a
watercraft
Watercraft
A watercraft is a vessel or craft designed to move across or through water. The name is derived from the term "craft" which was used to describe all types of water going vessels...
of the
canoe
Canoe
A canoe or Canadian canoe is a small narrow boat, typically human-powered, though it may also be powered by sails or small electric or gas motors. Canoes are usually pointed at both bow and stern and are normally open on top, but can be decked over A canoe (North American English) or Canadian...
type designed and outfitted for warfare, and which is found in various forms in many world cultures. In modern times, such designs have become adapted as a sport, and "war canoe" can mean a type of flatwater
racing
Canoe racing
This article discusses canoe sprint and canoe marathon, competitive forms of canoeing and kayaking on more or less flat water. Both sports are governed by the International Canoe Federation ....
canoe.
War canoes as sport
War canoe is largely a
Canadian
Canada
Canada is a North American country consisting of ten provinces and three territories. Located in the northern part of the continent, it extends from the Atlantic Ocean in the east to the Pacific Ocean in the west, and northward into the Arctic Ocean...
sport, with some teams coming from the northwestern
United States
United States
The United States of America is a federal constitutional republic comprising fifty states and a federal district...
as well; it is not sanctioned by the
International Canoe Federation
International Canoe Federation
The International Canoe Federation is the umbrella organization of all national canoe organizations worldwide. It is headquartered in Lausanne, Switzerland, and administers all aspects of canoe sport worldwide...
. It does not enjoy the massive popularity and marketing support of
Dragon boating
Dragon boat
A dragon boat is a human-powered watercraft traditionally made, in the Pearl River delta region of southern China - Guangdong Province, of teak wood to various designs and sizes. In other parts of China different woods are used to build these traditional watercraft...
, but is nonetheless an important part of most Canadian canoe club racing programs. The term 'war canoe' is derived from large
indigenous peoples'
Indigenous peoples of the Americas
The indigenous peoples of the Americas are the pre-Columbian inhabitants of North and South America, their descendants and other ethnic groups who are identified with those peoples. Indigenous peoples are known in Canada as Aboriginal peoples, and in the United States as Native Americans...
canoes intended for war, and war canoeing was in fact a popular sport in
Vancouver
Vancouver
Vancouver is a coastal seaport city on the mainland of British Columbia, Canada. It is the hub of Greater Vancouver, which, with over 2.3 million residents, is the third most populous metropolitan area in the country,...
,
British Columbia
British Columbia
British Columbia is the westernmost of Canada's provinces and is known for its natural beauty, as reflected in its Latin motto, Splendor sine occasu . Its name was chosen by Queen Victoria in 1858...
before large gatherings of indigenous people were outlawed in 1922. War canoeing among indigenous communities is enjoying a revival today, although there as yet has been little interaction with non-indigenous teams.
A war canoe holds 15 paddlers including one
coxswain
Coxswain
The coxswain is the person in charge of a boat, particularly its navigation and steering. The etymology of the word gives us a literal meaning of "boat servant" since it comes from cox, a coxboat or other small vessel kept aboard a ship, and swain, which can be rendered as boy, in authority. ...
, or cox, for steering. War canoe is sometimes referred to as C-15 on regatta schedules, with the 'C' standing for 'canoe'. The paddlers, 7 to a side and slightly offset from one-another, kneel on one knee while paddling. The coxswain stands with their calves braced between a yoke on the back of the boat. Paddlers on the left will kneel on their left knee and vice versa, as in a
Sprint canoe
Sprint canoe
A sprint canoe is a special type of canoe used in the sport of flatwater canoe racing.A one-person sprint canoe is 5.20 metres long; a traveling canoe of a similar length would be suitable for 2 to 3 people with gear...
, and the foremost paddler, whether on the right or left, will set the stroke. Boats are most often constructed of
wood
Wood
Wood is a hard, fibrous tissue found in many trees. It has been used for hundreds of thousands of years for both fuel and as a construction material. It is an organic material, a natural composite of cellulose fibers embedded in a matrix of lignin which resists compression...
, although some newer boats will be made of
fiberglass
Fiberglass
Glass fiber is a material consisting of numerous extremely fine fibers of glass.Glassmakers throughout history have experimented with glass fibers, but mass manufacture of glass fiber was only made possible with the invention of finer machine tooling...
. Races will typically be of 500 m or 1000 m. The paddles used can be made of wood, but carbon fibre paddles are becoming standard, as their reduced weight leads to improved performance.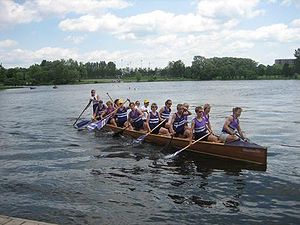 War canoe is seen as a prestige event at
regatta
Regatta
A regatta is a series of boat races. The term typically describes racing events of rowed or sailed water craft, although some powerboat race series are also called regattas...
s where it is held, as it allows a significant portion of a club's racing members to be in the
boat
Boat
A boat is a watercraft of any size designed to float or plane, to provide passage across water. Usually this water will be inland or in protected coastal areas. However, boats such as the whaleboat were designed to be operated from a ship in an offshore environment. In naval terms, a boat is a...
at once and compete together. It is a large team event in a sport that typically focusses on individual achievements. Crews will be taken from the appropriate age range (eg Bantam, junior, masters, etc), and races are held for men's, women's, or mixed crews.
Typically, a war canoe will be faster than a dragon boat over any given distance, because of a better hull shape (narrower and without the characteristic 'w' shape of dragon boat hulls), lighter construction, and the kneeling position allowing for a fuller, more powerful stroke than the sitting position used in dragon boats.
See also
Pacific Northwest Canoes

Pacific Northwest Canoes

Masterfully designed canoes of many sizes and forms were made on the Pacific Northwest coast of North America. They were the main form of transportation for the indigenous people of the area until long after European colonisation...



Dragon boat

Dragon boat

A dragon boat is a human-powered watercraft traditionally made, in the Pearl River delta region of southern China - Guangdong Province, of teak wood to various designs and sizes. In other parts of China different woods are used to build these traditional watercraft...



Sprint canoe

Sprint canoe

A sprint canoe is a special type of canoe used in the sport of flatwater canoe racing.A one-person sprint canoe is 5.20 metres long; a traveling canoe of a similar length would be suitable for 2 to 3 people with gear...



Canoe racing

Canoe racing

This article discusses canoe sprint and canoe marathon, competitive forms of canoeing and kayaking on more or less flat water. Both sports are governed by the International Canoe Federation ....



Waka