 Vigil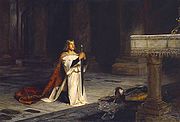 A
vigil
is a period of purposeful sleeplessness, an occasion for devotional watching, or an observance. The Italian word
vigilia
has become generalized in this sense and means "eve" (as in
on the eve of the war
).
Eves of religious celebrations
A vigil may be held on the
eve
Evening
Evening is the period between the late afternoon and night when daylight is decreasing, around dinner time at 6pm. Though the term is subjective, evening is typically understood to begin before sunset, during the close of the standard business day and extend until nightfall, the beginning of night...
of a religious festival (feast days), observed by remaining awake—"watchful"—as a devotional exercise or
ritual
Ritual
A ritual is a set of actions, performed mainly for their symbolic value. It may be prescribed by a religion or by the traditions of a community. The term usually excludes actions which are arbitrarily chosen by the performers....
observance on the eve of a
holy day
Holy Day of Obligation
In the Catholic Church, Holy Days of Obligation or Holidays of Obligation, less commonly called Feasts of Precept, are the days on which, as of the Code of Canon Law states,-Eastern Catholic Churches:...
. Such
liturgical
Liturgy
Liturgy is either the customary public worship done by a specific religious group, according to its particular traditions or a more precise term that distinguishes between those religious groups who believe their ritual requires the "people" to do the "work" of responding to the priest, and those...
vigils usually consist of
psalms
Psalms
The Book of Psalms , commonly referred to simply as Psalms, is a book of the Hebrew Bible and the Christian Bible...
,
prayer
Prayer
Prayer is a form of religious practice that seeks to activate a volitional rapport to a deity through deliberate practice. Prayer may be either individual or communal and take place in public or in private. It may involve the use of words or song. When language is used, prayer may take the form of...
s and
hymn
Hymn
A hymn is a type of song, usually religious, specifically written for the purpose of praise, adoration or prayer, and typically addressed to a deity or deities, or to a prominent figure or personification...
s, possibly a
sermon
Sermon
A sermon is an oration by a prophet or member of the clergy. Sermons address a Biblical, theological, religious, or moral topic, usually expounding on a type of belief, law or behavior within both past and present contexts...
or readings from the Holy Fathers, and sometimes periods of silent
meditation
Meditation
Meditation is any form of a family of practices in which practitioners train their minds or self-induce a mode of consciousness to realize some benefit....
.
The term "morning" means that the observance begins on the evening before. In traditional Christianity, the celebration of liturgical feasts begins on the evening before the holy day because the
Early Church
Early Christianity
Early Christianity is generally considered as Christianity before 325. The New Testament's Book of Acts and Epistle to the Galatians records that the first Christian community was centered in Jerusalem and its leaders included James, Peter and John....
continued the Jewish practice of beginning the day at sunset rather than midnight.
Most likely the best known vigil is the
Easter Vigil
Easter Vigil
The Easter Vigil, also called the Paschal Vigil or the Great Vigil of Easter, is a service held in many Christian churches as the first official celebration of the Resurrection of Jesus. Historically, it is during this service that people are baptized and that adult catechumens are received into...
held on
Holy Saturday
Holy Saturday
Holy Saturday , sometimes known as Easter Eve or Black Saturday, is the day after Good Friday. It is the day before Easter and the last day of Holy Week in which Christians prepare for Easter...
. The
Midnight Mass
Midnight Mass
Midnight Mass is a Christmas Eve liturgical tradition in the Roman Catholic church.Midnight Mass may also refer to:* Midnight, Mass., a Vertigo comics series* Midnight Mass, a 2004 novel by F...
held on
Christmas Eve
Christmas Eve
Christmas Eve refers to the evening or entire day preceding Christmas Day, a widely celebrated festival commemorating the birth of Jesus of Nazareth that takes place on December 25...
is a remnant of this practice. Christmas eve is a time of reflection for Christians in the U.S. and all over the world.
In the
Eastern Orthodox Church
Eastern Orthodox Church
The Orthodox Church, officially called the Orthodox Catholic Church and commonly referred to as the Eastern Orthodox Church, is the second largest Christian denomination in the world, with an estimated 300 million adherents mainly in the countries of Belarus, Bulgaria, Cyprus, Georgia, Greece,...
an
All-Night Vigil
All-Night Vigil
The All-Night Vigil , Opus 37, is an a cappella choral composition by Sergei Rachmaninoff,written and premiered in 1915. It consists of settings of texts taken from the Russian Orthodox All-night vigil ceremony. It has been praised as Rachmaninoff's finest achievement and "the greatest musical...
(consisting of Great Vespers,
Matins
Matins
Matins is the early morning or night prayer service in the Roman Catholic, Anglican, Lutheran and Eastern Orthodox liturgies of the canonical hours. The term is also used in some Protestant denominations to describe morning services.The name "Matins" originally referred to the morning office also...
and the First Hour) is held on the eves of Sundays and all Major Feast Days (such as the Twelve Great Feasts and the Feast Days of important
Saint
Saint
A saint is a holy person. In various religions, saints are people who are believed to have exceptional holiness.In Christian usage, "saint" refers to any believer who is "in Christ", and in whom Christ dwells, whether in heaven or in earth...
s) during the
liturgical year
Liturgical year
The liturgical year, also known as the church year, consists of the cycle of liturgical seasons in Christian churches which determines when feast days, including celebrations of saints, are to be observed, and which portions of Scripture are to be read. Distinct liturgical colours may appear in...
.
Vigils are also commonly observed on Holy Days in the Anglican, Lutheran and Methodist Churches.
Vigils at the time of death
When a Jewish person dies, a watch is kept over the body and Tehillim are recited constantly, until the burial service.
In
Christianity
Christianity
Christianity is a monotheistic religion based on the life and teachings of Jesus as presented in canonical gospels and other New Testament writings...
, especially the Eastern Orthodox and Roman Catholic traditions, a vigil is often held when someone is gravely ill or mourning. Prayers are said and votives are often made. Vigils extend from eventual death to burial, ritualistically to pray for a loved one, but more practically so they are never alone.
Medieval knights
During the
Middle Ages
Middle Ages
The Middle Ages is a periodization of European history from the 5th century to the 15th century. The Middle Ages follows the fall of the Western Roman Empire in 476 and precedes the Early Modern Era. It is the middle period of a three-period division of Western history: Classic, Medieval and Modern...
, a
squire
Squire
The English word squire is a shortened version of the word Esquire, from the Old French , itself derived from the Late Latin , in medieval or Old English a scutifer. The Classical Latin equivalent was , "arms bearer"...
on the night before his knighting
ceremony
Ceremony
A ceremony is an event of ritual significance, performed on a special occasion. The word may be of Etruscan origin.-Ceremonial occasions:A ceremony may mark a rite of passage in a human life, marking the significance of, for example:* birth...
was expected to take a cleansing bath,
fast
FAST
-Primary meanings:Fast may refer to:* Fast as in high speed or velocity, may be used with anything that has a speed.* Fasting, abstaining from foodSlang:* Fast, a slang term for someone who is sexually promiscuous-Sports:...
, make
confession
Confession
This article is for the religious practice of confessing one's sins.Confession is the acknowledgment of sin or wrongs...
, and then hold an all-night vigil of prayer in the
chapel
Chapel
A chapel is a building used by Christians as a place of fellowship and worship. It may be part of a larger structure or complex, such as a church, college, hospital, palace, prison or funeral home, located on board a military or commercial ship, or it may be an entirely free-standing building,...
, preparing himself in this manner for life as a knight. For the knighting ceremony, he dressed in white as a symbol for purity.
See also
All-night vigil

All-night vigil

The All-night vigil is a service of the Eastern Orthodox Church consisting of an aggregation of the three canonical hours of Vespers, Matins, and the First Hour...



Candlelight vigil

Candlelight vigil

A candlelight vigil is an outdoor assembly of people carrying candles, held after sunset. Such events are typically held either to protest the suffering of some marginalized group of people, or in memory of lives lost to some disease, disaster, massacre or other tragedy. In the latter case, the...



Christian burial

Christian burial

A Christian burial is the burial of a deceased person with specifically Christian ecclesiastical rites; typically, in consecrated ground. Until recent times Christians generally objected to cremation, and practised inhumation almost exclusively, but this opposition has weakened, and now vanished...



Pannikhida
Vigils

Vigils

Vigils is a term for night prayer in ancient Christianity. See Vespers, Compline, Nocturns, Matins, and Lauds for more information. A Vigil is a night spent in prayer....



Wake

Wake (ceremony)

A wake is a ceremony associated with death. Traditionally, a wake takes place in the house of the deceased, with the body present; however, modern wakes are often performed at a funeral home. In the United States and Canada it is synonymous with a viewing...