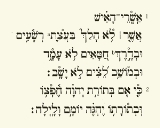 Psalms
The
Book of Psalms
commonly referred to simply as
Psalms
, is a book of the
Hebrew Bible
Hebrew Bible
The Hebrew Bible is a term used by biblical scholars outside of Judaism to refer to the Tanakh , a canonical collection of Jewish texts, and the common textual antecedent of the several canonical editions of the Christian Old Testament...
and the Christian
Bible
Bible
The Bible refers to any one of the collections of the primary religious texts of Judaism and Christianity. There is no common version of the Bible, as the individual books , their contents and their order vary among denominations...
. Taken together, its 150 poems "express virtually the full range of Israel's religious faith."
The word psalms is derived from the
Greek
Greek language
Greek is an independent branch of the Indo-European family of languages. Native to the southern Balkans, it has the longest documented history of any Indo-European language, spanning 34 centuries of written records. Its writing system has been the Greek alphabet for the majority of its history;...
Ψαλμοί (Psalmoi), perhaps originally meaning "music of the lyre" or "songs sung to a harp" and then to any piece of music. From psallein "play upon a stringed instrument" and then to "make music in any fashion".
The Book of Psalms in its current, most commonly used form consists of 150 songs and prayers referred to individually as psalms and referenced by chapter and verse.