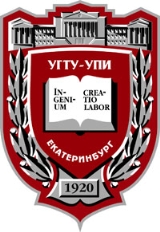 Ural State Technical University
Ural State Technical University
(USTU) is a
higher education
Higher education
Higher, post-secondary, tertiary, or third level education refers to the stage of learning that occurs at universities, academies, colleges, seminaries, and institutes of technology...
institute
University
A university is an institution of higher education and research, which grants academic degrees in a variety of subjects. A university is an organisation that provides both undergraduate education and postgraduate education...
in
Yekaterinburg
Yekaterinburg
Yekaterinburg is a major city in the central part of Russia, the administrative center of Sverdlovsk Oblast. Situated on the eastern side of the Ural mountain range, it is the main industrial and cultural center of the Urals Federal District with a population of 1,350,136 , making it Russia's...
,
Sverdlovsk Oblast
Sverdlovsk Oblast
Sverdlovsk Oblast is a federal subject of Russia located in the Urals Federal District. Its administrative center is the city of Yekaterinburg formerly known as Sverdlovsk. Population: -Geography:...
, Russian Federation. It is the biggest technical institution of higher education in Russia, with close ties to local industry in the
Urals
Ural Mountains
The Ural Mountains , or simply the Urals, are a mountain range that runs approximately from north to south through western Russia, from the coast of the Arctic Ocean to the Ural River and northwestern Kazakhstan. Their eastern side is usually considered the natural boundary between Europe and Asia...
. Its motto,
Ingenium Creatio Labor
, means "brilliance creates work".
Overview
USTU has 20 faculties including: Metallurgical,
Chemical Engineering
Chemical engineering
Chemical engineering is the branch of engineering that deals with physical science , and life sciences with mathematics and economics, to the process of converting raw materials or chemicals into more useful or valuable forms...
, Building Materials,
Civil Engineering
Civil engineering
Civil engineering is a professional engineering discipline that deals with the design, construction, and maintenance of the physical and naturally built environment, including works like roads, bridges, canals, dams, and buildings...
,
Physics
Physics
Physics is a natural science that involves the study of matter and its motion through spacetime, along with related concepts such as energy and force. More broadly, it is the general analysis of nature, conducted in order to understand how the universe behaves.Physics is one of the oldest academic...
and
physics
Physics
Physics is a natural science that involves the study of matter and its motion through spacetime, along with related concepts such as energy and force. More broadly, it is the general analysis of nature, conducted in order to understand how the universe behaves.Physics is one of the oldest academic...
engineering,
Radio
Radio
Radio is the transmission of signals through free space by modulation of electromagnetic waves with frequencies below those of visible light. Electromagnetic radiation travels by means of oscillating electromagnetic fields that pass through the air and the vacuum of space...
Engineering,
Electrical Engineering
Electrical engineering
Electrical engineering is a field of engineering that generally deals with the study and application of electricity, electronics and electromagnetism. The field first became an identifiable occupation in the late nineteenth century after commercialization of the electric telegraph and electrical...
,
Heat Power Engineering
Fossil fuel power plant
A fossil-fuel power station is a power station that burns fossil fuels such as coal, natural gas or petroleum to produce electricity. Central station fossil-fuel power plants are designed on a large scale for continuous operation...
,
Mechanical Engineering
Mechanical engineering
Mechanical engineering is a discipline of engineering that applies the principles of physics and materials science for analysis, design, manufacturing, and maintenance of mechanical systems. It is the branch of engineering that involves the production and usage of heat and mechanical power for the...
,
Economics
Economics
Economics is the social science that analyzes the production, distribution, and consumption of goods and services. The term economics comes from the Ancient Greek from + , hence "rules of the house"...
and
Management
Management
Management in all business and organizational activities is the act of getting people together to accomplish desired goals and objectives using available resources efficiently and effectively...
,
Military Science
Military science
Military science is the process of translating national defence policy to produce military capability by employing military scientists, including theorists, researchers, experimental scientists, applied scientists, designers, engineers, test technicians, and military personnel responsible for...
,
Physical Training
Physical education
Physical education or gymnastics is a course taken during primary and secondary education that encourages psychomotor learning in a play or movement exploration setting....
,
Humanities
Humanities
The humanities are academic disciplines that study the human condition, using methods that are primarily analytical, critical, or speculative, as distinguished from the mainly empirical approaches of the natural sciences....
,
Continuing education
Continuing education
Continuing education is an all-encompassing term within a broad spectrum of post-secondary learning activities and programs. The term is used mainly in the United States and Canada...
, and a
Graduate school
Graduate school
A graduate school is a school that awards advanced academic degrees with the general requirement that students must have earned a previous undergraduate degree...
. USTU graduates 3000 engineers annually.
History
USTU was founded in 1920. It was formerly known as Ural Polytechnic Institute.
The school has rapidly expanded due to the industrialization program of the
Soviet
Soviet Union
The Soviet Union , officially the Union of Soviet Socialist Republics , was a constitutionally socialist state that existed in Eurasia between 1922 and 1991....
Government, which created a high demand for
engineering
Engineering
Engineering is the discipline, art, skill and profession of acquiring and applying scientific, mathematical, economic, social, and practical knowledge, in order to design and build structures, machines, devices, systems, materials and processes that safely realize improvements to the lives of...
positions. The USTU was key in providing local industrial enterprises with technical and engineering staff.
In the 1940s, though suffering from a shortage of personnel due to
World War II
World War II
World War II, or the Second World War , was a global conflict lasting from 1939 to 1945, involving most of the world's nations—including all of the great powers—eventually forming two opposing military alliances: the Allies and the Axis...
, the USTU received a great stimulus for development as the military needed to increase production for new industrial goods from the plants in the Urals. It is noteworthy that many industrial plants were moved to the Urals due to the partial occupation of Western Russia by
Nazi
Nazi Germany
Nazi Germany , also known as the Third Reich , but officially called German Reich from 1933 to 1943 and Greater German Reich from 26 June 1943 onward, is the name commonly used to refer to the state of Germany from 1933 to 1945, when it was a totalitarian dictatorship ruled by...
military forces.
After the war, the USTU has kept close ties with the military industry, mostly by preparing a large amount of engineers for military purposes.
With the growth of Soviet Economy, the USTU kept expanding. In 1991, however, due to the economical crisis following the collapse of the Soviet Union, it suffered from acute underfunding by the Russian Government. It was not until mid-1990s that the USTU began to find appreciable non-governmental sources of funding, mostly by means of establishing business ties with local industrial enterprises that survived or arose as result of the economical crisis.
Currently, the USTU is preparing to undergo integration with several other universities in Yekaterinburg in order to increase its chances for successful competition with other universities in Russia.
In April 2008 it was named after
Boris Yeltsin
Boris Yeltsin
Boris Nikolayevich Yeltsin was the first President of the Russian Federation, serving from 1991 to 1999.Originally a supporter of Mikhail Gorbachev, Yeltsin emerged under the perestroika reforms as one of Gorbachev's most powerful political opponents. On 29 May 1990 he was elected the chairman of...
- Yeltsin Ural State Technical University.
02.04.2010 USTU united with USU (Ural State University named after A. M. Gorky) and were named
Ural Federal University
Ural Federal University
The Ural Federal University named after the first President of Russia B. N. Yeltsin is one of the leading educational institutions in the Ural region. Ural Federal University acts as a research and innovation center of the Ural region, has close cooperation with the Russian Academy of Sciences...
.
Notable alumni
Arkady Mikhailovich Chernetsky

Arkady Mikhailovich Chernetsky

Arkady Mikhailovich Chernetsky is a Russian politician who has served as Mayor of Yekaterinburg, Sverdlovsk Oblast, Russia since January 1992 to November 2, 2010.-Early life:...


, Mayor of Yekaterinburg
Boris Yeltsin

Boris Yeltsin

Boris Nikolayevich Yeltsin was the first President of the Russian Federation, serving from 1991 to 1999.Originally a supporter of Mikhail Gorbachev, Yeltsin emerged under the perestroika reforms as one of Gorbachev's most powerful political opponents. On 29 May 1990 he was elected the chairman of...


, President of Russia (1991-1999)
External links