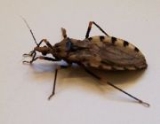 Triatominae
The members of
Triatominae
traɪ.əˈtɒmɨniː, a subfamily of
Reduviidae
Reduviidae
Reduviidae is a large, cosmopolitan family of predatory insects in the suborder Heteroptera...
, are also known as
conenose bugs
,
kissing bugs
,
assassin bugs
or
triatomines
. Most of the 130 or more species of this subfamily are haematophagous, i.e. feed on vertebrate blood; a very few species feed on other invertebrates (Sandoval
et al.
2000, 2004). They are mainly found and widespread in the Americas, with a few species present in Asia, Africa and Australia. These bugs usually share shelter with nesting vertebrates, from which they suck blood. In areas where
Chagas disease
Chagas disease
Chagas disease is a tropical parasitic disease caused by the flagellate protozoan Trypanosoma cruzi. T. cruzi is commonly transmitted to humans and other mammals by an insect vector, the blood-sucking insects of the subfamily Triatominae most commonly species belonging to the Triatoma, Rhodnius,...
occurs (from the southern
United States
United States
The United States of America is a federal constitutional republic comprising fifty states and a federal district...
to southern
Argentina
Argentina
Argentina , officially the Argentine Republic , is the second largest country in South America by land area, after Brazil. It is constituted as a federation of 23 provinces and an autonomous city, Buenos Aires...
), all triatomine species are potential vectors of the Chagas disease parasite
Trypanosoma cruzi
Trypanosoma cruzi
Trypanosoma cruzi is a species of parasitic euglenoid trypanosomes. This species causes the trypanosomiasis diseases in humans and animals in America...
, but only those species (such as
Triatoma infestans
Triatoma infestans
Triatoma infestans, commonly called vinchuca and also known as "barber bug", is a blood-sucking bug and the most important vector of Trypanosoma cruzi which can lead to Chagas disease...
and
Rhodnius prolixus
Rhodnius prolixus
Rhodnius prolixus is the second most important triatomine vector of the Chagas parasite due to its efficient adaptation to the human domicile in northern South America, where sylvatic populations also exist, and in Central America where it is exclusively domestic...
) that are well adapted to live with humans are considered
important
vectors.
History
At the beginning of the 19th century
Charles Darwin
Charles Darwin
Charles Robert Darwin FRS was an English naturalist. He established that all species of life have descended over time from common ancestry, and proposed the scientific theory that this branching pattern of evolution resulted from a process that he called natural selection.He published his theory...
made one of the first reports of the existence of triatomines in America in his
Journal and Remarks
, published in 1839 and commonly known as
The Voyage of the Beagle
The Voyage of the Beagle
The Voyage of the Beagle is a title commonly given to the book written by Charles Darwin and published in 1839 as his Journal and Remarks, bringing him considerable fame and respect...
. The following is an extract which he based on his journal entry dated 26 March 1835:
There has been considerable medical speculation as to whether or not Darwin's contact with triatomines in Argentina was related to his later bouts of
long term illness
Charles Darwin's illness
For much of his adult life, Charles Darwin's health was repeatedly compromised by an uncommon combination of symptoms, leaving him severely debilitated for long periods of time...
, though it is unlikely to have been caused on this specific occasion as he made no mention of the fever that usually follows the first infection.
Discovery of triatomines relation with Chagas disease

Chagas disease

Chagas disease is a tropical parasitic disease caused by the flagellate protozoan Trypanosoma cruzi. T. cruzi is commonly transmitted to humans and other mammals by an insect vector, the blood-sucking insects of the subfamily Triatominae most commonly species belonging to the Triatoma, Rhodnius,...



In 1909 the Brazilian doctor
Carlos Chagas
Carlos Chagas
Carlos Justiniano Ribeiro Chagas, or Carlos Chagas , was a Brazilian sanitary physician, scientist and bacteriologist who worked as a clinician and researcher. He discovered Chagas disease, also called American trypanosomiasis in 1909, while working at the Oswaldo Cruz Institute in Rio de Janeiro...
discovered that these insects were responsible for the transmission of
T. cruzi
to many of his patients in Lassance, a village located on the banks of the
São Francisco River
São Francisco River
The São Francisco is a river in Brazil. With a length of , it is the longest river that runs entirely in Brazilian territory, and the fourth longest in South America and overall in Brazil...
in
Minas Gerais
Minas Gerais
Minas Gerais is one of the 26 states of Brazil, of which it is the second most populous, the third richest, and the fourth largest in area. Minas Gerais is the Brazilian state with the largest number of Presidents of Brazil, the current one, Dilma Rousseff, being one of them. The capital is the...
(
Brazil
Brazil
Brazil , officially the Federative Republic of Brazil , is the largest country in South America. It is the world's fifth largest country, both by geographical area and by population with over 192 million people...
). Poor people living there complained of some insects they called barbeiros that bite during the night. Carlos Chagas put his first observations in words: Another Brazilian, Herman Lent, former student of Carlos Chagas, became devoted to the research of the triatomines and together with
Peter Wygodzinsky
Petr Wolfgang Wygodzinsky
Petr Wolfgang Wygodzinsky was a German entomologist who worked in Argentina, Brazil, and the United States. He studied several groups of insects in detail, but is known, especially, for his work on Reduviidae family...
made a revision of the Triatominae
http://digitallibrary.amnh.org/dspace/handle/2246/1282
, a summary of 40 years of studies on the triatomines up to 1989.
Biological aspects

Life cycle
Triatomines undergo
incomplete metamorphosis
Hemimetabolism
Hemimetabolism or hemimetaboly, also called incomplete metamorphosis, is a term used to describe the mode of development of certain insects that includes three distinct stages: the egg, nymph, and the adult stage, or imago. These groups go through gradual changes; there is no pupal stage...
. A wingless first
instar
Instar
An instar is a developmental stage of arthropods, such as insects, between each molt , until sexual maturity is reached. Arthropods must shed the exoskeleton in order to grow or assume a new form. Differences between instars can often be seen in altered body proportions, colors, patterns, or...
nymph hatches from an egg, about the size of the tip of a
fork
Fork
As a piece of cutlery or kitchenware, a fork is a tool consisting of a handle with several narrow tines on one end. The fork, as an eating utensil, has been a feature primarily of the West, whereas in East Asia chopsticks have been more prevalent...
. It passes successively through 2nd, 3rd, 4th and 5th instars. Finally, the fifth instar turns into an adult, acquiring two pairs of wings.
Ecology
All triatomine
nymph
Nymph (biology)
In biology, a nymph is the immature form of some invertebrates, particularly insects, which undergoes gradual metamorphosis before reaching its adult stage. Unlike a typical larva, a nymph's overall form already resembles that of the adult. In addition, while a nymph moults it never enters a...
instars and adults are haematophagous and require the stability of a sheltered environment where they aggregate. Most species are associated with wild nesting
vertebrate
Vertebrate
Vertebrates are animals that are members of the subphylum Vertebrata . Vertebrates are the largest group of chordates, with currently about 58,000 species described. Vertebrates include the jawless fishes, bony fishes, sharks and rays, amphibians, reptiles, mammals, and birds...
s and are named "
sylvatic
Sylvatic
Sylvatic is a scientific term referring to diseases or pathogens affecting only wild animals. In the context of animal research, its opposite is domestic, which refers to pets, farm animals or other animals which do not dwell in the wild.*Examples: sylvatic rabies; sylvatic and domestic bacterial...
" triatomines. These live in ground burrows with
rodent
Rodent
Rodentia is an order of mammals also known as rodents, characterised by two continuously growing incisors in the upper and lower jaws which must be kept short by gnawing....
s or
armadillo
Armadillo
Armadillos are New World placental mammals, known for having a leathery armor shell. Dasypodidae is the only surviving family in the order Cingulata, part of the superorder Xenarthra along with the anteaters and sloths. The word armadillo is Spanish for "little armored one"...
s, or in tree-dwellings with
bat
Bat
Bats are mammals of the order Chiroptera "hand" and pteron "wing") whose forelimbs form webbed wings, making them the only mammals naturally capable of true and sustained flight. By contrast, other mammals said to fly, such as flying squirrels, gliding possums, and colugos, glide rather than fly,...
s, birds,
sloth
Sloth
Sloths are the six species of medium-sized mammals belonging to the families Megalonychidae and Bradypodidae , part of the order Pilosa and therefore related to armadillos and anteaters, which sport a similar set of specialized claws.They are arboreal residents of the jungles of Central and South...
s or opossums. Few species (5%) live in human dwellings or in the surroundings of human houses (peridomicile) in the shelters of domestic animals, these are named "
domestic
Home
A home is a place of residence or refuge. When it refers to a building, it is usually a place in which an individual or a family can rest and store personal property. Most modern-day households contain sanitary facilities and a means of preparing food. Animals have their own homes as well, either...
" species. Many sylvatic species are in process of domiciliation ("semidomestic").
Behavior
Most triatomines aggregate in refuges during day and search for blood during night when the host is asleep and the air is cooler. Odors as well as heat guide these insects to the host. Carbon dioxide emanating from breath, as well as ammonia, short chain amines and carboxylic acids from skin, hair and exocrine glands from vertebrate animals, are among the volatiles that attract triatomines. Vision also serves triatomines for orientation. During night, adults of diverse species fly to houses attracted by light.
Adults produce a pungent odour (
isobutyric acid
Isobutyric acid
Isobutyric acid, also known as 2-methylpropanoic acid, is a carboxylic acid with structural formula 2-CH-COOH. It is found in the free state in carobs and in the root of Arnica dulcis, and as an ethyl ester in croton oil....
) when disturbed, and are also capable of producing a particular sound by rubbing the rostrum over a stridulatory sulcus under head (
stridulation
Stridulation
Stridulation is the act of producing sound by rubbing together certain body parts. This behavior is mostly associated with insects, but other animals are known to do this as well, such as a number of species of fishes, snakes and spiders...
).
Epidemiology
Domestic and sylvatic species can carry the Chagas parasite to humans and wild mammals; birds are immune to the parasite.
T. cruzi
transmission is carried mainly from human to human by domestic kissing bugs; from the vertebrate to the bug by blood, and from the bug to the vertebrate by the insect's feces and not by its saliva as occurs in most bloodsucking arthropod vectors such as Malaria mosquitoes.
Triatomine infestation especially affects unkempt dwellings. One can recognize the presence of triatomines in a house by its feces, exuviae, eggs and individuals themselves. Triatomines characteristically leave 2 kinds of
feces
Feces
Feces, faeces, or fæces is a waste product from an animal's digestive tract expelled through the anus or cloaca during defecation.-Etymology:...
like strikes on walls of infected houses; one is white with
uric acid
Uric acid
Uric acid is a heterocyclic compound of carbon, nitrogen, oxygen, and hydrogen with the formula C5H4N4O3. It forms ions and salts known as urates and acid urates such as ammonium acid urate. Uric acid is created when the body breaks down purine nucleotides. High blood concentrations of uric acid...
, the other is dark (black) containing
heme
Heme
A heme or haem is a prosthetic group that consists of an iron atom contained in the center of a large heterocyclic organic ring called a porphyrin. Not all porphyrins contain iron, but a substantial fraction of porphyrin-containing metalloproteins have heme as their prosthetic group; these are...
. Whitish or pinkish eggs can be seen in wall crevices. After having had a blood meal the insects sometimes show a limited mobility and can be identified easily.
Tribes, Genera and numbers of described species
Alberproseniini

Alberproseniini

The tribe Alberproseniini Martínez & Carcavallo, 1977 belongs to the subfamily Triatominae and only has one genus, Alberprosenia Martínez & Carcavallo, 1977, with two species:...




Alberprosenia

Alberproseniini

The tribe Alberproseniini Martínez & Carcavallo, 1977 belongs to the subfamily Triatominae and only has one genus, Alberprosenia Martínez & Carcavallo, 1977, with two species:...


2

Bolboderini

Belminus 9
Bolbodera 1
Microtriatoma

Microtriatoma

Genus Microtriatoma belongs to the subfamilyTriatominae.2 species:*M. borbai *M. trinidadensis means associated with Trypanosoma cruzi...


2
Parabelminus

Parabelminus

Genus Parabelminus Lent, 1943 belongs to the subfamily Triatominae.2 species:* P. carioca Lent, 1943 * P. yurupucu Lent & Wygodzinsky, 1979---- means associated with Trypanosoma cruzi...


2

Cavernicolini

Cavernicola

Cavernicola

Cavernicola is a genus of assassin bugs in the family Reduviidae. They are endemic to the wild ecotopes of Panama and northern South America. Cavernicola species, as well as many other Reduviidae insects, are considered vectors of Trypanosoma cruzi, a known cause of Chagas disease.C...


2

Linshcosteini
Rhodniini

Psammolestes

Psammolestes

The genus Psammolestes belongs to the subfamily Triatominae.3 species:*Psammolestes arthuri *Psammolestes coreodes Bergroth, 1911*Psammolestes tertius Lent & Jurberg, 1965...


3
Rhodnius

Rhodnius

Rhodnius is a genus of bugs in the subfamily Triatominae, important vectors of Chagas disease. They were important models for Sir Vincent Wigglesworth's studies of insect physiology, specifically growth and development.-Species:...


16

Triatomini

Dipetalogaster

Dipetalogaster

Dipetalogaster, a genus of Triatominae, has only a single species – Dipetalogaster maxima – and is associated with Trypanosoma cruzi....


1
Eratyrus

Eratyrus

The genus Eratyrus belongs to the assassin bugs . There are two species in this genus; both are associated with Trypanosoma cruzi:*Eratyrus cuspidatus *Eratyrus mucronatus...


2
Hermanlentia 1
Meccus 6
Mepraia

Mepraia

Mepraia is a genus in the subfamily Triatominae.2 species:*M. gajardoi Frías et al., 1998*M. spinolai means associated with Trypanosoma cruzi...


2
Nesotriatoma 3
Panstrongylus

Panstrongylus

The Genus Panstrongylus Berg, 1879 belongs to the subfamily Triatominae.-Species:Panstrongylus chinai Panstrongylus diasi Pinto & Lent, 1946Panstrongylus geniculatus...


13
Paratriatoma 1
Triatoma

Triatoma

Triatoma is a genus of assassin bug in the subfamily Triatominae The members of Triatoma are blood-sucking insects that can transmit serious diseases, such as Chagas disease....


67
Note
:
For a complete list of species see Galvão et al. (2004)
Most important vectors
All 138 Triatominae species are potentially able to transmit
T. cruzi
to humans but the following five species are the most epidemiologically important vectors of Chagas disease.
Triatoma infestans

Triatoma infestans

Triatoma infestans, commonly called vinchuca and also known as "barber bug", is a blood-sucking bug and the most important vector of Trypanosoma cruzi which can lead to Chagas disease...



Rhodnius prolixus

Rhodnius prolixus

Rhodnius prolixus is the second most important triatomine vector of the Chagas parasite due to its efficient adaptation to the human domicile in northern South America, where sylvatic populations also exist, and in Central America where it is exclusively domestic...



Triatoma dimidiata

Triatoma dimidiata

Triatoma dimidiata is a blood-sucking insect whose range extends from northern South America , throughout all the countries of Central America and into Southern Mexico. It is among the most important carriers of Trypanosoma cruzi, the flagellate protozoa that causes Chagas disease...



Triatoma brasiliensis

Triatoma brasiliensis

Triatoma brasiliensis Neiva, 1911 is now considered the most important Chagas disease vector in the semiarid areas of northeastern Brazil. T. brasiliensis occurs in 12 Brazilian states, including Maranhão, Piauí, Ceará, Rio Grande do Norte, and Paraíba.T. brasiliensis is native to this part of...



Panstrongylus megistus
External links