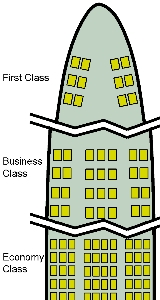 Travel class
A
travel class
is a quality of
accommodation
Lodging
Lodging is a type of residential accommodation. People who travel and stay away from home for more than a day need lodging for sleep, rest, safety, shelter from cold temperatures or rain, storage of luggage and access to common household functions.Lodgings may be self catering in which case no...
on
public
Public transport
Public transport is a shared passenger transportation service which is available for use by the general public, as distinct from modes such as taxicab, car pooling or hired buses which are not shared by strangers without private arrangement.Public transport modes include buses, trolleybuses, trams...
transport
Transport
Transport or transportation is the movement of people, cattle, animals and goods from one location to another. Modes of transport include air, rail, road, water, cable, pipeline, and space. The field can be divided into infrastructure, vehicles, and operations...
. The accommodation could be a seat or a cabin for example. Higher travel classes are more comfortable and more expensive.
Airline booking codes
While an airline may only have two or three classes of service, they will use approximately ten to fifteen different booking codes in order for them to control the amount of each fare level sold. The booking code used by airlines and agents is typically, (but not always) the first letter of the fare basis shown on the ticket and in industry fare displays.
Historically, airlines only used a few codes, and these were almost identical across the industry. Typical examples were F and P for First Class, C and J for Business, and Y for economy.
With the advent of cheaper fares and more frequent travel, airlines increased the number of available fare types, and also increased the number of booking codes required to differentiate between them.
There is now no industry standard with regard to airline booking codes, although the Y code is almost always still used for unrestricted economy travel.
Most low-cost carriers have greatly simplified the fare classes they use to only a few codes, unlike full-service airlines which use many more.
Trains
Trains often have first class (the higher class) and second class (known as standard class in the UK). For trains with sleeping accommodation, there may be more levels of luxury.
USA
In the
United States
United States
The United States of America is a federal constitutional republic comprising fifty states and a federal district...
train classes emulate the airlines, although airlines probably took the class levels from trains of the time when they were coming of age (e.g. first, business, coach), trains with sleeper cars have additional levels.
Europe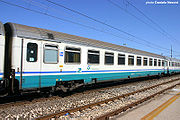 There are generally two classes, known as "First Class" and "Second Class", or the equivalent in the local language. The three tier class structure was abolished on most European railways in the 1950s, in favour of a two tier structure.
Trains in the United Kingdom provide a two tier class structure with the higher tier called 'First-Class'. Train Operating Companies still must by law provide a minimum Third-Class service, thus creating an anomaly where 'Second-Class' appears to be missing. To avoid confusion Third-Class has been rebranded as 'Standard Class'.
A convention used by most European railway companies is that the First Class section of a train is marked in yellow, usually yellow band above the doors and / or the windows. First class may be complete carriages, or may be at one end of a carriage, the other end being second class. Second Class compartments usually have "2+2" seating (2 seats each side of the aisle), first class are "2+1". In Britain and France, some short-distance Suburban trains use 2+3 for Second Class and 2+2 for First Class.
Metro
Rapid transit
A rapid transit, underground, subway, elevated railway, metro or metropolitan railway system is an electric passenger railway in an urban area with a high capacity and frequency, and grade separation from other traffic. Rapid transit systems are typically located either in underground tunnels or on...
, Suburban and
local trains
Regional rail
Commuter rail, also called suburban rail, is a passenger rail transport service that primarily operates between a city center, and the middle to outer suburbs beyond 15km and commuter towns or other locations that draw large numbers of commuters—people who travel on a daily basis...
are sometimes Second Class only. First Class only trains were common up to the 1980s (see
Trans Europ Express
Trans Europ Express
The Trans Europ Express, or Trans-Europe Express, is a former international railway service in Europe. At its maximum extent, in 1974, the network comprised 45 trains, connecting 130 different cities.-Origin:...
), but are now rare. High Speed trains often charge more than slower speed trains on the same route, but still have First and Second Class seats.
India
Indian Railways
Indian Railways
Indian Railways , abbreviated as IR , is a departmental undertaking of Government of India, which owns and operates most of India's rail transport. It is overseen by the Ministry of Railways of the Government of India....
offer six classes of train accommodation in general.
First Class A/C (1A) - the highest rail travel class and not available on all trains. It offers airconditioned cubicles in two-bed and four-bed formats with close doors. There usually is only one 1A bogie (carriage) in a train.
Two Tier A/C (2A) - offers airconditioned cubicles in four-bed and two-bed formats but the privacy is provided by curtains unlike 1A. One or two bogies in long distance trains.
Three Tier A/C (3A) - airconditioned cubicles with six-beds. Two to five bogies in most trains.
A/C Chair Car (CC) - feature of short distance trains that cover the journey within a day. Seating is usually in 3x3 format.
Sleeper Class (SL) - Similar configuration as that of 3A but non-airconditioned carriages. Ten to fifteen bogies in a train.
Second Class (SC) - In long-distance trains, similar to SL car, but without upper berths and with wooden middle berths.
In local/suburban trains, there may be another variety of second class. It has an open cabin with a rows of wooden seats, facing each other in pairs.
Some trains also have one of these classes:
First Class (FC) - configuration is similar to 1A class. No air-conditioning. The class is currently phased out in favour of (slightly more expensive) 2AC and (cheaper) 3AC, and can be found (2011) only in a few trains across all India.
AC First Class, also called AC Executive Chair - 2x2 seat configuration, food catering service included. Available only on some of the "Shatabdi Express" trains, which link major cities located within a day trip distance.
Indonesia
Indonesia
Indonesia
Indonesia , officially the Republic of Indonesia , is a country in Southeast Asia and Oceania. Indonesia is an archipelago comprising approximately 13,000 islands. It has 33 provinces with over 238 million people, and is the world's fourth most populous country. Indonesia is a republic, with an...
n trains, operated by the state-owned PT Kereta Api Indonesia, have three classes for long-distance travel. All types of carriages are seating-only (no sleeper cars).
Eksekutif (executive) - offers the most comfortable means of travel - wide (2+2 airplane-like seating configuration) soft seats, air conditioning, food catering service (paid separately). Also, trains having eksekutif cars are certainly the fastest ones - see the note below.
Bisnis (business) - medium level, ticket price is around 60% of eksekutif. No a/c, no food catering (but there may be food sellers coming on the stations), same seat width as in eksekutif, reserved seating, reasonably clean.
Ekonomi (economy) - the most basic and cheap class, tickets are 4-5 times cheaper than bisnis. No reserved seating, can get extremely crowded, often dirty, especially in the toilets. Unlike in higher classes, no one really controls beggars, musicians and sellers, who will roam in these cars all the way. Chances of theft or other crimes are also much higher in this class.
Eksekutif trains are the fastest and stop only on a few major stations. However, the eksekutif train may also contain some bisnis cars, with slightly more expensive tickets than in bisnis trains. Bisnis trains are somewhat slower, but generally do not stop too often as well; there may be ekonomi cars in these trains. Ekonomi trains take significantly more time to reach the destination, as they stop on many smaller stations and have to pass all eksekutif and bisnis traffic going in the same direction. Many less important routes lack either bisnis or eksekutif service, or both.
For local trains, there's always an ekonomi service available, but in some areas there may be other classes as well. Around
Jakarta
Jakarta
Jakarta is the capital and largest city of Indonesia. Officially known as the Special Capital Territory of Jakarta, it is located on the northwest coast of Java, has an area of , and a population of 9,580,000. Jakarta is the country's economic, cultural and political centre...
metropolitan area, for example, there's Ekonomi AC service - besides air conditioning, it's much less crowded, cleaner, and is patrolled by security personnel while on the way. There may be also an Ekspres (express) service - generally same as Ekonomi AC, but with much fewer stops. All Jakarta suburban trains (including Ekonomi) have seats on the sides of the wagon, unlike in long-distance carriages. Commuter trains in Jakarta are operated by
PT KAI Commuter Jabodetabek
KRL Jabotabek
KRL Commuter Jabodetabek or simply KRL Jabodetabek is a mass rapid transit system in Jabodetabek, Indonesia. It is an acronym for Kereta Rel Listrik Jakarta Bogor Depok Tangerang Bekasi which can be loosely translated into Jabodetabek electrified rail. KRL Jabodetabek serves commuters in Jakarta,...
.
Japan
All members of the Japan Railways Group (JR) offer separated classes of travel, with varying levels of availability on any given train.
The
Kyushu Railway Company
Kyushu Railway Company
The , also referred to as , is one of the constituent companies of Japan Railways Group . It operates intercity rail services in Kyushu, Japan and the JR Kyushu Jet Ferry Beetle hydrofoil service across the Tsushima Strait between Fukuoka and Busan, South Korea.When Japan Railways was divided in...
(JR Kyūshū),
Hokkaido Railway Company
Hokkaido Railway Company
The is one of the constituent companies of Japan Railways Group , and thus often known as . It operates intercity rail services in Hokkaido, Japan. The company introduced Kitaca, a smart card ticketing system, from autumn 2008....
(JR Hokkaido), and
East Japan Railway Company
East Japan Railway Company
is the largest passenger railway company in the world and one of the seven Japan Railways Group companies. The company name is officially abbreviated as JR East in English, and as in Japanese. The company's headquarters are in Yoyogi, Shibuya, Tokyo....
(JR East) all offer an enhanced service known as the Green Car on nearly all of their intercity trains. Additionally, the
Central Japan Railway Company
Central Japan Railway Company
The is the main railway company operating in the Chūbu region of central Japan. It is officially abbreviated in English as JR Central and in Japanese as . Its headquarters are located in the JR Central Towers in Nakamura-ku, Nagoya, Aichi Prefecture.The company's operational hub is Nagoya Station...
(JR Central) and
Shikoku Railway Company
Shikoku Railway Company
, commonly known as , is one of the constituent companies of Japan Railways Group . It operates intercity rail services in the four prefectures on the island of Shikoku in Japan. The company is headquartered in Takamatsu, Kagawa Prefecture.- Lines :...
(JR Shikoku) offer a Green Car on some trains, and a few
West Japan Railway Company
West Japan Railway Company
, also referred to as , is one of the Japan Railways Group companies and operates in western Honshū. It has its headquarters in Kita-ku, Osaka.-History:...
(JR West) trains also have a Green Car. The alternative to Green Car is the Ordinary Car. Although Ordinary Car tickets may be purchased with or without reserved seating, all Green Car tickets are reserved seating. A ticket must be purchased in advance, and a special version of the
Japan Rail Pass
Japan Rail Pass
The is a railpass for overseas visitors sold by the Japan Railways Group, and is good for travel on all major forms of transportation provided by the JR Group, with a few exceptions. The Rail Pass is designed to stimulate travel and tourism throughout the country....
allowing travel in Green Cars is available.
Features of most JR Group Green Cars include increased seat width and pitch, a dedicated waiting lounge in stations, and free beverages and snacks during travel. In some stations, Green Cars are located nearer to the staircases and escalators leading to/from the train platform. Green Cars also frequently offer slippers and reading materials in Japanese.
Additionally, JR East offers a third category of service, the GranClass, available on its
Hayabusa
Hayabusa (train)
The is a new high-speed Shinkansen service operated by East Japan Railway Company between Tokyo and in Japan since 5 March 2011. The name was formerly used for a limited express sleeping car service operated by JR Kyushu, which ran from Tokyo to , and was discontinued in March 2009.-Service...
route. Features of GranClass cars include leather seats that recline to a 45 degree angle, raised footrests, adjustable dining tables and cocktail trays, and personal reading lights. Full-service meals, both Japanese and Western, are provided by specialized GranClass attendants, who also serve soft drinks and alcoholic beverages. Because the Hayabusa is a long-distance service to the
Tōhoku region
Tohoku region
The is a geographical area of Japan. The region occupies the northeastern portion of Honshu, the largest island of Japan. The region consists of six prefectures : Akita, Aomori, Fukushima, Iwate, Miyagi and Yamagata....
, overnight amenities such as slippers, blankets, and eye masks are provided.
History
During the
Victorian era
Victorian era
The Victorian era of British history was the period of Queen Victoria's reign from 20 June 1837 until her death on 22 January 1901. It was a long period of peace, prosperity, refined sensibilities and national self-confidence...
, in the
United Kingdom
United Kingdom
The United Kingdom of Great Britain and Northern IrelandIn the United Kingdom and Dependencies, other languages have been officially recognised as legitimate autochthonous languages under the European Charter for Regional or Minority Languages...
, most trains had three classes of accommodation: First Class (for upper-class people); Second Class (for middle-class people);
Third Class
Economy class
__FORCETOC__Economy class, also called coach class , steerage, or standard class, is the lowest class of seating in air travel, rail travel, and sometimes ferry or maritime travel....
(for working-class people). From the 1870s onwards,
Second Class
Second class
Second class generally indicates a secondary level of service or importance. Specific uses of the term include:Travel* Economy class or travel class in rail transport, depending on era* Second Class Scout, see ranks in the Boy Scouts of America...
(equivalent to either
Premium Economy
Premium economy
Premium economy is a travel class offered on some airlines, positioned in price, comfort, and amenities between economy class and business class. As of 2011, the term is not standardized among airlines, and varies significantly when comparing its use on domestic versus international flights or...
or
business class
Business class
Business class is a travel class available on many commercial airlines and rail lines, known by brand names which vary by airline or rail company. In the airline industry, it was originally intended as an intermediate level of service between economy class and first class, but many airlines now...
) was gradually abolished and First Class and Third Class were retained. The reason that Second Class was abolished and Third Class retained was that the
Railway Regulation Act 1844
Railway Regulation Act 1844
The Railway Regulation Act 1844 was a British Act of Parliament introduced as a means of providing a minimum standard for rail passenger travel.-The prior situation:...
required a Third Class service to be offered. In June 1956, Third Class was re-named Second Class, which in turn was renamed Standard Class in the 1980s. A coach with accommodation for more than one class is called a Composite Coach.
Ocean liners
Before
cruise ship
Cruise ship
A cruise ship or cruise liner is a passenger ship used for pleasure voyages, where the voyage itself and the ship's amenities are part of the experience, as well as the different destinations along the way...
s dominated the passenger ship trade,
ocean liner
Ocean liner
An ocean liner is a ship designed to transport people from one seaport to another along regular long-distance maritime routes according to a schedule. Liners may also carry cargo or mail, and may sometimes be used for other purposes .Cargo vessels running to a schedule are sometimes referred to as...
s had classes of service, often divided into First Class, Second Class, and
Steerage
Steerage
Steerage is the act of steering a ship. "Steerage" also refers to the lowest decks of a ship.-Steerage and steerage way:The rudder of a vessel can only steer the ship when water is passing over it...
. Companies such as
Cunard Line
Cunard Line
Cunard Line is a British-American owned shipping company based at Carnival House in Southampton, England and operated by Carnival UK. It has been a leading operator of passenger ships on the North Atlantic for over a century...
continue this tradition, offering Queen's Grill, Princess Grill and Britannia cabins, each of which has their own allocated lounges and restaurants on-board.
Buses
In Mexico, bus services often have designated levels of service, the top of which is
de lujo
or
clase lujo
, followed by
plus clase
,
primera clase
, and, finally,
segunda clase
.