 Hokkaido Railway Company
The is one of the constituent companies of Japan Railways Group (JR Group), and thus often known as . It operates intercity rail services in
Hokkaido
Hokkaido
, formerly known as Ezo, Yezo, Yeso, or Yesso, is Japan's second largest island; it is also the largest and northernmost of Japan's 47 prefectural-level subdivisions. The Tsugaru Strait separates Hokkaido from Honshu, although the two islands are connected by the underwater railway Seikan Tunnel...
, Japan. The company introduced
Kitaca
Kitaca
is a rechargeable contactless smart card ticketing system for public transport in Sapporo, Japan. Hokkaidō Railway Company introduced the system from October 25 2008. Its name means "the card of ", while 北 is also the first character of . Like other electronic fare collection systems in Japan, the...
, a
smart card
Smart card
A smart card, chip card, or integrated circuit card , is any pocket-sized card with embedded integrated circuits. A smart card or microprocessor cards contain volatile memory and microprocessor components. The card is made of plastic, generally polyvinyl chloride, but sometimes acrylonitrile...
ticketing system, from autumn 2008.
At the time of its privatization in 1987, JR Hokkaido operated 21 railway lines totalling 3,176.6 km of track, as well as a ferry service to
Aomori
Aomori, Aomori
is the capital city of Aomori Prefecture, in the northern Tōhoku region of Japan. As of 2009, the city had an estimated population of 302,068 and a density of 366 persons per km². Its total area was 824.52 km².- History :...
. Since then, that number has dwindled to just below 2,500 km, as unprofitable lines have been shut down or spun off (in the case of the Hokkaidō Chihoku Kōgen Railway). The ferry service has also been replaced by the
Seikan Tunnel
Seikan Tunnel
The Seikan Tunnel is a railway tunnel in Japan, with a long portion under the seabed. Track level is about below seabed and below sea level. It travels beneath the Tsugaru Strait—connecting Aomori Prefecture on the Japanese island of Honshu and the island of Hokkaido—as part of the Kaikyo Line...
.
Hokkaido Railway's headquarters are in
Chūō-ku, Sapporo
Chūō-ku, Sapporo
is one of the ten wards in Sapporo city, Japan. Chūō-ku means "central ward" in Japanese. As its name suggests, city administration and entertainment facilities are centred in this ward.- History :...
.
History
Headquarters and branch offices
Lines and key stations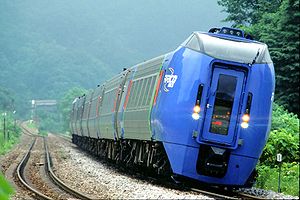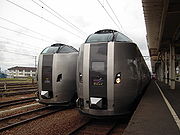 Trunk lines
} - (60.2 km (37.41 mi))
} - (2.6 km (1.62 mi))
} - - (35.3 km (21.93 mi))
} - - - (211 km (131.11 mi))
} - - (443.8 km (275.77 mi))
} - (16.1 km (10 mi))
Other lines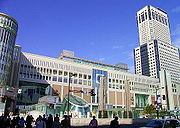 } - - (79.9 km (49.65 mi))
} - Asahikawa (54.8 km (34.05 mi))
} - (146.5 km (91.03 mi))
} - - (234 km (145.4 mi))
} - - Kikonai (87.3 km (54.25 mi))
} - (66.8 km (41.51 mi))
} - (76.5 km (47.54 mi))
} - (166.2 km (103.27 mi))
Under construction
External links