 Tragicomedy
Tragicomedy
is
fiction
Fiction
Fiction is the form of any narrative or informative work that deals, in part or in whole, with information or events that are not factual, but rather, imaginary—that is, invented by the author. Although fiction describes a major branch of literary work, it may also refer to theatrical,...
al work that blends aspects of the
genre
Genre
Genre , Greek: genos, γένος) is the term for any category of literature or other forms of art or culture, e.g. music, and in general, any type of discourse, whether written or spoken, audial or visual, based on some set of stylistic criteria. Genres are formed by conventions that change over time...
s of
tragedy
Tragedy
Tragedy is a form of art based on human suffering that offers its audience pleasure. While most cultures have developed forms that provoke this paradoxical response, tragedy refers to a specific tradition of drama that has played a unique and important role historically in the self-definition of...
and
comedy
Comedy
Comedy , as a popular meaning, is any humorous discourse or work generally intended to amuse by creating laughter, especially in television, film, and stand-up comedy. This must be carefully distinguished from its academic definition, namely the comic theatre, whose Western origins are found in...
. In
English literature
English literature
English literature is the literature written in the English language, including literature composed in English by writers not necessarily from England; for example, Robert Burns was Scottish, James Joyce was Irish, Joseph Conrad was Polish, Dylan Thomas was Welsh, Edgar Allan Poe was American, J....
, from Shakespeare's time to the nineteenth century, tragicomedy referred to a serious
play
Play (theatre)
A play is a form of literature written by a playwright, usually consisting of scripted dialogue between characters, intended for theatrical performance rather than just reading. There are rare dramatists, notably George Bernard Shaw, who have had little preference whether their plays were performed...
with either a happy ending or enough jokes throughout the play to lighten the mood.
Classical precedent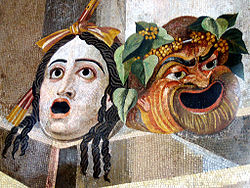 There is no complete formal definition of tragicomedy from the
classical
Classical antiquity
Classical antiquity is a broad term for a long period of cultural history centered on the Mediterranean Sea, comprising the interlocking civilizations of ancient Greece and ancient Rome, collectively known as the Greco-Roman world...
age. It appears that
Aristotle
Aristotle
Aristotle was a Greek philosopher and polymath, a student of Plato and teacher of Alexander the Great. His writings cover many subjects, including physics, metaphysics, poetry, theater, music, logic, rhetoric, linguistics, politics, government, ethics, biology, and zoology...
had something like the Renaissance meaning of the term (that is, a serious action with a happy ending) in mind when, in
Poetics
, he discusses tragedy with a dual ending. In this respect, a number of Greek and Roman plays, for instance
Alcestis
Alcestis (play)
Alcestis is an Athenian tragedy by the ancient Greek playwright Euripides. It was first produced at the City Dionysia festival in 438 BCE. Euripides presented it as the final part of a tetralogy of unconnected plays in the competition of tragedies, for which he won second prize; this arrangement...
, may be called tragicomedies, though without any definite attributes outside of plot. The term itself originates with
Plautus
Plautus
Titus Maccius Plautus , commonly known as "Plautus", was a Roman playwright of the Old Latin period. His comedies are the earliest surviving intact works in Latin literature. He wrote Palliata comoedia, the genre devised by the innovator of Latin literature, Livius Andronicus...
: the prologue to
Amphitryon
Amphitryon
Amphitryon , in Greek mythology, was a son of Alcaeus, king of Tiryns in Argolis.Amphitryon was a Theban general, who was originally from Tiryns in the eastern part of the Peloponnese. He was friends with Panopeus....
uses the term to justify the play's bringing gods into a predominantly bourgeois play.
Italy
Plautus's comment had an arguably excessive impact on
Renaissance
Renaissance
The Renaissance was a cultural movement that spanned roughly the 14th to the 17th century, beginning in Italy in the Late Middle Ages and later spreading to the rest of Europe. The term is also used more loosely to refer to the historical era, but since the changes of the Renaissance were not...
aesthetic theory, which had largely transformed Aristotle's comments on drama into a rigid theory. For "rule mongers" (the term is
Giordano Bruno
Giordano Bruno
Giordano Bruno , born Filippo Bruno, was an Italian Dominican friar, philosopher, mathematician and astronomer. His cosmological theories went beyond the Copernican model in proposing that the Sun was essentially a star, and moreover, that the universe contained an infinite number of inhabited...
's), "mixed" works such as those mentioned above, more recent "romances" such as
Orlando Furioso
Orlando Furioso
Orlando Furioso is an Italian epic poem by Ludovico Ariosto which has exerted a wide influence on later culture. The earliest version appeared in 1516, although the poem was not published in its complete form until 1532...
, and even
The Odyssey
were at best puzzles; at worst, mistakes. Two figures helped to elevate tragicomedy to the status of a regular genre, by which is meant one with its own set of rigid rules.
Giovanni Battista Giraldi
Giovanni Battista Giraldi
Giovanni Battista Giraldi was an Italian novelist and poet. He appended the nickname Cinthio to his name and is commonly referred to by that name .Born at Ferrara, he was educated at the university there, and in 1525 became its professor of natural philosophy...
Cinthio, in the mid-sixteenth century, both argued that the tragedy-with-comic-ending (
tragedia de lieto fin
) was most appropriate to modern times and produced his own examples of such plays. Even more important was
Giovanni Battista Guarini
Giovanni Battista Guarini
Giovanni Battista Guarini was an Italian poet, dramatist, and diplomat.- Life :He was born in Ferrara, and spent his early life both in Padua and Ferrara, entering the service of Alfonso II d'Este, Duke of Ferrara, in 1567...
. Guarini's
Il Pastor Fido
Il pastor fido
Il pastor fido is an opera in three acts by George Frideric Handel. It was set to a libretto by Giacomo Rossi based on the famed and widely familiar pastoral poem of the same name by Giovanni Battista Guarini.-Performance history:...
, published in 1590, provoked a fierce critical debate in which Guarini's spirited defense of generic innovation eventually carried the day. Guarini's tragicomedy offered modulated action that never drifted too far either to comedy or tragedy, mannered characters, and a pastoral setting. All three became staples of continental tragicomedy for a century and more.
England
In England, where practice ran ahead of theory, the situation was quite different. In the sixteenth century, "tragicomedy" meant the native sort of romantic play that violated the unities of time, place, and action, that glibly mixed high- and low-born characters, and that presented fantastic actions. These were the features
Philip Sidney
Philip Sidney
Sir Philip Sidney was an English poet, courtier and soldier, and is remembered as one of the most prominent figures of the Elizabethan Age...
deplored in his complaint against the "mungrell Tragy-comedie" of the 1580s, and of which Shakespeare's Polonius offers famous testimony: "The best actors in the world, either for tragedy, comedy, history, pastoral, pastoral-comical, historical-pastoral, tragical-historical, tragical-comical-historical-pastoral, scene individable, or poem unlimited: Seneca cannot be too heavy, nor Plautus too light. For the law of writ and the liberty, these are the only men." Some aspects of this romantic impulse remain even in the work of more sophisticated playwrights: Shakespeare's last plays, which may well be called tragicomedies, have often been called romances.
By the early Stuart period, some English playwrights had absorbed the lessons of the Guarini controversy.
John Fletcher
John Fletcher (playwright)
John Fletcher was a Jacobean playwright. Following William Shakespeare as house playwright for the King's Men, he was among the most prolific and influential dramatists of his day; both during his lifetime and in the early Restoration, his fame rivalled Shakespeare's...
's
The Faithful Shepherdess
, an adaptation of Guarini's play, was produced in 1608. In the printed edition, Fletcher offered an interesting definition of the term, worth quoting at length: "A tragi-comedie is not so called in respect of mirth and killing, but in respect it wants deaths, which is enough to make it no tragedy, yet brings some neere it, which is inough to make it no comedie." Fletcher's definition focuses primarily on events: a play's genre is determined by whether or not people die in it, and in a secondary way on how close the action comes to a death. But, as Eugene Waith showed, the tragicomedy Fletcher developed in the next decade also had unifying stylistic features: sudden and unexpected revelations, outré plots, distant locales, and a persistent focus on elaborate, artificial rhetoric.
Some of Fletcher's contemporaries, notably
Philip Massinger
Philip Massinger
Philip Massinger was an English dramatist. His finely plotted plays, including A New Way to Pay Old Debts, The City Madam and The Roman Actor, are noted for their satire and realism, and their political and social themes.-Early life:The son of Arthur Massinger or Messenger, he was baptized at St....
and
James Shirley
James Shirley
James Shirley was an English dramatist.He belonged to the great period of English dramatic literature, but, in Lamb's words, he "claims a place among the worthies of this period, not so much for any transcendent genius in himself, as that he was the last of a great race, all of whom spoke nearly...
, wrote successful and popular tragicomedies.
Richard Brome
Richard Brome
Richard Brome was an English dramatist of the Caroline era.-Life:Virtually nothing is known about Brome's private life. Repeated allusions in contemporary works, like Ben Jonson's Bartholomew Fair, indicate that Brome started out as a servant of Jonson, in some capacity...
also essayed the form, but with less success. And many of their contemporary writers, ranging from
John Ford
John Ford (dramatist)
John Ford was an English Jacobean and Caroline playwright and poet born in Ilsington in Devon in 1586.-Life and work:...
to
Lodowick Carlell
Lodowick Carlell
Lodowick Carlell , also Carliell or Carlile, was a seventeenth-century English playwright, active mainly during the Caroline era and the Commonwealth period.-Courtier:...
to Sir
Aston Cockayne
Aston Cockayne
Sir Aston Cockayne, Baronet of Ashbourne was, in his day, a well-known Cavalier and a minor literary figure, now best remembered as a friend of Philip Massinger, John Fletcher, Michael Drayton, Richard Brome, Thomas Randolph, and other writers of his generation.-Biography:Aston Cockayne was the...
, made attempts in the genre.
Tragicomedy remained fairly popular up to the closing of the theaters in 1642, and Fletcher's works were popular in the Restoration as well. The old styles were of course cast aside as tastes changed in the eighteenth century; the "tragedy with a happy ending" eventually developed into
melodrama
Melodrama
The term melodrama refers to a dramatic work that exaggerates plot and characters in order to appeal to the emotions. It may also refer to the genre which includes such works, or to language, behavior, or events which resemble them...
, in which form it still flourishes.
Later developments
The more subtle criticism that developed after the Renaissance stressed the thematic and formal aspects of tragicomedy, rather than plot. Gotthold Lessing defined it as a mixture of emotions in which "seriousness stimulates laughter, and pain pleasure." Even more commonly, tragicomedy's affinity with satire and "dark" comedy have suggested a tragicomic impulse in modern
absurdist
Theatre of the Absurd
The Theatre of the Absurd is a designation for particular plays of absurdist fiction, written by a number of primarily European playwrights in the late 1940s, 1950s, and 1960s, as well as to the style of theatre which has evolved from their work...
drama.
Friedrich Dürrenmatt
Friedrich Dürrenmatt
Friedrich Dürrenmatt was a Swiss author and dramatist. He was a proponent of epic theatre whose plays reflected the recent experiences of World War II. The politically active author's work included avant-garde dramas, philosophically deep crime novels, and often macabre satire...
, the Swiss dramatist, suggested that tragicomedy was the inevitable genre for the twentieth century; he describes his play
The Visit
The Visit
The Visit is a 1956 tragicomic play by Swiss dramatist Friedrich Dürrenmatt.-Plot summary:...
(1956) as a tragicomedy. Tragicomedy is a common genre in post-
World War II
World War II
World War II, or the Second World War , was a global conflict lasting from 1939 to 1945, involving most of the world's nations—including all of the great powers—eventually forming two opposing military alliances: the Allies and the Axis...
British
United Kingdom
The United Kingdom of Great Britain and Northern IrelandIn the United Kingdom and Dependencies, other languages have been officially recognised as legitimate autochthonous languages under the European Charter for Regional or Minority Languages...
theatre, with authors as varied as
Samuel Beckett
Samuel Beckett
Samuel Barclay Beckett was an Irish avant-garde novelist, playwright, theatre director, and poet. He wrote both in English and French. His work offers a bleak, tragicomic outlook on human nature, often coupled with black comedy and gallows humour.Beckett is widely regarded as among the most...
,
Tom Stoppard
Tom Stoppard
Sir Tom Stoppard OM, CBE, FRSL is a British playwright, knighted in 1997. He has written prolifically for TV, radio, film and stage, finding prominence with plays such as Arcadia, The Coast of Utopia, Every Good Boy Deserves Favour, Professional Foul, The Real Thing, and Rosencrantz and...
,
John Arden
John Arden
John Arden is an award-winning English playwright from Barnsley . His works tend to expose social issues of personal concern. He is a member of the Royal Society of Literature....
,
Alan Ayckbourn
Alan Ayckbourn
Sir Alan Ayckbourn CBE is a prolific English playwright. He has written and produced seventy-three full-length plays in Scarborough and London and was, between 1972 and 2009, the artistic director of the Stephen Joseph Theatre in Scarborough, where all but four of his plays have received their...
and
Harold Pinter
Harold Pinter
Harold Pinter, CH, CBE was a Nobel Prize–winning English playwright and screenwriter. One of the most influential modern British dramatists, his writing career spanned more than 50 years. His best-known plays include The Birthday Party , The Homecoming , and Betrayal , each of which he adapted to...
writing in this genre.
External links