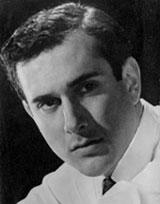 Harold Pinter
Harold Pinter
, CH, CBE (10 October 1930 – 24 December 2008) was a
Nobel Prize
–winning English playwright and screenwriter. One of the most influential modern British dramatists, his writing career spanned more than 50 years. His best-known plays include
The Birthday Party
The Birthday Party (play)
The Birthday Party is the first full-length play by Harold Pinter and one of Pinter's best-known and most-frequently performed plays...
(1957),
The Homecoming
The Homecoming
The Homecoming is a two-act play written in 1964 by Nobel laureate Harold Pinter and first published in 1965. The original Broadway production won the 1967 Tony Award for Best Play and its 40th-anniversary Broadway production at the Cort Theatre was nominated for a 2008 Tony Award for "Best Revival...
(1964), and
Betrayal
Betrayal (play)
Betrayal is a play written by Harold Pinter in 1978. Critically regarded as one of the English playwright's major dramatic works, it features his characteristically economical dialogue, characters' hidden emotions and veiled motivations, and their self-absorbed competitive one-upmanship,...
(1978), each of which he adapted to film.
There can be no hard distinctions between what is real and what is unreal, nor between what is true and what is false. A thing is not necessarily either true or false; it can be both true and false. (11)