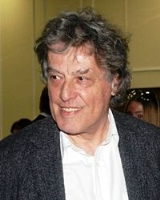 Tom Stoppard
Sir Tom Stoppard
OM,
CBE
Order of the British Empire
The Most Excellent Order of the British Empire is an order of chivalry established on 4 June 1917 by George V of the United Kingdom. The Order comprises five classes in civil and military divisions...
, FRSL (born
Tomáš Straüssler
3 July 1937) is a British playwright,
knighted
Knight Bachelor
The rank of Knight Bachelor is a part of the British honours system. It is the most basic rank of a man who has been knighted by the monarch but not as a member of one of the organised Orders of Chivalry...
in 1997. He has written prolifically for TV, radio, film and stage, finding prominence with plays such as
Arcadia
Arcadia (play)
Arcadia is a 1993 play by Tom Stoppard concerning the relationship between past and present and between order and disorder and the certainty of knowledge...
,
The Coast of Utopia
The Coast of Utopia
The Coast of Utopia is a 2002 trilogy of plays: Voyage, Shipwreck, and Salvage, written by Tom Stoppard with focus on the philosophical debates in pre-revolution Russia between 1833 and 1866...
,
Every Good Boy Deserves Favour
Every Good Boy Deserves Favour
Every Good Boy Deserves Favour is a stage play by Tom Stoppard with music by André Previn. It was first performed in 1977. The play criticizes the Soviet practice of treating political dissidence as a form of mental illness. Its title derives from the popular mnemonic used by music students to...
,
Professional Foul
,
The Real Thing
The Real Thing (play)
The Real Thing is a play by Tom Stoppard, first performed in 1982. It examines the nature of honesty, and its use of a play within a play is one of many levels on which the author teases the audience with the difference between semblance and reality....
, and
Rosencrantz and Guildenstern Are Dead
. He co-wrote the screenplays for
Brazil
Brazil (film)
Brazil is a 1985 British science fiction fantasy/black comedy film directed by Terry Gilliam. It was written by Gilliam, Charles McKeown, and Tom Stoppard and stars Jonathan Pryce. The film also features Robert De Niro, Kim Greist, Michael Palin, Katherine Helmond, Bob Hoskins, and Ian Holm...
and
Shakespeare in Love
Shakespeare in Love
Shakespeare in Love is a 1998 British-American comedy film directed by John Madden and written by Marc Norman and playwright Tom Stoppard....
and has won one Academy Award and four Tony Awards.
Since we cannot hope for order let us withdraw with style from the chaos.

Ch. I: Dramatis Personae and Other Coincidences
My whole life is waiting for the questions to which I have prepared answers.

Ch. 2: A Couple of Deaths and Exits
When someone disagrees with you on a moral point you assume that he is one step behind in his thinking, and he assumes that he has gone one step ahead. But I take both parts, O'Hara, leapfrogging myself along the great moral issues, refuting myself and rebutting the refutation towards a truth that must be the compound of two opposite half-truths. And you never reach it because there is always something more to say.

Ch. 2: A Couple of Deaths and Exits
I agree with everything you say, but I would attack to the death your right to say it.

Ch. 2: A Couple of Deaths and Exits
The House of Lords, an illusion to which I have never been able to subscribe — responsibility without power, the prerogative of the eunuch throughout the ages.

Ch. 6: An Honourable Death
Donner: Skill without imagination is craftsmanship and gives us many useful objects such as wickerwork picnic baskets. Imagination without skill gives us modern art.

There is presumably a calendar date — a moment — when the onus of proof passed from the atheist to the believer, when, quite suddenly, secretly, the noes had it.

George, Act I
It was precisely this notion of infinite series which in the sixth century BC led the Greek philosopher Zeno of Elea|Zeno to conclude that since an arrow shot towards a target first had to cover half the distance, and then half the remainder, and then half the remainder after that, and so on ad infinitum, the result was, as I will now demonstrate, that though an arrow is always approaching its target, it never quite gets there, and Saint Sebastian died of fright.

George, Act I
It's not the voting that's democracy, it's the counting.

Dotty, Act I
How the hell do I know what I find incredible? Credibility is an expanding field... Sheer disbelief hardly registers on the face before the head is nodding with all the wisdom of instant hindsight.

George, Act I