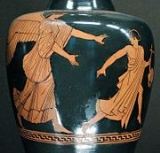 Tithonus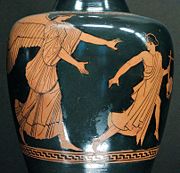 In
Greek mythology
Greek mythology
Greek mythology is the body of myths and legends belonging to the ancient Greeks, concerning their gods and heroes, the nature of the world, and the origins and significance of their own cult and ritual practices. They were a part of religion in ancient Greece...
,
Tithonus
or
Tithonos
was the lover of
Eos
Eos
In Greek mythology, Eos is the Titan goddess of the dawn, who rose from her home at the edge of Oceanus, the ocean that surrounds the world, to herald her brother Helios, the Sun.- Greek literature :...
,
Titan
Titan (mythology)
In Greek mythology, the Titans were a race of powerful deities, descendants of Gaia and Uranus, that ruled during the legendary Golden Age....
of the dawn. He was a
Trojan
Troy
Troy was a city, both factual and legendary, located in northwest Anatolia in what is now Turkey, southeast of the Dardanelles and beside Mount Ida...
by birth, the son of King
Laomedon
Laomedon
In Greek mythology, Laomedon was a Trojan king, son of Ilus, brother of Ganymede and Assaracus, and father of Priam, Astyoche, Lampus, Hicetaon, Clytius, Cilla, Proclia, Aethilla, Medesicaste, Clytodora, and Hesione...
of Troy by a
water nymph
Naiad
In Greek mythology, the Naiads or Naiades were a type of nymph who presided over fountains, wells, springs, streams, and brooks....
named Strymo (Στρυμώ). The mythology reflected by the fifth-century vase-painters of Athens envisaged Tithonus as a
rhapsode
Rhapsode
A rhapsode or, in modern usage, rhapsodist, refers to a classical Greek professional performer of epic poetry in the fifth and fourth centuries BC . Rhapsodes notably performed the epics of Homer but also the wisdom and catalogue poetry of Hesiod and the satires of Archilochus and others...
, as the lyre in his hand, on an
oinochoe
of the
Achilles Painter
Achilles Painter
The Achilles Painter, was a vase-painter active ca. 470-420 BC. His name vase is an amphora in the Vatican museums depicting Achilles. Sir John Beazley attributed over 200 vases to his hand, the largest share being red-figure and white-ground lekythoi. In his middle phase , he decorates more open...
, ca. 470 BC–460 BCE (
illustration
) attests. Competitive singing, as in the
Contest of Homer and Hesiod
Contest of Homer and Hesiod
The Contest of Homer and Hesiod or simply Certamen is a Greek narrative that expands a remark made in Hesiod's Works and Days to recount an imagined poetical agon between Homer and Hesiod, in which Hesiod bears away the prize, a bronze tripod, which he dedicates to the Muses of Mount Helicon...
, is also depicted vividly in the
Homeric Hymn to Apollo
Homeric Hymns
The Homeric Hymns are a collection of thirty-three anonymous Ancient Greek hymns celebrating individual gods. The hymns are "Homeric" in the sense that they employ the same epic meter—dactylic hexameter—as the Iliad and Odyssey, use many similar formulas and are couched in the same dialect...
and mentioned in the two
Hymns to Aphrodite
.
Eos kidnapped
Ganymede
Ganymede (mythology)
In Greek mythology, Ganymede is a divine hero whose homeland was Troy. Homer describes Ganymede as the most beautiful of mortals. In the best-known myth, he is abducted by Zeus, in the form of an eagle, to serve as cup-bearer in Olympus. Some interpretations of the myth treat it as an allegory of...
and Tithonus, both from the royal house of Troy, to be her lovers. The
mytheme
Mytheme
In the study of mythology, a mytheme is the essential kernel of a myth—an irreducible, unchanging element, a minimal unit that is always found shared with other, related mythemes and reassembled in various ways—"bundled" was Claude Lévi-Strauss's image— or linked in more...
of the goddess's mortal lover is an archaic one; when a role for Zeus was inserted, a bitter new twist appeared: According to the Homeric Hymn to Aphrodite, when Eos asked Zeus to make Tithonus
immortal
Immortality
Immortality is the ability to live forever. It is unknown whether human physical immortality is an achievable condition. Biological forms have inherent limitations which may or may not be able to be overcome through medical interventions or engineering...
, she forgot to ask for
eternal youth
Eternal youth
Eternal youth is the concept of human physical immortality free of aging. The youth referred to is usually meant to be in contrast to the depredations of aging, rather than a specific age of the human lifespan....
(218-38). Tithonus indeed lived forever
"but when loathsome old age pressed full upon him, and he could not move nor lift his limbs, this seemed to her in her heart the best counsel: she laid him in a room and put to the shining doors. There he babbles endlessly, and no more has strength at all, such as once he had in his supple limbs." (Homeric Hymn to Aphrodite)
In later tellings he eventually turned into a
cicada
Cicada
A cicada is an insect of the order Hemiptera, suborder Auchenorrhyncha , in the superfamily Cicadoidea, with large eyes wide apart on the head and usually transparent, well-veined wings. There are about 2,500 species of cicada around the world, and many of them remain unclassified...
, eternally living, but begging for death to overcome him. In the Olympian system, the "queenly" and "golden-throned" Eos can no longer grant immortality to her lover as
Selene
Selene
In Greek mythology, Selene was an archaic lunar deity and the daughter of the Titans Hyperion and Theia. In Roman mythology, the moon goddess is called Luna, Latin for "moon"....
had done, but must ask it of Zeus, as a boon.
Eos bore Tithonus two sons,
Memnon
Memnon
Memnon may refer to:* Saint Memnon the Wonderworker — early Christian saint from Egypt, hermit and hegumen of one of Egyptian monasteries* Memnon and those erroneously named after him in the Graeco-Roman era:...
and
Emathion
Emathion
- Ethiopian king :Emathion was king of Aethiopia, the son of Tithonus and Eos, and brother of Memnon. Heracles killed him.- Samothracian :Emathion was king of Samothrace, was the son of Zeus and Electra , brother to Dardanus, Iasion, Eetion, and Harmonia...
. In the Epic Cycle that revolved around the
Trojan War
Trojan War
In Greek mythology, the Trojan War was waged against the city of Troy by the Achaeans after Paris of Troy took Helen from her husband Menelaus, the king of Sparta. The war is among the most important events in Greek mythology and was narrated in many works of Greek literature, including the Iliad...
, Tithonus, who has travelled east from Troy into Assyria and founded
Susa
Susa
Susa was an ancient city of the Elamite, Persian and Parthian empires of Iran. It is located in the lower Zagros Mountains about east of the Tigris River, between the Karkheh and Dez Rivers....
, is bribed to send his son Memnon to fight at Troy with a golden grapevine. Memnon was called "King of the East" by
Hesiod
Hesiod
Hesiod was a Greek oral poet generally thought by scholars to have been active between 750 and 650 BC, around the same time as Homer. His is the first European poetry in which the poet regards himself as a topic, an individual with a distinctive role to play. Ancient authors credited him and...
, but he was killed on the plain of Troy by
Achilles
Achilles
In Greek mythology, Achilles was a Greek hero of the Trojan War, the central character and the greatest warrior of Homer's Iliad.Plato named Achilles the handsomest of the heroes assembled against Troy....
.
Aeschylus
Aeschylus
Aeschylus was the first of the three ancient Greek tragedians whose work has survived, the others being Sophocles and Euripides, and is often described as the father of tragedy. His name derives from the Greek word aiskhos , meaning "shame"...
says in passing that Tithonus also had a mortal wife, named Cissia (otherwise unknown).
A newly-found poem on Tithonus is the fourth extant complete poem by ancient Greek lyrical poetess
Sappho
Sappho
Sappho was an Ancient Greek poet, born on the island of Lesbos. Later Greeks included her in the list of nine lyric poets. Her birth was sometime between 630 and 612 BC, and it is said that she died around 570 BC, but little is known for certain about her life...
.
Eos and Tithonus (inscribed
Tinthu
or
Tinthun
) provided a pictorial motif that was inscribed on
Etruscan
Etruscan civilization
Etruscan civilization is the modern English name given to a civilization of ancient Italy in the area corresponding roughly to Tuscany. The ancient Romans called its creators the Tusci or Etrusci...
bronze hand-mirrorbacks, or cast in low relief.
Poems
"Tithonus

Tithonus (poem)

"Tithonus" is a poem by the Victorian poet Alfred, Lord Tennyson , originally written in 1833 as "Tithon" and completed in 1859. It first appeared in the February edition of the Cornhill Magazine in 1860. Faced with old age, Tithonus, weary of his immortality, yearns for death...


" by Alfred Tennyson was originally written as "Tithon" in 1833 and completed in 1859.
The poem is a dramatic monologue in
blank verse
Blank verse
Blank verse is poetry written in unrhymed iambic pentameter. It has been described as "probably the most common and influential form that English poetry has taken since the sixteenth century" and Paul Fussell has claimed that "about three-quarters of all English poetry is in blank verse."The first...
from the point-of-view of Tithonus. Unlike the original myth, it is Tithonus who asks for immortality, and it is
Aurora
Aurora (mythology)
Aurora is the Latin word for dawn, the goddess of dawn in Roman mythology and Latin poetry.Like Greek Eos and Rigvedic Ushas , Aurora continues the name of an earlier Indo-European dawn goddess, *Hausos....
, not Zeus, who grants this imperfect gift. As narrator, Tithonus laments his unnatural longevity, which separates him from the mortal world as well as from the immortal but beautiful Aurora.
"Tithonus" by Paul Muldoon

Paul Muldoon

Paul Muldoon is an Irish poet. He has published over thirty collections and won a Pulitzer Prize for Poetry and the T. S. Eliot Prize. He held the post of Oxford Professor of Poetry from 1999 - 2004. At Princeton University he is both the Howard G. B. Clark '21 Professor in the Humanities and...


was originally published in The New Yorker

The New Yorker

The New Yorker is an American magazine of reportage, commentary, criticism, essays, fiction, satire, cartoons and poetry published by Condé Nast...


and included in the book Horse Latitudes (2006).
Herder

Johann Gottfried Herder

Johann Gottfried von Herder was a German philosopher, theologian, poet, and literary critic. He is associated with the periods of Enlightenment, Sturm und Drang, and Weimar Classicism.-Biography:...


: "Tithonus und Aurora"
Cultural references
Aldous Huxley
Aldous Huxley
Aldous Leonard Huxley was an English writer and one of the most prominent members of the famous Huxley family. Best known for his novels including Brave New World and a wide-ranging output of essays, Huxley also edited the magazine Oxford Poetry, and published short stories, poetry, travel...
's novel, "
After Many a Summer Dies the Swan
" was titled after a verse from the Lord Tennyson poem "Tithonus."
An episode of the
television
Television
Television is a telecommunication medium for transmitting and receiving moving images that can be monochrome or colored, with accompanying sound...
show
The X-Files
The X-Files
The X-Files is an American science fiction television series and a part of The X-Files franchise, created by screenwriter Chris Carter. The program originally aired from to . The show was a hit for the Fox network, and its characters and slogans became popular culture touchstones in the 1990s...
titled "Tithonus" concerns a man who cheated
Death
Death
Death is the permanent termination of the biological functions that sustain a living organism. Phenomena which commonly bring about death include old age, predation, malnutrition, disease, and accidents or trauma resulting in terminal injury....
, but eventually came to see his immortality as a curse rather than a gift. The man is able to "sense" death coming for people and attempts to catch the face of Death in photographs, believing that if he sees his face, he will finally die.
In the
television
Television
Television is a telecommunication medium for transmitting and receiving moving images that can be monochrome or colored, with accompanying sound...
show
Doctor Who
Doctor Who
Doctor Who is a British science fiction television programme produced by the BBC. The programme depicts the adventures of a time-travelling humanoid alien known as the Doctor who explores the universe in a sentient time machine called the TARDIS that flies through time and space, whose exterior...
and the spin-off show
Torchwood
Torchwood
Torchwood is a British science fiction television programme created by Russell T Davies. The series is a spin-off from Davies's 2005 revival of the long-running science fiction programme Doctor Who. The show has shifted its broadcast channel each series to reflect its growing audience, moving from...
, the character
Jack Harkness
Jack Harkness
Captain Jack Harkness is a fictional character played by John Barrowman in Doctor Who and its spin-off series, Torchwood. He first appeared in the 2005 Doctor Who episode "The Empty Child" and reappeared in the remaining episodes of the 2005 series as a companion of the ninth incarnation of the...
faces the same fate as Tithonus in that when brought back from the dead, he discovers he is now both immortal — in the sense of recovering well from being killed - and still ageing, albeit extremely slowly — perhaps over billions of years. Tithonus is referenced in the second episode of the fourth series of Torchwood, Miracle Day. When every Human on the planet becomes immortal, it is found that, while no one can die, people still age. Tithonus is used as a way of explaining this.
Traces of the theme of immortality without
eternal youth
Eternal youth
Eternal youth is the concept of human physical immortality free of aging. The youth referred to is usually meant to be in contrast to the depredations of aging, rather than a specific age of the human lifespan....
appear in Book 3 of Jonathan Swift's
Gulliver's Travels
Gulliver's Travels
Travels into Several Remote Nations of the World, in Four Parts. By Lemuel Gulliver, First a Surgeon, and then a Captain of Several Ships, better known simply as Gulliver's Travels , is a novel by Anglo-Irish writer and clergyman Jonathan Swift that is both a satire on human nature and a parody of...
where the
Struldbrug
Struldbrug
In Jonathan Swift's novel Gulliver's Travels, the name struldbrug is given to those humans in the nation of Luggnagg who are born seemingly normal, but are in fact immortal. However, although struldbrugs do not die, they do nonetheless continue aging...
s are in Tithonus's predicament. The difference is that they are alleged to be born that way.
External links