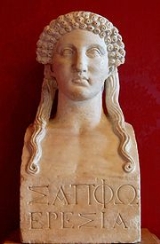 Sappho
Sappho
was an
Ancient Greek
Ancient Greece
Ancient Greece is a civilization belonging to a period of Greek history that lasted from the Archaic period of the 8th to 6th centuries BC to the end of antiquity. Immediately following this period was the beginning of the Early Middle Ages and the Byzantine era. Included in Ancient Greece is the...
poet, born on the island of Lesbos. Later Greeks included her in the list of
nine lyric poets
Nine lyric poets
The nine lyric poets were a canon of archaic Greek composers esteemed by the scholars of Hellenistic Alexandria as worthy of critical study.They were:*Alcman of Sparta...
. Her birth was sometime between 630 and 612 BC, and it is said that she died around 570 BC, but little is known for certain about her life. The bulk of her poetry, which was well-known and greatly admired throughout antiquity, has been lost, but her immense reputation has endured through surviving fragments.
The only contemporary source for Sappho's life is her own poetry, and scholars are skeptical of reading it biographically.