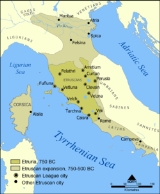 Etruscan civilization
Etruscan civilization
is the modern English name given to a civilization of ancient Italy in the area corresponding roughly to
Tuscany
Tuscany
Tuscany is a region in Italy. It has an area of about 23,000 square kilometres and a population of about 3.75 million inhabitants. The regional capital is Florence ....
. The ancient Romans called its creators the
Tusci
or
Etrusci
. Their Roman name is the origin of the terms Tuscany, which refers to their heartland, and
Etruria
Etruria
Etruria—usually referred to in Greek and Latin source texts as Tyrrhenia—was a region of Central Italy, an area that covered part of what now are Tuscany, Latium, Emilia-Romagna, and Umbria. A particularly noteworthy work dealing with Etruscan locations is D. H...
, which can refer to their wider region.
In
Attic Greek
Attic Greek
Attic Greek is the prestige dialect of Ancient Greek that was spoken in Attica, which includes Athens. Of the ancient dialects, it is the most similar to later Greek, and is the standard form of the language studied in courses of "Ancient Greek". It is sometimes included in Ionic.- Origin and range...
, the Etruscans were known as
(Tyrrhēnioi)
, earlier
Tyrsenoi
, from which the Romans derived the names Tyrrhēni (Etruscans), Tyrrhēnia (Etruria), and Mare Tyrrhēnum (
Tyrrhenian Sea
Tyrrhenian Sea
The Tyrrhenian Sea is part of the Mediterranean Sea off the western coast of Italy.-Geography:The sea is bounded by Corsica and Sardinia , Tuscany, Lazio, Campania, Basilicata and Calabria and Sicily ....
).